Natalia, From Ukraine, Teaching IT Professionals Online in Italy
By Krzl Light Nuñes
November 11, 2022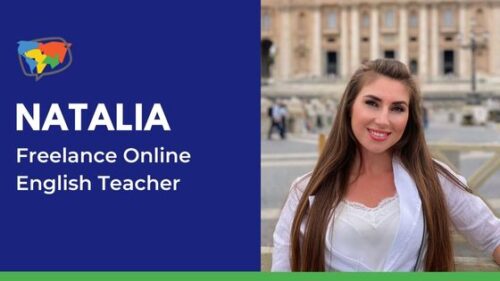 Relocating to Italy has not only allowed IDELTOnline™ grad Natalia Minaieva, from Ukraine, to find safety but also expand her career in teaching English as a freelancer. Nowadays, she specializes in teaching English learners in the tech industry. She discusses going independent as an EFL teacher abroad, strategies for teaching English pronunciation, and the different programs she has developed for her learners.
Hi, Natalia! Can you tell us a bit about yourself?
Originally, I come from Ukraine. As you know, the war broke out and I had to escape, and I found shelter in Italy. Currently, I'm residing in the south of Italy, near the coast.
I've been teaching English for the past 20 years, so I have a vast career in teaching. I've been teaching all ages and people from all walks of life. I used to teach in public schools as well as private schools. For the past 12 years, I've been teaching in the IT industry, so my core audience is made up of IT specialists: developers, programmers, managers, CEOs, and such. I also used to have some experience in logistics and in sales. But, everything basically is connected. Now, I'm a freelancer, so I have to take care of my own sales and find clients.
Discover strategies for finding online ESL students.
What inspired you to become an English teacher?
I'm my own inspiration because I love English. I'm just totally in love with it. When I was at school, we didn't use to have a lot of resources like we do now. I didn't use to have the internet, so the only resources that I would have would be just libraries, textbooks, or teachers. Gradually, I was inspired on my own to learn more and to dig deeper into the language. After some time, we had an internet connection, and I remember using all these resources – BBC, CNN, and all the wealth of things. Suddenly, we went from nothing to everything, and that was amazing. So, I felt this hunger. I still feel that I want to learn more.
How has your English teaching career grown in Italy?
When I got here, I started working as a freelancer online with big clients that I used to have back in Ukraine. When things settled down a little bit, people realized that they desperately needed English because they were coming out to new markets. And, I didn't really need to explore the market at the time per se because I had my clientele. Now, though, I have decided that it would be great for me to explore the local market because I assume things are happening differently here. So, I started looking for a job. Everyone is super friendly here.
I think English is very popular here, and lots of people want to learn it. But honestly, I haven't found a job yet in a local company or school. I'm just looking around, and what I see is that people here are more into British English than American English. For example, you can see British flags all over the place!
How do you find your own English students?
One of the instruments I use is Instagram because it's the easiest platform. You just put the hashtag, your location, and some description of who you are. I'm also using reels as a tool. As far as I know, Instagram is promoting you actively if you're using this video content.
The second way would be through LinkedIn. LinkedIn is very popular, and this is probably platform number one for job hunting. So, this is where I'm looking for a job. Back in Ukraine, I didn't do that because Ukraine hadn't developed. I used to have a profile but I was not a frequent user. However, now I have posted something there related to teaching and learning. I'm also sending my resume here and there, and I get feedback. People reach out to me.
Here's how to set up your LinkedIn profile to get more students!
What are the benefits and challenges of working as an independent English teacher?
I think that there are more benefits than challenges. Certainly, there are some challenges that cannot be avoided, but they are given to us for our growth.
You're independent. You can control your life, build your own schedule, employ yourself, and occupy as much time as you wish. No one is going to tell you what to do because you are your own boss!
Worrying about not finding clients for the following month is a challenge. You need to work really hard and give 100% in terms of course quality. I'm not saying that if you are employed by a company, you don't need to offer high-quality lessons. But, as a freelancer, you have to depend on yourself. There is no one who will help you out in a difficult situation or who will cover your sick leave and vacations. These are challenging aspects, but I'm used to them. Even if I cannot find enough clients to fill out all the slots, I'm fine with just using the opportunity to have some time for myself.  
Learn the business and operational skills you need to launch a successful enterprise in the Specialized Certification in Teaching English Online as a Freelancer course.
Can you tell us more about your English teaching work?
My students in the tech industry are usually interested in developing their speaking skills because they communicate with foreign, overseas clients. That's why, right now, I'm focusing on conducting speaking clubs for them, wherein we cover different topics:
I absolutely love classes on idioms. I teach classes on business idioms because, without them, our speech is incomplete.
I conduct a brief course on pronunciation where I help them build strong pronunciation with an American accent, as well as intonation skills. I don't get tired of repeating that intonation matters because this is often something that they do not understand.
From time to time, I have a business client communication course where I teach students emailing and business writing.
Master the art of teaching English pronunciation in this Micro-credential course.
What are your strategies for teaching pronunciation? And what are the tools or materials that you use to teach pronunciation more effectively?
I keep telling students that to be able to pronounce well, you need to listen a lot. If you just read something, you won't be able to understand how to pronounce the sound.
We listen to a lot of podcasts or videos, and then students receive assignments where they need to listen to something else. In class, my role is to point out things that they cannot hear and explain how they're pronounced. So, I decompose and deconstruct the pronunciation of native English speakers.
I send them audio messages to listen to and repeat as many times as necessary to train their speech muscles. I tell them that once they feel a sore throat, that will be the indicator that they are finally pronouncing words correctly.
Check out the best online tools for teaching pronunciation.
What do you do when you're not teaching?
I chill! My morning routine starts with activities like jogging and going to the park. Because I believe I should never stop learning English, I listen to podcasts or news to know what's happening in the world and discuss it with my students. This is how I pick up new words too.
I use hot-button topics with my students because everyone is interested in them. They understand that we are talking about things they can relate to, so they are automatically interested.
When I don't teach, I socialize. I try to go out and see someone or find friends and then learn a new language. I also use this time to go to the sea and just chill. Of course, from time to time I get tired of all these activities, naturally. So, the best way to recharge my batteries is to go to the beach alone, without anyone around, and just stay under the sun for an hour or two and get bored!
Back in 2015, I was already a successful teacher. But, I thought that I would need some certificate for prestige. I had an American colleague, and I inspired him to do the course together with me because he was a native English speaker teaching Ukrainians.
I would have loved to go to the US and do the course offline, but that was not really possible. However, there was a beautiful opportunity to do the course online. So, we plunged into taking the course together.
Here are 7 ways the IDELTOnline™ sets you apart when applying to jobs.
How was your experience with the course?
I thought that I knew it all, but it turned out I didn't! At the very beginning, it made me think a lot. I still remember the question, "Which is the right English?" and learning that English is a universal language.
We also had to do a lot of writing since it was an online course. That trained me tremendously. My writing skills were boosted. Every Saturday, we were supposed to submit our work, and I would stay up a few nights before thinking about what to write. As our groupmates were supposed to read and comment on each other's work, I wanted to be the first and the best. That's why I spent a lot of time doing that. And thanks to that, I advanced my writing skills.
So, although the course was expensive back then, it was worth it. Now, I'm an internationally recognized English teacher!
Learn more about teaching English as a global language.
How do you think this course helped you develop your skills further?
First, I had a tremendous boost of confidence. I'm no longer just a teacher with a Ukrainian diploma. Let's face it – if you want to find a job somewhere abroad, you need to prove your qualifications. Also, confidence matters because when you are a leader, your students follow you.
What's next for you?
With the given situation, I can only think about the months ahead. Since I am an internationally recognized teacher, I can easily refer to my TEFL certificate and find a job here. I would like to start teaching in person and that's why I'm actively looking for a job.
I was also hoping to launch my own online English teaching school one day, so maybe in the years to come, I will get back to this idea. Nevertheless, the sky's the limit, right? And, we need to keep learning because of all the new things around us.
What are your tips for English teachers who want to go freelance?
Keep learning and developing. Be hungry for knowledge and absorb it because you cannot hide it. When you learn, you inspire and excite yourself and people love it. People go for energy and for knowledge, naturally.
Keep inspiring and sharing what you know. You need to love what you do in the first place. I do have my principles and I'm looking for like-minded people who share them, which makes us a perfect match.
I recommend developing interpersonal and leadership skills. I believe that leaders are not born, so you can become one. Find the person you admire and copy them! If you get inspired by a person and you know that they're successful, follow their steps, and eventually you will learn. Don't be afraid to do new things. Quite often, our hands are tied when we see some uncertainty. This is what scares us and puts us off. But, we need to embrace it and move forward because this is where something undiscovered might be waiting for us. For instance, I'm looking for a challenge every time because if I get bored and I'm lost in routine, I lose interest. So, by taking challenges, I grow.