Becoming fluent in English and six other languages led Bridge grad Johan Colmenares, from Venezuela, to not only connect with people from different communities but also build a career as a language teacher. Currently teaching Business English online in Brazil, he tells us how being multilingual has benefited him and how he has worked to improve his methodologies to help his adult students better their English skills.
Hi, Johan! Can you tell us a bit about yourself?
I'm from Venezuela. I currently live in Foz do Iguaçu, which is on the border of Brazil, Argentina, and Paraguay, so you could visit the three countries in just one day. This part of the country is famous for being the land of the beautiful Iguaçu Falls. Portuguese is the official language here, but because of being so close to the Argentina and Paraguay borders, it's very common to hear Spanish speakers in the city. I'm 37 years old. I like cats – I have two cats. I live here with my wife and my mother.
What inspired you to become an English teacher?
It started when I felt curious about learning languages from a very early age. In Venezuela, that's not very common, as speaking a foreign language is regarded as a status symbol. Many people believe that being fluent in another language is not attainable unless you have a lot of money to afford top-notch language courses or that it's possible only for people who are in a bilingual family, like second-generation immigrants from Italy, Lebanon, or Syria, who are normally in my city. But in my case, I felt curious. I also wanted to learn. I felt curious about other lands. I always asked some friends about their experiences in other countries.
So, I started learning English on my own, and then I took a course. One of my paternal uncles, José, was also a source of inspiration for me. He is an English professor, and for more than one year he helped me practice the language. We used to spend more than seven or eight hours per week talking in English. I would say those were interesting conversational classes. That encouraged me to learn this language seriously, and eventually, I realized that I also loved teaching like him.
I also started learning Arabic and helping some friends. Then, I realized that I love teaching, not just learning. I landed a job as a teacher to teenagers and adult groups at the Language College, a language institute in my city. I worked there for about two years.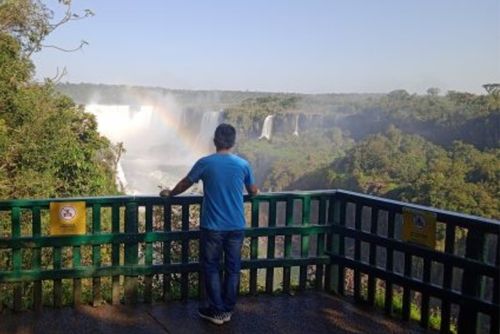 Why did you decide to move to Brazil?
When the economic situation in Venezuela worsened, I thought it was better to continue working as a freelancer. One of my friends told me about living in Brazil back in 2019. What caught my attention was the fact that Foz do Iguaçu is a relatively small and quiet town, unlike what other people might think about Brazil being a dangerous country. But here, the crime rate is very low. So, I started thinking about the possibility to move here with my family. I also thought it would be nice for my family to adapt relatively easily to the place, as you can interact here even in Spanish or Portuñol. Also, Brazilians and Venezuelans are very friendly and easygoing.
Why did you decide to study other languages aside from English?
I always liked foreign languages. But in the case of Arabic, that was because of a personal reason. I belong to a religious organization, and we help other people learn about the Bible. So, we decided to help the Arabic community in our city learn about the Bible. I also discovered that I not only like learning Arabic but that I also wanted to learn more than just one language, and it was amazing.
After learning Arabic, one language came up after the other. Currently, I speak English, Arabic, Portuguese, French, a bit of Italian and Russian, and Hebrew.
How has your knowledge of other languages helped you as an English teacher?
I would say that it has helped me understand the challenges and the setbacks that students can face. They learn my own language or a language like English. I say that because I teach English, but I also teach Arabic and Spanish. I also have personal sessions, but I mainly work with the company Learnlight.
I also always strive to help my students with respect – avoiding humiliating them, for example, when I correct their mistakes.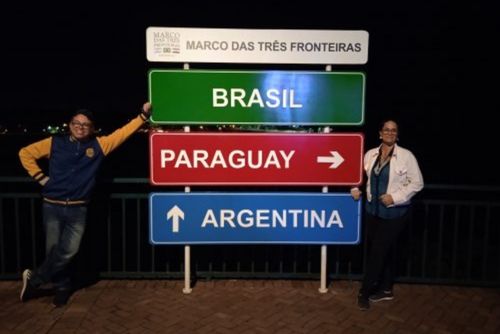 When I was taking my Bridge course, I also learned some interesting expressions that helped me understand what I went through when I moved to Brazil, such as acculturation, enculturation, ethnocentrism, how we adapt when we arrive in a foreign land, and how you can adapt to other things. That has also helped me understand what people go through when learning a second language, and I think it's a source of very important insights. So, in learning other languages, language and culture are intrinsically linked. So, learning other languages has helped me develop cultural awareness and I'm really I'm grateful for this source of knowledge.
How did you land your online teaching job at Learnlight?
When I came here, I thought that it would be a bit difficult to land a job. Nevertheless, a friend of mine told me to pursue teaching English online and that it is a very good source of income here in Brazil. The thing is, when I arrived here, I arrived two months before the pandemic started, so I didn't have much time to actually think about the possibility of doing that. The pandemic started around two months before I signed my contract with Learnlight.
I found out about the opportunity at Learnlight when another friend posted a WhatsApp status about working for Learnlight. At the time, they were focused on Norwegian and Swedish teachers. I sent a message anyway and I told them that I teach Arabic, Spanish, and English. They told me, "Well, that's great! You could apply and send your resume." I went through the whole process. It was a bit slow because you need to do a lot of training. Then, I was accepted.
What types of English classes do you give?
Most of the classes at Learnlight are Business English lessons. That was new for me because the English lessons at the language institute I worked for in Venezuela were for people who want to travel to another country or go on vacations, but Business English is a bit different. Nevertheless, I was trained at Learnlight and we had a lot of materials.
My Business English students are from different countries – I've had learners from 26 countries so far! I've had students from Nigeria, Slovakia, Italy, France, Jordan, Canada, Brazil, Venezuela, and Spain. They are mostly managers, directors, clinical directors, people who work in human resources, or people who want to move to another country and their family members.
What do you do when you're not teaching?
In my free time, I like spending time with my family and my Brazilian friends. I like hanging out with them in Ciudad del Este or Iguaçu Falls.
My family and I also offer Bible courses. We spend time helping the Spanish-speaking and Arabic-speaking communities here in Foz do Iguaçu. I also like spending time with my wife, just watching TV during the weekends.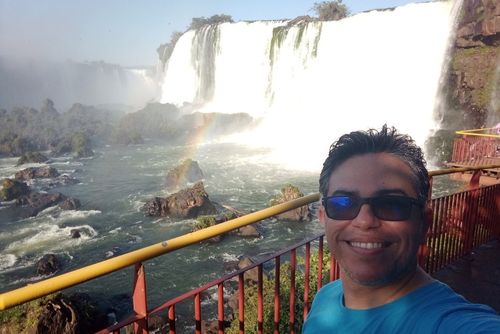 What kinds of materials or activities do you like using in your own Business English classes?
I like using:
YouTube videos like TEDx Talks
News articles from BBC
Materials from some other books that I have
Take a Micro-credential course in Materials Development for the EFL Classroom to learn how to think outside of the box to create effective lessons!
Can you share some memorable moments that you've had as an English teacher?
Back when I worked in a classroom, I really liked spending time with my students. Sometimes, we played games in the classroom and I liked those moments. Especially during the pandemic, sometimes as a teacher, you probably unconsciously become a friend, so sometimes you have to hear sad stories from students even though they're speaking English with you. In those moments… I had to stay with them. Sometimes, I stayed a bit longer after class but that was not a problem.
I also remember a guy who landed a job in another country because he spoke English, and he thanked me for my efforts. I really cherish those moments.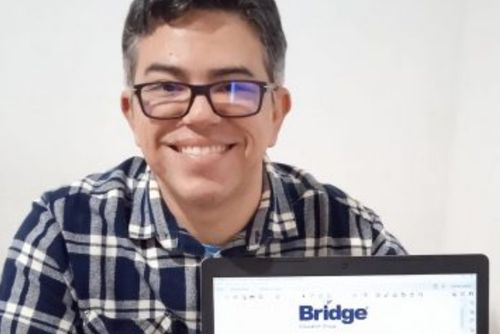 I found Bridge because I was browsing through different TEFL courses. I read some articles on the BridgeUniverse blog and stories on how this course helped many teachers, which encouraged me to do the same. I did want to take a step further in my career. I don't have a degree, but I personally love teaching.
How did the course help you improve your English classes?
For instance, I found it hard to plan lessons ahead back at the language institute. Although I was provided with the book and other resources, I wanted to learn methodologies that allowed me to help students in a better way. I wanted to feel more confident in lesson planning.
One of the most important things I learned was to be well-prepared ahead. I was using some of the methodologies and I was able to reinforce those methodologies, such as lessening teacher talk time during the class.
I also really liked the methodology to help students learn English pronunciation and the structure to teach pronunciation to help people see how to pronounce a word in a sentence.
I also learned how to prepare students for a listening activity and pre-teach vocabulary in reading or listening activities. It was helpful not only for my English classes but also for my Arabic lessons. Now, my classes are much more interesting and purposeful!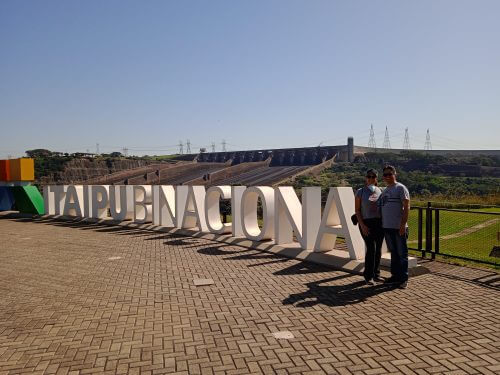 What's next for you?
Now that I have finished this course, there are some Specialized and Micro-credential courses that I would like to take, like the Specialized courses in Advanced Methods in Teaching English Online and Business English.
In the future, I'd also like to take the 150-Hour IDELTOnline™ course and benefit from the live sessions in the course.
What are your tips for English teachers who want to teach online?
If you haven't done this before but you love teaching, don't let fear discourage you, and believe in yourself.
If you feel utterly anxious at the thought of having six or more people on a platform, such as Zoom or Skype, you could work with one-on-one sessions to start, and then you can work with groups as your confidence grows.
I personally prefer working with adults. So, it's important to think about the kind of student you will feel more comfortable with.
Don't stop studying. Teachers are constant learners. I study every day and I admit that I don't have the answers to many specific questions, so I try to do my research.
Be sure to have good equipment and a good internet connection.
Consider taking a TEFL/TESOL course with Bridge – I highly recommend it!