Maggie Palmer is the International Admissions and Job Advisor at the BridgeTEFL headquarters in Denver, Colorado. She got TEFL certified while teaching English with the Fulbright program in Brazil.
During her four years of teaching EFL in South America, Maggie was immersed in the Brazilian culture and learned Portuguese. She also met her fiancé and discovered her passion for international education. She tells us about how she got into teaching abroad and shares more about her TEFL experience and some of the lessons she learned along the way.
Maggie, Can you start by telling us a bit about yourself?
My name is Maggie Palmer. I was born and raised in Brea, California, and as long as I can remember, I've always had an interest in and a knack for foreign languages. I studied Comparative Literature in college and went abroad to Spain in my junior year.
After college, I had the opportunity to teach English in Brazil and got a second chance at learning a new language. This time, I went with a lot more confidence (in fact, too much, as I thought I was speaking Portuguese when I was really speaking Spanish). I loved my experience in the classroom in Brazil, and what was supposed to be a nine-month gig turned into four years. Fast-forward to today and I've found a company and position where I get to share my love for languages and education with my colleagues and all the students I interact with on a daily basis. That's me in a nutshell!
What is your current position at Bridge?
I am the International Admissions Advisor and Job Advisor here. I help students enroll in the right online TEFL course and I support them during and after their course studies. It's a very dynamic position and I am constantly given the opportunity to learn.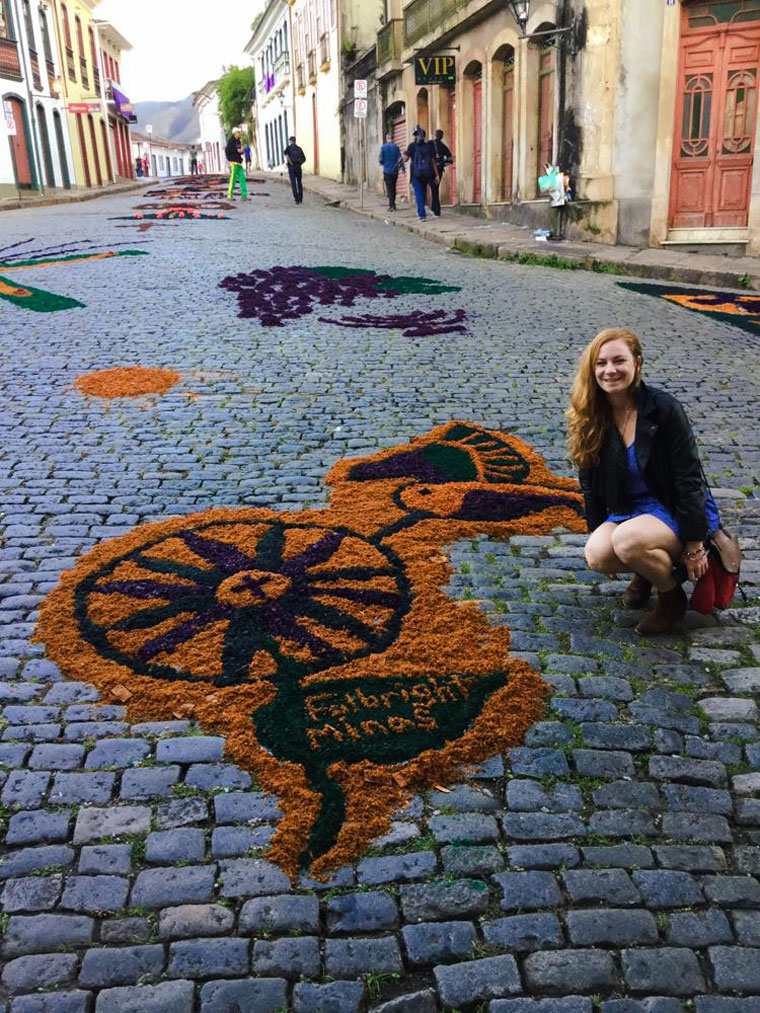 Maggie posing with some incredible street art made of sawdust in the historic town of Ouro Preto, Brazil. 
How did you get into teaching English abroad?
During college, a coworker of mine told me about the Fulbright Program. After further research, I found the English Teaching Assistantship opportunity to be the right fit for me. I was ecstatic to receive the offer and though I didn't have any teaching experience beforehand, I got a taste of teaching through the program and decided to take the next step of teaching my own class through the English extension program at the university.
What type of TEFL certification do you have?
I took an online 150-hour TEFL certification program. Though it wasn't a requirement for my position, I sought it out while I was already teaching in Brazil for my own personal growth as an English teacher. It was a great help and really transformed my professional experience so I could feel more confident in the classroom.
Where did you teach abroad and for how long?
I taught at Universidade Federal de Viçosa in Brazil for about 4 years, the first year as an English Teaching Assistant, and then as a teacher in two different extension programs offered to the university student body and staff.
Why did you choose this teach abroad location?
I didn't specifically choose Brazil as my teach abroad location. Originally, I wanted to go to Argentina to improve my Spanish-speaking skills, but instead, they offered me a position in Brazil. Looking back, I couldn't have been more appreciative of the change in plans!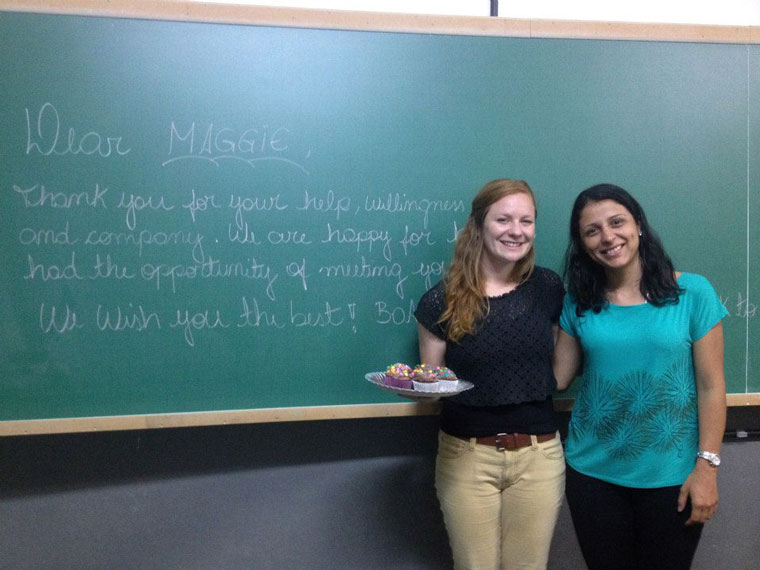 Maggie getting appreciated for all her hard work in the classroom!
How did you find your job abroad?
I got my first job through the Fulbright English Teaching Assistantship. Then, as I was already in the university environment, I saw all the opportunities for both formal and informal English teaching. There is a lot of need for English teachers in this setting. My advisor gave me some options on how I could stay in Brazil, and I jumped on the opportunity to stay longer.
Did you have a skype interview for your TEFL job? And if so, any tips for video interview success?
No, but I did meet my advisor over skype before going to Viçosa. I would say, try to make some eye contact with the camera and speak more clearly than normal because video calls can sometimes cut out.
As a Job Advisor, what are some of your best tips for creating a TEFL resume?
Review it for any spelling errors and pay attention to formatting issues so as not to distract the potential employer. You've got about one minute of their attention, so choose your words wisely, make sure you use action verbs and keep everything in sync syntactically — there's nothing more distracting than listing verbs in different tenses or mixing up commas and semicolons. I just think keeping your resume clean and free of distractions goes a long way to get an interview. Also, be sure not to lie – the truth will come out eventually!
How did you know the school where you applied was reputable? Do you have any tips for making sure of this?
The Fulbright organization itself is very reputable, so I didn't doubt their placement for me too much. That being said, I think knowing which companies back a school is important, so be careful where you get the job listing from and make sure it's a legitimate company or job board.
Did you sign a teaching contract with your job and if so, for how long?
When I worked for the English Without Borders program, my contract was for two years. This was in order to give more teachers the opportunity to participate in the program.

Birthday celebrations in Brazil!
Where did you live?
I lived in an apartment with roommates. It was a great experience for me, especially to help with my Portuguese immersion but also to meet other international students. I think over the four years I lived in Viçosa, I had a Uruguayan, Colombian and some Mexican roommates. That was fun because we all were learning the language. Of course, my Brazilian roommates were also a blast and remain close friends of mine to this day.
Were you able to support yourself on your TEFL job salary pretty easily?
I was, especially because I was living in a college town and a lot of my friends were receiving a similar salary. Our nights out weren't extravagant, and things weren't very expensive in the town either. Rent, food, and entertainment were very affordable in this small college town. I probably spent most of my money on bus rides!
What are some of your best tips for finding a job abroad?
I would say being open to the possibilities that come. Maybe one place isn't the right fit, but at least you learned that through experience or further research. Taking the time to consider your interests and researching what may fit the bill will really save time in the end, but at some point, you've got to say yes and just go.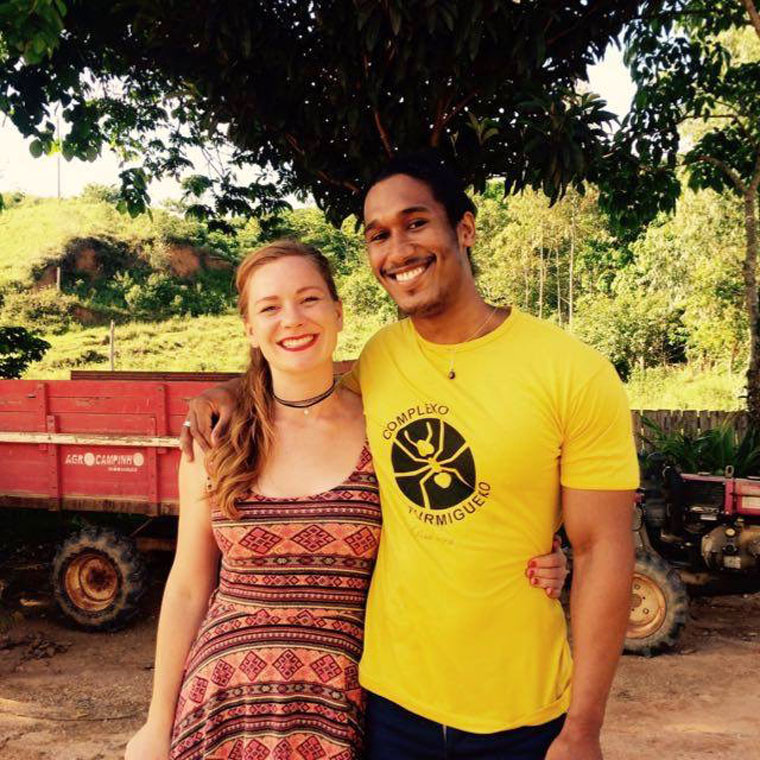 Maggie and her fiancé Ilan whom she met while teaching in Brazil.
What were some of the highlights of your teach abroad experience?
Well, I did meet my now fiancé! I can't forget to mention that, right? I was able to complete my Master's in Applied Linguistics while I was there, so that was another great experience. Presenting my research project after all the hard work was definitely memorable. I made lifelong friends and learned so much about myself and my home country as well. There is nothing like seeing your country from a distance through the lens of another.
What recommendations do you have for someone who wants to become an English teacher in Brazil?
I would say that there are a lot of opportunities for all types of teachers in Brazil, from more formal to informal settings. If you aren't sure about committing to teaching, it is a great place to get your feet wet and see where you could go with the career. I say that because all the Brazilian students were so kind, patient, and appreciative of all the efforts I put into planning their classes. That made the experience all the more rewarding and made the transition into teaching a full classroom much smoother.
As an admissions and job advisor with BridgeTEFL, Maggie can assist you with TEFL course advising and job placement opportunities after you graduate. Contact her directly at mpalmer@bridge.edu.