Can I Take My Pet Abroad When I Teach English?
By Jennifer Collis
January 18, 2018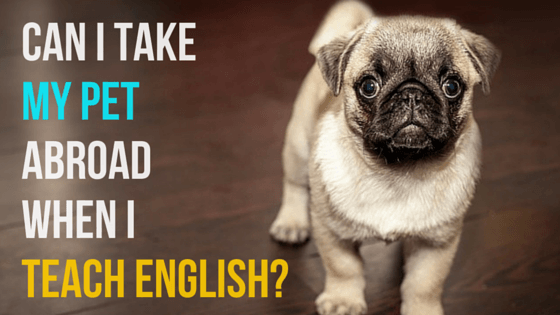 When I was excitedly making plans to teach English in Costa Rica, there was one issue on my mind that I was afraid would keep me from going abroad: Can I take my pet abroad? I loved Elliott and didn't want to leave him behind (who would keep him for a year, anyway?), but could I take him to Central America with me? I wasn't sure, so I started doing lots of research.
In the end, I took Elliott with me to Costa Rica and it wasn't as hard as I thought! Here's what you need to know about taking your pet abroad with you to teach English as a foreign language (TEFL).
If you're new to teaching, you'll want to get initial training and qualification with a TEFL certificate. You can explore our online TEFL courses to get started!
1. Find out what vaccinations your pet is required to have for the country where you're going.
Basically, to take your pet abroad, you'll need to prove he is healthy and up to date on his shots. Dogs, in particular, need to have proof of rabies vaccination, among others. For more information, American citizens can visit the State Department website. Keep in mind that vaccinations that are standard requirements in one foreign country can be different from those in another country, so contact the embassy/consulate for the country where you plan to teach for the most accurate information.
2. Get a certificate of health from your vet (but not too early).
To prove your pet's good health and up-to-date-vaccines, you will need to obtain a certificate of health from your veterinarian (the airline you fly may have its own requirements, too, so be sure to check). Also be aware that this certificate of health needs to be issued within a certain time frame for the country you are entering (and possibly for the airline). For example, for Costa Rica, the certificate of health had to have been issued by a vet within the last 30 days, but for other countries, it can be within the last 10 days, or even less!
3. Evaluate your transport options.
The majority of people who move abroad with their pet transport the animal on the same flight they are taking. Most airlines will accept pets on international flights, but policies, costs, and modes of transport differ. For instance, some airlines put all pets in the cargo hold, while others allow pets (of certain sizes) in the cabin with you. Some airlines charge extremely high fees for pets, while others are more reasonable. Also, an airline may have a limit on the number of pets it can accept on a flight, so booking your flight early can ensure your pet has a reservation.
You can also ship your pet separately on his own flight, even on an airline that caters specifically to pets, but this is a much more expensive option. Pet shipping services such as the International Pet and Animal Transportation Association (IPATA) can help arrange this or navigate your other options, for a fee.
4. Learn about housing options with a pet.
Flying your dog or cat overseas is not the only concern when teaching abroad with your pet. You'll need to find a pet-friendly living situation, too! You may want to set up short-term, pet-friendly accommodations through Craigslist or Airbnb until you can get your bearings in the country and find a suitable apartment near your teaching job.
5. Consider the culture.
Culture is another big consideration when taking your pet abroad. For example, when I taught in Costa Rica, most people had small dogs that stayed inside, while bigger dogs were more often kept outside, employed as watchdogs. In Morocco, I learned that culturally, cats were revered but dogs… not so much. I only saw one dog the while living there over a year! Learn what you can about how different pets are perceived in the country you plan to live in. It can have an effect on your housing options, too!
7. Finally, research requirements for bringing your pet back into your home country.  
Americans, for example, should be sure that their dogs are up to date on their vaccinated against rabies before arrival back in the U.S. Visit the CDC website for more information on bringing pets into the U.S.
As you can see it takes some planning to travel abroad with your pet, but it can be done! (Want to learn more? Read 6 Things To Remember When Travelling With Your Dog.) Despite the initial hassle, I was glad not to have to give up my cat, Elliott, in order to pursue my dream of teaching abroad in Costa Rica.
When you're looking to live abroad, there are many factors that will shape your daily life. For example, will you be able to drive in a foreign country (Spoiler: it's easy!)? 
Read our travel tips section for more advice on similar topics.