ELT Conferences Go Virtual: Is This the Future for Industry Events?
By Vicki Colbert
September 30, 2020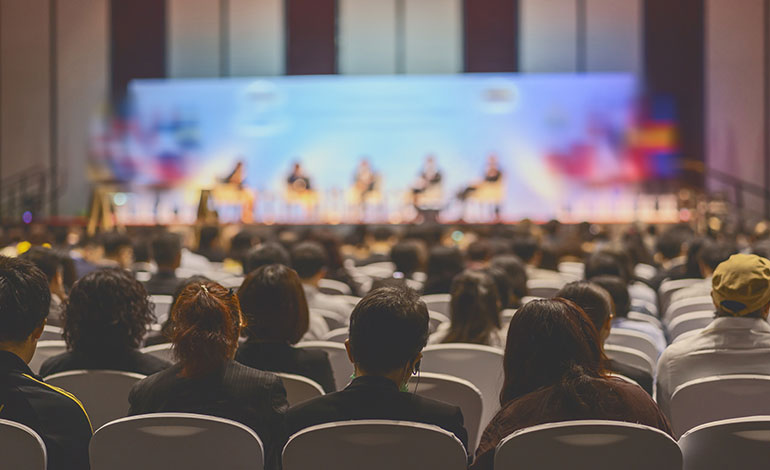 Each year there are an estimated 80 or more ELT (English Language Teaching) conferences across the globe. They come in all shapes and sizes. Many are grassroots events organized by teachers volunteering time in their community, and many are affiliated with international associations or the initiative of local universities.
The largest events put on annually by industry heavyweights like TESOL International Organization and IATEFL (International Association of Teaching English as a Foreign Language) attract upwards of 4,000 delegates from all over the globe. With a reputation to engage large audiences, these conferences also attract hundreds of exhibitors, including publishing giants such as Pearson, MacMillan, Oxford, Cambridge, and National Geographic.  
These English teaching conferences serve an important purpose and are cherished by teachers worldwide as a source of networking and professional development. TEFL/TESOL conferences offer innovative ideas, concepts, and research that are not necessarily learned on the job.
This year, these important events, much like those of other industries, were upended by the COVID-19 pandemic. However, many organizations have been able to transition their events online. We seek to learn more about this new phenomenon and the pros and cons of the online format as well as if online TEFL/TESOL conferences are here to stay.    
Split decisions and scrambling 
In an effort to honor domestic and international health protocols, many English teaching conference organizers also faced a dilemma: transition their large-scale events to an online platform or defer until a later date in an effort to maintain in-person engagement. Recognizing that neither alternative was ideal, a race against the clock ensued.
The Association of Colombian English Professors [Asociación Colombiana de Profesores de Inglés (ASOCOPI)] is a nonprofit organization focused on English Language Teaching (ELT) professionals in Colombia. Because the organization operates on government grants, donors, and partnerships, they plan their annual October conference six months in advance. 
The conference is always an in-person experience hosted at various universities in Colombia and sometimes in neighboring countries. In March of 2020, just as ASOCOPI began putting program pieces in motion, COVID-19 cases were sprouting uncontrollably in the Eastern hemisphere. University president Carlo Granados Beltrán had second thoughts. 
Over in England, Jon Burton, the Chief Executive of the International Association of Teaching English as Foreign Language (IATEFL), was in a similar situation and had to make a split decision. On March 11, the World Health Organization (WHO) officially declared COVID-19, the disease caused by the novel coronavirus, a global pandemic; the U.K. ban of all social public gatherings immediately followed. 
IATEFL's 54th International Conference and Exhibition, an event that reels in 3,000 participants, on average, was bookmarked on people's calendars for mid-March. What now?
Burton and the IATEFL team needed to thoroughly weigh all options and with haste. "Did we want to cancel our conference?" he reflected. "What would that mean? How would that look, and what were the alternatives?" 
"We're not experts… so we decided to go for trial and error, hosting online webinars ahead of the conference, seeing how people are reacting to this kind of event." 
Throughout April and May, Beltrán, along with his team, honored the government's shelter-in-place directives, monitored virus cases in Colombia, and contemplated alternatives for ASOCOPI's 55th Annual Conference. 
"By late May, we decided to move the conference online," says Beltrán. 
The association is starting from scratch since this is their first large-scale online assembly, ever. But they keep their teacher-based constituency top of mind, constantly exploring new avenues to guarantee a seamless October event.  
"We're not experts… so we decided to go for trial and error, hosting online webinars ahead of the conference, seeing how people are reacting to this kind of event." 
Despite the decision to move this year's conference completely online, Beltrán's team is relying on the reputation and the quality of past events to generate roughly the same number of attendees this October.
Zoom, anyone?
We now know some TEFL/TESOL associations are transferring their conferences online and teachers are embracing the change, but how exactly are they doing it? What platforms have been the most successful? Is virtual the modality of the future? 
Take, for instance, the Troika Xperience conference, hosted by Troika, an education start-up based in Brazil. Maintaining a start-up mentality and spearheaded by co-founder and president Vinicius Nobre, the Troika enterprise planned and executed its first-ever medium-sized conference in just under two months. In the midst of the pandemic, Troika not only threw their first conference in the company's history but also their first online conference. 
For Nobre, an experienced language education professional, Google Meet eclipses all other platforms. Past webinars and smaller virtual meetings were held on the service, so Nobre and his team didn't see the incentive to change direction and opt for the more popular platforms, like Zoom, for their July 2020 conference.  
"Google Meet is very reliable," Nobre says. "We don't use Zoom because for us, for the number of events we hold, it would be too big of an investment." 
On the contrary, Beltrán will use Zoom for ASOCOPI 2020, as opposed to more affordable options like Facebook Live or Google Meet. The association typically hosts 300 to 400 people for the face-to-face conference, and they're banking on similar registration numbers come October. In this case, Zoom has the capabilities to support hundreds of attendees, the speakers, and the staffers. 
ASOCOPI will continue using Whova, an events management application based in San Diego, which launched in 2013 but gained popularity in recent years with clients like Duke University, L'Oréal, and Pfizer. ASOCOPI favors this application for sudden changes to the event schedule that require a quick but neat response. 
The upside of implementing Whova for virtual conferences is that attendees won't need to receive five back-to-back emails every time the schedule is pushed back; instead, the updates will appear directly in the app. The downside, however, is that attendees will actually have to download the app to their mobile device, even if only for three days.  
TESOL Director of Strategic Events, Lisa Dyson, CMP, DES, evaluated a myriad of virtual platform options in a short span of time and decided to go with Meeting Play when pivoting from their in-person March convention to a virtual setting in July. MeetingPlay is a mobile event app and event technology solutions company that prides itself on key features: event registration platforms and indoor wayfinding solutions (think gamification and augmented reality capabilities found on the Pokémon Go mobile app). 
Dyson had been a strong advocate of incorporating virtual elements into a convention even before COVID-19 hit. She is even certified in planning virtual events. As a well-known and respected leader in the meetings industry, Dyson explains, "You need to be nimble. The events industry has been stagnant for a while. Covid-19 is pushing the events industry to evolve and perhaps in a better way, to new levels. We all wish to return to in-person live events, but since this is the new norm, we have to adapt and we, at TESOL, had to adapt quickly."
Although MeetingPlay was able to support TESOL's 4,000 virtual participants, 500 secular and concurrent pre-recorded sessions, and over twenty virtual exhibitors, it was not without gripes. Rosa Aronson, interim Executive Director of TESOL International Association, was elated to find out the platform was easy enough to navigate, specifically for the attendees, but she and her team needed more administrative control. Those last-minute hiccups that occur at every organized event proved to be a pain point for Aronson, who had limited abilities to make direct changes through MeetingPlay. 
"At the end of the day, this is not about the technology… this is about the people."
Despite all the innovative software designed specifically for large online conferences, the team at Troika sees value in people over technology. Nobre, naturally optimistic, scrappy, and historically successful with minimal resources, challenges the idea of sophisticated digital technology just to host an international English teaching conference. All those bells and whistles, which are usually costly, may not even matter to the audience. Instead, Troika Xperience is driven by the quality of relations that participants build at their events. 
"At the end of the day, this is not about the technology… this is about the people," Nobre says. "You don't need to have cutting-edge technology in order to organize an event… you need to focus on the people. Who are these people? What do they want? How can they play a major part in the process?" 
These questions will rotate through the minds of event organizers should virtual conferencing become the new norm these next few years. 
The expo floor versus the expo tab
Traditionally, one of the more alluring attractions for in-person conference attendees is scoping out the latest products and services at exhibitor booths. The displays are often vibrant, with eager representatives standing at the ready with discount codes, and hands-on product sampling is typically a visitor magnet. If the exhibitor has a generous budget, small gift bags usually find their way into the hands of future customers. So how can all that be achieved virtually?
Rikka Batulan, Head of Exhibits and Strategic Events at TESOL, needed to answer this exact question in less than four months, just in time for the first TESOL Virtual Convention.
The solution materialized in two ways. The first was to allocate two hours of each conference day to "Expo Hours." During these hours, attendees were free to explore the exhibits worry-free of missing a scheduled session. The second way was to host virtual exhibitor booths. Each exhibitor was supported with a profile page equipped with videos, downloadable materials, and a discussion board for attendees. Although the booth reps couldn't physically hand out freebies or snacks, they were "on-call" to answer attendees' questions via chat boxes. 
What proved to be a success with the TESOL virtual booths was exhibitors could easily measure their engagement metrics for future online marketing campaigns. 
"From the exhibitor side, we had instant click reports that they can download and see who's visited their virtual booth, which to them was a huge plus so they could keep in contact with them post-convention," says Batulan.   
Major adjustments ahead 
What Troika desired most for Troika Xperience attendees was to emulate an atmosphere of community, as if the COVID-19 pandemic never occurred and the conference was held in person. Across the board, representatives from ASOCOPI, IATEFL, and TESOL concurred: Nothing replaces an in-person conference. The face-to-face engagement, networking, and community building are simply unmatched. 
"Designing the whole experience was quite a challenge because we wanted to find different elements that would make people feel part of a community and engage with one another," says Nobre.
Also, "Zoom fatigue" is real. So, Troika tried to stray as far away as possible from making the online English teaching conference feel like a full eight-hour day of online webinars, which is why all the sessions were equipped with active "minders." Minders were essentially virtual ushers. Attendees were welcomed when they entered a session, and informed of upcoming sessions in the schedule, including virtual coffee breaks, which were in designated networking "rooms."
Another challenge to address: slow responses to attendees' questions. At an in-person event, eyeing a staffer in a "Volunteer" T-shirt is followed by a simple (or sometimes complex) question. An immediate answer is expected. How long would responses take in a virtual chat setting?
TESOL attendee, Daniel Isozaki, dispatched a simple question via a chat box about video access upon the convention's close, but his inquiry was met with silence. He eventually figured out the answer to his question by poking around the TESOL site. He'd missed a presentation, so he was relieved to discover pre-recorded sessions were available for review up to 60 days after the last day of the online English teaching conference.  
The last, and perhaps the most obvious, concern web organizers anticipate is the urgent scrambling that follows after an Internet failure. In a new era where video conferencing is indispensable, Nobre says it is imperative to have plans B and C for technical issues.  
We are social beings 
Anzhela Karamysheva's first TEFL/TESOL conference ever was the TESOL Virtual Convention in July. Off the heels of completing a Bridge teacher training course, she was excited to continue learning and developing. Nothing about the online platform discouraged her.
"I think it's better to continue to hold the conference even if it's all online," she says.  
Rory Falls, based in Los Angeles, attended the TESOL Virtual Convention as well and found very little to complain about. 
"I loved the online format because often events like this are on the other side of the country or in a different country and can be hard to attend," Falls says. "This allowed me to participate without having that limiting boundary."
When Bridge spoke to TESOL and Troika, they shared that attendee feedback was consistent with Falls'. Virtual platforms welcome untapped audiences due to convenience and low costs for the attendees. 
"Attendees outside the U.S. were very excited for the opportunity to attend a TESOL convention for the first time."
"Attendees outside the U.S. were very excited for the opportunity to attend a TESOL convention for the first time," says Srisucha McCabe, TESOL's Strategic Events Manager, who originally planned for an in-person conference in Denver. "They were excited to interact with well-known speakers, authors, and board members."
On the other hand, IATEFL opted to defer the March 2020 conference to June 2021. The justification was simple. Every year, a week after the year's conference ends, the association begins planning for the following year. It's an 11-month process. For Burton, the speakers, members, and staff put a lot of work into 2020's conference, and that needed to be preserved for 2021 so that all stakeholders could enjoy IATEFL in its purest form: live and in-person.  
Plus, IATEFL already hosts a collection of online webinars, courses, and professional skills workshops scattered throughout the year, including an added web conference on October 3, 2020, in partnership with the British Council, to celebrate World Teachers' Day. 
"We very much recognize the importance of online conferences… but we also see the value of face-to-face events as well because of the networking, and because of the ability of people to be in the same room and ask their questions," Burton says. 
Beltrán, Batulan, McCabe, and Aronson agree with this sentiment and are forecasting how to structure future events… perhaps a hybrid forum (half in person, half remote) is the way of the future. It's still too early to tell, and it will all depend on how quickly the world manages COVID-19. 
Nobre from Troika sees TEFL/TESOL conferences, once safe enough, returning to full physical attendance. Conventional wisdom tells us why: We are social beings.
Bridge is dedicated to empowering a global community of English teachers. Learn more by visiting us at bridge.edu.