Notes From the Field: Nicole, TEFL Teacher in Rio de Janeiro
By Bridge
January 7, 2015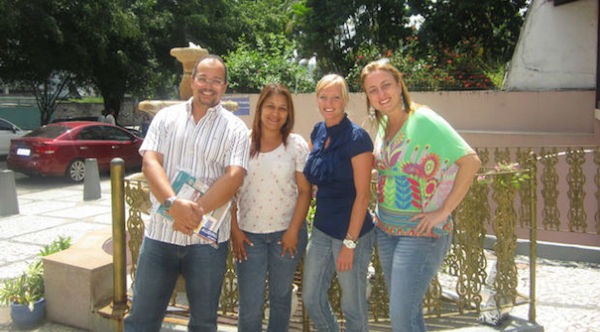 Although she finished her TEFL certification course with Bridge a while ago, she (like many visitors to Brazil) couldn't bring herself to leave the country, so she's currently working as a TEFL instructor in the city. Meet Nicole, TEFL alumni in Rio de Janeiro, Brazil.
Browse TEFL courses online.
Why did you choose to become TEFL certified in Brazil?
The sun, the beach, and beautiful tropical weather and scenery are obvious reasons to come to Brazil, but Rio offers so much more. Before choosing to become TEFL certified I earned a degree in Global Business Management and did thorough research on Brazil's economy, infrastructure, and general business environment for my studies. I was intrigued by the abundant opportunities that are available in Rio today and in the near future, along with the positive changes that have been happening here in recent years. However, my main reason for choosing Brazil was the Brazilians' reputation for having a strong culture, filled with passionate and generous people that enjoyed life to the fullest. A stark contrast from the typical American lifestyle I was accustomed to, this is what I wanted to experience the most.
Describe your typical day in Rio.
Typically I wake up early and get a light workout on the beach, followed by a refreshing swim in the ocean. I grab an ice cold Acai for breakfast and start my day teaching. The best part about teaching is choosing your own schedule. I usually teach mornings to mid afternoon, giving me plenty of time to visit one of the many beautiful beaches close to home. After grabbing some delicious food on my way back from the beach, I spend an hour or two lesson planning, depending on my classes the next day. I have more than enough leisure time, and in all honesty, I'm living the dream!
What have you been up to on the weekends?
Even though I teach on Saturday mornings, I still have plenty of time to explore all that Rio has to offer. I usually set aside a day to try something new, or visit a new area. For example, there's beautiful hidden beaches like Joatinga and Prainha, and places to hike like Tijuca National Forest, Pedra de Gavea, and Sugarloaf. Local neighborhoods like Santa Teresa, Leblon, and Ipanema offer good food and attractions, while Centro offers innumerable museums and cultural activities.  When I stay close to home, I can spend my weekend learning to surf or kite board, playing handball on the beach with locals, or dancing Zook and Salsa at the local dance hall.
What was your favorite part of the IDELT TEFL certification course?
The best part of the program was building relationships with the instructors and having a local resource for any questions or concerns. I was able to meet several previous TEFL students, and learn from them first hand what teaching was really like in Rio, not just what they tell you in the books or on-line. In addition to learning how to teach, I learned so much about the Brazilian culture and specific problems I would encounter teaching in Brazil as opposed to other countries. I felt more than prepared for anything I would encounter after completing the program, and also learned a lot about how to adapt to the local culture and make my stay more enjoyable.
What's been your biggest challenge in Rio so far? Your biggest triumph?
Without hesitation, the biggest challenge has been getting used to Brazilians concept of time and work ethic. It is true that Brazilians are incredibly relaxed and 'go with the flow'. This is a great part of the culture, but can also be incredibly frustrating when trying to accomplish something important. As silly as it may sound, my biggest triumph is being recognized as a 'local' in my neighborhood. As a blonde-hair, blue-eyed woman, I get the 'gringa' look more times than I can count. But now, local shop owners recognize me and make small talk with me, making me feel like I am at home.
How are you enjoying your current teaching position?
I am very happy with all three of the schools I am currently working with. Native speakers are in high demand, and my employers have made an asserted effort to ensure I am happy teaching with them. They provide all of the materials I need and offer a lot of professional support. All of them are only a phone call away and I know they are concerned about my success.
How has your Portuguese proficiency improved during this program?
The free week of classes were very helpful, although just a starting point for learning the language. What has been more helpful is navigating my way around Rio and being forced to speak with locals. This has given me opportunities to learn the language as well as motivating me to study more.
Have you had any funny gaffes or misuses of Portuguese during your time in Brazil?
So far, I personally have not had any issues. I have a few friends that have, but the errors they have made are not appropriate for translation. All I will say, is to remember the importance of pronunciation! A slight slip of the tongue can change the meaning of the word entirely!
Are you staying with a host family? If so, what's that like? Would you recommend it to other students?
I did not stay with a host family for the TEFL certification, but I've stayed with a host family in the past and would recommend it to everyone. It is the best way to learn about the culture, and it helps you from feeling homesick since you have a home away from home.
What will you miss most about this experience when you leave Brazil?
More than anything, I will miss the generous and curious nature of Brazilians. The culture values relationships and it is very easy to make friends in Rio. I will miss people enthusiastically giving me help or directions when I am clearly lost on the street or bus. I'll miss everyone giving hugs and kisses, and the fact that there is always music playing somewhere with people dancing to it uncontrollably. Another thing I value a lot about Brazilian culture is how active people of all ages are and the healthy lifestyle that they lead.
Do you have any advice for other students planning to do TEFL certification abroad?
Make sure to carefully choose what course you take, as there are so many out there, and quality certification is necessary to be successful and obtain positions with quality schools.  Choose a course like Bridge that offers more than just instruction, but also offers language classes and cultural immersion opportunities such as host families and guided tours. Be mindful of the time of year that you schedule your course. In a city like Rio, there is always a holiday the entire city is shutting down for. Some people enjoy this, and for others the unanticipated halt of life really throws them off. Most importantly, be open-minded. Life is an adventure and meant to be enjoyed. Even if the experience isn't what you expected, take some advice from Brazilians and go with the flow.
Take her advice, listen to the Brazilians! Go with the flow and follow your dreams in a beautiful South American location, like Rio. Get TEFL certified, get hired, and live in Brazil's most festive city!
Want to learn more about what to expect in Brazil? Download our country guide!