Carol is a BridgeTEFL Specialized Certificate course graduate from Salida, Colorado who is currently using her credentials by volunteering in Cambodia; her primary role is to train English teachers. Here, Carol tells us about her experiences in Cambodia and offers advice for those interested in teaching in Southeast Asia.
Carol, can you tell us a bit about yourself?
I have a degree in elementary and special education but when my husband began teaching in Asia (he is a pediatric cardiologist) I wanted to travel with him and make sure I always had a place to teach English wherever we landed. I took your online TEFL class to enhance my work in Cambodia. We have taught in Vietnam, Laos, Bhutan, and Cambodia.
What type of organization do you work with in Cambodia and what is the job like?
I work with the Cambodian Community Dream Organization as an educational consultant and member of the Board of Directors. One month a year I observe the wonderful Cambodian English Teachers and provide workshops on correct pronunciation and teaching methods. By teaching English as a second language to young learners, we open new opportunities for students in rural Cambodia.
When I connected with the Cambodian Community Dream Organization (the CCDO) I lost my heart forever to Cambodia. Despite their horrific history, the people are desperately trying to break the cycle of poverty and the CCDO is blessed to have an amazing Cambodian staff. My husband and I are retired and do this at our expense, we do not get 'paid'… although the rewards are priceless.
My position is to teach the teachers. Although I treasure my time with the students it is the old 'give someone a fish and they eat for a day or teach someone to fish and they never go hungry'.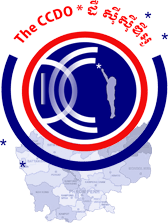 Logo for the Cambodian Community Dream Organization, where Carol volunteers. 
What is a typical workday like for you volunteering in Cambodia?
We stay in the city of Siem Reap where my husband teaches at Angkor Hospital for Children and I take a tuk-tuk into the rural countryside to observe and support two very rural and impoverished schools: TaPang Primary and Kiri Primary.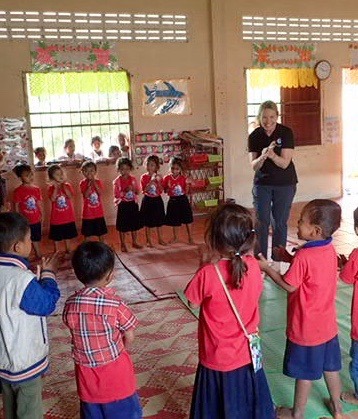 Children in CCDO's rural primary school program
Can you tell us more about the teachers you train and work with?
On Saturdays, our staff comes to Siem Reap to prepare lesson plans and this is when I present English Workshops. The Cambodian English teachers are passionate, devoted and creative in making the most of their limited supplies.  These teachers have finished high school and gone on to further training. The CCDO encourages and supports their continued education. Many have postgraduate degrees. This year we are expanding our support to a new area where the teachers are not as prepared to teach English and will need more support. The training process has already begun.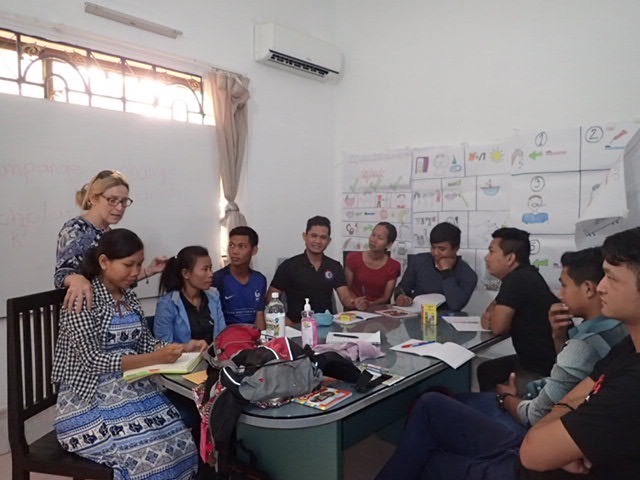 Carol with her Saturday English Workshop group. 
What type of housing do you live in- an apartment, a house? Is it near the school?
We stay in Siem Reap, easy access for my husband work. It is about 40 minutes by tuk-tuk from the schools. We rent an apartment for the month. 
What do you and your husband typically do in your free time in Cambodia? 
Siem Reap is a very international city with countless options for any tourist, most notably Angkor Watt. Our 'free time' is limited. My husband also loves his work and works long hours. I use a portion of my free time preparing the workshops and communicating with the Board of Directors. Beyond work, I love to shop in the local markets and meet with the many friends we have made.
Can you tell us about a memorable experience in Cambodia so far, volunteering in Cambodia? 
There are too many to recount but last week I was told our Cambodian Director of Education (for the newest area of expansion for our NGO English program in Angkor Thom District) was teaching the English Teachers 'I'm a little Teapot'…which is actually culturally appropriate! Tea is a popular drink in Cambodia! And yes, I try to add variety to the English program with song, activities and moving beyond the very scripted British and Cambodian English language books.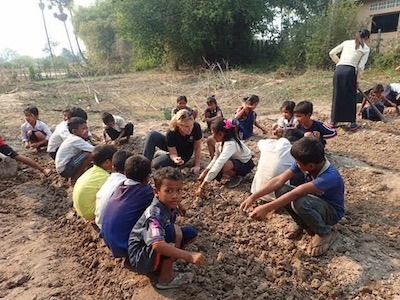 Carol with some of her Cambodian school's students
How long will you be in Cambodia and where will you go next?
We will be in Bhutan for 5 weeks this fall and then return to Cambodia for a month in February 
What recommendation do you have for someone who wants to teach in Cambodia or other countries in Southeast Asia?
Read everything you can about the culture. Each country has very sensitive and unique cultural differences. It is our hope to offend less every day. Unless you grow up in the culture and language it is impossible to understand the uniqueness of each culture so, educate yourself and learn some words BEFORE you arrive. There is so much available on the internet!
Interested in learning more about the TEFL experience in Southeast Asia? Check out another Bridge graduate interview: Ella, a teacher in Vietnam!