Troubleshooting When Teaching Online English Classes
By Coleen Monroe
April 3, 2020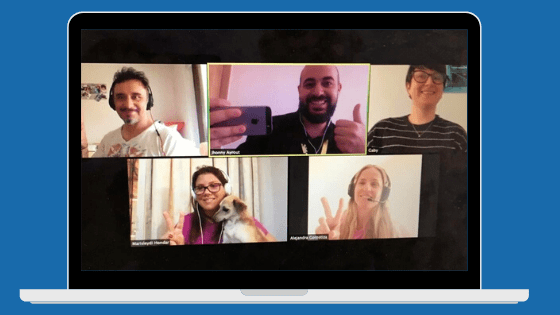 This article was written by experienced classroom-based English teacher, Coleen Monroe, who is currently teaching abroad in China. Like many teachers around the globe during the coronavirus crisis, she and her students have had to make make a quick shift to the virtual classroom. She shares some of the common problems she's experienced during this transition, and advice for troubleshooting when teaching online English classes.
In-person classes have been banned in many countries around the world and that makes the transition to online classes one of necessity and immediacy. For some, teaching English online is also a way to claw back income from being laid off or placed on indefinite leave due to class cancellations. I'm a teacher at a language school in Fuzhou, China, but I've been teaching my classes online since the beginning of February when my school closed. It's not yet clear when the schools will be able to open. Due to an abundance of caution, they're staying closed for the foreseeable future.
If you're new to teaching, you'll want to get initial training and qualification with a TEFL certificate. You can explore our online TEFL courses to get started!
Common issues students and teachers Face in the virtual classroom
In the world we currently inhabit, it's going to be necessary to work out the problems that arise when teaching online without the normal kinds of interventions that we rely on as educators. You can't simply cross the room and point to a place in a book where an answer ought to be written; you need to be able to troubleshoot at a safe distance. As teachers, we must adapt to make sure our lessons still achieve the main goals of teaching a language.
What follows are a few of the ways that I've been able to adapt to the new reality of teaching online in the six weeks since I began. These are the biggest issues that you are likely to come across when teaching online and how to solve them.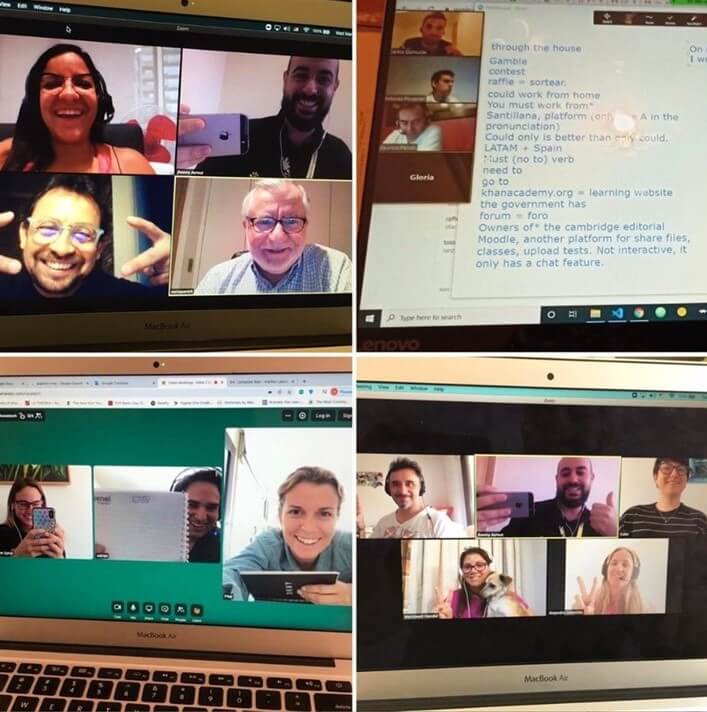 Issue: A technology learning curve for students
It's been six weeks and ChenChen's microphone still doesn't work. We've tried everything. I model leaning into the microphone. I hold up my hand to my ear because I can't hear him. The teaching assistant also translated for him outside of class how to make the answers more audible… it still doesn't work. But ChenChen is the only one in the class that still has that issue, and we started with all of them having problems. Progress.
The biggest barrier for my classes is not the app that we're using to teach online. It's that the students are either too young to have had the time to learn computer skills or that there was a lack of serious consideration for technological education in local schools before now. Most of my students cannot type and a lot of them struggle to use a mouse to manipulate flashcards or games on the online classes.
What should you do?
How can you fix these issues, and do so quickly? It's really important to spend a significant period of time in the first week of teaching your students online teaching the vocabulary that they will need ("mouse," "click," "type," etc.) and also practicing using the computer system. It's also important to have clear instructions for how to use the functions of any app that you will be using, including screenshots and videos to help the students.
Tutorials can help students learn how to use common video conferencing platforms for class, like Zoom:
https://youtu.be/hIkCmbvAHQQ
Issue: You don't have the right teaching setup
You may have not had the time to get the perfect system for online teaching set up. When I first started teaching online, I was not allowed to wander around outside and it was hard to get additional things because of coronavirus. Most of the articles that I could find about setups for online teaching were not useful because of the difficulty teachers had getting additional things from outside the home. Lucky for you, I've found a setup that works well. I'll give you the bare-bones list of what you really need to get things going as an online teacher, at a minimum.
What should you do?
Make sure you have the essentials to teach online:
Laptop or desktop computer
Webcam (don't worry about the quality for now)
Microphone (built-in is fine)
Access to reliable Internet
A place to sit that has decent lighting
That's it. Seriously. A lot of people said that you absolutely must have a headset with a microphone, but that's not realistic at this time. If you have any technical issues with your setup, find reliable sources to get help. A lot of computer companies have excellent customer service, even from a distance.
Issue: Student behavior
Troublesome student behavior is another issue you may encounter when you teach online. A lot of students are undergoing stress currently. Keep in mind that the circumstances are scary for them, too. You may see students who are normally a pain in classrooms suddenly blossom into the strongest student in an online class. Or, conversely, a student who is normally well-behaved and strong at grasping the concepts will suddenly become a classroom management challenge.
The most common behaviors problems that you'll see with young students:
Turning off their microphone or camera (especially among students who are preteens and dislike having their faces on the chat)
Repeatedly leaving the class and signing back in, or leaving the camera on but physically leaving the room
Refusing to speak at all
Refusing to do activities and book work
Throwing a fit on camera, banging the microphone to burst everyone else's eardrums, or yelling
Not signing into the class until 30 minutes after the class starts
Sending rude images or words in a chat function
What should you do?
You can turn the chat functions for a class off. Sometimes it's not worth it to keep it on, believe me. Then, turn it on only if you need the students to give an answer to a specific question. Fortunately, most online teaching apps also allow you to mute a student or remove them from the visible classroom. Use that feature after giving a warning.
If you don't already use a points system for classroom management, I highly recommend that you do so. That way, the students can see their points disappearing if they misbehave, and they can get points if they put in a good effort.
Finally, it's important to be proactive about attendance issues because many of the parents will be too busy and may not notice that their student did not attend a class.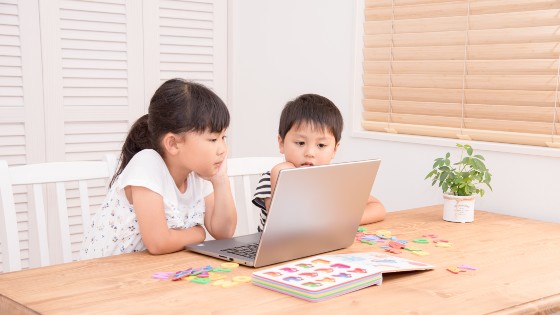 Issue: Overbearing parents
At the beginning of this transition to teaching online, I reached out to my friends who had taught online ESL for several years. I was shocked when they said that in 30-50% of their classes, the student was not alone. I really didn't think that could be true, but it is. The parents are afraid that their student will struggle and many of them sit in the room with him or her. They try to help by repeating every word of instruction that I give. Some also yell in the background, bang pots and pans, and in some cases, may shout at a student for not answering to their standards.
What should you do?
Set boundaries. It's important to set very good boundaries early on. I sent messages to the parent groups saying, "This class is intended to help the students improve and think independently. They will occasionally struggle or need to try again, and that is essential to their language learning. Please do not answer for your student or pressure them. You may cause your student to lose the benefit of the online lesson."
That might seem like a strongly worded message, but it worked. I speak up during class as well and ask parents to politely back off as necessary. Then, my students are mostly left to take the class as intended. Find out what procedures you need to follow if the parental pressure seems inappropriate and take steps early if you see something that isn't right.
Issue: Student attention spans from planet zoomer
Kids these days.
It can be difficult to keep the attention of young students in a traditional classroom setting, and it can be even more difficult in online classes. Yet, it's important that students get the most out of our time together online.
What should you do?
Adjust your lesson plans.
Time limits should be reduced in terms of lesson plans.
You can change activities every 7 minutes, allowing about 1-2 minutes for instructions and then a bit of time to play.
You'll need to keep things moving or the students will lose interest. Use videos and songs to keep things exciting, and work hard on keeping the activities continually moving.
There isn't any time to waste, so tune your lesson plans accordingly. You need to be at your most efficient because you won't be able to pull out the tricks that you usually rely on to help if an activity simply bombs or your students forget how to say their own names.
Learn techniques and activities for teaching in the virtual classroom in the Bridge Specialized TEFL/TESOL Course: Teaching English Online.
Issue: Brain fog when working from home long-term
A final problem is more about the general way things go during a "lockdown" or a quarantine. It's very hard to stay motivated to be a great teacher when you are on week 4 of online classes and it begins to get a bit stale. We are living in unprecedented times and the situation is likely to be quite stressful in many ways, outside of just teaching. You need to make sure that you are taking steps to take care of your mental and physical health. You can't pour from an empty cup. Your online classes are going to decrease in quality if you don't keep your brain sharp.
What should you do?
Routine is the most important weapon in the battle against brain fog. Keep a schedule and make sure that you stick to it every day. Take more breaks than you are used to (and no, don't use those to skim the latest terrible breaking news on Twitter). Consider adopting a mindfulness practice, like daily meditation. Use caffeine strategically. If you take care of yourself during this time, you will be able to help your students and plan better lessons.
If you're looking for ways to smooth the transition from the classroom to teaching online, or you are ready to enter this growing field, get trained and certified in as little as 3 weeks with comprehensive TEFL/TESOL Certification in Teaching English Online.