Big Business: High-Stakes English Tests Drive ELT Test Prep Solutions
By Jennifer Maguire
February 6, 2023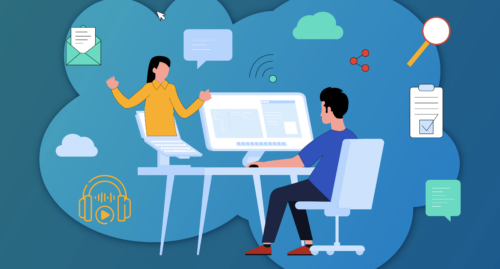 Denver, CO. – As the remote delivery of English language tests becomes more commonplace, resources to prepare test takers have evolved as well. Gone are the days of visiting a brick-and-mortar bookstore to pick up a test preparation book with practice tests. Or, at least, the print test preparation book is now part of a larger cache of online resources available to test takers. Today's test takers, English language teachers, test makers and test preparation providers now have extensive resources, both free and requiring payment, that may be accessed from anywhere at any time, making test preparation more accessible and effective.
As language test providers and educators prepare test takers for testing, oftentimes for high-stakes testing, the strategies to do so have evolved with changes in testing format and delivery options. While teaching to the test and quick test hacks have never been particularly effective, today's online test formats that differ from test to test make the "fast and easy" solutions even more ineffective. However, test takers should not despair, as the accessibility of effective testing resources is more ubiquitous than ever, and the creative solutions that are available may be effective both in the classroom and at home.
We interviewed test providers, test preparation companies and English language teachers to find out how test preparation has changed with the increasingly common transition to online test delivery. The resources available are many and varied. While the resources mentioned here are not all-inclusive, some of the most effective ways today's testing candidates are preparing for testing include online practice and sample tests, online test preparation courses, language apps and a variety of resources found on video-sharing sites and audio-sharing sites that help prepare test takers for all aspects of the test. There are both cost-based resources and free resources that may be used to build the necessary skills in reading, writing, speaking and listening to score well on language tests.
Test-taking can be stressful at any level, but knowing a passing grade may be the difference in college and career pursuits, as well as immigration efforts, may provide additional pressure. The high-stakes nature of these tests means test preparation is a big segment of the English Language Teaching industry. This translates to many opportunities for test providers, test preparation companies and teachers to provide the resources that may mean the difference between a passing and failing test score.
Mid-stakes language tests are typically used for class placement or employment purposes, whereas high-stakes language tests may be used for college and university admissions, immigration and employment purposes. Candidates may be young students, adult students or working professionals. In the case of current students, some preparation may take place in the classroom. In other cases, candidates may need to conduct their own research to find preparatory courses and other resources. We found that a variety of the resources available to candidates today were not available in the past before test delivery methods began shifting to an online format.
And while many of the new methods are fantastic, the tried-and-true preparation strategies of taking practice tests and relying on the expert assistance of a teacher are still the most effective ways to prepare. However, the reasoning behind the effectiveness of these resources has changed with the tests, as preparation for today's exams involves not only preparing for the content but also for the format.
Teacher expertise is key to effective student test preparation
One of the top suggestions for effective test preparation offered by interviewees was to enlist the help of an expert. There are a variety of courses available online that are specifically geared toward preparing students for language tests. Not only are these courses especially effective in the preparation process for students, but the field of teaching test preparation is a booming one for teachers looking to expand their student base.
"Many students prefer to enroll in English courses and work with a teacher to help them to develop their skills and reach the level of proficiency that they expect."
Among Bridge Education Group's more popular TEFL courses are Micro-credentials for teachers designed to help them prepare their students for the IELTS and TOEFL exams. Bridge is also partnering with Pearson English for a Micro-credential course in Teaching PTE Test Prep.
"There's a demand for teachers," said Bridge Education Director of Operations, Anna Hearrell, highlighting the need for teachers of English language test preparation. "Each of these tests is mechanically different. What we have found is for a teacher to prepare students, there's so much they need to know. A teacher's job is to know the motivation of the student and the right test to take."
She added that every test is formatted differently. The tests have different grading scales, and some have speaking and reading combined, while others do not, so a trained educator who truly knows the ins and outs of the specific test is needed to prepare students to be successful.
Alicia Salomone took the Bridge Micro-credential course in Teaching TOEFL Test Prep and has been teaching EFL lessons, both in person and online, since 2019. When describing the value of students taking a test preparation course when preparing for an exam, she said, "This kind of course provides them with knowledge about the exam's structure, time management techniques and how to respond to the test requirements in the most effective way possible. The course also orientates students about their level of language proficiency, letting them set up reliable expectations about the test results."
ETS offers the official iBT Prep Course for students, and a model for the course can also be provided to teachers and used in the classroom. "Teachers can actually lead the course with a cohort of students," Director of TOEFL Learning and Support Jazzme Blackwell said. "If the instructor wanted to teach a live class, they can use our LMS platform."
Michigan Language Assessment's Director of Marketing, Communications and Stakeholder Relations Fernando Fleurquin said, "Many students prefer to enroll in English courses and work with a teacher to help them to develop their skills and reach the level of proficiency that they expect."
Pearson English offers the PTE Academic online course and the PTE English Booster Course, which is "a self-paced study course that supports English language development through academic English activities and PTE Academic task-type questions," said Gio Giovannelli, President of English Language Learning at Pearson.
Pearson also offers a suite of resources, many for free, for teachers that can be used to develop their own test preparation courses to prepare students for the PTE.
"A teacher's job is to know the motivation of the student and the right test to take."
Test provider Skills for English has quite a few resources for teachers as well, with Test Information Sheets on their website that include a section titled Tips for Teachers. "In addition, we collaborate with a publishing company in the UK, and they have now published both [print] and digital books for each skill and CEFR level that could easily be used in a classroom setting," said Tracy Springer, Skills for English Recognitions Specialist, US and Canada.
On the Teaching Skills for English page of the website, there are also links for textbook mapping with popular EAP/EFL coursebooks, she added. Textbooks such as On Point (Delta Publishing) and Speakout (Pearson) may be used to help prepare for the test and to test student levels.
"We also have Classroom Activity Sheets to be used as a guide for instruction," Springer said. And "there are also specific Skills for English Teacher Worksheets on our website for teachers to be used."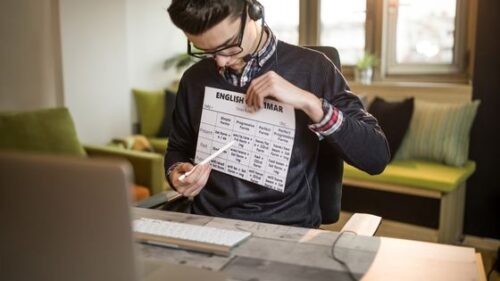 High demand for test prep provides opportunities for EFL teachers
Because language tests are such a critical task for students and professionals, the need for trained test preparation teachers is great. As mentioned above, Bridge offers a Micro-credential course in Teaching TOEFL Test Prep for aspiring teachers interested in teaching one such course. Upon completion of the course, the trainee will be prepared to provide students with information on the general features of the TOEFL exam and its sections; explain the test format, scoring and timing; provide effective test-taking strategies for both preparation and taking the TOEFL test; model the strategies for test preparation and provide practical classroom activities for students to prepare for the test. Another TESOL Micro-credential offered by Bridge Education is the Teaching IELTS Exam Prep course. Upon completion of this course, the trainee will be able to explain all features, time limits, formats, sections and grading criteria of the IELTS exam; share general and specific test-taking strategies to help students prepare for the exam; provide specific suggestions for each of the four parts of the exam and teach positive test-taking strategies.
"Taking a test prep course may represent an advantage for those teachers who are willing to explore this niche industry."
Hearrell at Bridge again stressed the idea that there are different strategies of preparation that are needed for different tests. Having an expert in the test content and format guide preparation, as the format of tests varies, is one of the strongest preparation strategies.
"We look at the nuances of the test and strategies around it and prepare teachers," Hearrell said, describing the Bridge Micro-credential courses. "We think every test deserves its own prep course. Linguistically preparing applies to all of them, but it's those mechanisms that are important, too."
Bridge has worked with Pearson to develop a PTE preparation course, as well.
"Teachers are decision makers," Hearrell said. "Preparing teachers with a breadth of knowledge is important, so when a student approaches them and says, 'I want to go to school in Australia,' the teacher becomes a stakeholder in all of this. Students see their teachers as advisors."
From an employability and financial standpoint, Hearrell makes the point that test preparation is big business. "It's in demand," she said. "You can get a lot more students who are willing to invest time and money because these tests are high stakes. Employability in both independent tutoring and getting hired is huge. Students recognize they need a teacher for this."
Students are both intrinsically and extrinsically motivated to perform well on these tests as they are trying to make a move in academics, career or life.
The big picture, Hearrell said, is that the adoption of English continues to grow. While some trends show school enrollments are down, she said, market trends, including a growing diversity of tests, highlight growth in the test preparation market. "The market isn't diluted, and it's so successful," she added. "It's on the up and up."
Behzad Limooie, a Bridge graduate, took 60 hours of courses from Bridge, specifically the Teaching Business English, Teaching TOEFL Test Prep, and Teaching IELTS Exam Prep courses. A teacher from Iran, Limooie was recently hired as a professional trainer by Learnlight, an online language school. Limooie is also training IELTS candidates in private one-to-one classes.
Limooie said the most important takeaway from the Bridge courses was updating his knowledge of test preparation fundamentals, including understanding what is and what is not included in the English language teaching environment. Teachers of test preparation become experts on every segment of the test, providing the expertise to prepare candidates for all aspects of the exam.
"We think every test deserves its own prep course. Linguistically preparing applies to all of them, but it's those mechanisms that are important, too."
He said his students worry most about productive skills, and, if they don't have a trainer confident in all aspects of the test, the learner won't trust them. When asked how earning the test preparation certification improved his employability, Limooie said that being eligible for leading candidates through a vital exam provides a sense of high-level eligibility, providing a sense of capability.
"I also believe a well-trained teacher is always a need, and as [long] as businesses and academies ask for specific test results, there will be a growing need in this niche," he said.
Salomone found that the Bridge Micro-credential course on IELTS preparation readied her "to plan interactive and appealing lessons that helped students to progress their linguistic competence and engage with their own learning." She began teaching the courses right as schools were shutting down due to the pandemic, and those changes were already compelling "English teachers to incorporate new techniques and resources to engage students and scaffold their learning."
Salomone agreed that preparation courses are necessary for students to "successfully tackle the challenges of exams such as IELTS." She pointed out that teachers interested in delivering exam preparation courses must be knowledgeable about the test features.
"It is not only about being a good English teacher. He/she needs to comprehend the characteristics of the given exam to be able to [organize] lessons according to the learning goals and skills that students should achieve to be successful in their tests."
Earning the test preparation certificate was a great advantage, Salomone said.
"Firstly, the test preparation certification gave me the confidence to create a course because it provided me with theoretical perspectives and practical orientations for effective teaching. Secondly, I added the certification to my portfolio, making my CV more appealing for employers," she said, adding, "Thirdly, I should say that there is an increasing interest, especially among young adults and university students, to sit for international exams to certify their English language proficiency. However, at least in my country, Chile, there are not many certified teachers to teach test prep courses. For this reason, taking a test prep course may represent an advantage for those teachers who are willing to explore this niche industry."
Krzl Nunes is Bridge Education Group's International Program Advisor out of Chile. She has been teaching English language courses for nine years and began teaching TOEFL and IELTS test preparation courses about five years ago. Initially, she was approached by some university students who planned to take the IELTS and wanted help preparing. Those students spread the word to friends and family, and she has been teaching the test preparation courses ever since, in some cases for students planning to study abroad, in other cases for adult professionals making career moves.
Students are most worried about the speaking and writing portions of the test, Nunes said. "They usually find it difficult to express themselves under pressure." There are also typically concerns with pronunciation, grammar, and vocabulary, as well as worry over the need to provide answers within a short time limit.
Many students have little experience writing essays or feel they are not good at writing, she said. "So, those are the parts of the tests that we usually focus on."
Nunes also confirmed that it is important for test preparation teachers to really know the tests they are teaching. She gave the example that one test section may have students identify the main idea or find key words. Knowing that, the teacher can then develop techniques for helping students do just that.
"Also, knowing the criteria of the test helps the teachers evaluate students better because they already have the standards and can judge or assess if the students will be able to fulfill the requirements or get high scores," she added.
Nunes also believes teaching test preparation is a niche market that will continue to grow, saying a lot of students from non-English speaking countries are looking to study abroad, move overseas or work in the US, UK, Australia or other English-speaking countries.
"The need for IELTS or TOEFL trainers has increased significantly," she said, pointing out that ease of travel and more opportunities for English speakers have increased globalization. "Taking IELTS and TOEFL exams is necessary, and we'll have more demand in the future."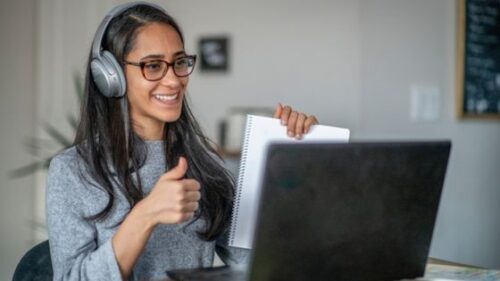 Test makers offer resources for teachers
Teachers of test preparation courses have many options for resources in the classroom. The testing company representatives interviewed for this article all had resources, some free, some for purchase, to support educators as they prepare students for test day. Resources range from practice tests to ready-made lesson plans. Many companies also offer professional development and other training courses.
Nick Gossett, Higher Education Specialist at Avant Assessment, said his first suggestion was that teachers take the practice test and become familiar with its format, question types and expectations. Further, they must review their students' writing samples and provide opportunities in the classroom for students to complete tasks similar to the proficiency test. The more comfortable students are with those tasks, the better they will perform. Avant Language Assessment also offers Avant Advanced and Professional Learning courses for teachers to help them prepare students for Avant exams.
"Teachers are at the front line of preparing students."
Shelley Vink, Head of University Partnerships at English Language Testing Ltd., said teachers have access to the same Password Language Test resources as students. She suggests that teachers familiarize themselves with the format of the online test. However, she also said, "At ELT, we discourage 'teaching to the test' and encourage students to develop their language skills in a real context."
Many testing companies provide teachers and administrators access to the practice tests, with formats similar to the real exams so that they may be familiar with the content and format of the test, as well as rubrics, so they may appropriately shape curriculum and pedagogy provided to students.
"We do give the test free to any administrators so they are familiar with it," said English3 CEO Moroni Flake. "One of our core tenants is transparency. All of our rubrics are public; it's not a mystery, so teachers could review them. We have a 46-page test overview packet, including all the rubrics and principles of why it's formed the way we did. We've had our English3 proficiency test since 2015 used with universities. We started using it with ESL students, adapted it and released it to universities. We wanted to reformulate the test, so we are about to release the replacement version of the test, GATEWAY English Test, toward the end of the fall."
Universities also get a full report of student tests. They can watch videos, read the report and read student writing. "We provide an extended customized interview video to the universities," Flake said. The interview is required of students and evaluates general and professional conversational skills.
"Our item types are either a) easy to simulate or b) known or widely used," he added. "So, there are resources where you can go through iteration after iteration and get repeated attempts." Teachers who familiarize themselves with the test may go online and look for similar questions or prompts, and then provide students with activities that practice identifying those answers or responding to those prompts, either in writing or verbally.
In addition to the Official iBT Prep Course that may also be taken by teachers, ETS is preparing to launch a professional development course, Teaching Academic English with the TOEFL iBT. This course will provide support and enhancements to the resources available to teachers. "Teachers are at the front line of preparing students," said Blackwell. "We are looking at our portfolio and providing teachers the resources to do that."
In addition to other resources, such as sample tests, writing activities and speaking test videos, Michigan Language Assessment provides webinars with advice for teachers. Webinars include content such as strategies for developing listening skills, understanding various tests and preparing for various tests.
Pearson English has the Teacher Preparation Pathway, which "helps teachers to familiarize themselves with PTE Academic, learn the fundamentals and prepare to teach our test in the classroom," Giovannelli said. "Additionally, we offer courses for teachers, as well as lesson plans, classroom resources and a teacher-facing version of the Official Practice Guide to PTE Academic."
There are also many free resources for teacher preparation materials on the Pearson website, including classroom resources, such as the PTE Academic preparation course outline that may be used to design a preparation course, as well as a suite of lesson plans that may be downloaded.
PrepMyFuture offers Livequiz as a tool teachers can use in the classroom. "Whether they want to bring a fun touch at the end of the class or review a specific concept, Livequiz is a great way to make sure students understood what was covered in class," PrepMyFuture's Head of University Partnerships Charline Barthelemy said.
There are also tailor-made programs for teachers. "Teachers can create the path of activities and homework they need for their students by either picking a pre-designed program and customizing it or creating a program from scratch and creating their own units by selecting activities from the PrepMyFuture content library."
"Plan a mock test directly on the platform as your midterm exam, set your own deadlines, add your own instructions," Barthelemy suggested. "There is a wide range of possibilities that can make your program consistent with the activities done in class and the homework assignments."
Teachers can also access analytics that allow them to identify the strengths and weaknesses of a group or individual students. The platform also tracks the number of times a student completes an exercise, activity status, best scores among activity attempts, individual time spent on PrepMyFuture, number of questions completed by each student and individual answers for each question.
Barthelemy said the main advantages of the platform include automatic corrections, exporting of grades in two clicks, adaptive learning and detailed answers for each question.
Jessica Beck, All Ears English Director of Content Development, suggested the All Ears English IELTS podcast and YouTube channel as resources for IELTS teachers, even though they are made for students. "They make excellent supplementary activities and homework for students," she said. "And, if a teacher is new to teaching IELTS, our course would give them the foundation they need to prepare students effectively."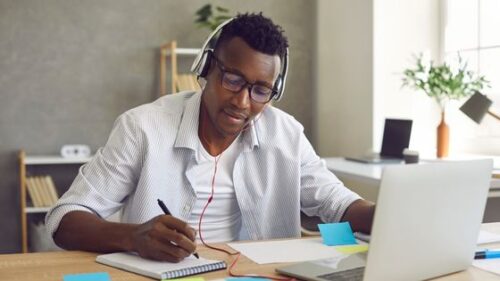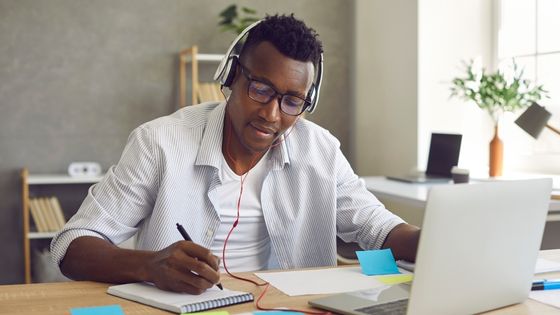 Test preparation companies tap into big business of exam prep
All Ears English and PrepMyFuture are two examples of companies that have tapped into this niche market of English language test preparation, providing resources for test takers that range from preparation courses to podcasts. The resources offered by these companies may provide inspiration for language teachers or even resources that may be used in the classroom. Like many of the language teachers and testing company representatives, advice from these testing experts follows the same patterns of utilizing the practice test resources and guidance from the experts, as well as immersing oneself in the language to prepare for the big day.
"Test formats vary, and the way the candidate prepares for them must be appropriate to the test."
All Ears English provides courses for English language learners, as well as a series of podcasts. Courses provided include Live Speaking classes, Business English Course, Grammar + Speaking, IELTS Prep Course, Fluency Course and Social Speaking/Small Talk. Podcasts include English Fluency, IELTS and Business English. Transcripts are also offered for all podcasts, so subscribers may practice multiple tasks related to reading and listening.
All Ears English's Beck was an examiner with IELTS for 14 years. She is also co-host of the podcast IELTS Energy, which gets nearly 800,000 downloads per month, according to the All Ears English Founder and CEO, Lindsay McMahon.
"First and foremost, make sure you are familiar with the test format and the instructions for each part."
Beck said it can be difficult to find good resources for test preparation that students can trust. "With a wider variety of tests available, more companies are trying to create materials for them, but, unfortunately, the creators of these materials are not experts in the individual tests."
She stressed the fact that strategies that work on TOEFL may not work on IELTS. "Test formats vary, and the way the candidate prepares for them must be appropriate to the test. Of course, there are general proficiency strategies that work for every test, overall reading and listening comprehension skills, strengthening the fluency and production for Speaking and Writing, but without proper guidance, these usually won't be enough to get the high scores needed."
She also pointed out that there are many test preparation resources still geared toward paper versions, which may not fully prepare students for the online versions.
PrepMyFuture offers preparation assistance for the following tests: TOEIC, TOEFL, IELTS, TEF, DELF, TCF and more. There are also preparation resources available for admissions tests, such as TAGE MAGE, GMAT, Score IAE-Message, TAGE 2 and TAGE Post Bac. PrepMyFuture offers a student guide, a teacher guide and a variety of preparation courses for English, French and Spanish exam preparation, as well as admission test preparation. Courses include Linguaskill, LanguageCert LTE, CELPIP, Road Trip USA, Internship BBC and more. The student guide has a study plan, lessons and activities, tests and analytics that may be used to identify areas that need improvement. The teacher's guide offers resources such as homework management, simulated exam conditions, adaptive training, detailed answers, identification of weaknesses and the ability to track student scores.
"With a wider variety of tests available, more companies are trying to create materials for them, but, unfortunately, the creators of these materials are not experts in the individual tests."
"First and foremost, make sure you are familiar with the test format and the instructions for each part," Barthelemy said. "This is an essential first step to arriving prepared and not being anxious about the exam. Even more than that, know how to go about each part's difficulties. Language testing assesses your linguistic proficiency but also your ability to adapt to various contexts and contents. Learning strategies to best take each section of the exam will allow you to be better prepared and score higher."
Practice tests are critical
The consensus of the testing industry is that practice tests are a critical element of preparing for a language test. This doesn't mean teachers should teach to the test but that both English language teachers and their students should familiarize themselves with all aspects of the test. These days, practice tests are often available both in print and online, and choosing which format to use for practice should depend on the format of the exam they plan to take. Some testing companies will provide scoring and feedback, as well. Among all advice provided by test makers, test preparation providers and test preparation teachers, utilizing the practice tests was the most repeated. With the shift to online options, knowing the test content and format is more important than ever before as practice tests allow students the opportunity to familiarize themselves with the format and idiosyncrasies of each test. With the advent of online delivery, each test will look and navigate differently. Knowing how to navigate a test has become a best practice preparation strategy. Bridge's English Language Test Preparation Resource Guide includes links and downloads for practice tests and other resources.
"With the paid preparation such as TPO, we want to simulate the test as they would experience it."
"I think part of it is understanding how the testing system works," Avant's Gossett said, adding that reviewing a sample test is important. "What does it look like? What should you expect?"
In addition to familiarizing the candidate with the content, reviewing the sample test online "shows them how the test will look, and it also prepares the computer for the test," he said. "It asks them to make sure they have a mic and everything. Avant offers testing in about 40 languages, so sometimes even the keyboard needs to be correct. I think that's where test takers tend to perform better. I have conversations weekly with institutions and students that didn't perform as well as they should, and it's often related to that. The speaking parts especially."
Caroline Fisher, Duolingo Content Marketing Manager, says the free, online practice test is a favorite resource of test takers. It's a shorter version of the real test but gives students opportunities to experience the digital format and review question types.
"I think students use this so often because, with an online test, user experience is more complex," Fisher said. "We're going to have more pieces with digital. For example, replaying audio a few times when you're listening to a prompt." Prior paper tests did not have digital options, such as replaying prompt audio, so preparing for this type of format is essential.
When doing a practice test, students can become more familiar with which buttons to push, how to navigate to the next question, how much time they have and how responses will be submitted."
"I think part of it is understanding how the testing system works."
Learners "don't need to memorize the question types or game them," she added. "The practice test helps them feel prepared for the test itself.
English3's Cerise Santoro, VP of the GATEWAY English Test, agreed that practice tests are one of the best ways to prepare. "Doing practice tests and getting familiar with the technology so there aren't surprises in the actual test [is important]. Tech should never be an unknown or variable. We provide a free test … So, they know how to respond and when, getting used to the format so there aren't surprises."
English3 provides three practice tests. Students go through the interview process with very specific questions, and there are tutors they can access, as well as a test prep platform where they can do sample interviews.
Vink of English Language Testing Ltd, which offers the Password tests, provides both test takers and institutions with a variety of preparation materials that show "… the format of the test, i.e., sample questions, familiarization tests and practice tests, which students can use to get a feel of what the test looks like, and I highly suggest students use these so that on the date of their test they are not distracted or confused by which button to click, how to drag and drop an answer or how to record their speaking component answers."
Blackwell said the ETS preparation materials focus primarily on practicing for the test that the candidate will be taking. "With the paid preparation such as TPO, we want to simulate the test as they would experience it." TPO is an online practice that simulates the experience of a test taker.
"Make sure that you understand what to expect on the day of the test and that you prepare thoroughly for your test."
For example, in the speaking portion of the test, a student is given a task through their headset, and their response is recorded through their headset. "That is similar to what they would experience in the test. What we try to do is provide test takers with as many opportunities as possible to experience the test."
Michigan Language Assessment's Fleurquin agreed that practice tests are among the best preparation resources, saying, "The best preparation for any English test is to study and practice English as much as possible. Get as many opportunities to be exposed to the language; practice your speaking, writing, reading and listening comprehension skills as much as you can. It's also very important to become familiar with the test. Make sure you know how many sections the test has, how many questions or items each section has and how much time you have to complete each section. Become familiar with the types of responses that are expected in the speaking and writing sections of the test."
Beck of All Ears English agreed that practicing the test provides vital information to prepare the test taker. Familiarity with the format and question types, as well as the features of the technology, may provide test takers with tools they can use to prepare themselves for taking the test under the time constraints for the different sections on exam day.
"For instance, in computer-delivered IELTS, there are some features like highlighting keywords in the Reading passages that are vital strategies to find the right answers quickly without reading too much and wasting time. The feature of marking answers you're unsure of to come back to later is also extremely helpful," she said.
The PTE Academic practice test provides opportunities to not only practice the required skills but to prepare test takers for the entire test-day experience.
"Tech should never be an unknown or variable."
"Make sure that you understand what to expect on the day of the test and that you prepare thoroughly for your test," Pearson's Giovannelli said, as advice for test takers. "Taking a computer-based test can be a new experience for some test takers, and to feel confident we recommend that you use the range of free and paid-for resources available on pearsonpte.com to ensure that you are familiar with the whole test day experience – what to bring to the test [center], what time to arrive, etc. as well as with the test format itself. Even if you are a native English speaker, looking at the types of questions you'll see in the test and practicing them beforehand will increase your chances of success. Our PTE Academic scored practice test is an ideal starting point for those wanting to prepare for the test."
"We offer all CEFR-level Practice tests free of charge on our website for both the Skills for English SELT (taken in a test center) and the Skills for English Global (taken remotely)," Springer said, also advising test takers to familiarize themselves with not only the test content but the format, which will mirror the real test on test day.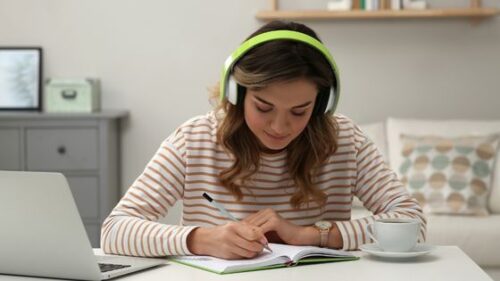 More tools and strategies for your students
The advice for test preparation listed so far includes resources provided by testing makers, test preparation companies and test preparation teachers, but there are additional resources out there. Several interview subjects suggest one way to reduce test-day stress and feel prepared is to get in the "zone" of testing long before test day, which means immersing oneself in language practice. Many students fear they must speak and write perfectly to score well, but test makers repeatedly explained that scoring is really based on proficiency and is not meant to nitpick small errors in speech, which even the most proficient English speaker will display, especially in a testing environment. "It's not about 100 percent accuracy; it's about consistency," Gossett said. "We work with proctors and schools and institutions … tell them to just speak, be spontaneous and then submit."
Whether preparing for the speaking or writing portions of the test, or other sections, there are many ways to immerse oneself in language practice in the days leading up to the test.
"[One] piece of advice I often give is really get in the mindset of using your best English as much as you can in the days, weeks, months, hours, minutes. Practice skills in combination," Fisher said. "Practice with a friend or watch a show and write a recap of it. I'll even tell students to try a guided meditation in English."
Fisher makes YouTube videos for Duolingo as test preparation resources and suggests that many free resources like these may be used to both prepare and get in the right headspace for test day. And Duolingo is well known for its mobile app, which also may be used for daily, on-the-go test preparation.
Avant also has an app called the Extempore app, which has a free lite version, student paid version and school/district paid version. The app has resources for speaking, writing and listening skills, including options for student portfolios, personalized feedback and reflection. For exam preparation, there are sample exams complete with timing parameters. The app is intended to provide resources similar to a language lab but on a digital platform.
Pearson English has the PTE Academic Official Practice mobile app, which enables test takers to prepare from any location at any time. The app is free and offers on-the-go resources so test takers can continually practice skills that will prepare them for the PTE.
Another phone-friendly resource that provides opportunities for easy-access preparation is the All Ears English podcast, IELTS Energy, which is published two days a week and available on Spotify, Apple Podcasts and anywhere you get podcasts. "Every episode is also recorded with video and posted on our YouTube channel. Free weekly lessons," Beck said
Many of the test makers and providers agreed that the speaking portion of the test is one area in which students tend to struggle. For several language tests, students are given a prompt, and then they record their responses for submission.
"They aren't used to speaking into a vacuum," Gossett said. "With an interlocutor, they are more open to it. I've seen that be a challenge. They spoke beautifully, and then, in that speaking part, they froze. It's more presentational." For Avant's test, students can start and stop as many times as needed in the speaking portion of the test, and they can erase the recording and add to it.
But despite these steps that may increase comfort with the speaking task, it's still a portion of the test many students worry about, and so additional creative preparation may reduce that stress level. In addition to the apps and podcasts, YouTube and other streaming video sites have many free resources that offer prompt/response practices for speaking and writing, as well as vocabulary and fluency video clips.
Using applications, podcasts and video clips prepares students for the audio format of many questions in today's online language tests. Vink points out that, "In paper-based tests, the listening comprehension question is presented to the test takers while they are listening to an audio file, but in our online test the questions are not presented to the test taker until they finish listening to an audio file."
Vink describes the "differences between online and paper-based tests [as] more significant when it comes to format rather than content." To prepare well for the format differences, she added, "We would suggest students practice their skills with real-life online material that is relevant in academic settings."
The most popular English Language Testing Ltd test is Password Skills, which is used for university admission. Vink provided the following free test preparation suggestions that practice skills with "real life online materials:" Listen to and watch TED Talks, listen to English podcasts of an academic nature (e.g., BBC radio 4 podcast, History Extra), watch news segments (the regular COVID-19 updates we all watched over the last two years from Downing street are particularly good as the government was presenting PowerPoint slides with data!) and improve your typing speed by transcribing online lectures or practicing with free online tools."
Flake suggested students prepare for exams by finding experiences they would need for an academic experience. "For example, listening to a professor; go put yourself in that scenario. Watch a professor on YouTube, pause it and respond. Or listen to a podcast, pause it and speak as if you're responding."
Blackwell's advice to students is to use the free resources that can be found online to find out what they need to work on. There are many materials available online that can be used to identify strengths and weaknesses. "Before making the investment in a class or preparation booklet, try some free materials where you can compare your speaking responses against sample responses. Once you get an idea of where you fall, then you can focus on the skills to improve on … be strategic in where you invest your time."
Fleurquin also suggested finding experiences that will mimic skills required by the test. "Try to complete additional writing and speaking tasks similar to the ones proposed on the test and time yourself," he said. "Identify the language skills you want to improve or need to develop further and make a plan to work on those skills. The most important variable to succeed on an English test is to develop the appropriate skills in English. I would encourage test takers to focus on their English skills, to practice the language, to develop confidence in English. A variety of resources – digital or not – can help them to improve their English proficiency."
Springer says her best advice for candidates is "Practice, practice, practice! Prepare as much as possible, so when you take the actual test, you will be comfortable and calm."
Barthelemy stressed the importance of immersing oneself in the language and culture as a means of preparing for the test, saying, "Listen to different kinds of recordings (songs, movies, TV, podcasts, etc.) for the Listening and Speaking sections of the test; read various texts in the target language (news articles, novels, internet posts, classified ads …) for the Reading and Writing sections of the test."
She also suggested changing web pages to English, or even setting English as the default language on electronic devices. Doing this helps students become accustomed to hearing and reading the target language. "As a result, your understanding and mastery of the language will increase, without you even noticing or making any effort."
PrepMyFuture also has a variety of free articles on their website that have important information about each test. "If you are looking for any administrative information (how and where to register for a specific test, the cost of a test, what to bring on exam day, how long the listening section is, etc.), you will find these elements in our articles," Barthelemy said.
Message for your students: There are no test hacks
While preparing for a language test is incredibly important, the experts agree that there are no shortcuts. Teachers know that teaching to the test is not effective but that the key is really knowing the test format and mastering the skills and content. Fisher agreed with this premise, saying the Duolingo test-prep philosophy involves using the term "test readiness" rather than preparation.
"The best way to prepare for the test and improve your score is language proficiency," she said. Though a lot of people claim that tactics like memorization and gaming question types are useful, Fisher explains that they "really work to limit the effectiveness of those tactics in our test. They aren't a true value of your proficiency."
"Make your test practice valid. Try to make your practice as much like the real test as possible."
Other testing companies also agree that memorization of content or test items does not work, since test formats differ and, when under pressure, test takers need to simply master consistent fluency and competency. There are a variety of "test hacks" offered on YouTube and other sources that Gossett and others say simply do not work. "It's a proficiency test," Gossett said. "It's a snapshot of the language at that time. Memorization doesn't work."
While the transition to online testing may mean there are many more resources available to test takers, the downside may be that there are also more ineffective resources.
"That's one of the disadvantages of being in this online environment, ETS's Blackwell said. "Now, in the digital space, there are so many different players. There are advantages but also disadvantages. Students have to weed through the ones that make false promises of the quickest ways to get to this score on the speaking TOEFL test. It does them a disservice."
The English3 test is adaptive, and Flake described the intent of the test as trying to gain multiple perspectives (i.e., syntax, grammar, listening skills, etc.). Because the test has about 18 item types, a large item bank, and a large psychometric analysis, proficiency is really the only way to perform well.
"One thing that's super crucial from my perspective is, 'What's their ability to game the question?'" Flake said, describing problems with test preparation providers who train students how to "hack" question types. "If you have a large bank, students may see a similar type, but they see the question and then there's no time to answer." Flake makes the point that memorizing test types and their answers does not prepare students who will take the test during a time crunch, when there is not time to make the leap to the answer when the actual question is not exactly the same.
With large question banks, hacks like gaming question types just do not work. Flake said universities depend on testing companies to ensure their test reflects an accurate picture of student abilities, so testing companies ensure those hacks will not work.
"The best way to prepare for the test and improve your score is language proficiency."
"The feedback we're getting from universities is phenomenal," he said of the English3 testing format. Universities' responses to the test praise the efficacy of the test, which accurately reflects the proficiency of students.
Password English tests are designed as "walk up and take tests," Vink said. "So, it's an accurate measurement of language proficiency rather than their ability to study for a test."
"The tests are based on Weir's highly influential socio-cognitive framework, conceived by Professor Cyril Weir in 2005 and further developed by the team at CRELLA. It is now widely used to inform language test development, research and validation. The framework combines social, cognitive and evaluative (scoring) dimensions of language use and links these to the context and consequences of test use."
The bottom line is that there are no fast, easy ways to prepare for tests such as these. But test takers should not despair. The good news is that there are many ways to develop "test readiness," as Fisher said, and some strategies are simple, free and easy.
Above all, Beck of All Ears English stressed the importance of knowing the "ins and outs of your specific test" because all tests vary in terms of format and question types. "Preparing for any test is a balance – half English proficiency and half testing skills. Find an expert in the test that you can trust, and only prepare with that one system. Don't try to mix advice from online forums and invalid resources – this doesn't work!" And finally, "Make your test practice valid. Try to make your practice as much like the real test as possible." And that's advice any test taker can trust.