Brittany, Returned From Teaching in South Korea Due to the Coronavirus Impact
By Bridge
April 16, 2020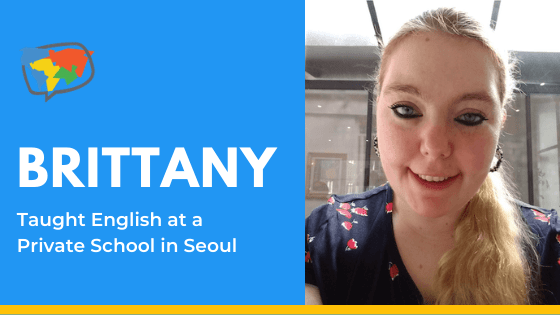 Brittany is a Bridge grad who had the opportunity to teach English to children at a private school in South Korea while also enjoying the culture and excitement of Seoul. As it did with many, the coronavirus outbreak disrupted her life and work, causing her to have to return home to the U.S. Although her experience was cut short, she is excited to return to teaching English in South Korea in the future. In this interview, she discusses what her teaching experience was like, as well as how the coronavirus crisis impacted her life and the city's education system as a whole.
Can you tell us a bit about yourself?  
My name is Brittany Marie Peden. I am from North Carolina state. I am 26 years old. I love learning about Asian culture. I am also currently studying Japanese, Chinese, and Korean languages all by myself through books and online. I recently graduated from Elizabeth City State University with a Bachelor's Degree in English and was on the Chancellor's List.  
Earlier this year, you spent two months teaching English in South Korea. How did you choose this location and find your position?
I chose South Korea because of its unique culture and history. I also have a sincere passion for teaching English to students. 
I found my employer, Avalon private school, through Adventure Teaching Program online. The recruiters help you find the best schools and set up interviews. Interviews were tough at first, but I finally passed and I am so happy. I strongly believe I was meant to teach at Avalon in Gangdong, Seoul, South Korea.
What type of students did you work with and what did a typical day look like before the coronavirus outbreak?
I worked with a variety of students ranging from elementary to middle school students. They really liked learning with me and feel comfortable learning the English language with me. Ages can range from 3 to 15 years old.
A typical day would include going to work around noon to sign in and prepare lessons at the office. I also would sign into the website and complete work-related tasks, such as book reports, attendance, participation, homework, and check the workbooks in class. We also had mock teaching once in a while to help teachers improve their teaching skills. I believe this helped me become a better English teacher.
South Korea was among the first countries to experience disruptions due to COVID-19. How did this affect your work schedule and daily life while you were in the country?
While I was in Korea, we were still working office hours from 1:00 p.m. to 9:30 p.m., Monday through Friday. We were constantly washing our hands, cleaning stuff, and wearing masks when we go outside. The public schools have been closed for weeks in Korea, but we would still do office hours and mock teacher training. It was confusing to have dates pushed back, but I go one day at a time with work. I also try to think positively and maintain a strong determination to keep working.
Your contract was cut short due to coronavirus. What was the timeline for that? 
I moved to Korea on January 22, 2020, but already had to return home because of the virus. The government recommends that American citizens return home to the US until the virus clears up due to the uncertainty with international travel, which could make citizens unable to come home for a long time.
I promise to come back to Korea very soon and teach again. I hope the virus will be over soon, too!! 
You completed the 120-hour Master TEFL/TESOL Certificate last year. What made you choose to become certified with Bridge? How do you feel the certification has helped you in your teaching career?
I chose Bridge because I felt comfortable with the layout of the lessons online and learning at my own pace. I feel the certification helped me improve my teaching skills as I have the ability to have creative lesson plans and learn how to manage my class. All the students are willing to work with me to learn English.