Advice for Aspiring English Teachers: Embrace Diversity in the EFL Classroom
By Bridge
August 10, 2012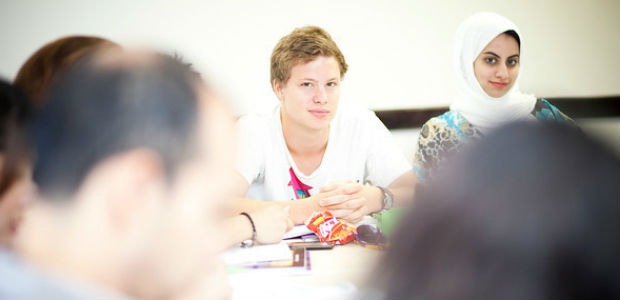 So, you're thinking about teaching English but have never been exposed to the world of ESL and EFL? Many new teachers embarking on a short summer stint or a dedicated career in this area haven't had the chance to get any experience. It can be worrisome or even frustrating not knowing what to expect or how to handle challenges in an international classroom. Not to worry; Robyn Jacobs, an English instructor at BridgeEnglish, spoke to me recently to offer her advice, enthusiasm and experience for TEFL, including the importance of embracing diversity in the EFL classroom.
Robyn first got her start with teaching in adult education and later took a Bridge TEFLOnline.com certification course. After completing the course, she was able to take on a teaching role with BridgeEnglish. Robyn cites her love of people, culture, language, and the interrelationships between those three as the motivation behind teaching English. Robyn has had previous teaching experience which has helped her settle into the role of ESL instructor. The best parts of her job, she says, are going into every day knowing it will be different from the last, being able to have new conversations and perspectives from her students, and being able to learn as a teacher.
Robyn is enthusiastic about the diversity of students and the sharing students can do with each other when learning about cultures and ways of life different from their own. Intercultural sharing and learning can, at times, be an exercise in mediation in the classroom, as students begin to learn about each other. Robyn notes that it is important to be tuned-in to the psychological aspects of students when it comes to both learning English and interaction among students in the classroom. Sometimes, students may be intimidated by those who have a stronger proficiency and may have trouble succeeding. Robyn encourages students who are learning English to remember that their goals are absolutely possible and that they should think positively and relax while in the classroom.
For aspiring teachers, Robyn promotes accepting, (rather than judging), things like cultural differences and ways of life. For English teachers, it is important to absorb learning from your own students and to encourage your students in their pursuit of learning English. As someone who embraces intercultural learning and is energetic about teaching English, Robyn says she learns something from her students every day and would encourage others teaching English to embrace an open mind and to facilitate global understanding in the classroom.