How (And Why) English Teachers Should Improve the Employability of Their Students
By Bridge
February 19, 2023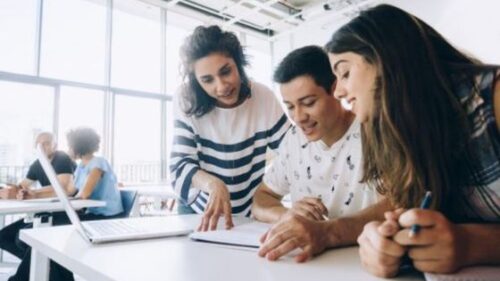 This guest article was written by Pearson, a leading global publisher of English language curricula and resources, courseware, and assessments.
In many parts of the world, English has been adopted as the standard corporate, business, academic, and scientific language. This means that mastery of English also facilitates and enriches the development of these four areas. Given its importance, teachers must make sure their students are capable of performing their jobs in English so that they can always be considered employable.
Employability is not the jobs people have or the training they receive. Instead, the concept refers to the set of abilities, skills, understanding, values, and knowledge needed to progress and succeed in the current job market. For English teachers who must continue to adapt to new trends in the global market, it's a lifelong learning process – making their students' employability a top priority that needs to be continually addressed in the classroom.
Why should English teachers be concerned with their students' employability?
A teacher's role is not limited to the classroom because, as English language professionals, they play an important part in preparing students for the job market. The ability to communicate well in English is an in-demand skill in many industries, and having a strong foundation in the language can increase students' chances of getting hired, advancing in their careers, and achieving their professional goals.
Additionally, teaching students how to effectively communicate and use language in a professional context can help them develop important transferable skills such as problem-solving, critical thinking, and interpersonal communication.
English teachers should also be concerned with students' employability given the role they play in helping students to maximize their potential. Today's research shows that keeping or sustaining a job for many years is no longer a common goal. People tend to be more adaptive and will change roles throughout their life and acquire skill sets as needed. Therefore, being employable becomes a lifelong learning process.
What makes an English learner employable?
A combination of education, work experience, and skills make English learners more employable. Candidates in the job market will stand out to hiring managers if they have a combination of the following factors:
English language proficiency: Being able to understand, speak, read, and write English at a level that meets the job requirements
Relevant skills and experience: Possessing the technical and professional knowledge required for the position.
Educational qualifications: Holding relevant degrees or certifications that are required for the job.
Soft skills: Demonstrating qualities such as reliability, motivation, flexibility, and strong interpersonal skills.
Networking: Building relationships with people in the industry, connecting with potential employers, and seeking out job opportunities through personal contacts.
Cultural competence: Understanding and being able to work effectively with people from different cultures, especially if the job requires working with clients or customers from around the world.
How can English teachers create lessons that focus on skills that improve students' employability?
English teachers can equip their students with employability tactics by teaching them to write and speak clearly, understand and interpret industry-specific jargon, and engage in cross-cultural interactions. Teachers can also incorporate the following activities and skills into their lessons to better prepare students for the professional world.
Real-life scenarios
Teachers can prepare their English lessons in a practical context, with exercises about completing job applications, writing emails, or preparing for interviews. Discuss how to turn ideas into actions, and incorporate real-world examples, case studies, and simulations. These can make lessons relevant and engaging for students, helping them to better understand how these scenarios can play out in their future careers.
Critical thinking and problem-solving skills
Other lessons can emphasize the importance of communication, teamwork, problem-solving, critical thinking, and time management. These skills encourage students to analyze information, prepare arguments, and make decisions.
Assessment
Teachers can prepare classes about the different kinds of assessments and evaluations that align with real-world expectations. These could include presentations, report writing, and group work. These lessons will come in handy, especially when job performance reviews come up.
Cultural awareness
English language professionals can teach students about cultural differences and cross-cultural communication to prepare them for working in a globalized world. Students can discuss different cultural norms, traditions, and values to promote empathy and respect for diversity in the workplace.
Communication skills
Employability depends a lot on cover letters and job interviews. Teachers can prepare lessons that emphasize clear and concise writing, effective public speaking, and active listening. They can also teach the correct jargon and terminology relevant to specific industries and professions.
Digital literacy
Last but not least, teachers can introduce students to technological tools, such as online collaboration platforms, and help them develop digital literacy skills. Some topics to cover include using technology for research, online communication, and digital safety. Teachers can also make use of Pearson's Global Scale of English (GSE) Teacher Toolkit. This free, online database saves time in finding appropriate learning objectives, grammar, and vocabulary for every level of student. The GSE Toolkit's functionality makes it quick and easy to search for the most level-appropriate content to support lessons.
Incorporating these elements into lessons can help prepare students for the challenges and demands of the modern workplace. However, to get hired in the first place, improving employability is key. For English learners to be employable, they need to have a good command of the language, both in speaking and writing, to be able to effectively communicate in a professional setting. Having a strong educational background, relevant work experience, and transferable skills are also important factors that employers consider when evaluating job applicants.
Teachers have to focus on employability, as English proficiency is a highly sought-after qualification in many industries, and developing these skills in students can have a positive impact on their future employment opportunities and earning potential.
Interested in teaching preparation for the PTE? Take the Micro-credential course in Teaching PTE Test Prep to learn specialized test prep skills and help students achieve their career goals.
At Pearson, our purpose is simple: to add life to a lifetime of learning.
We believe that every learning opportunity is a chance for a personal breakthrough. That's why our c.20,000 Pearson employees are committed to creating vibrant and enriching learning experiences designed for real-life impact.
English language learning happens in everyday life and we want to get real about it. Confidence in a new language is everything and we want to empower everyone to be themselves – because when you can be yourself, you can do anything!
#BeYourselfInEnglish