In this interview, Raedmund Gibbons, one of the founders of ESL Pals, explains what his lesson planning company offers ESL teachers.
1. Hi, Raedmund! Could you tell us, what is the company's mission?
At eslpals.com, our mission is to empower TEFL teachers worldwide by offering comprehensive and innovative curricula and lesson plans.
We strive to alleviate the burden of planning, saving teachers countless hours and enabling them to dedicate their time and energy to delivering engaging and effective instruction.
Our ultimate goal is to transform classrooms globally by providing access to dynamic, student-centered lesson plans that foster a love of learning and a passion for English language acquisition.
2. Could you summarize what ESL Pals offers?
ESL Pals is an exceptional online resource that provides TEFL teachers worldwide with top-quality curricula and lesson plans. We specialize in offering a comprehensive, step-by-step curriculum for students of all levels and ages, making ESL Pals the go-to destination for all your teaching needs.
Our lesson plans are engaging, detailed, and super fun, ensuring that both teachers and students enjoy the learning process. We offer a wide range of curricula for ESL kids from level 0-level 3, General English A1-C2, Business English B1-C2, and grammar A1-C2.
All our lesson plans are detailed, easy to follow, and available for download as PDFs. Plus, we add multiple new lessons every week, so you always have fresh and exciting content to work with. Whether you're a seasoned TEFL teacher or just starting, ESL Pals makes planning your ESL classes a breeze!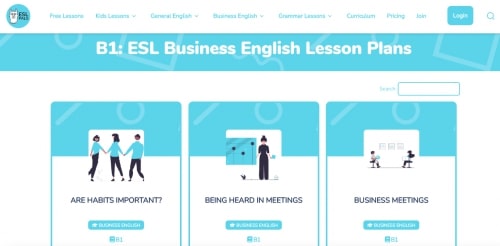 3. What sets your lesson plans apart?
We believe our comprehensive curriculum, up-to-date lesson plans, and a student-centered approach differentiate us.
At eslpals.com, we pride ourselves on offering a comprehensive curriculum for students of all levels and ages. Our lesson plans are designed to ensure that students receive the correct scaffolding to progress effectively and at a pace that suits them.
What really sets us apart is our commitment to providing lesson plans that are on-trend, newsworthy, and up-to-date. We understand the importance of incorporating current events and topics into our lesson plans to make them relevant and engaging. Our content is carefully curated to ensure that it reflects students' interests and passions, keeping them motivated and inspired to learn.
Our student-centered approach is another factor that distinguishes us. We understand that every student is unique and that their learning journey is different. That's why we offer a range of lesson plans that cater to individual learning styles, ensuring that every student can thrive and achieve their full potential.
4. Currently, what are your most popular lesson plans or products?
As we offer lesson plans and curricula for all students, we don't have a single "most popular" lesson plan or level. Instead, all of our lesson plans are equally popular, as they have been carefully designed to cater to the diverse needs of students from different backgrounds, levels, and ages.
Our lesson plans and products are versatile and flexible, allowing teachers to adapt them to their students' needs and interests. Whether you're looking for General English, Business English, or grammar lessons, we have something for everyone.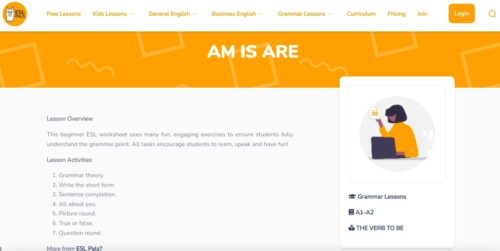 5. What products do you plan to offer teachers in the future?
We are committed to continuously improving and expanding our product offerings to meet the evolving needs of the TEFL industry. We will continue to add multiple new lessons across all levels, from beginner to advanced, to ensure that our curriculum remains absolutely comprehensive. We work tirelessly to create engaging and effective lesson plans that cover a wide range of topics and language skills.
Secondly, we plan to introduce interactive digital resources with gamification elements. These resources will include online games, quizzes, and interactive activities that engage students and promote active learning. These resources will be designed to supplement our existing lesson plans, allowing students to practice their English skills in their free time.
Finally, we recognize that some teachers may want to create their own lesson plans. To support these teachers, we plan to explore webinars where we can offer guidance and support on curriculum development, lesson planning, and teaching strategies. These webinars will provide valuable insights and tips for teachers looking to improve their planning skills.
6. Who designs the lesson plans?
The lesson plans from eslpals.com are created by a small, in-house team of experienced teachers and curriculum developers who have extensive experience in teaching English as a foreign language.
7. What are the different ESL Pals curricula based on?
Our curriculum is based on language proficiency level, specific language learning needs, and industry trends.
Language proficiency level – We offer a curriculum for learners of all levels, from beginner to advanced. This allows us to cater to the specific needs of students at each stage of their language learning journey.
Specific language learning needs – Our curricula is designed to help learners achieve their individual language learning goals. For example, our Business English curriculum is tailored to meet the language needs of professionals working in a business context, while our General English curriculum focuses on improving overall language proficiency.
Industry trends – We strive to stay up to date with the latest trends and developments in the English language teaching industry. This allows us to create a curriculum that is relevant, engaging, and effective in helping students achieve their language learning goals.
Check out a sample General English lesson plan from ESL Pals:
8. Are the lesson plans designed for online classrooms as well?
Yes, absolutely! At ESL Pals, we design our lesson plans to be versatile and adaptable to different teaching settings, including online classrooms.
Our lesson plans are designed to be engaging in both online and traditional classroom settings. We understand that the teaching landscape is changing rapidly, and we strive to provide teachers with the resources they need to succeed in any teaching environment. Whether teaching in person or online, ESL Pals lesson plans are designed to help deliver effective, engaging, and dynamic English language instruction to ESL students.
9. What is it like working at ESL Pals?
Working at ESL Pals can be challenging, but it's also incredibly rewarding. Our team is passionate about teaching and creating high-quality resources for English language learners, and we take pride in our work. We believe that education is the key to unlocking opportunities for people all around the world, and we're committed to helping teachers help students achieve their language learning goals.
10. Is there any additional information you'd like to share?
Thank you for taking the time to interview us. It has been great fun.
And thank you to the teachers reading this. If any teachers would like more information on ESL Pals' comprehensive curriculum and lesson plans, or if they would like to save themselves thousands of hours from planning, please feel free to email us at contact@eslpals.com.