This post was written by Krzl Light Nuñes, a classroom-based English teacher in Santiago, Chile, who shares her experience transitioning to teaching online during the coronavirus pandemic. Learn how making the switch to the virtual classroom is helping her weather the storm, and how you can get started teaching English online, too. 
Teaching in a classroom feels so long ago, even if I did it for the last time just last week, dashing from one company to another around Santiago, usually by subway, to teach English to my students onsite at their workplace. Now, my work as a classroom-based TEFL teacher in Chile has drastically changed because of the crisis caused by the coronavirus pandemic that has affected thousands across continents.
The situation with coronavirus in Chile, where I teach English
In Chile, the gravity of the situation wasn't much felt until recently. While the government has consistently announced that they are prepared for the crisis, collective panic started when cases significantly rose last week, now to an actual count of more than 300. Schools have since shut down one by one, companies have mandated employees to work remotely, and the state eventually imposed a partial lockdown.
This has affected people across industries, and classroom-based English teachers like me are no exception. Luckily, we have the option to transition to teaching English online, which provides a financial safety net, a chance to learn new skills, and a way to support and stay connected with our students.
Shifting from teaching English in the classroom to teaching online 
On the first day when everyone was told they were being sent home from the school where I teach English, students trickled in to ask if we could do online classes instead. I had already been teaching online English classes as a side job for some months, so I was happy to expand my weekly virtual work to include these displaced students.
Helping students adapt to the virtual classroom
Now I'm teaching all my students online! For some of them, studying online is a completely new thing. Therefore, it was important to first spend some time guiding each one of them through it, from joining virtual meeting rooms and setting up cameras to troubleshooting bad connections. Though these are not usually complicated, it's important not to overlook them to get the class started smoothly.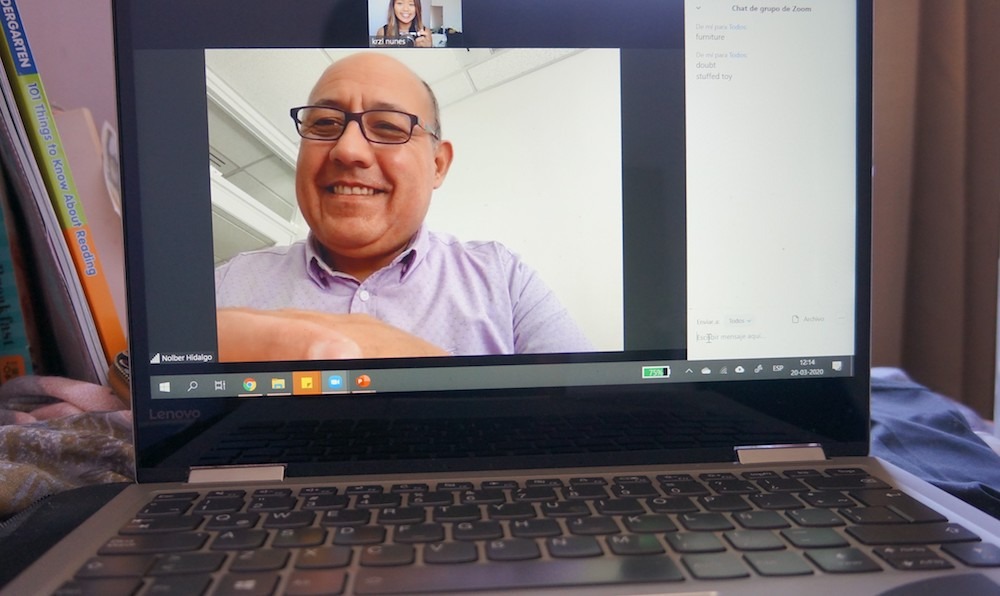 Methods for teaching my students online
I teach my students using the Zoom platform. Besides being user-friendly, it's convenient because of its useful functions, such as screen sharing and a virtual whiteboard. Other software options that ESL teachers choose are Skype and for much bigger groups, Microsoft Teams.
Online ESL teachers do utilize various methods and class materials in their lessons, whether it is sharing the book in PDF form for students to read in their own computers or sharing content on screen. I usually create PowerPoint presentations to share, from audiovisuals to grammar exercises. Almost everything is possible!
How you can get up to speed to teach English online
If you're not familiar with these platforms and online teaching methods, don't worry! You can prepare for the virtual classroom quickly (in as little as a few weeks) by taking a Specialized TEFL/TESOL Course in Teaching English Online. Then, you'll not only be trained but qualified for the best jobs to weather the crisis.
Get answers to frequently asked questions: How to Teach English Online from Home.
How this change to teaching English online has brought more pros than cons
Looking at the silver lining, shifting to online teaching has offered more flexibility compared to when I was doing in-company classes and also has these other advantages:
Less travel time
Travel time used to fill large parts of my schedule, as I commuted through Santiago, going from office to office to teach people English at their workplace. As an online English teacher, on the other hand, it's now possible to book back-to-back lessons and organize classes more easily from the comfort of my home.
More classes
Aside from this, some students have also looked into adding more classes during the week, since they're also working from home and have more time to learn English. This demand for online English classes provides a financial lifeline for classroom-based teachers who have lost their jobs due to widespread school closings and are now homebound.
Online teaching experience
Another plus of doing virtual TEFL classes is the online teaching experience you gain over time! This could be your stepping stone towards greater opportunities and could even give you the option to be a digital nomad in the future when we can travel again.
Jay has traveled the world as an online English teacher and is currently living near the beach in Portugal.
Most importantly, teaching from home is definitely the best way to protect ourselves from getting sick nowadays. While in mandatory confinement, I see myself still teaching online in the next weeks or until the crisis is over. Going back to the classroom will also depend on the students and how safe we all feel to go outside again. For now, even though we remain unsure of how long the crisis will last, we at least have a technological alternative, teaching English online, that allows us to still do what we do best, and earn a living, even in these difficult times.