Introducing the Newest Bridge MA Pathway Partner – Huntington University
By Jennifer Collis
June 2, 2020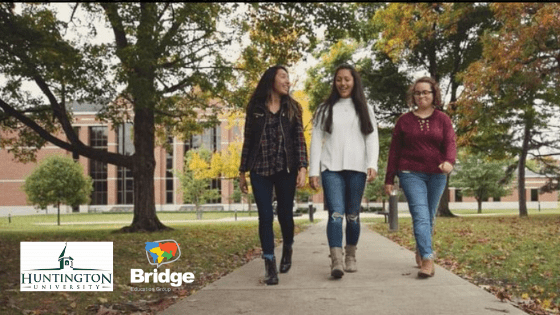 Have you considered earning a Master's Degree in Teaching English to Speakers of Other Languages (TESOL)? For those with this academic track in mind, the Bridge IDELTOnline™ TEFL/TESOL certification course can be a stepping stone to graduate studies. The course may either be taken for transferrable graduate credit or applied toward a graduate certificate, master's degree, and even doctorate degree program with the growing number of Bridge MA Pathway University Partners worldwide. We're proud to announce that Huntington University in Indiana is our newest MA Pathway Partner.
About Huntington University 
Huntington University was founded in 1897 and is a small, Christian liberal arts university offering graduate and undergraduate programs in more than 70 concentrations, both in the classroom and 100% online. While many programs are available 100% online, HU's home campus is located in Huntington, in northern Indiana, (with classes offered in Ft. Wayne and Columbia City as well), and the university also has a campus in Peoria, Arizona. Huntington consistently ranks among the best universities in the Midwest by U.S. News & World Report, Forbes.com, and Princeton Review and is a member of the Council for Christian Colleges and Universities (CCCU).
Apply the IDELTOnline toward programs at Huntington University
Like other Bridge MA Pathway University Partners, Huntington accepts the IDELTOnline for credit toward its graduate programs in TESOL. Qualified trainees first complete the 150-hour, 12-week Bridge IDELT training, which is an interactive, instructor-led, online TEFL/TESOL course. Upon successful completion of the IDELTOnline, 3 graduate-level credits may then be transferred to Huntington University and applied toward the following graduate programs in TESOL (all of which are available online).
Students in this program learn the foundations of TESOL, intercultural communications, listening and speaking, and reading and writing instructional methods –  while getting hands-on teaching time with a 60+ hour practicum.
The 15-credit hour program can be completed in as few as 9 months and allows graduates to join the competitive field of English educators working in schools, non-profits, social organizations, and ministries around the world. Learn more about this program:
This master's degree program incorporates both the graduate-level TESOL/EL certificate and courses in education and teaching in diverse settings. Graduates can teach English internationally, in private schools, or at any number of public schools around the world and across the United States.
The degree can be completed in less than two years, and 100% of the courses are available online. Learn more about this program:
This master's degree program combines graduate-level TESOL/EL certificate with courses in cross-cultural ministry, plus ministry electives of the students' choosing, in order to focus on a specific career path.
The program may lead to a career serving in church-based English learning programs or teaching in non-profit outreach programs to refugees and others in need. The program can be completed in less than two years.
We're proud to offer this latest partnership with Huntington University, the tenth university in Bridge's growing portfolio of MA Pathway University Partners, in order to provide our students with yet another option to take the next step in their TESOL career.