Mark Lee, English School Owner in China, on Reopening Amid the Pandemic
By Krzl Light Nuñes
October 5, 2020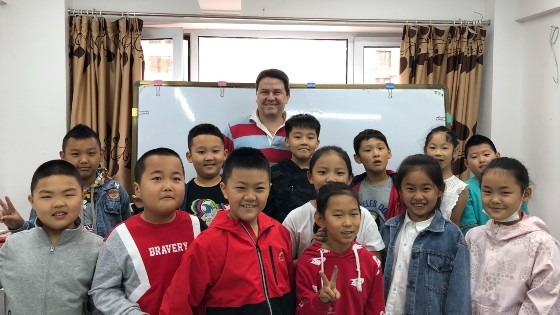 Following a months-long shutdown due to the COVID-19 crisis, schools in China began reopening in the middle of the year. This prompted Mark Lee, the owner of an English school in the city of Changchun, in Northeast China, to follow suit. He gives us a picture of how his school adapted during the pandemic and how they've been adjusting to a new reality since students returned to the classroom.
Hi Mark! Can you tell us a bit about yourself?
I'm from the UK and I studied Facilities Management at the London Metropolitan University. I spent 27 years working in facilities management both in the UK and overseas, covering all aspects of services for a myriad of clients and specialties: oil and gas, mining, military, education, hotels and hospitality, as well as healthcare. After reaching the chief executive level for a company in Mongolia, I decided to step back and move more into consultancy. I have lived in Changchun, Northeast China for the past 10 years, although I spent a lot of that time in Mongolia. My wife is Chinese and Changchun is her home city.
When and why did you decide to open an English school in China?
As an Englishman living here, I found there was a need for native English pronunciation, especially amongst the younger children. Having done some part-time teaching and assisting friends and family here, it was decided to open our own school.
Mark English School opened two years ago – focusing on Grade 2 children (our daughter was in the same grade). Demand for places was such that we extended to Grade 1 and now also Grade 3. Presently we have 100 students across 14 classes a week.
There are two of us currently teaching: myself and my sister-in-law, who is Chinese and an experienced teacher
How did the COVID-19 crisis and the lockdown in China affect your school?
We followed the guidelines laid down by the local and national government, which meant we closed the school mid-January. National schools and educational establishments also closed at the time.
Read how the global pandemic has affected English teachers in different parts of the world.
How did your school adapt to the pandemic-related shutdown?
We model our teaching on the national curriculum, so we prepared a lot of videos for our students and used approved books, which we sent out to all their parents. We also have a parents group on WeChat for each of the school grades. We can interact with parents and students this way, answering questions and posting topics of interest.
When did your school officially return to the classroom?
When the national schools returned for the last weeks of July, we reopened our school. Once the term ended, we ran an intensive two weeks (five days of lessons per week) to help students catch up on all the classwork they had missed due to closure. Following the summer vacation, we began weekend classes again from the end of August.
What measures did you take for the safe reopening of your school?
We implemented the following preventive measures:
The whole school was deep cleaned and disinfected.
We installed hand sanitizers and provided face masks for all students.
Everyone entering the school had their temperature checked and the government app for travel monitoring was also verified.
Class sizes were reduced to ensure safe distancing for students as well as for the teachers.
How did parents and teachers respond to the resumption of classroom lessons?
Through our WeChat groups, we held open discussions with parents about the way forward taking on board their concerns. It proved very successful and the take-up of places exceeded expectations with a number of new students joining the school for the first time.
Are you hiring teachers locally or from abroad nowadays?
Presently we are not hiring additional teachers. However, we are planning to expand in the future and would consider both options.
What are the hiring requirements for English teachers at your school?
We haven't given it too much thought at this time. However, for any locally hired teachers, they must hold an officially recognized teaching certificate and have a good standard of English.
Check out the requirements for teaching English in various countries.
How does your school plan to move forward in the next weeks or months as the world continues to deal with the pandemic?
We are currently in the process of decorating new premises that will afford us more classrooms and better facilities. Better still, this new location is owned by us, so it will afford us long-term stability. It is expected to be completed before year-end. The plan is to expand the range of services we offer, to include more general teaching (in Chinese) and after-school activities. Additional personnel will be sourced locally.
I hadn't done any teaching (except for professional coaching of employees etc.) so it was all a learning experience. I felt it would be a very useful tool to get a qualification not only to enhance our professionalism for the school but also to enable me to get the tools, knowledge, and resources with which to take my teaching to another level and broaden my depth of knowledge about my native language.
How was your experience with this course?
I enjoyed the course very much. I felt that I learned a lot from the content and certainly improved my own levels of grammar comprehension. The assignments and tests were taxing, and a thorough reading of the course content was necessary for successful completion. The interface and response times to assignment submission were first-class and at no time did I feel there was something I needed further clarification on.
What are your plans career-wise?
Presently, after a long career in pressured and difficult environments, I am thoroughly enjoying teaching. Working for myself is a joy and teaching the local children is also a reward in itself. should more consultancy work come up in the future, then I would always consider it.
Do you have advice for English teachers who want to teach in China?
My advice to someone wanting to teach in China could apply to anyone wanting to work overseas: Do your homework. Read up on the country, the culture, and even try to learn some useful local phrases, as the Chinese really appreciate "foreigners" who make an effort to fit in. Chinese children, especially the younger ones, are for the most part really well-behaved and show a lot of respect for their teachers as well as willingness to learn. This standard should be reciprocated in kind to the students.