Portugal: Teaching English Abroad in a Hidden Gem
By Kevin Mermel
April 16, 2018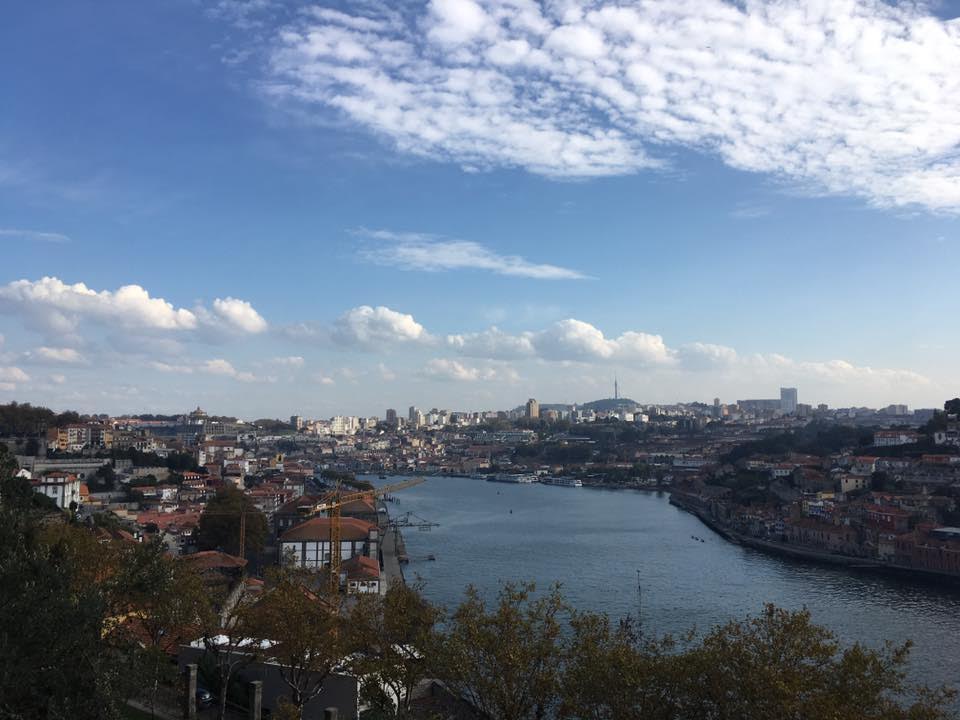 Kevin is an experienced Program Advisor with BridgeTEFL in Denver, Colorado. Before joining Bridge, he spent time volunteering as an English Teaching Assistant in Valongo, Portugal. Here, Kevin recounts his experiences with Portuguese culture and explains why the country is an excellent TEFL destination.
When Americans think of an adventure in Europe, they may imagine themselves taking pictures with London's red buses and phone booths, sipping coffee with a fresh croissant at a Parisian street café, or touring Rome's imperial ruins. But if you ask an American to imagine a Portuguese adventure, they may draw a blank.
Last fall, I served as an English Teaching Assistant in Portugal. Portugal is a wonderful country with a lot to offer, and I'm happy to sing its praises – as long as it doesn't spoil the secret! Here are just a few of the cultural experiences available to a TEFL teacher in Portugal:
Explore the centuries-long history
Did you know that many historians consider Portugal the oldest still-existing state in Europe? The country's founding is generally dated to 1128, and Portugal is full of interesting historic sites. The small northern town of Guimarães served as the first capital, and its medieval palaces and churches remain open to visitors today. Portugal also played a major role in global seafaring history, and established a vast empire in the 15th and 16th centuries. This is why Portuguese is the world's sixth-most common native language. Museums throughout the country tell the story of this era.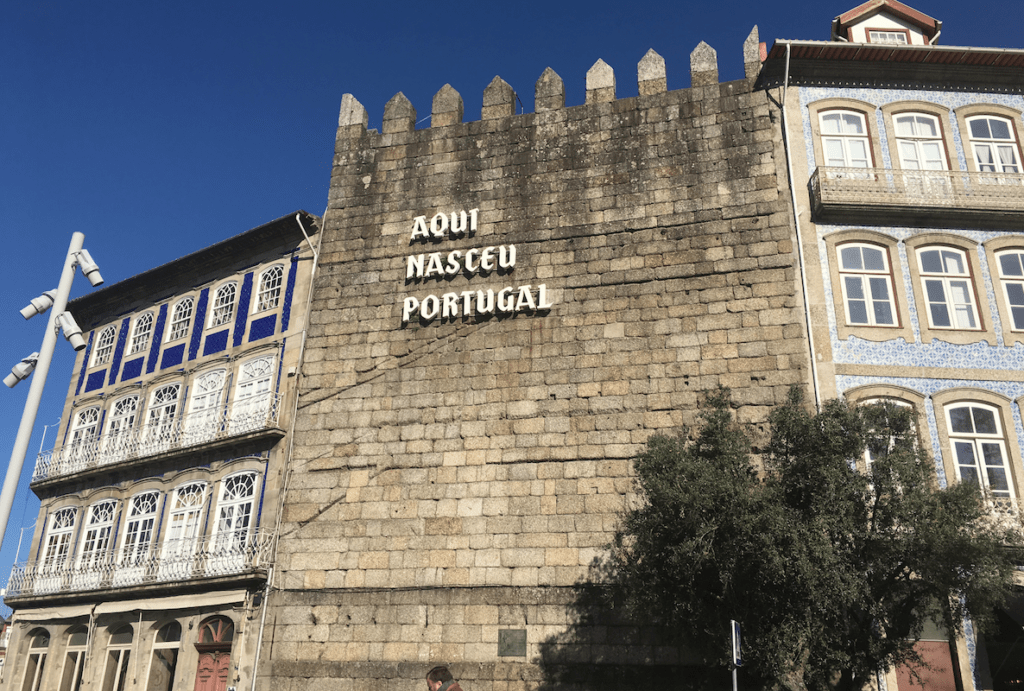 Part of the old city wall in Guimarães. The words "Aqui Nasceu Portugal" – Portugal was born here – commemorate the city's important role in Portuguese history.
Enjoy the top-notch seafood
Located on the Atlantic Ocean, Portugal boasts some of the freshest seafood around. Walk into any small, family-owned restaurant, and you're likely to find a daily special of fresh-caught fish. The country's culinary staple is bacalhau, or codfish, which is said to have over 100 methods of preparation. Soup is also a regular precursor to meals, and a great way to warm up on the rainy days in fall and winter.
Sample the world-famous wine
Wine is a fixture on the Portuguese dinner table. The country's unique wines range from crisp, light Vinho Verde (literally "green wine") to the famous "Port," a strong, sweet varietal often served with dessert. Port takes its name from its origin city of Porto, which is home to many cellars that offer tours.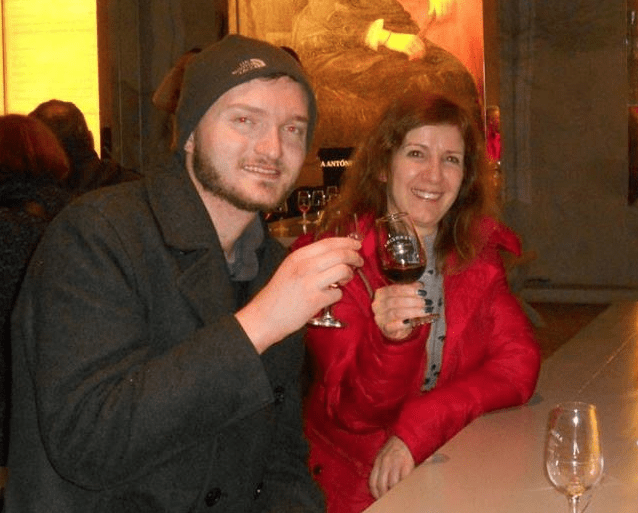 Sampling Port wine after a visit to the cellars with my host. 
Take an afternoon coffee break
The Portuguese people take pride in their coffee, and a trip to the cafe down the street makes a great afternoon break with coworkers. You won't find drip coffee, the classic American pick-me-up. Instead, order a "café" in Portugal, and you'll receive an espresso shot. Another popular option is "meia de leite," espresso with steamed milk added. Portuguese cafes also offer a wide selection of fresh pastries, including "pastel de nata," a custard-filled treat that originated in Lisbon's seaside neighborhood of Belém.
Read more about coffee culture around the world.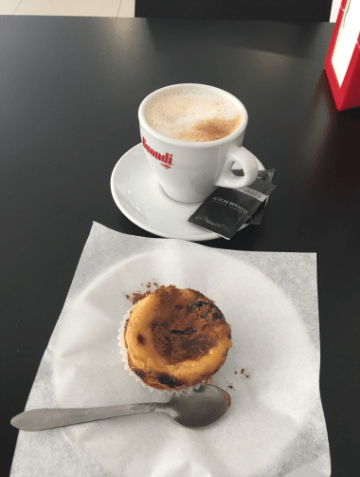 Meia de leite with a pastel de nata. 
Discover the natural beauty
It's easy to get lost in the beauty of Porto's colorful waterfront, or Lisbon's endless rows of white-walled, red-roofed buildings. But from the rolling, colorful hills of the northern wine country to the stunning seaside vistas of Sintra, Portugal's natural beauty matches the grandeur of its urban destinations.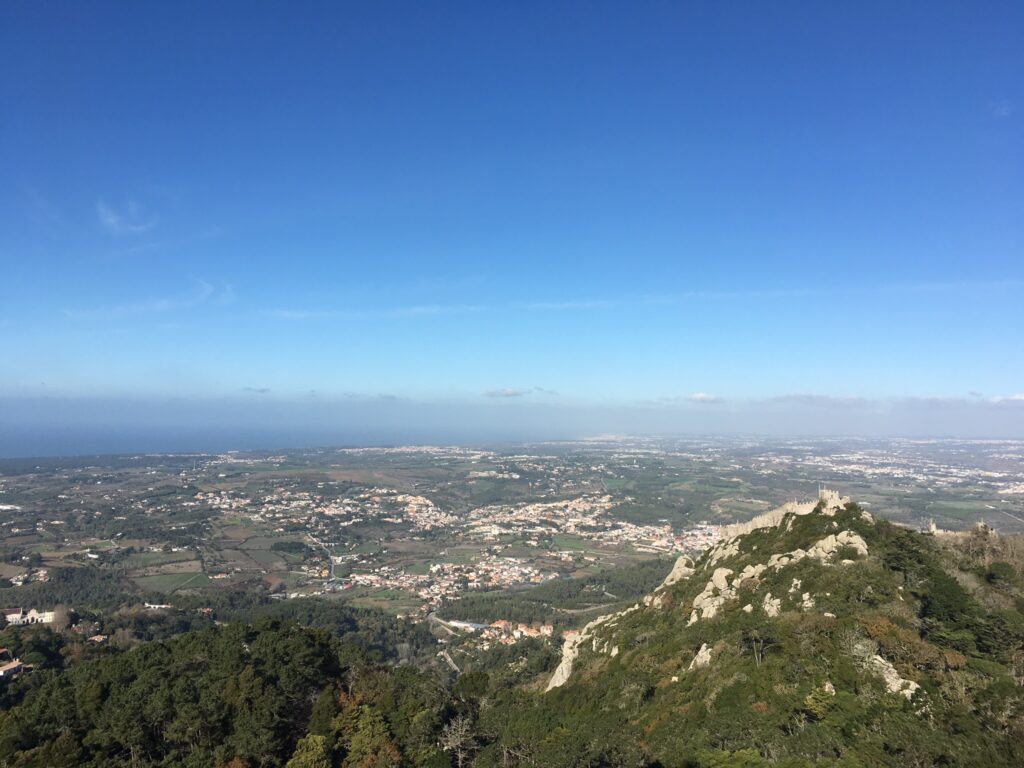 Sintra, a popular day trip from Lisbon. 
Spend the evening at a Fado house
No visit to Portugal is complete without a stop at a fado house. Fado is a traditional folk music featuring acoustic guitars and vocals, usually performed by an ensemble of three or four musicians. Lisbon's Alfama neighborhood is dotted with small, family-run fado houses, many of which offer food and wine and encourage audience participation.
This mural in Lisbon celebrates fado as a cultural symbol of the city. 
Are you interested in getting TEFL certified and teaching English abroad, like Kevin? Click here to read more about TEFL in this popular region: Yes, you can Teach English in Europe!