Bridge Teaching English Online Certification Has Been Updated – And Now Has a Practicum!
< Back to the TEFL News
Are you interested in becoming an online English tutor?  The number of available jobs teaching English online is expanding exponentially, as both teachers and students around the globe are drawn to the accessibility and convenience of the virtual classroom. As a teacher, how can you stand out in a competitive job market and qualify for the widest range of positions possible? Bridge Certification in Teaching English Online – plus new, hands-on practicum – helps you prepare!
What's new about the Teaching English Online Certification?
Updated Content
The Foundations and Advanced Methods in Teaching English Online courses are still 100% online and guided by a personal tutor, and we've added new interactive features to make the training even more engaging and fun. We've also updated the course content to reflect the most current theory and methods for teaching online.
Hands-On Teaching Practice Through an Online Platform
Best of all, we've added the option to bundle the courses with a new Online Teaching Practicum. The innovative practicum gives you real experience in a virtual classroom so that you feel prepared for jobs when you finish the course.
You'll learn how to effectively identify your student's needs, and plan lessons for them accordingly. Then, you'll conduct and lessons with an actual English language learner, and those lessons will be recorded and assessed.
Ability to Record and Share Your Teaching Sessions
You'll even have the ability to record your practice-teaching sessions and share the best sample videos with future employers when applying for jobs teaching English online. It's common to be asked for a demonstration of your teaching, so this is a great way to prepare yourself for the job search and really stand out as a serious candidate.
Who is the Teaching English Online Certification + Practicum for? 
Our complete Teaching English Online Certification program is designed specifically for TEFL/TESOL teachers who plan to work as online English tutors and want to be as prepared and competitive in the field as possible.
If you want to learn the theory, methods, practical skills, and technology of teaching online – and then apply what you've learned using a real online teaching platform, this course is for you!
What features does the Teaching English Online Certification Course have?
The course is 100% online and can be completed from any device at your own pace within the three-month (extendable) time limit. As you work through the course, you'll enjoy the following features.
Interactive Course Content
The programs are hosted on our interactive online learning platform, designed to keep you actively engaged with the course content. You'll move through the material completing self-guided readings, doing interactive practice activities, uploading assignments for tutor review, and sharing ideas and experiences with other trainees around the world on the class virtual discussion board.
Personal Tutor and Discussion Board


All students are assigned a personal tutor, who will grade your written assignments for each module and provide feedback. Your tutor is also your point of contact for any questions you have about the course material and can be contacted messaged via the tutor feed on your course homepage.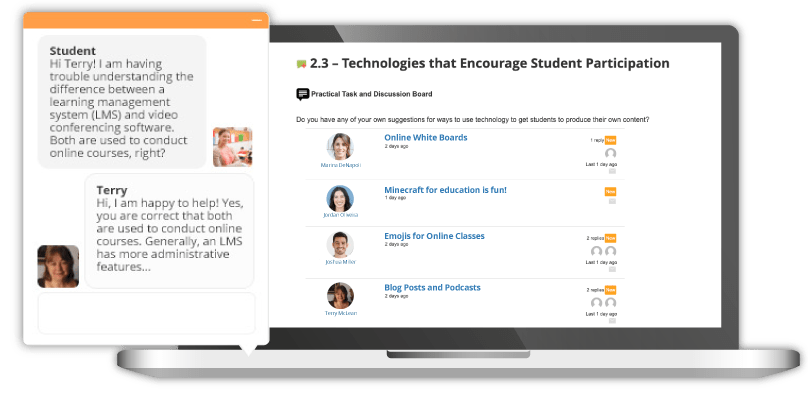 The course discussion board is where you can interact with other trainees in the course. You'll take part in conversations, share ideas and make connections with other teachers around the world.
Downloadable Resources
We've added colorful, useful PDFs you can download and use after the course is finished.
Which Teaching English Online course should I take? 
The bundled, 3-course program is the best option for most aspiring online teachers since each course builds on the next – it's also the best value. Although the courses can be taken separately, the full program taken together results in a comprehensive, internationally-recognized TEFL/TESOL certification of 180 hours.
Foundations in Teaching English Online
The 60-hour Foundations in Teaching English Online provides a solid understanding of the field of online teaching, such as what types of students you may find as an online English tutor, and what software and technologies are useful in the virtual classroom.
Advanced Methods in Teaching English Online
The 60-hour Advanced Methods in Teaching English Online program builds on the preliminary knowledge from the Foundations course and introduces you to specific strategies and methods used within the virtual classroom.
Practicum in Teaching English Online
The third component, our new 60-hour Practicum in Teaching English Online, is your chance to put what you've learned into action. You'll get real online teaching experience via a virtual learning platform and even have the option to record lessons and share them with employers when applying for jobs (in Bridge's Preferred Employer Network and beyond)!
What will I learn in the course?
Ultimately, the goal of the Specialized Certificate in Teaching English Online is to prepare you to be an effective online English tutor. Graduates of this program will be able to:
Determine their student's learning objectives and goals, and plan lessons for them accordingly
Effectively schedule and manage your online students
Conduct online classes using a variety of common software and technologies
Troubleshoot common technical difficulties
Apply concepts of Reflective Teaching Practice to your experience as an online educator
Will Bridge help me get an online teaching job when I finish the course?
Yes! there are a number of ways that we support you through the job search process.
Job-Advising Module Within the Course
First, all Bridge students gain access to our job-advising module. This is a resource within the course focused on preparing graduates for the online teaching job market. This includes resume and interview tips, how to find companies you can connect with, and where to search and apply for the latest teaching positions.
The module also invites you to become part of BridgeTEFL's alumni network!
BridgeTEFL Job Board
We encourage all of our graduates to register on the BridgeTEFL Job Board, an international professional network through which you can connect with TEFL employers around the globe, including online tutoring companies.
Use the Job Board to apply to jobs directly with your resume, or create a Bridge Teacher Portfolio to highlight your achievements and also make yourself searchable to employers!
Bridge TEFLConnection™
After creating a Job Board account and Teacher Portfolio, you also can opt into BridgeTEFL Connection™. This free job matching service connects qualified TEFL graduates with Bridge Preferred Employment Partners, which are thoroughly vetted and approved schools and teacher recruiters, taking the hassle out of job searching altogether!
Career Advising Team

Finally, our experienced Career Advising Team will always be here to consult with you about job openings and how to best showcase your skills to find your ideal online teaching position.
December 16, 2019