Technology as a Dedicated Assistant in Pronunciation Teaching
By Vu Van
July 21, 2022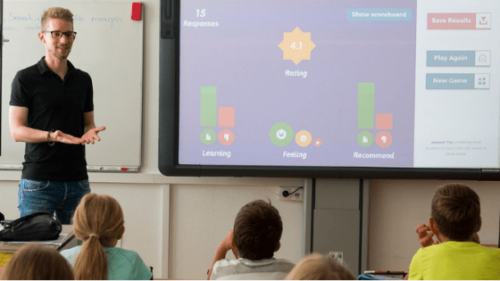 With 1.5 billion people speaking English globally in 2022, this language has been the most spoken language worldwide for more than two centuries. Consequently, fluency in English opens the opportunity to get a better job in the multinational workspace and gives access to the biggest knowledge base in the world.
Acknowledging this fact, many non-native English-speaking countries have emphasized the importance of learning English, bringing it into their school curriculum as a required subject.
Among critical English skills, pronunciation is the most difficult to acquire for many learners due to diverse alphabet systems. Other struggles when teaching pronunciation include incorrect teaching approaches, underestimation of the importance of correct pronunciation, lack of appropriate teaching materials, and lack of in-person learning. These challenges are often found in classes taught by ESL teachers.
Therefore, in the Information Age, technology has been increasingly used in English teaching to assist teachers. EdTech helps increase accessibility for students, transform students into active learners, and diversify the learning experience, leading to better results.
Below are reasons why educators must adopt technology-driven techniques when teaching English.
Master your understanding of phonetics and the art of teaching English pronunciation with this Bridge Micro-credential course.
Challenges ESL Teachers Face in Teaching Pronunciation
As mentioned above, the underestimation of the importance of pronunciation is a common issue in classes taught by ESL/EFL teachers. Yet, Professor Jennifer Jenkins of the University of Southampton stated that pronunciation errors are a possible cause of communication failure during negotiations or conversations in English as an International Language (EIL).
Insufficient practice time
Classroom practices are lessons and activities led by teachers, laying the foundation for students to further practice at home. However, with large-sized English classes, teachers hardly have enough time to work on students' pronunciation individually in class. Since the more you practice, the easier it gets, deficient exercise time leads to little or no progress in improving one's accent.
Excessive workload to design assessment tests and give feedback to each student
Finding suitable materials that match students' needs is a challenging and time-consuming task. Moreover, to precisely evaluate students' skills and improvement, teachers need to spend a lot of time designing assessment tests that guarantee authenticity, reliability, and level of difficulty as well as giving detailed feedback to each student.
Most teachers have to work overtime, causing stress and demotivation. Besides, given that pronunciation is not prioritized, it is often neglected, particularly when teachers have a large workload.
Phonological differences of non-native accents
As we know, countries all over the world have diverse alphabet systems with different syllables. Some syllables in English might not exist in another language and vice versa. Therefore, it might be hard for English learners to adjust to the differences. In many cases, learners tend to pronounce English letters similar to those in their mother tongue alphabet.
At first, students might find these difficulties demotivating when learning English pronunciation. To motivate students, teachers need to engage them in diverse activities and make them excited to practice English pronunciation and improve their skills.
Learn the ins and outs of teaching English pronunciation and phonics.
A Result-Proven Solution for Teaching English Pronunciation
To address the aforementioned challenges in teaching pronunciation, a team of leading education experts at ELSA has worked together and developed the ELSA Speak app, an AI-enabled learning app that understands teachers' problems and assists them to enable fluent speaking skills for students.
Empower your students with critical pronunciation skills when you take a Micro-credential course in Teaching English Pronunciation.
Automated assessment tests that help teachers save time and monitor students' progress
Instead of traditional teaching and grading methods, teachers now can save time grading manually thanks to applying advanced technology. Hence, both teachers and students can benefit from teaching more by grading less. With the utilization of EdTech in formal classes, tests can also be assigned automatically, and learning progress, as well as total practice time, can be tracked easily.
Instant and adaptive feedback for pronunciation
With technology as an assistant in the classroom, teachers can let students practice speaking and then receive detailed feedback on pronunciation, intonation, fluency, word stress, and listening in real-time. A variety of audio input, including phoneme level, word level, sentence level, and more, is made available within the app. Additionally, estimated IELTS speaking scores will be given precisely according to students' performance.
A driver of student engagement
In agreement with psychologist Aditya Shukla, it is believed that enjoyable and engaging lessons improve students' learning experience, making information pleasurable for their brains. Using diverse topics and gamified exercises for situational learning through teaching tools like ELSA helps engage the whole body in an interactive learning process.
Particularly in language learning processes, humans use a rich network of brain regions, including centers for movement, emotion, and comprehension. An exciting study experience promotes deliberate engagement of those parts.
How ELSA Works in Your Class
To start learning with ELSA, each student is required to take an initial assessment test so that the AI coach can analyze students' speaking levels and suggest appropriate learning strategies. Hence, all students can have sufficient in-class practice and improve on the go. ELSA experts also created a standard curriculum based on three student levels: Beginner, Intermediate, and Advanced.
Furthermore, teachers can assign homework with ELSA speaking exercises and topics. Games and competitions are also available on ELSA to boost students' motivation. An enthusiastic learning experience is further enhanced with diverse vocabulary and grammar study sets. Additionally, ELSA can act as a platform for communication between teachers and students or parents to report real-time learning progress.
The Results of Applying Technology-Driven Pronunciation Teaching Techniques
A recent academic study entitled "The Effectiveness of Using Technology in Learning English" found that, in 2021, nearly 70% of English learners chose to practice English with the help of technology. Of those students, 96% found technology useful for their English learning process. Moreover, among different kinds of technology, educational apps are the most popular, with the highest percentage (75%) of use.
These and other statistics have shown that using technology, especially educational apps, is very important in learning and teaching English. Admittedly, institutions are trying to adapt to the new era, aiming to provide the best possible education.
In partnership with Rice University, ELSA has helped improve the speaking skills of Rice's international students. The final report showed that Rice students increased their pronunciation score by 7% over their initial diagnostic score after only six weeks of using the ELSA app. Katerina Belik, Lead Instructor of this pilot program, commented on the overall results: "Each week, my students do an oral presentation, and I can tell whether they have been practicing with ELSA or not. ELSA has also allowed me to continuously track and support students' progress. Through the dashboard, I'm able to identify when students are falling behind and prompt them to increase their practice time."
Catch up with the latest technology used by millions of users globally today by requesting a demo with ELSA here, and get 20% off ELSA Pro for a year if you're a Bridge grad or current trainee!