Jake Young is a TEFL grad with almost a decade of experience teaching English in the Czech Republic. He's also a Bridge partner and the founder of Fluentize, a site for EFL teachers that provides fun, video-based lesson plans that can be downloaded and instantly used in the classroom. We interviewed Jake to learn more about his path from EFL teacher to "teacherpreneur."
After your TEFL certification course, you taught abroad in the Czech Republic from 2010 to 2019. What made you choose that location?
I ended up in Prague to get TEFL certified after graduating from West Chester University in Pennsylvania. During my studies at West Chester, I also had the opportunity to study abroad in Prague for one semester and fell in love with everything about international life there. I loved learning about the people, culture, and language.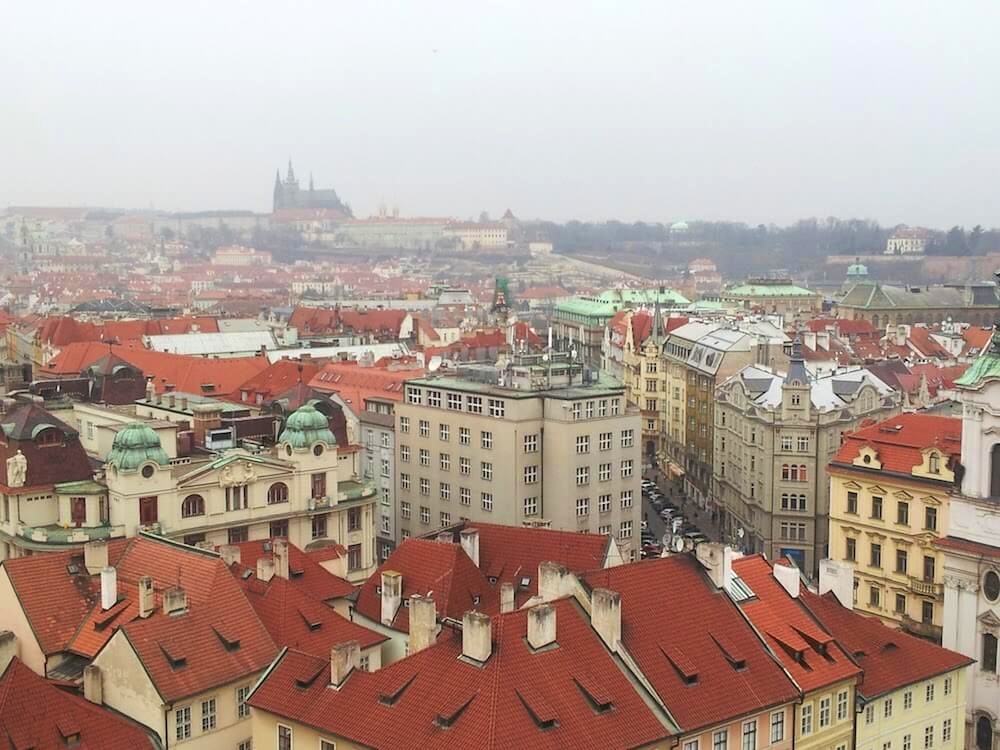 Prague, Czech Republic
After this, I moved back to the US to finish my university studies, but my experience studying in Prague drove me back there after graduating. When I returned, I got my TEFL certification on-site in Prague and soon after started my teaching career.
Prefer to study online? Browse online TEFL courses.
Did you ever anticipate staying so long there?
I never anticipated staying so long in Prague after getting TEFL certified. I originally planned it to be a gap year experience, but the years kept passing by as I became more integrated in Czech life. While I was teaching English, I also enrolled in intensive Czech Language courses at the Charles University Institute for Language. I received a B2 level certificate of proficiency, and after going through the process of learning the local language, I began to build a stronger connection to the culture.
I continued teaching English but also eventually went on to use the language skills that I acquired to start a business providing long-term visa services to other Americans moving and living in Prague.
Interestingly, you mostly didn't work for schools – you worked as an independent teacher, providing lessons to corporate clients at companies around Prague. How did that come about?
Although I did temporarily work for a few language schools in Prague at the beginning of my teaching career, I also found some of my own students on the side who I arranged private conversation lessons with. This was originally just meant to be an additional source of income at the time, but I found my niche as a private instructor in my own practice. I preferred the personalized style and building interpersonal relationships with my students on a one-to-one basis.
I networked within my small clientele, who eventually introduced me to their colleagues, friends, and family members who were also interested in trying out English lessons with me. One of my students, Martin, introduced me to his colleagues at a corporation, Office Depot, in the Czech Republic. This became my biggest source of clientele. I traveled to Office Depot for in-company lessons two or three days per week, teaching general and Business English lessons to the employees in the Key Account, Sales, Customer Service, and IT departments.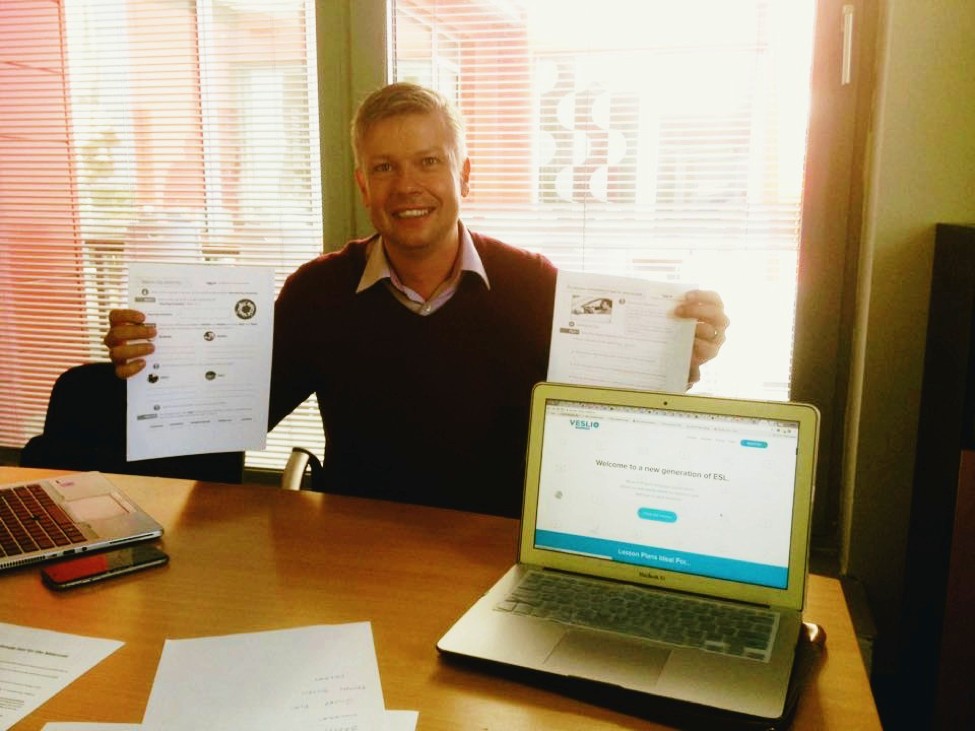 Pepik, one of Jake's private students at Office Depot
How do recommend other teachers build up a private student clientele?
Network
What worked for me is finding expat community websites and groups online, and posting some classified ads on those with advertisements for private English lessons. Finding and connecting with other teachers in the city where you live or online will help you too. You can then do some really good networking once you just land a few students.
Build your teaching skills
Also focus on building your teaching skills because the better you do your job as a teacher, the better chance you have of being referred to other students.
Learn about Bridge Specialized Certification in Teaching Business English, which can help you hone your teaching skills for private students or give you an edge in a competitive job market! 
Focus on the students you have – at first
So at the beginning, focus your efforts on just getting one or two students. Then you can build a bigger clientele from them. I built my student clientele from references from my first two private students, Martin and Alena. Don't be afraid to ask your students – "Would you happen to know anyone else who wants to learn English?"
In a nutshell, be proactive in posting online, asking around, connecting with other established teachers, and then if you do your job well as a teacher, your students are going to refer you to other students who are interested in learning English. If you just keep networking, word of mouth will help you naturally grow your business!
Your website, Fluentize, which provides video-based lessons and other resources for EFL teachers, grew out of your experience abroad as a teacher. How did that evolve?
Fluentize's birth was actually the result of my lessons with my student mentioned above, Martin, at Office Depot.
The need for "real English"
Martin really liked learning things like colloquial phrases, phrasal verbs, building his vocabulary, and learning 'real English' as he called it (he didn't want to do textbook activities or work with audio text that sounded robotic). All he wanted was interaction with authentic material.
YouTube inspiration
I remember during one of our lessons we got into a really good conversation about 3D printing, and so I promised him I'd find a video on YouTube on this topic so that we could discuss it more in-depth during the next lesson. I used my lesson planning skills to build a basic, one-page lesson around a news report video on 3D printing which included some conversation topics, activities for the vocabulary terms in the video, and a listening comprehension activity.
The birth of Fluentize
Martin loved the lesson, and he enjoyed working with an engaging video which gave him the interaction with 'real-world English' that he was interested in. He asked me if we could do that again for another topic. So we did.
I recycled that 3D printing lesson plan with some of my other students, who also felt the same – they wanted more lessons just like that. I was getting such great student feedback on how effective these lessons were based on videos, which made me determined to get the content in the hands of other ESL teachers. It was also a joy for me to hunt for interesting video topics and use creative energy to transform them into English lessons. Soon Fluentize was born.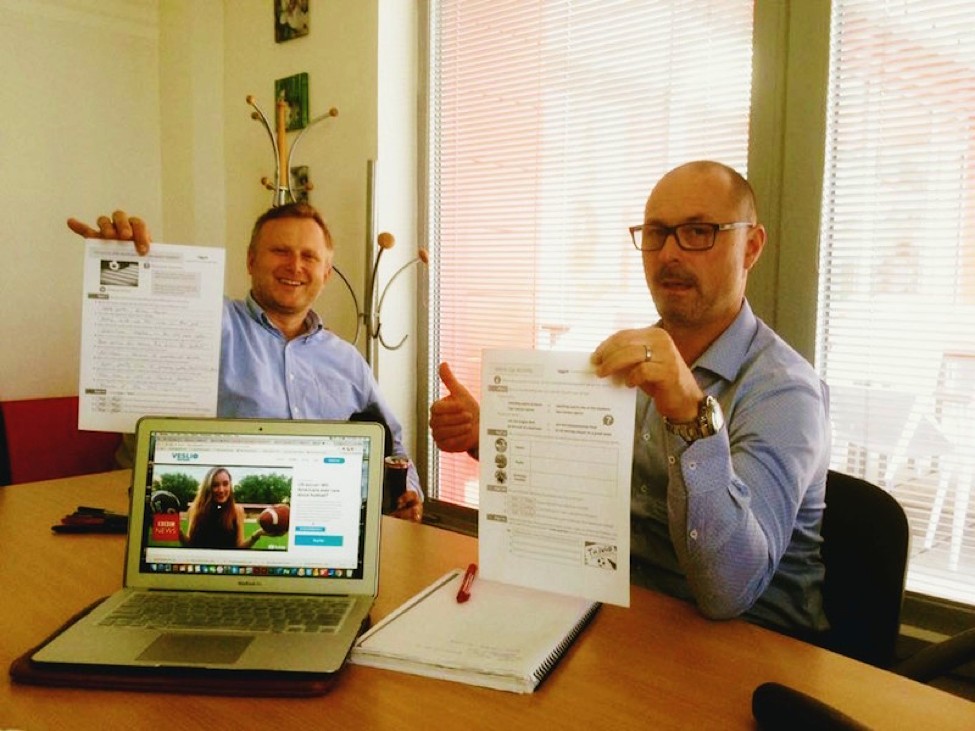 Two of Jake's Office Depot students (Martin on the left and Tomas on the right) who were original students of the Fluentize lessons 
How can Fluentize help new and experienced TEFL teachers?
When you're starting out as a teacher, putting together a lesson plan is a really daunting and challenging task. I remember spending hours and hours just trying to put together a simple 30-minute demo lesson during my TEFL training. It can be really tough to know how to structure a lesson, what topics are good to work with, if the level of the material is appropriate for your students, what kind of questions drive good conversation, which vocabulary words are useful for the students to learn, how to teach vocabulary effectively, and how to demonstrate grammar points.
The goal of Fluentize is to ease these challenges. We provide context examples that help students understand the correct usage of a vocabulary term, CCQs (concept check questions) that teachers don't have to come up with on the spot, explain grammar in a really simple and easy-to-understand way, and we come up with material which breeds great discussion in the classroom. It also takes time to put together a structured, engaging, and comprehensive lesson which covers practical language points that students need for their life, and Fluentize provides teachers with these things as well.
Fresh material for experienced teachers
While experienced teachers generally know how to put together a quality lesson, the value that Fluentize brings for them is novelty, relevance, creativity, and uniqueness. It's a new tool in the toolbox for experienced teachers.
Relevant lessons for all teachers
More importantly, having access to fresh material based on engaging videos brings great experiences to the classroom for both new and experienced teachers. Fluentize is packed with material that explores niche topics, and is designed so that teachers can get to know new things about their students. This, in turn, will help you develop your interpersonal relationships with them. It's also a huge time saver in the sense that a teacher and/or student can choose an interesting topic and the lesson is ready to go and use.

A teacher conducting a Fluentize video lesson  
So we've heard a lot about Fluentize. What other things have you done or used that have brought you success in your teaching practice?
Working one-on-one with students gives you more opportunities to go the extra mile for them. If a student needs help proofreading an email they wrote for work, do it for them promptly and free of charge. You should, of course, set boundaries on what you do for them, but giving a freebie or extra help here and there goes a long way. Send students articles, videos, or other links in English that you come across online that remind you of them or think they may find interesting. You can use that as material in your next lesson too.
You could also take them out for a dinner or a drink from time to time if it's culturally acceptable where you teach. Buy them a small souvenir when you're traveling. If you teach English online, send your student a digital 'Happy Holidays!' card or something of that sort when the holidays come around. Your teaching career will be fruitful if you do extra things to nurture your relationships with your students and show you care about them.
Are you still teaching or tutoring?
I do continue teaching online, although it's only a few lessons per week. I prefer to focus my efforts on developing Fluentize lesson content. However, continuing to teach even just a few lessons per week helps me maintain the skills I need to continue developing quality lesson content, and it gives me valuable data and good ideas on how to readapt and improve the lessons.
What advice do you have for new teachers?
Try something new
My most valuable advice I would have for new teachers is to get outside of your comfort zone. Focus on experimenting with and implementing new ideas, tools, resources, materials, games, management techniques, and ways of doing things in your lessons. Some things will work and some won't. Don't be afraid or get down about a bad lesson – we all have them. A bad lesson is really just good data. Do research on new things you could implement, and be proactive in seeking out sources for professional development. ELT Think Tank is a great place to check out.
Learn another language
Another piece of advice I have is to make an effort to learn a new language. I can't stress this one enough. Learning a new language is scary, but going into a student mindset will help you develop empathy as a teacher. This is directly connected to your teaching skills and will help you become a better teacher. After I went through the process of learning Czech, my bond with my Czech students became much stronger. They even had so much fun teaching me some things about their language! I'm a firm believer of the idiom "You are as many people as languages you speak." or in Czech, "Kolik jazyků umíš, tolikrát jsi člověkem."
Build relationships
My final piece of advice goes back to building interpersonal relationships with your students and having fun with them too. Even becoming friends with students isn't a bad thing, just know your boundaries. Show your students that you genuinely care about their lives and do what you can to help them grow as students, which in turn will help you grow as both a teacher and a person.