The results are in! We loved seeing your TEFL photos from all over the world. Thank you to everyone who participated and voted for our Grand Prize Winner on Facebook! So without further ado, here are the winners of our Teaching English to Young Learners & Teens Photo Contest…
GRAND PRIZE WINNER:

High five!, by Lindsay Mattone, IDELTOnline graduate teaching English in Tanzania, Nepal & more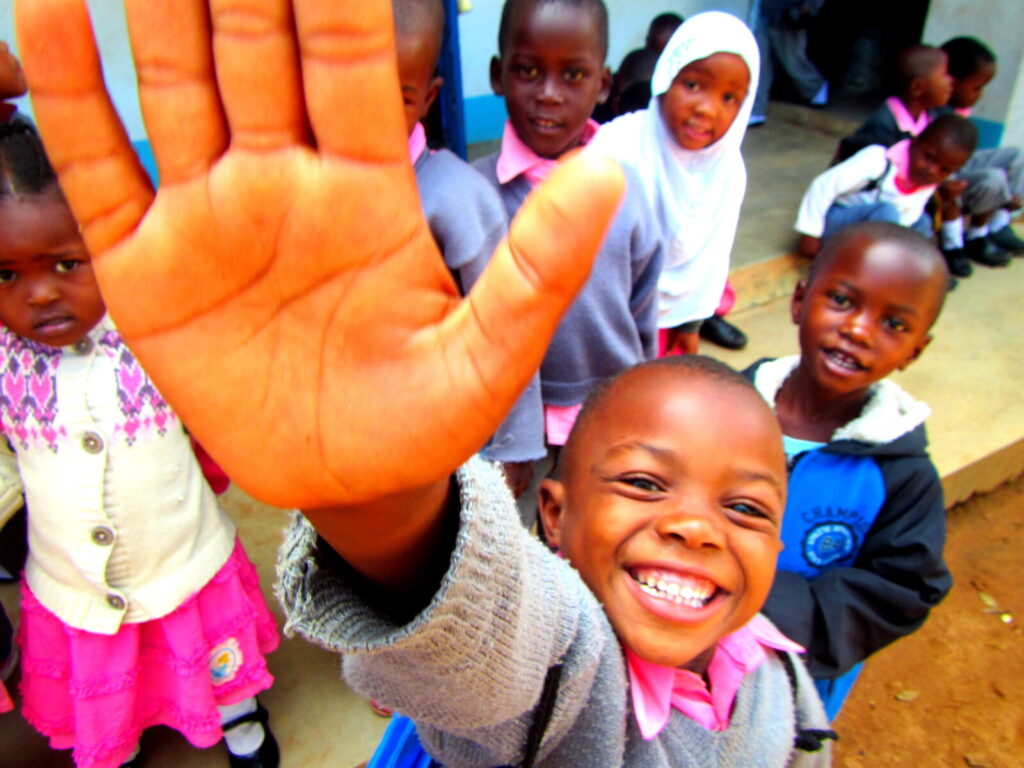 Where is this photo taken?
Ilula, Tanzania
Tell us more about this photo.
As a volunteer, I was teaching English at a local preschool in Ilula, part of the Iringa region of the country. Kids Corner Preschool works with almost 80 children aged 2 1/2 to 6 years old in their two-classroom building. This picture was taken after I taught an English language lesson and the students were preparing for their daily snack, which is provided by the school.
What is your best tip for teaching English to young learners?
Be adaptable, creative, and developmentally appropriate. Make connections to things that are relative to their world.
Get more tips on how to teach kids English.
How did your Bridge TEFL certification help you get your teaching job?
I graduated from the BridgeTEFL program in October 2017 with an International Teaching Diploma (IDELTOnline) and specialty certification in Teaching English to Young Learners. The certification qualified me for certain positions and made me more valuable.
As the Grand Prize Winner, you won the $100 Amazon gift card. What do you plan to do with the money?
The Amazon gift card that is awarded will be donated to Kids Corner Preschool in Ilula Tanzania to buy supplies for the teachers and students.
BEST TEENS PHOTO:

Staircase Snapshot, by Charles Wolfe, English teacher in Indonesia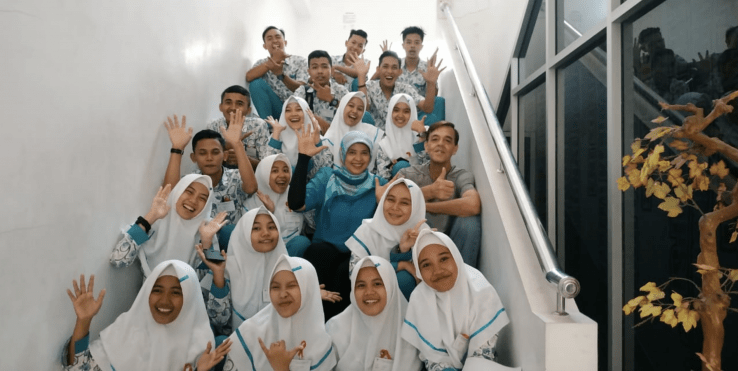 Where is this photo taken?
Jember City, Indonesia
Tell us more about this photo.
These are 17 to 19-year-old students from a nursing vocational school. I was lecturing there and teaching medical ESL. The students were motivated and a pleasure to teach!
What is your best tip for teaching English to teenagers?
Try your best to keep the students engaged. Use role-playing and games and keep it exciting.
As the best teens photo winner, you had the option to choose a free specialized TEFL course or a $50 Amazon gift card. Why did you choose the online TEFL course?
I am thrilled that our photo won the Best Teens Photo contest. I shared this with my class and asked them which prize I should choose. They unanimously chose the Amazon gift card. I had already decided that I would choose the 60-hour Teaching English to Teens Specialized Certificate course. I explained to the class that teachers have a responsibility to be the best that they can be for their students. This includes former, present, and future students. It was a learning moment for these young people.
BEST YOUNG LEARNERS PHOTO:

Young Readers, by

Marilena Moraru, English Teacher in Romania

Where is this photo taken?
Iasi, Romania
Tell us more about this photo.
We all love reading! Our best friends are at the library.
What is your best tip for teaching English to teenagers?
For teens, I recommend interesting interactive activities; for young learners, funny games are a great learning tool.
Why did you decide to enter our photo contest?
I sent the photos because I love my children and I am proud of them!
Congratulations to our winners and thanks to everyone who participated! If you'd like to get certified to teach young learners, check out our newly updated Specialized Certificates in Teaching English to Young Learners & Teens.