Are you looking to earn an internationally-recognized, high-quality TEFL certification from home? If so, you may have considered the online version of the well-known (and traditionally classroom-based) CELTA course. But what is the CELTA online course all about, and is it a good choice for you?
While there are many pros to obtaining online CELTA certification, there are also cons, such as the certification's cost and location requirements. Other alternatives, such as Bridge's IDELTOnline™, course provide an equivalent option for earning distinguished TEFL certification online. Let's take a closer look.
Is CELTA better than TEFL? How are they different?
You can't separate CELTA and TEFL because CELTA is actually a type of TEFL course or qualification. TEFL is simply an umbrella term that stands for Teaching English as a Foreign Language. (You'll also see an equivalent term, TESOL, which stands for Teaching English to Speakers of Other Languages). TEFL/TESOL certificates can come from many different institutions, such as BridgeTEFL, and have different features and requirements.
When most people refer to the CELTA, they're talking about the original, classroom-based version of the course, such as Bridge offers in Denver. CELTA currently stands for Certificate in Teaching English to Speakers of Other Languages (it originally stood for "Certificate in English Language Teaching to Adults"). The CELTA "brand" of TEFL/TESOL certification is awarded through the Cambridge English Language Assessment and can only be taken at authorized centers.
What's the difference between the Cambridge CELTA and the Bridge IDELT?
The Cambridge CELTA is actually equivalent to Bridge's classroom-based IDELT course (International Diploma in English Language Teaching), which is offered at Bridge centers in Denver, Argentina, and Chile. Both are standardized TEFL/TESOL courses, which means that wherever you take them the curriculum is exactly the same. Like the CELTA, the Bridge IDELT is a 4-week course that is taken full-time in an actual classroom and which includes observed and evaluated teaching practice with real students.
Can I do a CELTA course online?
Yes, the Cambridge CELTA  can be taken online – for the most part. Online CELTA programs are actually blended courses with both online and in-person components that need to be fulfilled. Essentially, the main portion of the course is delivered online with a tutor, but you still have to travel to an approved CELTA center for teaching practice and lesson planning. These blended courses are mostly offered in the UK and US (find centers here).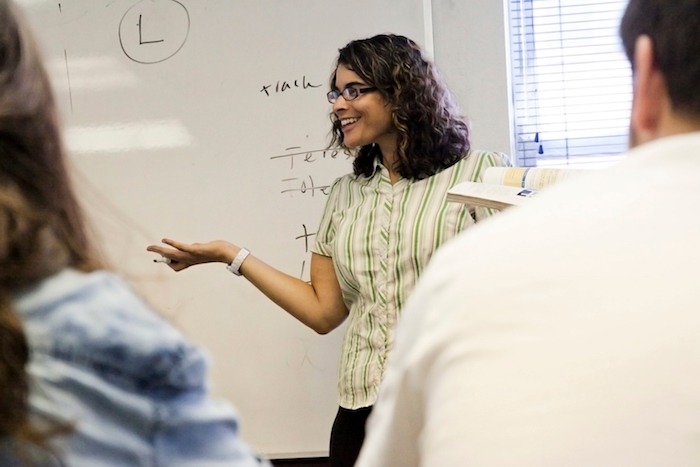 Practice teaching is a requirement of the CELTA online
How does CELTA online work? How much of the online CELTA course is in person?
The majority of the online CELTA is conducted online through a mixture of units, virtual real-time classes, and discussion forums. You'll also need to meet the in-person teaching requirement, which includes six hours of teaching spread throughout approximately eight different sessions at a CELTA center. These sessions are done in practice groups and observed by your peers. They contain a range of lesson types that you'll teach to practice students.
What is the cost of the CELTA course online?
The cost of the online CELTA depends on where you choose to take it. For example, there are 15 centers in the United States that offer online CELTA courses and the average course cost is between $2,500 – $3,000 USD.
What are the pros and cons of the CELTA online?
Pros
For starters, the CELTA is a well-known qualification and widely accepted internationally. That means that many employers will recognize your certification.
Furthermore, the course includes mandatory teaching practice, which will help you become more comfortable with teaching real students in the future.
Lastly, the CELTA provides a comprehensive certification in the foundations of teaching English so that you can easily go on to pursue more advanced qualifications, such as the DELTA (Diploma in Teaching English to Speakers of Other Languages), later on.
Cons
One of the biggest negatives is perhaps how expensive the CELTA generally is, even if you take one of the blended online courses.
The other major con is that it's not 100% online, so it requires travel to certain locations to complete part of the online course in-person.
Furthermore, you may not live anywhere near a CELTA center, making it incredibly difficult for you to enroll in this certification program.
What is an alternative to the CELTA online?
The Bridge IDELTOnline is a great alternative to the CELTA and is offered completely online. Otherwise known as the Bridge International Diploma in English Language Teaching, it is a 12-week, part-time TEFL/TESOL certification course that includes 150 total hours of training.
This fully accredited course is conducted under the instruction of a masters-level instructor. You'll join other trainees to complete the interactive, standardized course and will receive job placement assistance upon certification. The IDELTOnline is also a university-affiliated program, meaning you'll have the option to earn up to 9 college credits or even to take the course for direct credit toward a master's in TESOL program with one of our pathway partner universities.

There's also the option to add an additional 20-hour practicum, which can be completed anywhere in the world, to help you qualify for the best teaching jobs abroad.
How does the CELTA online compare with the Bridge IDELTOnline™?
Unlike the CELTA online, the IDELT can be taken 100% online and does not require an in-person component. However, if you do choose to add the in-person practicum to your IDELT, you can do so from any school around the world and do not need to be near a specific center.
At $1,495, the IDELTOnline is more affordable than the CELTA and can even be paid in installments. (Keep an eye out for sale pricing to pay even less for the course!)
The IDELTOnline is a university-affiliated program, offering the option to earn graduate-level college credit or take the course as part of a master's in TESOL program.
You've got options for high-quality TEFL/TESOL certification
Whether you decide to take the CELTA online or Bridge's IDELTOnline course, you're going to earn an internationally recognized certification that's widely accepted by schools around the world. While both will help you get TEFL/TESOL jobs, deciding which program is right for you comes down to consideration each course's in-person requirements, program costs, and other practicalities.