Are you considering enrolling in Bridge's graduate-level TEFL/TESOL course, the International Diploma in English Language Teaching™ – our most advanced online training? Making the commitment to enroll in an online course isn't easy; it isn't a physical purchase, like shoes or a bike, and you can't "try it on" or "take it for a spin" before buying. And, while you have access to facts about the course by visiting the course page above, there are common questions students have prior to registering that are not necessarily answered by the facts. Let's address those concerns about the IDELTOnline!
The International Diploma in English Language Teaching (IDELTOnline) at a Glance
Before we dive into some questions prospective students often have about the IDELTOnline, check out this infographic to get a quick overview of what it's all about. See if you answer "yes" to most of the questions!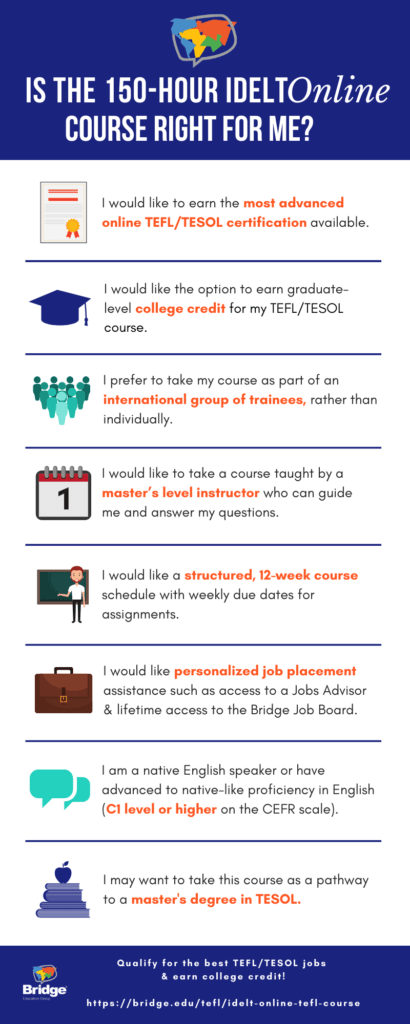 Is this course appropriate for my level of experience?
The IDELTOnline welcomes everyone equally, as each trainee in a given cohort not only has something to offer but opportunities to develop professionally and personally. Therefore, this course is appropriate for many different types of trainees, including experienced teachers who may be earning additional credentials as well as those with no teaching experience at all. It's also appropriate for college students or people changing careers. The collaborative nature of the course really motivates and enlivens students in every cohort. 
Can I work full-time while taking this course?
Yes! The IDELTOnline is rigorous yet completely possible on a full-time schedule. If an intense learning experience that has you thinking like a teacher in only 12 weeks sounds exciting, but you need to balance that with a full-time job, this is your course. About 90% of IDELTOnline students work full-time while taking this course, and more than 90% complete successfully. These students were able to commit to weekly due dates for their IDELT assignments with no problem and, in fact, many people find this type of weekly accountability an advantage over a less structured course that's completed at one's own pace.
Who are the instructors for this course?
In the IDELTOnline, expert instructors get to know you and guide you through the entire 12-week course. If you haven't taken an online course before, you might imagine that "online" means working in isolation, but not so! Your dedicated teacher trainer has an M.A. in TESOL, years of experience teaching in diverse contexts, and expertise in online learning, so you feel connected from day one. Meet the instructors!
Terry McLean

Terry earned her B.A. in Business from Brenau College and later completed a Master's in Education in ESL from the University of North Carolina at Charlotte. She is currently studying for her Doctorate in Education in Curriculum and Instruction. Terry has fifteen years' experience teaching English, nine of which were spent working with high school students in rural North Carolina. She also has experience teaching abroad in Germany, where she worked as a private ESL tutor for five years.
Katrina Schmidt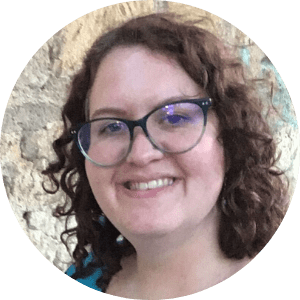 Katrina, who has been teaching for over 10 years, got her start as a volunteer English tutor in New Orleans after Hurricane Katrina. After teaching for several years, she decided to earn her Master's in TESOL at The New School in New York. She's taught at universities in the United States, Colombia, Mexico, and China, and she has served as an English Language Fellow in Mexico, training local English teachers. Katrina has presented at language teaching conferences. Read an interview with Katrina.
What is the course work like?
Beginning with discussions on language acquisition theories and teaching methodologies, the first units of the course form the basis of your development for teaching vocabulary, grammar, pronunciation, speaking, listening, reading, and writing in an adult context. Assignments and deadlines are the same every week, for less stress. As you reflect on your professional teaching philosophy, you gain an understanding of what an effective teacher does every day in class. At the same time, you are growing a professional network through your relationships with other trainees in your cohort.
I'm new to online learning. What if I don't like it?
For many, the online format can be an improvement over a classroom because when writing for online you have time to formulate your ideas and opinions related to the content before submitting them. The atmosphere of the online course is no accident, purposefully managed so that each individual feels valued for his or her unique perspective. Often students feel more confident sharing in this environment. You might, too!
Course instructor, Katrina Schmidt, describes how the IDELTOnline is different from other teacher training courses:
"The course is also more interactive than other online TEFL/TESOL courses. When you enroll in the IDELTOnline, you become part of a cohort of international trainees who start on the same date and work through the course together, week by week. We communicate and share ideas with each other via the course discussion boards, and we also have live sessions throughout the course. During these live sessions (which are also recorded in case anyone can't attend), I lead a discussion of the content covered so far and trainees have the opportunity to ask questions or bring up topics with the group."
I'm not very technical. Will I have trouble with the class being online?
Learning happens online because of solid learning theory, thought-provoking content, and strong teaching presence. Technology should never get in the way of that! Our learning platform, called Moodle, is simple to use. Many students have taken courses on Moodle before, since it's used by colleges and universities, but even first-time Moodle users find it intuitive and even fun.
At the start of your course, your instructor provides an overview of the platform functionality and features, preparing you for the course. You'll also be able to message your instructor at any time or contact the Bridge support desk for technical problems throughout your course.
What exactly does it mean that this is a graduate-level course?
Not everyone who takes the IDELTOnline chooses to earn college credit for it, but it is a graduate-level course, meaning the content is more academically rigorous, theory-based, and in-depth than a self-study TEFL/TESOL certification course. Some people choose to earn university credit for the IDELTOnline because they may pursue further studies in the field of TESOL. The course has been recommended by ACE CREDIT® for up to 9 graduate university credits, which you can transfer to an eligible university. Another option is to take the IDELTOnline as a pathway toward an MA TESOL with one of Bridge's university partners.
If you're looking for a high-level TEFL/TESOL program that provides an interactive learning environment where you can share ideas with your instructor and peers, the Bridge IDELTOnline could be right for you. Get to know a course graduate: Evgenii, from Russia, teaching in Kuwait.