From Jamaica to China: Bridge Graduate, Stefano Chin
By Bridge
July 12, 2019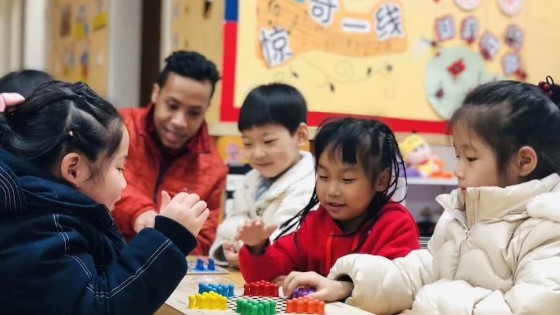 Stefano Chin is a graduate of the 120-Hour BridgeTEFL Master Certificate who is from Jamaica. Stefano became a first time ESL teacher teaching English in China. Passionate about what he does, he was eager to share his experiences living and teaching in China, encouraging others to pursue similar opportunities that interest them.
Stefano, what made you want to teach in China? Did you consider other places, too?
I wanted to experience and explore for myself the wonderful opportunities that people I've heard from had told me about or had spoken about in testimonials online. I wanted to earn a good salary to support myself, my family, and start my life. I had no idea which direction my life was going in, so I thought maybe this would help me find out whether teaching in China was suitable for me – and it turns out to be a perfect fit.
I had considered other places; I had applied to teach in the Japan Exchange and Teaching (JET) Program a couple of years ago because I love Japan also, but I wasn't successful. I wanted to go to South Korea and even Spain – I do have a good background in Spanish.
Why did you choose to get TEFL certified and how did you pick the Bridge 120-Hour Master Certificate Course?
The job opportunities for ESL jobs in China require applicants to have a 120-hour TEFL Certificate. Hence, this certification has improved my qualifications and resume as a first time ESL teacher.
How did you find your first teaching job in Yueqing? Did you get it before arrival in the country?
I had sent out many applications on many different TEFL job sites. I was contacted by a recruiter for a recruiting company, which led to an interview and a receipt of the offer letter and acceptance for the position, before coming to China. The company is based in Hangzhou, but I requested to be placed outside of the city because it would be cheaper and rent-free, so I was placed in Yueqing.
Can you tell us about your job? Who are your students? What's a typical workday like for you?
I teach kindergarten. My students are from 2-6 years old. I report to work at 8:00 am where I have a half-hour time slot to prepare any last-minute items, activities, etc. before my first class session, which lasts from 8:30 am to 9:00 am. This session includes me sitting with the kids and just talking and playing with them. Then from 9:00 am to 10:55 am, I have back to back classes; a grade-four class, a grade-three class, and two grade-two classes. Between 11:00 am and 1:00 pm, I go on lunch break. At first, I tried the food at the school kitchen, but I didn't like it very much. So now I only accept chicken (as preferred meat); otherwise, I'd walk home and order lunch and have a rest. I return to school at about 2:00 pm and prepare for my afternoon classes. From 3:00 pm to 4:00 pm, I have two classes: a grade-four class, a grade-three class, and a sit-in class session with a given class which is between 4:00 pm and 4: 30 pm. After a full day like this, I'd go home.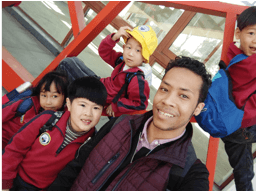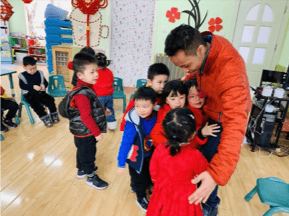 Stefano with his students in Suzhou, China
Where do you live and how did you find your accommodations? How do you like it?
I now live in a small town outside of Suzhou city called Shengze, in the Wujiang District. My school arranged the accommodations for me ahead of time. It's a good place to live; it is conveniently situated in the commercial zone, so I am within walking distance to the Shopping Plaza and many different restaurants including a KFC and a Pizza Hut. The neighborhood is quiet, and the people are friendly but not very sociable – it's just Chinese culture. The most interesting thing about my neighborhood is that people are so loving towards animals; a lot of people have pet cats and dogs.
Has there been a moment so far in your experience as a teacher when you felt like you made a difference in a student's life?
I haven't taught in any particular school long enough to have made that kind of connection with a student. However, I have had many experiences with students who've really loved interacting with me and after learning some basic Chinese, they were so excited and surprised to hear me speak Chinese to them. I've also been tutoring a little boy for 8 months now, and we have developed a very close relationship; we often talk, play, and laugh together. However, we now only communicate via WeChat because I moved to Suzhou and he is in Yueqing. His mother is very grateful for having me as a tutor and mentor.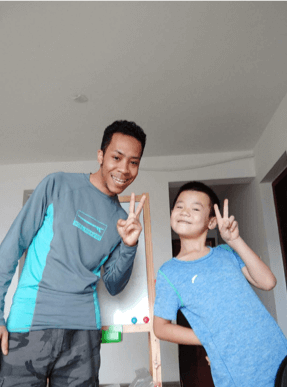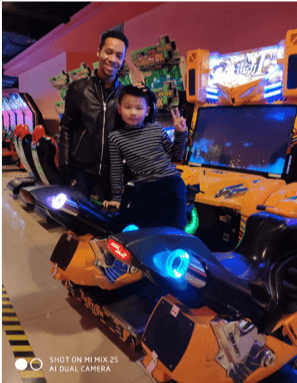 Stefano tutors and mentors a young boy in China.
What was your biggest culture shock moment so far?
So far, my biggest culture shock was the language barrier. I started studying Chinese long before coming to China, but it wasn't until after I started interacting with the locals and needing to communicate to survive – to buy food, to ask questions, to ask for help and information – that I realized how difficult life was without knowing basic Chinese.
Have you traveled in the country or region so far, and if so, what have been the highlights? Where else do you plan to visit?
In the 9 months that I've been in China, I've travelled to a few places. Last year in the summer, I was invited by a Chinese friend of mine to visit the city of Hangzhou. Following that, in October I spent a week with my brother and his family in Hangzhou for National Holiday. In December, I visited Dongta Mountains in Yueqing, Wenzhou. After moving to Suzhou in January of 2019, I've visited a friend in Shenzhen in Southern China, as well as some parks around the area of my hometown and in Suzhou.
In the future, I'd like to visit other major cities and explore other parts of Suzhou and areas nearby like Shanghai, Ningbo, and so on.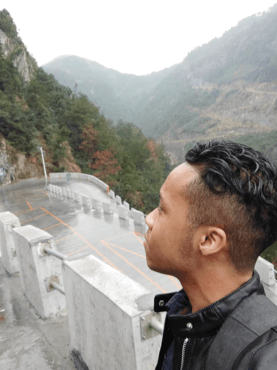 Stefano visits the Dongta Mountains in Yueqing, Wenzhou.
What recommendations do you have for someone who wants to teach in China?  
My recommendations are:
Do not hold back nor procrastinate. If this is something you are passionate about, like I am, then you should absolutely go for it – so you have no regrets in life. It's a wonderful opportunity to see the world and meet new friends. If you love to learn new languages, specifically Chinese like me, then this is the best way to learn it because there is no other way to completely immerse yourself into the Chinese culture and society than living in China.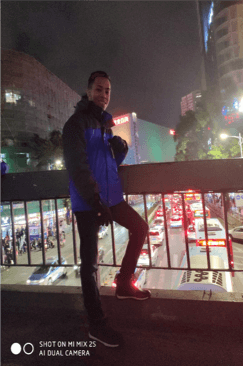 Stefano travels to Shenzhen in Southern China.
Before you come to China, just be sure to do all the research that you need to do to make sure you are comfortable with your contract, your school, and/or agency, and your accommodation. These are some of things that can cause you some major difficulties, so it is necessary for you to do proper research and in your interview ask all the questions about these.
If you have no teaching experience, you can still get a job in China. However, it will be even better for you if you have some experience, take your TEFL course seriously, and learn the information well because if you have no prior teaching experience or qualification, this is what you will need to rely on to help you learn how to teach effectively.
Lastly, start learning some basic Chinese. Although your agency (if you applied to one) or school may provide a free opportunity for you to learn Chinese, you will still need to learn it by yourself a bit to ensure you can survive and live comfortably in your environment. It will also help you to make good friends.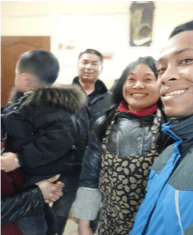 Stefano with some of his friends in Suzhou, China.
What are your future career goals after this?
I see myself teaching English in China for a long time, maybe for the next five years or so. I will pursue further qualifications in education. I'd like to continue my travels, build more connections, and make more friends in China while improving my Chinese skills.
Would you like to teach English in China? Browse open teaching jobs on the BridgeTEFL Job Board!