Gustavo, English Tutor and Teacher Trainer in Rio de Janeiro
By Krzl Light Nuñes
December 15, 2021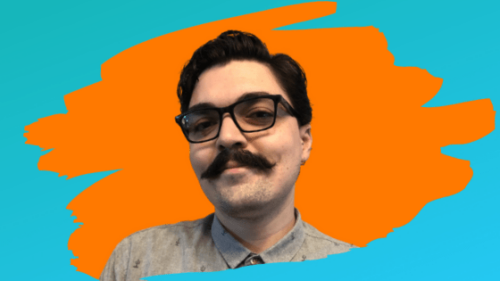 Over the course of his 16-year career in ESL, Bridge grad Gustavo Fróes, from Brazil, has grown as a teacher and an entrepreneur. He started out teaching with a school and now owns his own online English tutoring business. He's currently working toward specializing in teacher training and developing his niche teaching medical English.
Can you share a bit about yourself?
I've been a teacher for the past 16 years here in Brazil. I'm based in Rio de Janeiro. I'm 35 years old.
I started teaching when I was 20 years old. It was completely by accident. I had just moved to Rio de Janeiro from São Paulo, I was very young, and I just needed a job. I opened the ads that day and there was a position in the marketing department of an English school. I sent my resume and they called me in for an interview. They asked, "Do you speak English fluently?" and I did, so they interviewed me. Then, they asked me if I would be interested in teaching. That's how I started teaching – almost half my life ago!
Where else have you taught English?
I've had some experience at the most popular language centers here in Brazil, such as Cultura Inglesa, Wizard, and Wise Up.
I haven't been part of K-12 schools, as I'm not very interested in school life, per se. My wife is also an English teacher and she works in schools, so I can see what I actually do not like to do. I do very well with teenagers, but I'm not very fond of kids in the classroom and have no classroom management. And so, I prefer to teach with language centers and adults.
At the beginning of this year, I made a decision to start my own company, so I've been self-employed since then. I have a registered company here, which is going to be a year now.
What made you decide to go independent?
In 2019, I took the CELTA and it absolutely changed my life because I had been working for many, many years before that. Here in Brazil, we do not have a culture of training teachers very well. If you're going to work for a specific language center, they will teach you how to deal with those books and they have a teacher's guide that you just follow. There is very little training involved. When I took the CELTA, I could see for the first time that there was a life beyond language centers and that teachers could actually have a good life teaching and not just making ends meet. That's how the profession here in Brazil is treated.
Afterward, I took the courses at Bridge and it was like an extension to my experience. I took the Specialized course in Teaching English Online in the middle of 2020 because I was working for a language center at the time, and they were considering shifting to online because of safety measures. I felt that since I had never had experience teaching from home, I needed a more realistic background. A couple of friends recommended Bridge as a good center, then I took a few courses afterward, and I recommended them to everybody.
Also, I started taking the DELTA (Diploma in Teaching English to Speakers of Other Languages) in January this year. I took it because I didn't feel very safe training teachers without having a deeper teacher training myself. DELTA is deep – you learn everything in-depth and it provided me with the safety plan I needed.
So, it was actually a combination of different things that ended up taking me to this experience and being ready to go independent and do what I like to do: teaching English.
What was the Bridge Specialized Certification in Teaching English Online course like?
The course had two parts: the initial and the advanced methods. These are methods are what I actually use for my practice, like how to deal with different kinds of tools better, how to plan better for the online environment, and not only tools for the moment of the class but also resources for exercises, for handouts, for giving students to practice by themselves online and sending it to me other than the traditional classroom environment that you know nowadays. So, these courses provided me with many, many options.
How do you find students for your online ESL school?
At first, it was pretty much through word of mouth. I had a couple of students before and then I just started telling them, "I'm having a career change at the moment, so if you would be so kind as to recommend me to other people." It started like this, and then I started investing a bit more time and effort into my Instagram account. I have my own website. I have also started making another career change in becoming a teacher trainer. So, since August, I've been investing in training teachers. I already have the experience and the knowledge, so now's the time.
How do you find teacher trainees?
I've been an active member of BRAZ-TESOL, which is the Brazilian TESOL branch, and I'm the second vice president of a state chapter, São Paolo. So, the teachers that I end up teaching are mostly connected through BRAZ-TESOL. People know me through that, or they look me up or ask me questions because they know about my involvement. Nowadays, they mostly come from my website, my partnerships with other teachers, and Instagram – the new advertising source for "teacherpreneurs."
Learn more about how to use social media to get more ESL students.
What do you like best about teaching in your home country?
Brazilian people are very warm. We have this Latin South American blood and everything is very nice, everything runs smoother than in other places. For example, when I worked with people from Norway, I had a great experience and there wasn't any problem, although it was a different kind of interaction. In Brazil, we hug, we have fun, and we make jokes all the time while keeping everything professional in class.
What kinds of classes do you give?
Nowadays, I've been teaching mostly one-to-one online. My work has shifted completely online due to the pandemic. I also have a couple of small groups, but that's not my main source of income.
I have also worked for four or five years teaching medical English. It's something I love doing and one of the reasons why I decided to take the Specialized Certification in Designing Custom Courses with Bridge. I was already planning on moving my teaching career forward, both in teaching independently and training teachers.
The course gave me a lot of practical information and knowledge. It gave me the basis I needed to plan my own ambitious endeavors for myself and not connected to a language center. I could actually become independent a little better and a bit faster after I took the course.
Who are your students?
I have groups of doctors and I prep them for conferences and treatment manuals etc. I have a lot of fun teaching it.
All of my students are adults whose ages range from the early 20s to mid-80s. I have an 83-year-old student and she's one of the most dedicated students I have. I also have worked with seniors for about a year or two and it was an extremely rewarding experience.
Can you share a memorable moment that you had as an English teacher?
The first student that I had was a doctor, and he needed more specific English for presenting at a conference. Then, later on, he started training to perform surgeries using a robot. For this, he needed to do an eight-month training, which was mostly online and 100% in English. We did 50% of the training together. When he passed the test, I was as happy as he was. It was an incredible opportunity for him to be able to perform surgeries with the robots after the training, and he is still doing it today.
What's next for you?
Even though I absolutely adore teaching English, I plan to completely shift my work to become a teacher trainer. I do not see myself, in five years, teaching groups divided into beginner and intermediate students, but rather moving to teaching in English (instead of teaching English). So, I'm planning on becoming a teacher trainer and focusing on conversation lessons or preparatory courses that I have been teaching as well. It's an opportunity to put my English into practice not only as an English teacher but as a teacher as a whole.
I also have my first big teacher course in January and it's going to be about methodologies for English teachers, for teachers who are pre-DELTA or post-DELTA. It's going to be the first advanced course for teachers that I will give in my teacher-training career.