Inspired to expand educational opportunities to underserved areas, Julianne Abbott shifted from nursing to the TEFL field. Currently, she teaches young learners in Cambodia. She recounts the opportunities she has had in various Southeast Asian countries and offers a glimpse of what her typical working day is like with primary schoolers.
Hi, Julianne! Can you tell us a bit about yourself?
I was born in Toronto, Canada, but I grew up in Los Angeles, California. I studied at Sierra and Hancock College, with degrees in Liberal Arts and Behavioral Science. I also studied nursing and fine arts.
I was in the medical and hospice nursing fields before teaching ESL. I have been teaching for approximately two years, which was interrupted because of the COVID-19 crisis. Currently, I work for Rocklin Global International School (RGIS) in Cambodia.
Why did you decide to work in the English teaching field?
What inspired me to teach English was a video I saw of children in developing countries who work in factories and are human trafficking victims because of the lack of education and job skills. I first taught sex trafficked victims in Thailand in 2019.
Where have you taught English?
I taught ESL at the branches of RGIS in Kuala Lumpur and Kota Kinabalu, Malaysia from 2019 to 2020. Then, in 2021, the same school offered me a teaching job here in Cambodia when the country opened its borders. The company's website had an introduction to their school and the teaching opportunity. I was referred to them by friends of mine. I am semi-retired and was looking for something I could do that was constructive and productive in my early retirement and that could make a real difference in someone's life.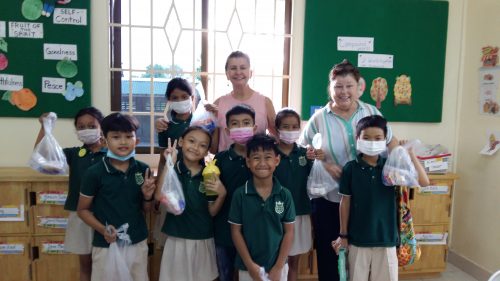 Can you tell us more about your current teaching job?
I work for a private local Christian school just outside of Phnom Penh. My children are kids of parents who work for local NGO hospitals and foster children removed by social services for proper care, as well as local kids in the city. I teach primary-age children.
I really like the grade levels I teach, which are first, second, and third grades. My students all speak Khmer, the local language here in Cambodia. However, some of my students' parents work for local NGOs and speak English as a second language.
I teach three grade levels, four hours a day in the morning, from Monday to Friday. On Mondays, we focus on sounds, singular, and plural. On Tuesdays, we read and write English. On Wednesdays, we play English games such as sound Bing-go and Scrabble. On Thursdays, we do a topical visual art project, something related to their everyday reality, and talk about it. Then, on Fridays, we do conversational English.
Get more game ideas for teaching English by taking a Micro-credential course.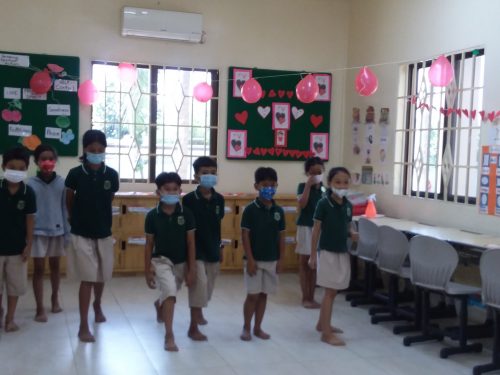 What do you do when you're not teaching?
I like to go to the local hotels on weekends. They allow you to swim in the pool if you buy lunch. I also like to draw, paint, and read. I go to a local gym to work out for $1.00 a day. Phnom Phen has very modern malls to shop at and decent hospitals for medical care if needed. I hear the beaches are beautiful and look forward to my spring break. It is very easy and cheap to use Grab or get a tuk-tuk to travel around the city.
Can you tell us about a memorable experience you've had teaching abroad?
One of my experiences here has been with a local store cashier who speaks English. She told me she went to an after-school program and trade school here where the volunteers coming into the country taught her English. I have met a tour guide and other young people in the community who learned English from foreigners that came to Cambodia to teach ESL through various organizations and companies. The one thing I have observed is that they have better jobs than those without this education. They don't have to do manual labor. They are extremely grateful.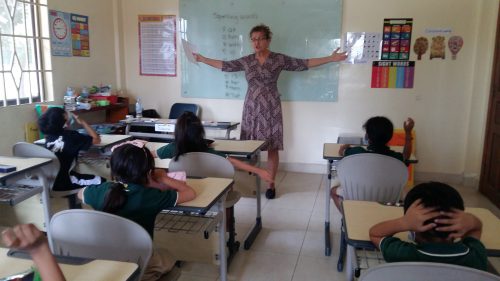 My girlfriend and I were traveling when we took the full course, and we teach together at the same school. I may take further training in the future. I did homeschool my oldest daughter; I taught her to read and write English. I have three children. I felt that taking the Bridge course would give me the confidence I needed to apply for the position to teach overseas in a developing county.
This course also gave me an opportunity to do something other than nursing. I was really ready to have a career change after my mother died of Alzheimer's disease. I wanted to work with young children, who are full of life, and have a break from taking care of the sick and dying.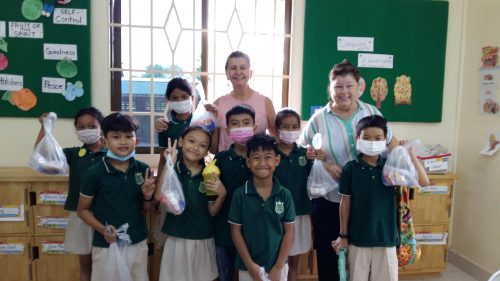 What's next for you?
I plan to continue working for RGIS for now. I am very happy teaching ESL. I really love it!
What's your advice to those who want to teach English in Cambodia?
I would recommend taking one of Bridge's courses and just trying to teach ESL for a semester, maybe just to start and see if you like it and if you like living abroad. Cambodia is the seventh cheapest country to live in globally, and it's very affordable, especially if one is retired, on a limited income, or just wants the experience of living abroad. Moreover, the Cambodian people are very gracious and grateful for their children to learn ESL from a native speaker of the English language.