Returning to the Classroom During Coronavirus: Teachers in Asia Share Their Experiences
By Jennifer Collis
November 17, 2020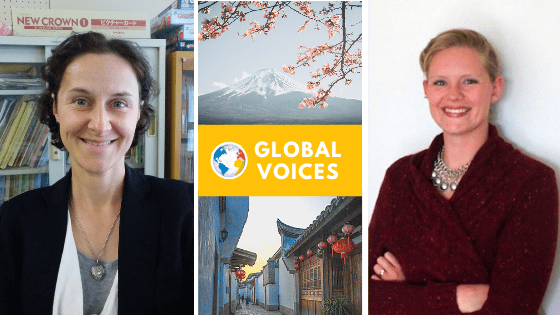 The coronavirus pandemic has defined 2020 for all of us, changing the way we work and live, and curtailing most of our travel plans. Within the world of TEFL/TESOL, some who aspired to teach English abroad decided to put their plans on hold or become online English teachers while waiting out the crisis. However, others, who were already abroad, chose to remain abroad, shifting their classes online and adapting with resilience. We caught up with two such teachers in Asia, – Johanna in Japan and Coleen in China – who are now back in the classroom to ask what's changed, how they're managing, and what advice they have for future teachers.
Johanna Kawasaki, Middle and High School Teacher in Matsudo, Japan (Chiba prefecture)
Students: Junior high and high school
Left the classroom: April 2020
Returned to the classroom: end of June 2020

You transitioned to teaching your students online back in April. As your school's opening date approached, how did you feel about returning to the classroom?
I was really looking forward to seeing all my students! During the remote work phase, I felt that I was building some good relationships with many of my students, as we were able to send individual messages through my school's app system. While some students are shy to speak up in class, they are quite happy to respond to messages in writing. Also, the online assignments were quite successful, so the students were able to achieve good results.
Also, the first graders of junior high didn't have a proper entrance ceremony because of the school closure, so being able to finally welcome them to the school was a great feeling.
What safety measures did your school put in place?
Everybody had to wear masks, and in the beginning, the teachers also wore additional face shields while teaching in the classrooms.
Everything that was frequently touched by many people was disinfected every day after classes, such as desks, chairs, doorknobs, handrails, the cafeteria, and the toilets.
We put in place cleaning trolleys and the nurses did a lot of washing and preparing cleaning towels and spray bottles.
We're now still wearing masks and encourage social distancing, but the face shields and the disinfection work have been waved. The regular cleaning suffices according to the city's ministry of health.
Frequent hand washing is part of daily school life, of course.
How has the experience been so far?
After the chaos of transitioning everything online, coming back to the classroom was a big relief. The students and teachers are all respecting the safety measures. However, the main challenges have been:
Social distancing in the classroom, especially during sports lessons and in the corridors.
We had to cancel so many events that are important to our students.
We had to do the big yearly school festival without any parents or other visitors.
Many school trips and class excursions had to be canceled.
The biggest challenge is to try and keep the school life as lively and as normal as possible.
It has been hard for graduating students to study enough for the university entrance exams and to get personal consultations.
I find it hard to not see my students' faces and smiles. I wear a transparent half-face shield most of the time so that my students can still see my smile and my mouth when I pronounce words. However, not seeing my students fully is quite sad.
In regard to English language education and teaching abroad, what long-term changes do you think will result from the crisis?
I think that many language schools that have transferred their lessons online will remain mostly online for quite a while. Everything is set up, working mostly smoothly by now and they are using new software and classroom management systems that they paid for. Also, paying for the teachers' commuting or traveling can now be avoided.
However, I also think that quite a few schools will try to re-open and go back to teaching in the live classroom, so teaching abroad will become possible again.
What would you say to people who want to teach abroad in Japan next year?
Japan is still doing pretty well compared to many other countries, so I think teaching in Japan will be very possible next year.
I would recommend the rural areas as a starter since those areas are not struggling that much with the virus.
Quite a few schools, especially international preschools, are still recruiting teachers for the live classroom.
Japan is getting keener on teaching qualifications, so I recommend a minimum of 100 to 120 hours of TEFL certification, possibly combined with a specialized qualification, such as teaching young learners.
International preschools are a great entry to teaching in Japan, but anyone who is thinking about working there should come prepared.
I wouldn't recommend Tokyo for a while.
Coleen Monroe, teacher at a language institute in Fuzhou, China
Students: Children/teens
Left the classroom: January 2020
Returned to the classroom: July 2020

You've been teaching your students online since February. As your school's opening date approached, how did you feel about returning to the classroom?
To be honest, I felt apprehensive. At that point, we had been living in "lockdown mode" for many months and because the summer heat is oppressive here, we'd been leaving our apartment very little. I have friends and family all over the world (Italy, England, various parts of the USA, Australia, Chilean Patagonia, and Korea) and all those places were seeing a rise in cases at that time. It felt uncomfortable from a psychological standpoint to approach being in person once more, given that we hadn't been into our office in almost six months.
What safety measures did your school put in place?
Standard measures were taken at the beginning:
Masks
1 meter apart
No parents inside the rooms,
Temperature checks
Frequent hand washing
The restrictions were kept in place for about the first three weeks, and since then have been relaxed to the point of practically not existing. I still wear a mask for classes but almost none of my students do anymore. Parents are allowed in the classrooms for showcase lessons, unmasked. No one stays 1 meter apart. I don't like it, but I don't have a choice about the matter. Occasionally we'll be inspected by local health officials and have to do everything again. It feels like the low transmission in China has made some people complacent.
How has the experience been so far?
Safety
Mostly I  feel safe, but I definitely interact differently in a classroom than before. I try to keep my distance and make it so that we don't have many high-touch items, although there isn't a lot of evidence that the coronavirus is spread through touching things. I keep the door to my classroom open for air circulation. If we had windows I would have them open for air as well.
Challenges
When we came back, many of our former colleagues had left due to personal reasons or because several countries, including the USA, putting a "Do Not Travel" warning on this country. We lost about 50% of our teachers over the course of the lockdown period and the long wait to return to the classroom after restrictions were mostly lifted. This means that we all had to take on new classes, new curricula, and in some cases, more lessons than we previously had.
The hardest part about returning to the classroom for me is that in many ways, we've been expected to simply carry on as if nothing had happened at all. The kids are a little traumatized in some cases, so behavior issues that weren't an issue before came out. In all honesty, teachers are also a bit traumatized! It's hard to feel like the parent/management expectations have not adjusted to the reality that we are all living in this year, and remain in pre-coronavirus expectations. There is not a lot of support in terms of mental health check-ins or asking how everyone's family/friends are doing outside of China, and that can feel bad at times.
The students and teachers
Overall, despite the difficulties with having to simply carry on with the same expectations as always, our kiddos have been very resilient. They've been handling coming back to the classroom well. Many choose to wear masks because they prefer it, even small children aged 3-5.
Teachers are holding on, by and large. Most of those of us who stayed abroad during the crisis are experienced in ESL and we've weathered the storm relatively well. Communities of teachers have become slightly more caring in our area and there's much less competitive jostling in the office. We've also gotten rid of policies and practices that we don't have time for anymore, or which never really served us, so the office runs much more smoothly.
In regard to English language education and teaching abroad, what long-term changes do think will result from the crisis?
It's hard to say, given that I'm in just one city in China, what the bigger trends are. However, some companies have gone under in recent times. including big names in the industry. I get a ton of LinkedIn messages every week because recruiters and schools are desperate to get new teachers, and the border recently closed again (7 November) to almost all foreigners who can teach English legally in China. Judging by that, I don't think that the industry will contract long-term. When teachers can safely enter and work again, there will be a hiring glut!
Paradoxically, online teaching may become less popular over the long-term. It's trending upward of course at this point but the perception from the standpoint of the parents is that it isn't the same value for money. Our company does a bifurcated online-offline coursework model currently and it is not popular with the parents at all.
What would you say to people who want to teach abroad in China next year?
Get your documents sorted out early and then be ready to go at any time. The situation with the border is likely to continue to change suddenly and without warning due to the ups and downs of the pandemic, so it's best to be ready to go on a moment's notice if need be.
You're expecting your first baby in December. Tell us about your experience with pregnancy while living and teaching abroad during coronavirus.
Being pregnant for the first time is a big change. Overall, it's been really good. We were in lockdown when we found out we were expecting I didn't have to commute or work on my feet at all during the worst of the morning sickness, as we were teaching online. It was also a lucky break that I didn't have to reveal my pregnancy until my husband and I felt we were ready to do so. Working while pregnant in a pandemic has meant that I am much more of a stickler for the social distancing guidelines than my colleagues, in order to protect myself.
Teaching abroad while pregnant is a good experience overall. I will have access to maternity leave and the company I work for has been very flexible in terms of how I will return to work after the child is born. I've also had excellent care for the pregnancy at a local hospital, and the doctors have been kind and helpful throughout despite the fact that my spoken Chinese is not exactly up to scratch for medical translation.
Sometimes I think people have an idea that you can't live a "real life" for some reason when you teach English abroad, whatever that means. Of course, sometimes people have a year or two of teaching abroad as a career break or a change of pace, and there's nothing wrong with that at all! But it's also a way to live a life abroad and even possibly have a family, if that's your goal. I've very much enjoyed teaching English and I am happy it gave me this opportunity.