Shella, From the Philippines, Teaching at an International School in Taiwan
By Krzl Light Nuñes
July 31, 2021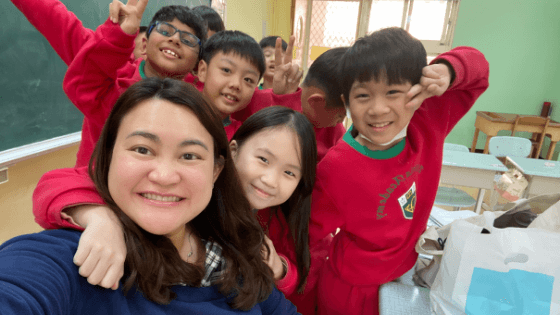 With its stringent COVID-19 measures, Taiwan is one of the countries least affected by the pandemic. This was the main reason why Bridge grad Shella Chua, from the Philippines, pursued an opportunity to teach English at an international school in this region. Curious about her journey to land her current job, we asked her about the application process and border control protocols in Taiwan, as well as for tips for managing a large class while teaching online.
Hi, Shella! Can you tell us a bit about yourself?
My name is Shella. I've been teaching for 17 years now. Currently, I am in Taiwan, teaching grade two and grade three English, math, and science.
How did you choose to teach in Taiwan?
I've been here barely a year because I arrived in October. I was teaching in China from 2018 to 2019. I came back home for vacation, and then COVID-19 happened. So, I wasn't able to go back to China anymore because the border was closed, and the height of the COVID-19 crisis was in China, so I couldn't go back.
I started somewhere else, and then Taiwan answered, and they were willing to wait because of the COVID-19 situation. So, it took months before I was able to come here, and because of that, they were very patient with me. They were like, "We still want you. We're waiting for you, and we understand your situation." Then, I came here.
Teachers from around the world discuss how coronavirus has impacted their TEFL careers.
You applied to the school in Taiwan when you were in the Philippines. What was the application process like?
Processing papers back home in Manila, even before COVID-19, is somewhat of an experience for anybody who wants to work abroad because the process is grueling. We had to take care of things on the home side, gather all the documents, authenticate everything, and wait. Then, we had to go to the embassy or an office and authenticate them again. It was a very, very long process.
If you're new to teaching, you'll want to get initial training and qualification with a TEFL certificate. You can explore our online TEFL courses to get started!
What were some of the protocols you had to follow upon arriving in Taiwan?
When I first arrived in Taiwan, the plane was a big one but there were 20 passengers only.
Upon arriving, we were gathered in one place and were greeted with everybody wearing personal protective equipment (PPE). They didn't take a nasal swab or anything, but we had to answer a lot of questions.
They wouldn't let us leave on our own, so we were gathered on a bus. The bus ride took around two hours.
We traveled from Taoyuan, located in the north part of Taiwan, to the central part of Taiwan.
We were quarantined in a quarantine facility for two weeks. We couldn't go out. If we just stepped out of the door, we would be fined. We couldn't talk to anybody who was not inside our room, so if you were alone for those two weeks, you had no one. Everything was free. They gave us Wi-Fi, which was a huge help because we didn't have anybody to talk to. We also had our own TV inside, cable, everything. We were well provided for. Meals were announced 10 minutes beforehand, and it would be announced when we could open our doors, take our food, and then go inside right away.
Three days before we were released, we were given a PCR test to make sure that we were negative. After that, we were released.
The school sent somebody to get me because it was a bit of a trip from our quarantine facility to my school.
I went directly to the school to sign things, get my I.D., etc. And then, the next day, I started working.
Read how global English teachers have returned to the classroom during the COVID-19 crisis.
Can you tell us more about the school you work for and your students?
It's a bilingual school. I think they started in 2000, so the school has been here for quite a while. And from what I've gathered and heard, it's well-known around Taiwan. It's an Ivy school.
I teach the grade two international class and the grade three bilingual class, or the students we call the locals. I teach the locals science. I teach math and language arts to grade two students.
You've been teaching for a long time! How have your teaching skills developed so far?
It's an ongoing process because every student that you encounter or every class is different from what you handled before. So, you have to adapt to the behavior inside the classroom, and if one of your teaching strategies works for, say, Classroom A, it won't necessarily work for Classroom B because of the behavior of each of the students there. So, I think it's an ongoing process.
I've been in denial because I really didn't want to teach online. That's why I came to Taiwan — I knew that things here were normal. They have face-to-face classes, students go to school, and they have interactions with each other and their teachers. That's what I wanted because back home in Manila, everything was online teaching. For me, it wasn't an ideal setup. I was resistant to online teaching. So, I came here, taught for a few months, and then the government said everybody has to teach English online. I think that's the biggest challenge for me. But we're teachers; we should be flexible, right? So, I got the hang of it.
New to teaching in the virtual classroom? Learn the skills you need with Specialized Certification in Teaching English Online.
How did you adjust to online teaching?
It's not new. It's just a bit different because the class is bigger. I have 20 to 28 students in a class, and that's a struggle because you want to know if everybody is listening to you. You know that those who were very active in your in-person class are also the ones who are active in the online class. But it's easier for us if we do it face-to-face — we can get the attention of those who are not listening and make them join the class. But in an online class, I spend 15 to 20 minutes telling them, "Make sure that your camera is on" or "I can't see you."
Get tips for managing group classes while teaching English online.
What is a digital tool that you like to use for managing your online English classes?
Kahoot! The promise of Kahoot! at the end of a class. I'm, like, "You better make sure that you're listening to me because I will know. Your scores in Kahoot! will show me." So, they'll be like, "Oh, we have Kahoot!" That's one of the motivations I give them.
How's the COVID-19 situation in Taiwan these days?
For two months now, we've been on a Level 3 lockdown. That means everybody can still go out, but masks are mandated. I think that's the biggest change here.
We can't eat in a restaurant — everything has to be takeout. But aside from that, everything is quite normal. You can go outside here, and there are not really a lot of restrictions. The cases are also lowering now because when the cases reach around 300 or 400, that's when they start Level 3 lockdown. But for 19 or 20 days now, it's been less than 100 cases, so they're relaxing already.
I learned a lot in the course. But it's also kind of not new in a sense because unconsciously you already apply things to your teaching. Once I started the course, it kind of hit me like, "Oh, I've been doing that. But now I know why I'm doing that." So, it gave me a wider perspective on how I teach.
And, as I'm multilingual, it's easier for me to understand children who want to learn English. So, it's also easier for me to teach them a trick or two (because that's how I learned it) to make sure they know how something is done. So, I can relate to them.
Read about the advantages of being a non-native English-speaking teacher.
What's next for you?
I will still be teaching. I was thinking of setting up a review center or tutoring center. I was going to do that a year or two ago actually, but COVID-19 happened, so I think it's not time yet. But I have plans. If I ever go back home, that would be my plan.