Bridge Grad, Allysson, Teaching English in the U.S.
By Bridge
July 29, 2019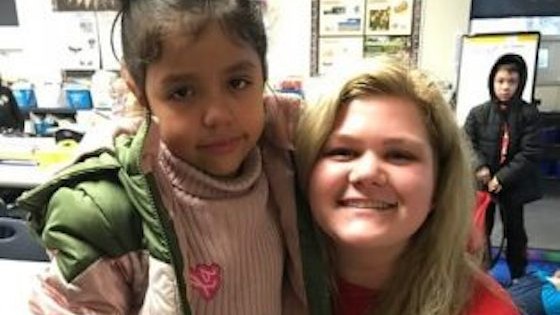 Allysson Gagne, an IDELTOnline graduate, says, "Teaching ESL is so much fun, and it is a job that has limitless opportunities in the U.S. and abroad." She's right. There are plenty of opportunities to teach English in the U.S. So, we asked her about her experience teaching ESL in Kansas.
Allysson, can you start by telling us a bit about yourself?
I grew up in the middle of the United States. I've enjoyed being surrounded by many different cultures and languages since I love languages and traveling. I majored in French in college, and I love that the opportunity to speak other languages has helped me to communicate with others and made me more sympathetic to people trying to learn my language.
Since high school, I've wanted to be a teacher. I wasn't sure of what or where I would teach, but I knew that was what I wanted to do. I am so happy I get to be where I am and teach the children I get to teach.
Why did you decide to pursue teaching English as a Second Language (ESL)?
I first heard about teaching ESL after meeting some international students at the college I was attending. I looked into it more and ultimately decided to teach ESL for two main reasons:
First, I love different languages and cultures, and I love sharing my language and culture with people. Teaching English allows you to meet people, learn from them, and share with them in a way that other jobs don't allow.
Second, teaching ESL is a job that is in high demand worldwide. Job opportunities are on the rise in the United States, online, and elsewhere in the world.  I currently teach in the United States, but I like knowing that at any time I could go someplace else and have a job. The more I interact with my students (in the classroom or online), the more I love teaching ESL and the more confident I am in my decision.
Why did you choose the Bridge IDELTOnline course for your TEFL certification?
When I was looking for a TEFL certification course, the IDELTOnline stood out because it wasn't the commitment of a full master's degree; it was a fast-paced program; it wasn't overwhelmingly expensive. I liked it because it covered a lot of topics and things to be aware of in the classroom. I only wish that I would've sought out places to practice what I was learning, so I could learn it at a deeper level. Overall it was an awesome course, and I regularly recommend it to friends who are interested in ESL.
Browse online TEFL courses.
You mentioned your love for languages. What other languages do you speak?
I have studied French for the past 10 years, and it was my major in college. I also studied Spanish, which I use regularly to communicate with the parents and students at my school. My goal is to learn Portuguese, Italian, and maybe a few other languages over the next few years.

2nd grade ESL and native English-speaking students at Allysson's school release butterflies
Let's talk about your current ESL job. Has this been your first teaching experience? 
The 2018-2019 school year was my first year of being the ESL Aide at my school, in Kansas City, Kansas. However, previously, I worked in elementary schools doing before and after-school care, and as a substitute teacher.  This job has by far been my favorite!
Could you tell us more about your job teaching English in the U.S.?
I just completed my first year! I teach as the ESL aide in an urban elementary school, which has a high Spanish speaking population and a total of about 11 languages spoken.
My students
My position takes me into nearly all the classrooms of the school. My students are between grades K-5, but I spend most of my time with those in grades K-2. Their levels of English are all different— we have some students who are new to the country; we have students who have never heard English before kindergarten; and we have some students who are perfectly bilingual, who are about to test out from ESL services.
A typical day
A typical day would mostly find me in a K-2 classroom during the students' reading or writing time. During both subjects, most of my time is spent on phonics; either helping students stretch out words to spell on their own, or helping them sound out words to read from the page. Throughout the year, I also spent time working on rhyming sounds, word families, letter name and sound identification, and CVC/CVCe words. We did a lot, but in general, that was about everything related to this past year of teaching.  Who knows what the needs will be next year!
Advance your own TEFL skills with our specialized certificate in Teaching English to Young Learners and Teenagers.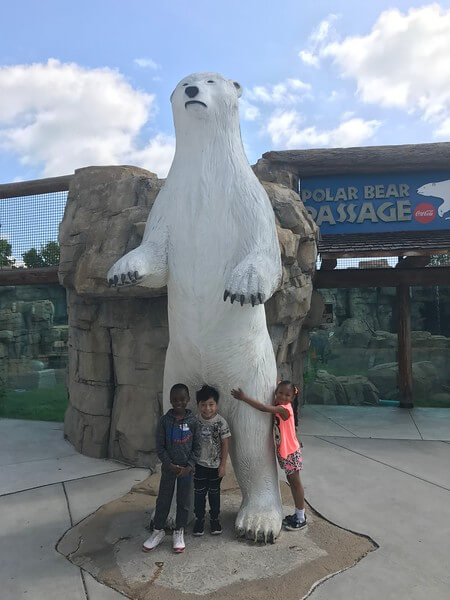 Allysson accompanied her ESL students on a field trip to the zoo
How did you find your teaching position?
I found my job on Indeed and was surprised that I was qualified for it; teaching ESL jobs are harder to find in the U.S. when you don't have a bachelor's or master's in education/TESOL.
Read this post to learn more about how to teach kids English.
What do you do in your free time as a teacher? 
In my free time from school, I either teach ESL online or do activities with a group called Friends of Internationals (FOI).  In FOI, we want to be a friend to international students because it can be super scary to move to a new country, culture, and language and know no one!  We do different activities like Conversational English, cultural dance parties, and soccer. We also just hang out with students, show them around the city, and expose them to American culture. If I'm not doing any of that then I try to read for fun.
What was one of your favorite moments from being a teacher this year?
Oh goodness, I am amazed at what happened in a year. I was able to watch students improve academically, grow as people, and gain self-confidence. It was the sweetest thing!
One of my favorite moments, though, was on the last day of school—I read a note I had written in Spanish to a student. I told him how proud he should be of all that he learned and accomplished, and how proud I was of him. After I read it, he hugged me and said, "Thank you, Ms. Gagne!". I almost started sobbing in front of him.  He had been in the country for less than a year, and he went from not speaking English to really attempting to and successfully communicate; he really made a lot of progress over the year.  Even though it took a lot of us to get him there, I got to help.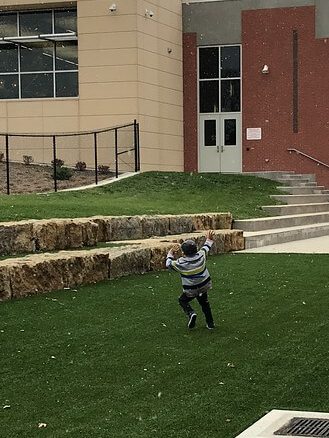 Allysson's 2nd grade student from Honduras sees snow for the first time
What recommendation do you have for someone who wants to teach ESL?
Do it. Teaching ESL is so much fun, and it is a job that has limitless opportunities in the U.S. and abroad. It's incredible to have students who know no English and then eventually be able to have a conversation with them.  I would say, just make sure you find a program that will set you up for the most success for where you want to teach. For example, if you want to teach in the U.S., you should probably consider doing a traditional bachelor's degree in education. I wish I had thought about that more.
What advice would you give to someone who wants to teach children, specifically?
My advice to someone who wants to teach children would be to be patient— working with kids is usually very fulfilling, funny, and sweet, but there will be times when you will be shocked at how they cannot do the simplest thing. Or, there will be times when you are tired, stressed, or overwhelmed with everything, and you will still need to patiently help your students. Although, eventually you will get to see the progress your student made, even if it takes the whole school year, and it will be worth any frustration along the way.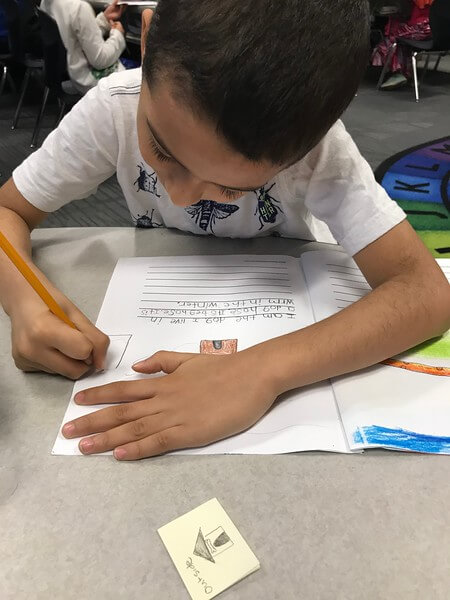 One of Allysson's students doing ESL classwork
What are your next steps in your teaching English career?
I plan to get my teaching certification and a teaching ESL endorsement. I'm fairly undecided if I want to teach elementary or secondary school. I just know that I want to teach ESL in some capacity. Ultimately, I'd like to live abroad and teach ESL.