We spoke with Tom Morgan, an ESL teacher in Costa Rica, about embracing the "Pura Vida!" lifestyle and finding peace of mind following his dreams of living abroad. Tom shares details on making his big career switch, choosing his TEFL training, and living the Costa Rican lifestyle. He also has advice for future ESL teachers—especially if you need a reminder to pursue your goals, and of course, Pura Vida!
Tom, can you introduce yourself and share a little about your background?
Hello, future ESL teachers! My name is Tom Morgan, and I am from Miami, Florida, USA. I earned my 120-Hour Master TEFL certification through Bridge in September 2018. This helped me to realize my dream of living abroad and earning a living while doing it! Now, I teach English in a small beach town called Playa Jacò on the Pacific coast of Costa Rica.
Before I decided to pursue my passion of living overseas, I worked as a financial adviser at a large financial services firm in the United States for twelve years. The long hours, stress, and corporate grind took a toll on me physically, emotionally, and spiritually. I just knew that I needed to change my life. This is when I started researching ESL teaching careers and came across the BridgeTEFL program.
Why did you decide to become TEFL certified online with Bridge? How do you feel your training has helped you in the classroom?
Although there were many TEFL certification companies to choose from, I felt that Bridge would equip me with the teaching skills that I needed at the best price. After two months of diligent studying, I received my TEFL diploma, and I was ready to start my ESL career! Since I am responsible for 80% of lesson planning, the skills that I acquired through BridgeTEFL proved essential to my success in the classroom. Learning how to manage teacher talk-time, enhancing my grammar skills, and coming up with creative lesson plans were all things that I learned through the BridgeTEFL curriculum.
What made you decide to teach English in Costa Rica?  
Many people have asked me why I chose to teach in Costa Rica. I had visited the nation before, so I already understood the physical beauty of the country, how delicious and healthy Tico food is (people from Costa Rica are called Ticos), and I knew that it is a generally-safe destination for expats to live and work. Many towns in Costa Rica feature large expat communities from the United States, Canada, and Europe. Also, since Costa Rica is a hub for tourism and has dozens of call centers, the demand for English teachers is high throughout the country (mostly in the capital, San Jose).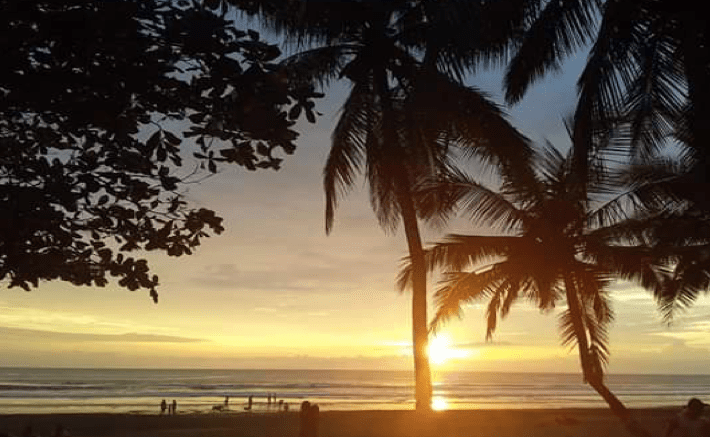 One of my favorite hobbies is walking on Jacò Beach at dusk and enjoying the spectacular sunset
How did you find your job there? 
I decided to move to Costa Rica to brush up on my Spanish first before applying for TEFL jobs. After arriving in Playa Jacò, I began studying Spanish at the IPAI Language School. Although it is not necessary to know Spanish in order to teach English in Costa Rica, I knew that having some Spanish language ability would help me tremendously, and it has. Since the school that I was studying at also offered English courses to locals, I opportunistically asked my Spanish professor, Augusto Cano, if he was hiring. Even though I had no prior experience teaching English, my BridgeTEFL certification satisfied the hiring requirements (no college degree necessary).  Three days later, I was teaching my first two hour-long intermediate English class. My ESL career was launched!
To browse TEFL jobs, visit the Bridge Job Board.
What is a typical workday like for you? What are your classes like?
Although Ticos are excited about their studies, teaching in a beach town such as Playa Jacò is quite laid back. A common saying in Costa Rica is Pura Vida!, which means: relax and don't take life too seriously. Costa Rican students like to have fun, laugh, and joke a lot during their classes. The dress code is informal where I work, but it is a bit stricter if you are teaching in an urban area, such as San Jose or Heredia. Moreover, since I teach working professionals, my schedule ranges from 5:30 pm-9:30 pm in the evenings. Therefore, I have the entire day to enjoy activities such as hiking, going to the beach, doing yoga at Aurora studio, and playing chess with my amigos!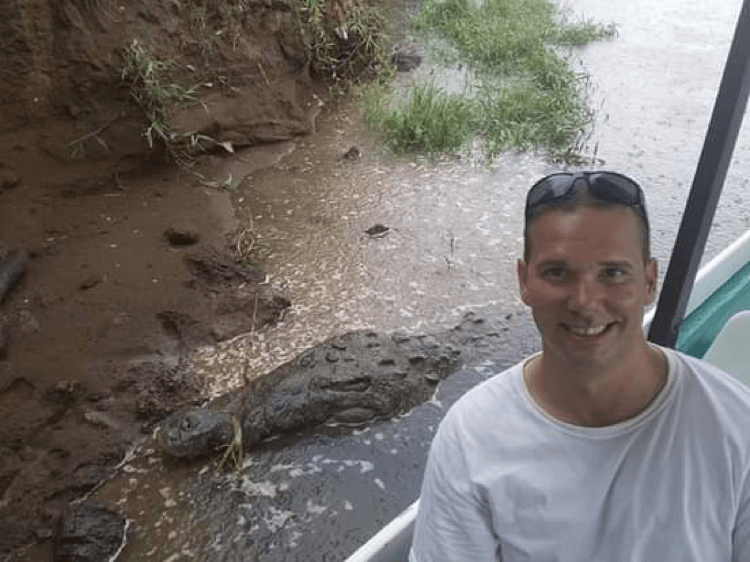 Jose's Crocodile Tour on the Tarcoles River is a must! Just don't stick your hand over the side of the boat!
Could you tell us more about who your students are?
I began teaching groups of young professionals from various backgrounds—some are fishermen, mechanics, bankers, and dentists. All of my students have the same goal of learning English, the business language of the world, to further their careers and change their lives. I immediately knew how vital it is for these students to learn English considering how much the Costa Rican economy depends on tourism and foreign investment in order to thrive. From the start, I felt like I was making a genuine difference in the lives of these students.
Interested in teaching adult professionals? Learn about teaching Business English.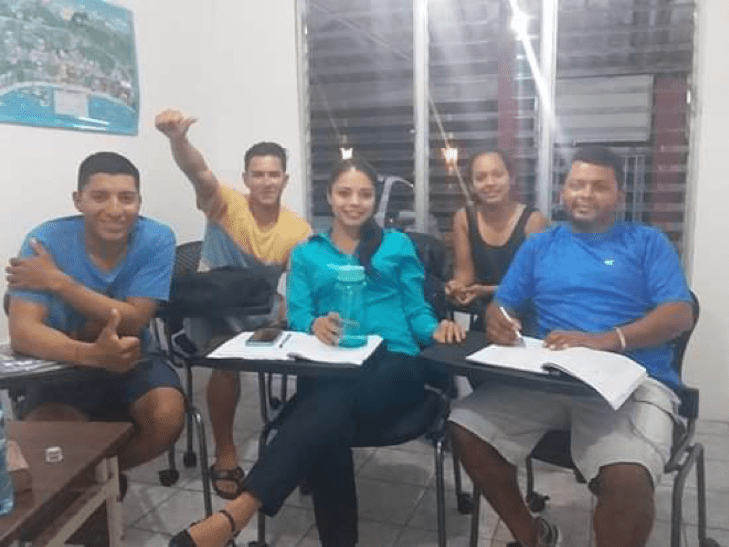 Students on Thomas' first day at work in the classroom, teaching intermediate English in Playa Jacò
Is it easy to maintain an affordable or budgeted lifestyle teaching in Costa Rica?
I did not decide to teach in Costa Rica for the money. As a matter of fact, there are many other countries and regions where you can make a lot more money teaching English. In Costa Rica, you can expect to break even while working a 26-30 hour per week schedule. Rent is affordable—you can expect to pay $200-$300 per month for a one bedroom apartment. If you are on a budget, you can eat cheaply at the many "sodas," or traditional Tico-style restaurants, scattered throughout the country for $3-5 per meal (rice, beans, chicken, fish, salad, fruit, etc.).
Read more about teaching English abroad salaries and where you can make the most money.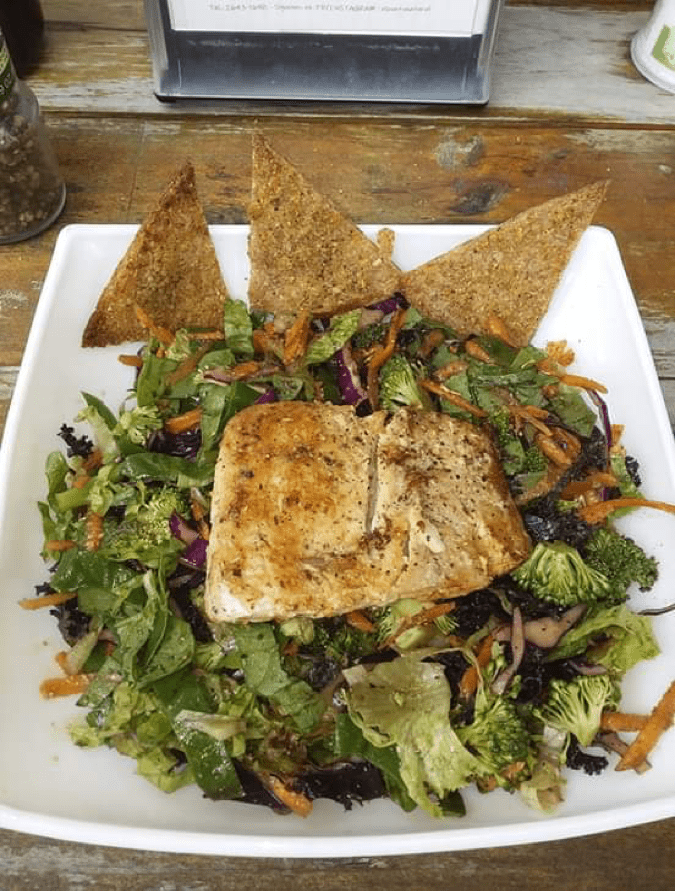 Costa Rica is known for its healthy and delicious food.  This fresh Mahi Mahi salad from Punto Natural at Jacò Walk Plaza is one of my favorite dishes!
What advice would you give to someone who is interested in teaching English in Costa Rica?
I came to Costa Rica to teach English in order to change my life and find peace of mind. I am beginning to believe that a teaching career is something that I will do for many years to come. Also, I am excited about the prospect of living and working in several different countries.
My advice to you: do not be scared to pursue this goal. Speaking from experience, many people, including friends and family, might try to dissuade you from taking this step. No, living in a foreign country is not any more dangerous than living in many parts of the United States. Yes, earning money, a career, a 401(k), health insurance (you can obtain very affordable health insurance through Blue Cross/Shield anywhere in Latin America), are all important and you might have to sacrifice some of this in order to pursue your dreams. However, you only live once and you do not get any younger. Seize the moment and follow your passion of becoming a BridgeTEFL certified ESL teacher!
Good luck, and Pura Vida!