Teaching Very Young Learners Online: 5 Interactive Digital Materials and Activities
By Milica Alice Vukadin
October 6, 2022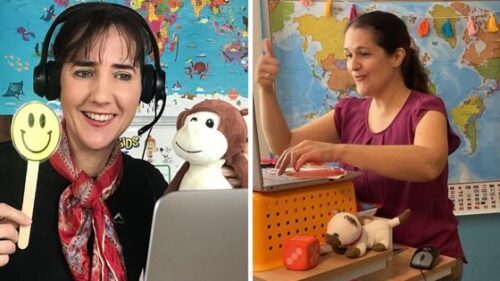 This guest post was written by Milica Vukadin, Founder of Alice in Methodologyland, a nonprofit offering free materials, courses, and other resources for educators and young learners. Alice is also a preschool and English teacher for young and very young learners with a B.ECEd. and M.ECEd. and an additional TEYL minor. In addition to Alice in Methodologyland, she runs ELLoquent, the fully online CLIL school for children.
This article will present five digital activities designed by Milica, who will explain how she uses them in class, with special notes and insights into the reasoning behind the activities.
Engaging very young learners online is somewhat difficult, as their attention spans are short and their language level is usually A1 or pre-A1. While that might be true, engaging young learners online is possible with a combination of interactive digital tasks and a set of hands-on tasks. Here are five engaging activities to get you started!
Activity #1: Let's Learn All About Zoo Animals – A Project
To start off, we want to share a full unit designed to be done over multiple sessions. The material is project based and takes learning about wild animals to a new level by offering more interactive tasks.
How can this material be used?
The activity starts with an audio dictionary/soundboard and then continues with a matching game, which requires students to match the photos of the animal with their written name to increase their sight word vocabulary, even if they cannot read or if they just started learning how to read. Being so common, we can consider the most well-known wild animals actually to be sight words.
After that, we have a spinner where the learners can compete to sound and act like the animal in pairs, they can have a pantomime game, or you can have them spin the spinner one by one. There is one spelling mistake written on purpose, and the learners usually see it when they use the materials for review or for the second time in class, and they happily report it, which is always great because it shows us that they have remembered the spelling.
The game continues with drag and drop and a question, "Where do I live in your country?" which is a great way to introduce a small speaking practice about wild animals living in the zoo or in the wild. You can reuse the same page to describe, compare, and contrast the animals.
The next game offers a lot of freedom and a chance for creativity, and it allows the learners to draw and imagine their own animals. After that, the second session is arts and crafts based, and the learners have to copy, cut, and glue their own animal mask, giving it a name, characteristics, and anything else they want. Optional activities listed are to make jungle rhythmic music with household items and practice pronouncing difficult sounds, and students can also make a funny fill-in (the teacher helps the learners to come up with words and enters them into the fill-in, which generates a fun story in the end).
The final review session can include some optional activities from the previous session, but this time the learners also need to build their own zoo from household items, and they have 11 steps to help them. The steps listed are very open-ended, allowing for creativity and critical thinking.
Click here to open this activity, or get started below!
Activity #2: What Do Pets Need?
Just like the previous digital material, this one is designed to be used and reused once your learners level up their skills.
How can this material be used?
It starts openly and gives students sentences to finish, which helps them practice the sentence structure through meaningful repetition (I am a…, I say…, I eat…, I like to…). To make it more engaging, the material leads to three links, including spelling and matching activities and a picture test.
The next session includes a review of the learned pets by learning a song that is simple in melody and resembles a chant. The learners listen once; then, they listen again and learn the chant line by line while clapping to have rhythm and imitate animals. If they are a bit more advanced, after learning, you can change the song lyrics and add your own animals and things related to them while keeping the crucial parts of the song/the main sentences.
A simple book is included in the next session but can be easily skipped if your learners are not ready for it yet. The next activity is a speaking/listening activity, where you listen to a boy talking about how to take care of pets and ask your learners simple questions related to the video. A video of a young boy is selected on purpose to make children feel closer to the person in the video.
The final two activities can be done in another session. They include a lesson on creating your imaginary pet (most learners really love this animal activity), but this time, more is asked of them. They must come up with a name, likes, dislikes, feeding habits, and skills.
For the hands-on part of the session, they can choose to make a realistic paper plate pet (example photos are provided) or to make their imaginary pet by using the paper plate. Giving the learners a choice motivates them to complete the activity and be more engaged.
Click here to open this activity, or get started below!
Activity #3: What Do You Need for Travel?
This activity is a one-page activity that can be used for a whole class. We decided to share this one simply to show you that the whole lesson can be based on a one-page slide since the materials above had many pages and were designed for multiple classes. This material has only one question: What do you need for travel?
How can this material be used?
Being a completely open-ended material that allows the learners to do practically anything, we will list some of the fun activities you can do with it:
Name all the objects
Separate them by use (play, wear, sleep, eat) and practice action verbs
Pack your suitcase
Practice grammar structures (Yes, I need…, No, I don't need…)
Expand the grammar structures (I want to pack… I do not want to pack…)
Explain why some things cannot be put in a suitcase
What would happen if you brought some of these things?
Craft your own suitcase (cutting it out of paper)
Decide which country you want to visit and why
Draw, name, and cut out each item you want to pack and stick it to the suitcase
Expand to the four seasons, clothes, weather, and climate – what kind of clothes do you need to pack if you want to go to Egypt? What about if you want to go to Sweden?
With open-ended activities, the sky is the limit, and the learners won't feel pressured and will be encouraged to speak up. Also, many activities, ideas, or questions will come from them, even if their language level is low, because the material features silly objects that are presented for packing, and nonsensical activities and ideas are often used in preschool to develop various 21st-century and language skills.
Click here to open this activity, or get started below!
Activity #4: Learning Colors Through LEGOs
The reason this LEGO activity was included is that learning about colors usually comes first, and in many cases, we don't do it very creatively – since we are surrounded by color, we take it lightly. The LEGO activity is short, but it offers a lot of working material, including downloadable printables at the end.
How can this material be used?
It starts with a LEGO block soundboard and continues with coloring; the colors are written and also marked with the color the learners should use to focus on sight words. Again, even though students cannot read, many activities need to be focused on early literacy.
The activity continues with the question "Can you catch them all?" (a reference to Pokemon) where the learners watch a video and then play with their own blocks and sort them out, while the teacher does the same on their side.
After that, we have three games:
Dance and stop: Play any song of your choice. Dance and then say, "STOP!" Stop dancing and say, "Quickly, touch a (color)." Keep dancing until you touch all the colors.
Flashcards 2.0: Match your color flashcards with any other objects of the same color to elicit the formation of longer sentences. Example: This is a (color) (object).
Yes, it is, no, it isn't: Expand the games by making questions to elicit yes/no answers. Make mistakes on purpose so that the children help and correct you.
The final session has an open-ended digital LEGO activity where the learners should build anything they want and work together while the teacher acts as a moderator. The hands-on portion of the class is art based, and it consists of color mixing and learning about the color wheel and how colors come to life.
Use any kind of paint to color all the monsters different colors. You can substitute the color monsters with anything you want, but the children usually enjoy having imaginary creatures in an activity.
Use the boxes to predict how the colors will mix. The learners have a box for each color and a final box where the colors need to mix.
Click here to open this activity and download the color mixing printable, or get started below!
Activity #5: Fun at the Farm – A Board Game Developed by Students
Now that you have seen some interactive digital activities designed by a teacher who does material design, why not try to make your own digital activity along with your students? "Fun at the farm" is a digital board game that is exactly that: a game designed by the students. They came up with the rules and questions and also did the drawings. The key to developing such an activity is monitoring, guiding, and inspiring your learners and being a moderator rather than leading the class. Designing something like this might seem intimidating and take more time than you would usually spend on a topic, but since this is a project, the time spent on it is justified when compared to the skills and knowledge you can help develop in your very young learners (VYLs).
How can this material be used and what are its benefits?
Some amazing activities you can do and their benefits include:
Design a board game (the board) – development of various digital skills
Design rules to practice grammar
Make up questions and practice speaking
Make up challenges and practice speaking
Enhance their drawing skills
Practice fine motor skills for holding a pencil
Negotiate what they want the board game to have
Develop presenting skills
Develop creative thinking skills
Click here to open this activity, or get started below!
Tools used to develop this game include Genially for game design and Polish, a free photo editing app for Android where you can edit the figures and the drawings the learners send.
Remember: Prioritize Hands-On Learning!
Teaching very young learners online definitely can be difficult, but it is absolutely achievable, and it can be equally effective as face-to-face teaching. The most important thing is to break through the screen or make it come to life to engage students' senses because preschool-aged children learn best through hands-on learning or sensory input. Do not hesitate to include activities that happen outside of the screen and that require them to do work with their hands and have quiet time. Those moments could, in fact, be more beneficial for language and skills development than any over-planned language input activity.