How to Teach English to Kids Online
By Lisa Shockley
March 11, 2020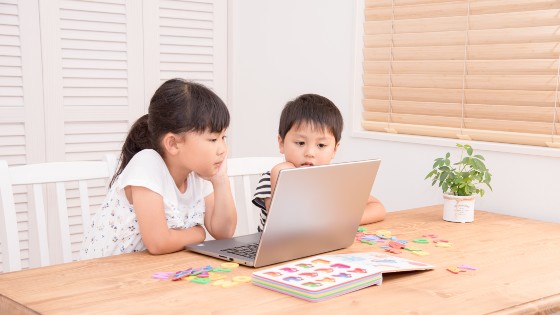 The field of teaching English is continuing to grow in popularity among people from all walks of life, including classroom-based educators, college students, stay-at-home parents, and just about anyone who has a passion for teaching and wants a flexible, portable work environment. Would you like to teach English to kids online? We'll help you navigate this TEFL career path with information on requirements, typical online students, the expected salary range for teachers, and more.
Why Teach English Online?
Teaching English online is a wonderful opportunity to be able to do what you love while making a positive impact in the lives of children around the world. These are some of the benefits of teaching online.
Flexible work environment
One of the main perks that come with the job is flexibility – the freedom to create your own work schedule and the ability to work remotely from practically anywhere you desire. This flexibility is super important for those wishing to find that right balance for family, work, and life. Teaching English online allows you to work with kids anytime you want, wherever you want, and as little or as much as you want!
Perfect side hustle
Teaching kids English online can also be the perfect second job or "side hustle" for anyone looking to earn extra money. Many classroom-based teachers choose to also teach online in their spare time, either before or after work or on weekends. Teaching kids English online is also a good side hustle for people in other professions who simply enjoy working with children and want a job that affords them a flexible schedule.
Your ticket to the digital nomad lifestyle
Others teach English online to kids in order to live out their dream of being a digital nomad, teaching and earning money while traveling around the globe! As long as teachers have a laptop, a stable Internet connection, and some basic equipment, like a headset and mic, they can be location independent.
Who are the typical students when teaching English online to kids?
With the convenience and the quality of online classes, parents all around the world that have access to the Internet are jumping at the opportunity to enroll their child in virtual English classes. These young learners are students ranging in ages from as young as four years old to those that are in their teenage years. Children usually attend classes online after school in the evenings and on weekends.
Parents wanting their children to learn English as a foreign language understand the value of being able to communicate in English, as it is a global language. In Asia, in particular, there's a high demand for online English tutors. China, for example, is leading the way for English language education for their children by investing in online teaching companies, thereby creating many job opportunities for online English teachers.
What qualifications do you need to teach English to kids online?
Whether you're a certified teacher with years of experience, or someone with little to no teaching experience, there's an online English teaching job that suits you and your qualifications. Online teaching jobs are available through a variety of different online teaching companies. Just like any job, hiring requirements for jobs teaching English online to kids vary from company to company.
TEFL/TESOL certification
Most online English teaching jobs will require you to have TEFL certification (Teaching English as a Foreign Language/Teaching English to Speakers of Other Languages). TEFL/TESOL certification, especially Specialized Certification in Teaching English Online, shows employers that you are prepared for the job, familiar with the online teaching environment, and serious about providing your students with the best possible instruction.
Bridge even offers a Practicum in Teaching English Online, which gives trainees the ability to record practice-teaching sessions and share the best sample videos with future employers when applying for jobs teaching English to kids online.
Other Qualifications
Bachelor's degree
You don't always need a bachelor's degree to qualify for jobs teaching English to children online, but some companies will have that requirement. Generally, the degree does not need to be in education but can be any subject.
Teaching experience/experience with kids
Many online teaching companies prefer candidates that have some background either in teaching English or working with kids. This can often include a variety of experiences, such as tutoring, coaching, mentoring, or even homeschooling your children.
Do you need to add experience to your resume? Learn ways to gain TEFL experience.
High level of English proficiency
You do not need to be a native English speaker to become an online English teacher. However, if you aren't a native speaker, you should be prepared to demonstrate a high level of English fluency, either by providing proficiency test results or during the interview.
Read about Krzl's experience as a non-native English speaking online teacher in Chile. 
What can I expect in a TEFL course that prepares me to teach English online to kids?
To qualify for most jobs teaching English to kids online, you'll need to complete an accredited and nationally-recognized in-person or online TEFL course. Specialized Certification in Teaching English Online (with optional Practicum) is recommended. This two-part course will provide the training that you'll need in order to successfully teach English to children (or adults) online.
In the Foundations course, you'll learn about teaching theories and methods
In the Advanced Methods course, you'll build on that by learning practical skills, such as lesson planning and technology use, that you can use in your virtual classroom.
The courses are 100% online and self-paced so you can complete them on at your convenience.
A personal tutor is provided to help you navigate through the course content, answer questions, and provided feedback on assignments.
Upon completion of a Bridge course, you'll earn a TEFL certificate upon and a digital badge that will showcase your knowledge, commitment, and your teaching abilities to employers.
How do I get a job teaching kids English online?
Get qualified
First things first, you need to get your TEFL/TESOL certification!  If you're not already certified, a good place to start is attending a free Bridge info session with an international Program Advisor. They can help you understand your certification options and get started.
Browse online teaching jobs on the Bridge Job Board
Once you have your TEFL/TESOL certification, you can start browsing the Bridge Job Board for online teaching jobs. Take the time to review each company to find the students, working hours, and salary that are right for you.
Make sure you have the right equipment
To teach English online to kids or adults, you'll need a computer (desktop or laptop), reliable, high-speed Internet service, a webcam, good lighting, and a good quality headset with microphone. These are all essential to properly conduct your online classes.
Prep for your mock interview
Most online teaching jobs will require that you do a short mock interview so that the company can get a feel for your personality and assess your online teaching skills. The mock interview will be done with an adult pretending to be a student. It'll most likely be the person that's interviewing you. Keep in mind that they are very aware that this may be your first time teaching online, or your first time teaching, period. Check out the Bridge Practicum in Teaching English Online, which allows you to record your practice teaching sessions and share them with employers!
There are a plethora of YouTube videos (you can search VIPKid) that you can view of teachers who have shared classroom recordings, as well as videos of useful tips, such as these, to help you with your mock interview:
The company will provide the online lesson for your mock session and give you instructions on what to do in advance.
You'll want to set up a nice, kid-friendly background and have a couple of props related to the lesson handy.
Remember to smile and speak slowly and clearly.
And don't forget to have fun with it! Remember, you'll be working with kids so the companies will want to see that you're upbeat and friendly.
How much do online English teachers make?
The average rate that online teaching schools pay ranges from about $12 to $21 per hour. The amount offered is, of course, dependent on the candidate's credentials and experience. Some companies will award incentives and pay rate increases based on performance and the length of time you stay with the company.
Another option is to work independently through online tutor marketplaces. This will give you more freedom to set your own rates. There are some tutors that charge around $20 to $25. If you choose to go this route, you'll have to provide your own lessons and teaching material.
How do I start my lesson when teaching kids English online?
You're finally ready to begin your first class! This can be both exciting and a little nerve-racking at the same time, as you never know what to expect in your first class. Fortunately, if you've taken a TEFL/TESOL certification course, you're well prepared. Plus, online English teaching schools often provide you with the curriculum, lesson plans, and ongoing training, making the transition easier.
But is it really that easy? Well, not exactly. Children can be quite unpredictable at times and you'll have to be able to manage any behavioral issues that may arise, just as you would in a traditional classroom; only this can be somewhat more challenging in a virtual classroom.
Here are some tips and routines for classroom management:
Use a lot of TPR (total physical response), which are physical movements using your hand and body, when teaching.
Keep lessons interactive and engaging so that the student doesn't lose interest and become easily distracted.
Let the student know what to expect at the beginning of each class so that they stay focused and on task.
Offer encouragement and assist students to help with their listening and comprehension skills.
Give the student plenty of opportunities to practice all four aspects of the language (listening, reading, writing, and speaking).
How can I make teaching English to children interesting?
You'll want to make each of your online English lessons fun and engaging to keep classes interesting for your young students.
Decorate your background with colorful and educational materials (maps, letters of the alphabet, calendar, wall clock, etc.).
Props are also important to have in every class. You shouldn't have to go out and buy a bunch of toys and books. Find things lying around your home that are related to the lesson you're teaching or make your own props by drawing and cutting out pictures.
A whiteboard is always a good prop to have in your teaching kit.
You can find other ideas to make your teachers use by searching on Pinterest.
Use your best kid-friendly voice and use a lot of gestures to help keep the student's attention on you throughout your online lesson.
And finally, always have a smile on your face.