What Kind of TEFL Job Placement Support Is Included With Bridge Courses?
By Bridge
August 14, 2019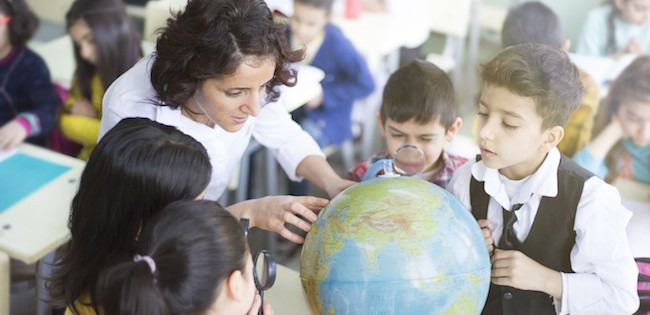 No matter where you are in the process of teaching abroad– whether you're still choosing a TEFL course, in the middle of your course right now, or you've graduated and are ready to teach– TEFL job placement support is important to you. You might have questions about teaching in different countries, how you can find and apply to TEFL jobs (including online jobs), creating a TEFL resume, or making yourself visible to TEFL employers.
At Bridge, we offer job placement support to every student who takes a TEFL course with us! We'll help you get answers to these questions and find the TEFL job of your dreams! Bridge job placement support services include:
Resources to Choose a TEFL Teaching Destination
Before you can start applying to jobs, you'll need to decide where you'd like to teach. You've got plenty of options worldwide! The Bridge Job Board has resources for this stage of your job search, as you research what it's like to teach in the countries around the globe.
TEFL eBooks
We offer free TEFL eBooks for different stages of the teaching journey, including deciding where to teach and finding a TEFL job.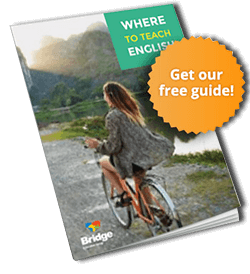 This guide will help you find the teaching location that's the best fit for your preferences, qualifications, and goals. You'll find articles related to choosing a teaching destination as well as tips.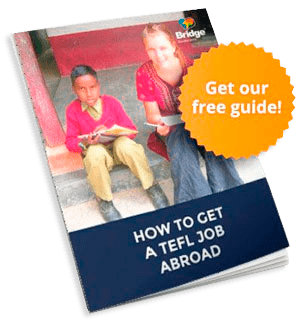 If you know where you'd like to teach, this eBook can help you take the next steps. From preparing your resume, to vetting schools abroad, and acing the job interview, this guide provides expert advice for job seekers on getting hired as an EFL teacher abroad.
Country Overviews
Available in the Resources section of the Bridge Job Board, Country Overviews are profiles of popular teaching countries to help you learn more about each one. You'll get information such as:
Hiring requirements
Typical salary
Hiring season
Cultural tips
Open positions
Access to Hundreds of Jobs on the Bridge Job Board
Our newly updated Bridge Job Board is where global TEFL schools and recruiters post open positions you can apply to directly. Just start browsing, by entering a location (including online) or filter your search by criteria such as job type or contract length to narrow down the results.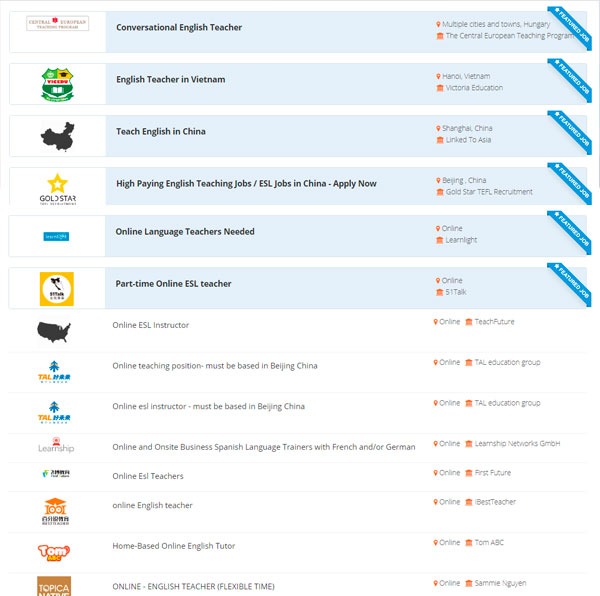 Register as a teacher on the Job Board for even more benefits, and when you see a job you like, save it as a "favorite" to return to later in the Teacher Portal, where you can apply directly with your teacher portfolio.
Teacher Portfolios to Showcase your Qualifications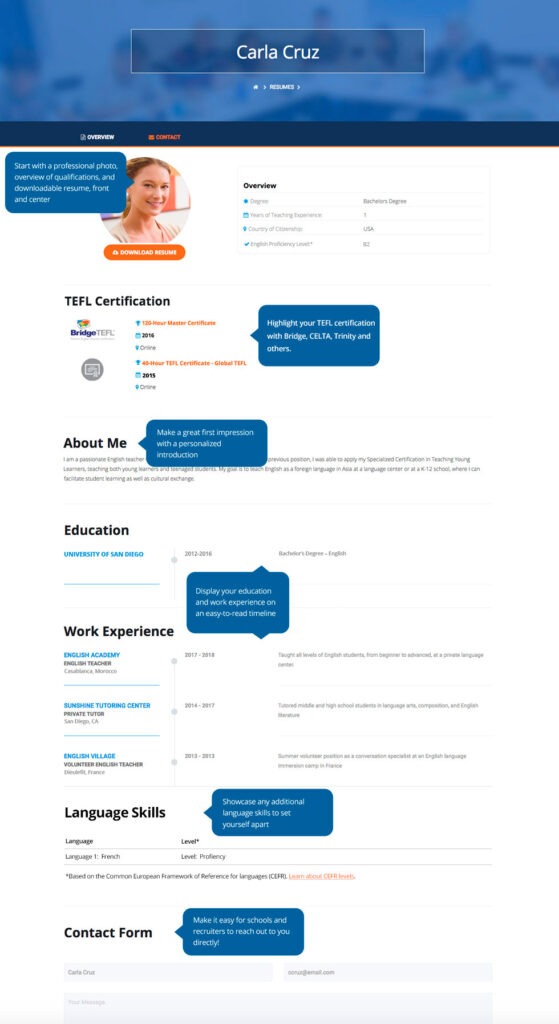 Registered teachers on the Job Board can create a Teacher Portfolio. A Teacher Portfolio is a way to showcase your Bridge TEFL/TESOL certification and other qualifications to schools and recruiters looking for qualified teachers. Include a professional picture, your TEFL certificate and other certifications or degrees, a summary of your teaching experience, your resume, and more.
Your Teacher Portfolio makes it easy to apply to schools you find on the job board, or you can choose to make your Portfolio visible to schools, so they can find you!
Information About Online Teaching Jobs
Online teaching is a TEFL field that's growing rapidly, making it possible for teachers to work from anywhere in the world, from the comfort of home. We offer job placement services to help you become part of it!
FAQs about teaching online on how to get started in the field
Recommended certification to help you qualify for more jobs
Online TEFL Jobs on the Bridge Job Board
Visit this page to view all our online teaching jobs and related resources.
Expert Advice from Bridge Job Advisors 

Bridge Job Advisors have experience teaching around the world and can support you in your own search by:
Connecting you to the latest job via the Bridge Job Board and other resources
Providing job search advice specific to your location of interest
Facilitating networking opportunities with our extensive network of schools and recruiters and schools worldwide.
Reviewing your TEFL resume and providing feedback so you can apply to jobs with confidence
Offering tips for vetting TEFL employers abroad and avoiding scams
Graduates of Bridge courses can consult with their advisor by phone or email and can always get back in touch with us down the road, anywhere their TEFL career takes them.
Job-Focused Articles on the Bridge Blog 

Here on the BridgeUniverse Blog, we feature posts on topics specifically for job seekers, to help you navigate the application process, learn how to spot a TEFL scam, create an effective TEFL resume, or ace your Skype interview. We also interview teachers in the field, so that you can get a sense of what it's like to teach in a certain location or online, right from the source– other teachers!
The Bridge TEFL/TESOL Jobs Newsletter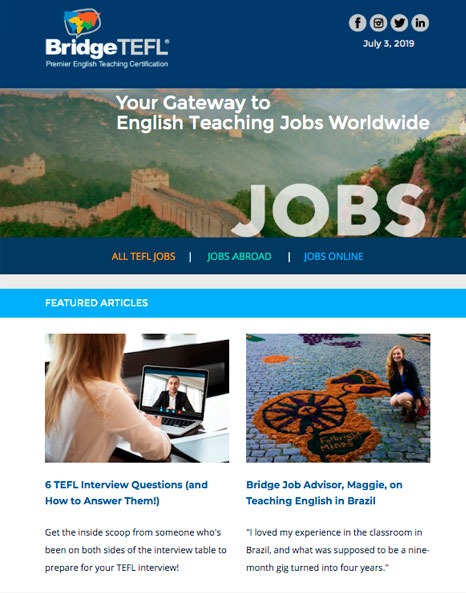 This twice-monthly email includes the latest jobs, as well as articles and other resources for job seekers, such as how to get started with teaching online, high demand TEFL markets, teaching English abroad salaries, and interviews with teachers in the field or schools that hire teachers.
Subscribe to the BridgeUniverse Newsletter below! 
Are you a Bridge course graduate in need of TEFL job placement support? Contact a job advisor at btinfo@bridge.edu. Or, if you would like to get started with your plans to teach abroad, Bridge Program Advisors are happy to answer your questions about teaching English or give you advice on choosing the right Bridge TEFL certification course. Contact a Bridge Advisor today!