Coming from the sales industry, Bridge IDELTOnline™ grad Gabrielle Mare, from South Africa, found her calling in TEFL and has striven to advance her teaching skills ever since. Now, she's working for two online English companies as an ESL teacher and a teacher trainer. She was happy to discuss the fun experiences she's had while teaching English online and her plans to develop her career in the future.
Can you tell us a bit about yourself, Gabrielle?
My name is Gabrielle. I'm from South Africa and currently living in South Africa. I've been teaching online for just under two years now. I started off my TEFL career as an online teacher, so I've never actually taught in classrooms or in person. I've always just been based online. I absolutely love it. It's the best!
Check out 9 reasons to become an online English teacher!
How did you shift to the English teaching field?
I used to be in sales for many years, so I was actually in the corporate industry, and I worked in sales and marketing for six years, and it was just something that kept on coming across my path. Friends were doing it, and you would see things popping up on Facebook and social media. So, I kept on feeling like I was being prompted in that direction.
At my university, I studied psychology. I have a Bachelor's in Psychology, and then, already, it was something that popped up and I was quite interested in. But then I got my job in the sales industry, and I just kind of went off that path for a couple of years – but I definitely feel it was a calling all along and it was always meant to be.
Can you tell us about your teaching job?
I'm working with two companies at the moment.
I began my TEFL career with iTutorGroup. It's been an amazing journey with them — just so many career advancements and career opportunities that they've given me.
I went from just being a normal teacher — teaching kids and adults — to doing demo lessons, where I'm basically selling the product. I love doing demos, so that really went back to my sales career. That was amazing.
I also do standby classes. So, if another teacher is unable to make the lesson or if the internet goes down, I have to jump in — no lesson prep there at all so you just get thrown in the deep end and you have to pick up the lesson, which I also love.
I've become very involved with teacher training. On two occasions, I've had a group of junior teachers under me who I trained to help them achieve their goals and reach the level that the school required.
I also do training presentations, where I can have up to 150 teachers at a time, and then I do a little training presentation for them and answer questions and so forth.
I have recently started with a second school, called SpeakingEnglish, based in Israel. It's a really lovely school. We use multiple platforms to teach and reach the objectives that we want to with the children. I'm thoroughly enjoying it! It's a different dynamic, a different culture.
Check out the great job opportunities you can get as a TEFL-certified teacher.
How did you find these jobs?
Both jobs were actually through the Bridge Job Board. That's been awesome. I've used the platform, I've studied through Bridge, and I've gotten both of my jobs through them.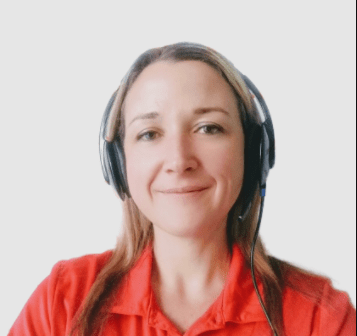 What do you like best about teaching English online?
There are so many things that I love about it!
The best would be flexibility. I do travel quite a bit. When I started off, I was in the United States. I've got family in Dubai. I've got family all over South Africa. I like going on vacation and traveling around, and it's so cool — I just pick up my laptop and my headphones, and off I go. We get to the next destination, set up, and I can just carry on with my job; I don't have to take leave. This is one of the best things about teaching online.
Obviously, with the current pandemic and everything that's been going on, it's really been a good industry to be in. I've felt absolutely blessed during this entire time to still have employment and still be able to do my job from the safety of my home. So, it's been awesome.
Find out more about teaching English online as a digital nomad.
What is your favorite online activity for teaching English to kids?
With kids, singing wins every time. Even when I'm doing my training classes for new teachers, they all say, "Please sing for us." I don't sing well at all, but you know the kids don't care. They don't care if you have a good voice or not, they just really take to it. So, I find songs really work very well, even if you just want to take a little bit of a break in the middle of the lesson. When you see students kind of starting to drift or lose interest, break out into song and you will draw them right back in.
Get more fun ideas for teaching English to kids online by taking a short, Micro-credential course.
Can you share an anecdote about a funny or memorable experience teaching online?
When you are teaching online, sometimes things will go wrong, but the most important thing is not to panic and just go with it and carry on.
I use ManyCam. It's one of the teaching tools that I use, and it just really works well. But when I first got ManyCam and I was still trying to figure it out and still trying to get it to work, I'd done a few junior lessons leading up to an adult lesson, and I was using my little faces, and I made myself be this cute little cat, and it had whiskers and a cute little pink nose and everything.
Everything was going fine, and I went into the adult lesson and I was still the cat, this little animated cat. And I could not get it to go away. And here I am in the adult lesson, and it didn't want to go away and it didn't want to stop, and I'm panicking on the inside. But I just went with it, did my whole adult lesson, and she was such a professional. I mean, she was a well-spoken businesswoman, and I needed to do a business lesson working as a rabbit-cat thing. That was probably one of the funniest things.
Learn how to use ManyCam when teaching English online.
What inspires you to teach English?
Language is power, and of course, with English being an international language, everybody needs to speak it. So, it's really just to help somebody's future, especially a child's. With the market in China and the exams that they have to do, being able to speak English really is going to determine the rest of their lives and their career, or even if you're just looking at it from an adult business perspective or traveling, it's just empowering that person. And to give somebody that opportunity is just so rewarding, and I love it. I love the language, I love reading, I love poetry, I love beautifully put-together words — it's my favorite thing. All around, it's great.
You took the IDELTOnline™ course. How did you choose this certification?
I started doing research when I got very involved at iTutorGroup with the teacher training. I did start to think about my career development for the next five to 10 years and the direction that I wanted to go in, and teacher training is something that's become a big interest of mine and I really thoroughly enjoy it as well.
So, I started to check out how I could get more involved with that and do my Master's in TEFL. So, I started Googling Master's in TEFL and all these sorts of things, and Bridge kept on popping up, but I did know them already because I had studied online TEFL certification with them before and obviously got my job through them. And then I was just reading about it, and the course was highly recommended if that was the route career-wise that I wanted to take going into a Master's.
So, I chose the IDELTOnline™ because of that and because of the university credits that you can get — that was super important to me — and also obviously the accreditation and the affiliations that they have with universities around the United States. That was the reason why I chose the course.
Read about the IDELTOnline vs. Master Certificate course.
You were already working as an English teacher when you took the IDELTOnline™. How did this course improve your teaching?
For teachers who have done the basic TEFL course and maybe been teaching for a year or two, I actually highly recommend this course because it was so awesome, while I'm teaching, to practically have that theory that was backing it up. So, you don't really think too much of the theory, but then I'd do a class, and then maybe that week's units I would be like, you know, "That makes so much sense." And I started implementing the strategies that we were being taught. Also, just having a deeper understanding of the way people learn was really cool.
It definitely has given me that extra step up from where I was. It's just more in-depth. And even though I've been teaching already for about a year and a half, I definitely feel my teaching has improved.
I'm already a teacher — do I need TEFL/TESOL certification? Find out!
It's also something that keeps on popping up. I've been thinking about it for some time now. At the moment, I'm mostly teaching kids, which is, for me in South African time, in the afternoon, so I also want to get something to keep me busy in the mornings. So, ultimately I wanted to do the IELTS Exam Prep course just to give me that extra edge to hit that niche market and to be able to freelance. I thought the IELTS would be a good direction to follow with that.
Also, I want to give somebody an opportunity. Maybe it's a university student who wants to better their life and their future. To be able to help somebody with that is an incredible opportunity and an honor to be a part of.
Interested in freelancing? Take the Specialization in Teaching English Online as a Freelancer course.
What's next for you?
At the moment, I'm just adjusting to juggling the two schools. That's been quite a big adjustment, but I'm feeling a lot more comfortable with that.
Next, I want to complete the IELTS prep course, so I started that about a week back. Then, I want to get involved with freelancing, as I said.
Ultimately, I'd love to do teacher training, so that's the direction that I want to go. There are so many fields and sectors you can take with all of this, so at the moment I'm just getting as much studying behind me, both theoretical and practical. And ultimately, 10 years down the line, I want to get my master's and be helping people like me who have a passion for teaching to become teachers and to change people's lives.