TEFLOnline.com Graduate Erin Coyle: 3rd Year Teacher in China!
By Jennifer Collis
September 16, 2015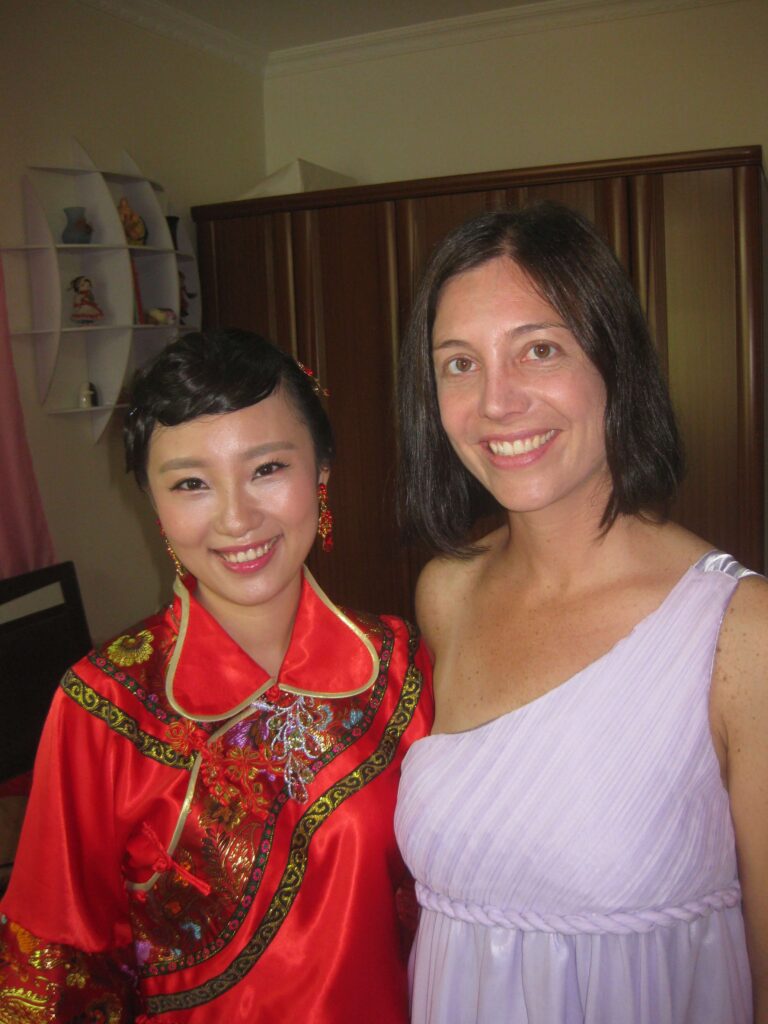 I'm from Michigan and have a Bachelor's Degree in Social Work, a Radio Diploma and of course a TEFL certificate. Before I started teaching, I worked in event planning and fundraising for five years and then went on to be a radio morning show co-host for six years. However, I had always wanted to live overseas; I just never knew how I could do it. Finally, some friends of mine told me they were moving to China for their next work assignment. My friend is an engineer, so he would be moving to Nanchang for at least three years and they told me I could live with them if I needed to.
I did some research and finally decided this was my chance to go abroad. Once I completed my TEFLOnline.com certificate, I went online to a community website in Nanchang and told them I was planning to move and I needed a job. The founder of the website gave me the contact information for a few universities, and after applying for a few jobs, I received a contract several days later! I've been working at Jiangxi Science & Technology Normal University as an ESL teacher for three years and I love it! But of course it wasn't easy when I first arrived and I have learned some lessons along the way.
When I first arrived I was nervous and unsure of what I had just done. I had quit my radio job to have this great new experience, but I wasn't sure what to expect. I assumed there would be an orientation for new teachers, a schedule with a course outline and an overall idea of how things are done. Some of the new teachers with me started to wonder and panic when classes were to start in two days and we still had no schedule. But eventually a schedule was handed to me, along with a book and a "Have a good semester. Any questions?" Ah yes, I can think of a million!, I thought, but for starters, "Where is the new campus?"
Therefore, one general lesson I learned very quickly in China was to have a lot of patience! Everything here is very last minute, so you just need to go with the flow and know that plans will eventually come together. But if you're a Type A personality this isn't the place for you!
As a teacher, I've also learned that students who don't want to talk aren't necessarily bad students, but shy students who don't know how to express themselves and can be afraid of making mistakes. I've been trying to learn Chinese the last three years and it isn't easy, and there are times when I get frustrated trying to say something in Chinese. I can relate to my students and share my experiences of trying to learn a language as well.
Living in China, I've had amazing experiences and I've learned so much about the culture and traditions here. For example, I was invited to be a bridesmaid for a former student. I've also experienced the delicious food during festivals like Dragon Boat Festival, which is celebrated in honor of a very famous poet who drowned himself in the river. As the story goes, local people raced out to try to find his body and started throwing sticky rice in the river so the fish would eat the rice instead of his body. Today, the poet is celebrated with boat races on the water and by eating Zongzi, which is sticky rice stuffed with meat or beans, wrapped in bamboo leaves. It's delicious, but I've definitely eaten other foods in China that I never thought I would eat, such as chicken feet and the ear and tongue of some animal!
If you can picture yourself teaching in Asia, like Erin, contact a TEFL Advisor to learn more.  It's easier than you think!