The Titans of ELT (Part Two): Defining Diversity and Inclusion Within IATEFL and TESOL
By Loren Chiesi
July 1, 2021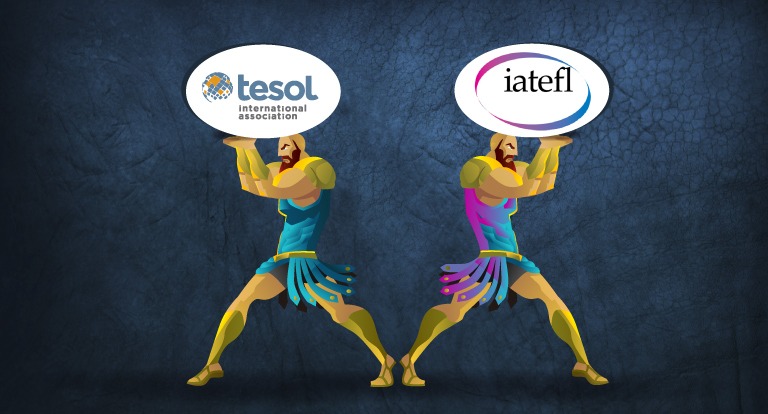 In part one of our series comparing the International Association of Teachers of English as a Foreign Language (IATEFL) and the TESOL International Association, we explored the structures, challenges and goals of these two English language teaching (ELT) associations. Now, in part two, we look at how the titans of ELT are responding to the paradigm shifts in diversity, inclusion and attitudes towards non-native English speakers, and how these shifts affect the organizations' members and missions.
Since the death of George Floyd in Minneapolis in May 2020, a renewed civil rights movement emerged in the United States and has since reverberated around the world. The cultural zeitgeist around diversity, inclusion and representation of people of color, and more specifically Black people, has pushed organizations and industries around the world to reflect on their own practices – and their blind spots. The English language teaching field is no exception.
Diversity Doesn't Equal Inclusivity
TESOL is very diverse. No one is contesting that. TESOL is diverse, but it is insufficiently inclusive.
Following the death of Floyd, the TESOL International Association (commonly referred to simply as TESOL) was compelled to write a public statement advocating for non-violence, equity and diversity. IATEFL issued a similar statement, declaring, "We believe that language has the potential to unite the world." There is much truth to that statement. Anyone who's attended an international TESOL or IATEFL conference can attest that the organizations bring together a very international cohort, with non-native English speakers, people of color and women represented in almost all governance boards and executive positions. Mary Romney, founding member and past chair of Black English Language Professionals and Friends (BELPaF) says, "TESOL is very diverse. No one is contesting that. TESOL is diverse, but it is insufficiently inclusive."
That breakdown in inclusion has consequences. Case in point: At the 2019 TESOL Convention, members of BELPaF were upset to find a presentation in the convention program titled, "The N-Word: How to Engage ELLs' Sociocultural Understanding." Says Romney, "[The presentation] was given by someone who didn't mean to be offensive. But it was very offensive. The presenter wasn't trying to use it against anyone, but it still was very offensive."
Adding salt to the wound, the convention that year was held in Atlanta, the birthplace of Martin Luther King Jr., and a city with a large Black population and deep-rooted ties to the civil rights movement. Beyond just being insensitive, the presentation violated existing rules. Before a presenter can submit a convention proposal online, they must complete a form that states that nothing in the presentation will be offensive. Romney points out, "You have to sign that condition. The presenter agreed to it, and then ultimately violated that, and so did the TESOL association by allowing it to emerge on the convention program."
Romney believes that one reason that the offensively titled presentation was never flagged was because there weren't any Black people on the convention committee that year. She explains, "Because they removed [BELPaF] from meaningful representation in the association, we had no voice. We were not on anybody's radar. If we had a seat at the table, this wouldn't have happened."
Representation in these chair positions would make sure that the reviewing body for conference proposals would come from diverse contexts with different perspectives; ultimately, they would be able to mitigate these issues before they emerged on an international stage like the annual convention.
TESOL used to have six caucuses that gave space and representation to minority and identity groups within TESOL: Black English language professionals, LGBTQ+, Christians in TESOL, part-time teachers, non-native English-speaking teachers, and social responsibility. The groups had to apply for caucus status with the TESOL board of directors (BoD), raise their own funding and meet a membership quota. Once recognized as an official caucus, BELPaF received an academic session and meeting space at the annual convention to increase visibility within the association. In 2007, the caucuses system was disbanded and they were offered interest section status, but with fewer perks. Romney explains, "The interest section structure is not appropriate for BELPaF because we are in all different areas: K-12, higher education, EFL and ESL."
Currently, BELPaF operates as a Professional Learning Network (PLN) in the TESOL association. After pressure from BELPaF and other members regarding the offensive presentation in 2019, TESOL convened the Diverse Voices Task Force, a two-year research and recommendation effort to reflect on their own practices of inclusion. TESOL plans on releasing the results in the task force's report later this year. Furthermore, at the 2020 virtual convention, TESOL hosted a moderated discussion on diversity, equity and inclusion in an effort to address participants' needs and concerns stemming from the topic.
| Diversity, Equity and Inclusion | | |
| --- | --- | --- |
| Has an internal diversity committee | No | Yes |
| Works on policy advocacy | Yes | No |
| Collects demographics statistics on members | No | Yes |
| Number of people of color in executive/head office | 6 | 0 |
| Number of people of color on governance board | 5 | 3 |
| Number of female-identifying persons on executive/head office | 13 | 9 |
| Number of female-identifying persons on governance board | 8 | 5 |
But of course, it's not just TESOL that has to contend with a lack of diversity. Gabriel Diaz Maggioli, who has a foot in both worlds as a past member of the TESOL BoD and the incoming president of IATEFL, understands the fervor for inclusivity firsthand. When invited to speak at a Beijing university in 2021, he found himself among a panel of non-native English speakers who were invited because of their expertise in their specific subjects – and who also happened to be all men. When he posted the advertisement for his speech to social media featuring the all-male panel, he received blowback from his followers because the panel did not include women; some urged him to not participate.
Ultimately, he went forward with the speech; his position on the IATEFL board of trustees (BoT) is a volunteer one, and speaking engagements are his supplementary income. Yet, this experience has influenced his approach to diversity. Diaz says, "Diversity is what makes associations like ours thrive. It's the confluence of diverging views and the cacophony of voices that actually build the profession."
He mentioned that the IATEFL BoT reviewed a proposal to set up an executive committee dealing with diversity. However, the BoT decided against it. "The thinking was, if we set up an ad hoc committee, then eventually it will be the only committee that works on diversity." Instead, they are working to promote diversity and inclusion into many layers of the organization.
Diaz goes on to say, "We need to make sure that, in everything we do, diversity issues are addressed." This explains why he is proud of IATEFL's upcoming 2021 conference plenary speakers, "They are all non-native speakers, they do not come from any of the native English-speaking countries, they are grounded in international experience in their expertise and there is a perfect gender balance."
Beyond layering inclusion efforts into the associations' structures and mobilizing a task force, Romney has actionable steps both associations can take to promote the inclusion of Black members. She suggests recruiting new talent from Historically Black Colleges and Universities, courting Black professionals to take on positions of influence (e.g., policymakers, decision-makers and administrators) and beginning to gather demographic statistics on members (such as race, ethnicity, gender, sexual orientation and creed) to better understand the people they serve. Romney believes, "The greatest value of BELPaF is networking. It gives us a forum to talk about issues we have in common. When you see that you have something in common with somebody, you start looking for solutions together. And that interaction produces a lot of creativity. Without demographics, we have no data-driven way of identifying other members, which impedes our ability to connect."
Understanding who their members are and what their contexts are is critical information that both associations could use to reflect on where their gaps in inclusivity are.
IATEFL already gathers delegate statistics from registrations during the annual convention. From its own 2019 report, IATEFL gives reasons for taking statistics, stating, "[The statistics in the report give] a fuller picture of who the … delegates were and what their interests are within the ELT industry." Understanding who their members are and what their contexts are is critical information that both associations could use to reflect on where their gaps in inclusivity are. Likewise, it may provide insights into how the associations can address those gaps moving forward.
The Other Eighty Percent
In her 2016 IATEFL plenary speech, education leader Silvana Richardson said, "Eighty percent of English language teachers in the world are non-native. I refuse to call my colleagues who are in the majority of the profession a 'non-something.'" She goes on to beg the question, "How is asserting what we are by negating what we are not a meaningful and constructive way of referring to ourselves?"
The answer to this question has crippled and confounded the ELT profession since its inception. English, descended from white Anglo-Saxons in Western Europe, is a preeminent world language that affords its speakers a certain amount of privilege, power and social cachet within the global framework. Yet, when it comes to teaching English, it seems there's no level of education, experience or time spent in front of the classroom that compares to the professional cachet of having a recognizably native North American, British, or Antipodean accent. According to an article about "Native-Speakerism," by Catarina Chase Aleixo, a survey found that 90% of native-English-speaking teacher (NEST) respondents "believe there is a benefit to being a native English-speaking teacher when teaching English." Armen Kassabian, an American ESL teacher admits, "I've been the token native speaker in foreign contexts. It wasn't really just about how I teach or my qualifications. It's what I represented to the institutions that I was part of. I'm just a talking face, but a talking face with perceived connections to opportunities that may or may not exist in actuality."
Eighty percent of English language teachers in the world are non-native. I refuse to call my colleagues who are in the majority of the profession a 'non-something'.
This global phenomenon has real-life consequences for non-native English speakers (NNESs) and non-native English-speaking teachers (NNESTs). Susan Barduhn, a past president of IATEFL, says, "There are still policies and pressure from hiring institutions to be a native speaker." This kind of top-down pressure can negatively impact who gets hired and why.
Sandra Vida, an NNEST and past president of IATEFL Slovenia reports, "I've seen a lot of non-native speakers who are true professional teachers of the language. I've also seen some native speakers who are … only that." One way that TESOL Colombia remediates the stigma against NNESTs is to focus on standardized, accredited teacher training. TESOL Colombia President Ivonne Gonzalez says, "The pressure to have native speaker teachers is terrible. A good teacher is anyone who has been trained to be a teacher and has studied the language, even if they have an accent. That's why our focus is teacher training. We need well-trained teachers with excellent strategies and methodologies, which are regularly updated, to show institutions they are the best teachers they can hire."
What can get lost in the fervor for increased training of NNESTs is the inherent advantage of [the] language learning experience. Gonzalez adds, "NNESTs remember what they struggled with [when learning English] and how their brains learned to absorb the language. It is a unique, lived-experience teaching skill that native speakers don't have."
| Non-Native English Speakers (NNESs) | | |
| --- | --- | --- |
| Number of NNESs on governance board (volunteer) | 6 (Board of Directors) | 5 (Board of Trustees) |
| Number of NNESs in executive/head office (paid positions) | 4 | 1 |
| Non-native English speaking teachers (NNEST) special interest group | Yes | Yes |
Both IATEFL and TESOL provide free and fee-based professional development events, online training, and continuing education courses for their members. For TESOL, a critical element of its advocacy is to support NNES students and teachers. Rosa Aronson, Interim Executive Director at TESOL, says, "The research is very solid now that being a native speaker alone doesn't qualify you to be an English teacher. Too often, the requirement for a job is to be a native speaker, and that's where policy changes can be effective."
According to Aronson, TESOL wants to develop a global plan for addressing this by creating a USA-based standard for ELT that other nations can then follow and adopt. She adds, "We are aiming to broaden our advocacy outreach beyond the USA. It's challenging because we cannot interfere in countries' policies, but we can develop recommendations and set an example for qualifications that could be applied broadly to native speakers and NNESTs." Policy reform can be a good first step in changing attitudes towards NNESTs and NNESs, but it can take a while to see those reforms trickle into hiring committees and globally adopted standards.
Aside from policy reform and teacher training, another area where IATEFL and TESOL can influence the representation of non-native voices is within the publishing industry. Publishers do more to pay for the conferences than any other industry, but it's to the associations' advantage to give the publishers the opportunity to showcase their wares in front of thousands of English language teachers. There is no larger exhibition of English language professionals in the world than these conferences, so both associations have the opportunity to influence and encourage publishers to be more inclusive of NNESs, which begets systemic changes. For one, they could recommend publishers include more World Englishes and NNESs in their materials. Students need to understand people speaking English outside of the "inner circle" (referring to Kachru's Model of the spread of English) because that's where most of the English language is being used.
If learners are only exposed to native speakers in their materials, there's an implicit bar set to a standard that they probably can never reach. Romney explains, "There's a tacit expectation that whatever your teacher is giving you is the best. That means, if your teaching is [not giving students examples of NNES-English], that NNES-English is somehow inferior. That has a very deleterious effect on the international image of NNESs and teachers."
Your perception of what the world is like and how big it is, and how many other people are participating shifts. That's transformative, too. Giving [people] a new lens with which to see the world around them, that is the essence of language learning.
Culturally, both IATEFL and TESOL need to reckon with the fact that their organizations are not impervious to social reforms and need to edify their outreach regarding inclusion and advocacy. Their efforts to make policy and advocacy changes in terms of and inclusivity have the power to raise voices that have not yet had the chance to be heard in a global association. As the ELT world becomes more interconnected virtually and more online gatherings become hybrids of in-person and online interaction, there should be a greater increase in opportunities for ideas from diverse contexts to emerge.
Indeed, language learning itself can be an act of growth. Says Romney, "Language learning is a skill, and it's also an act of personal development. When a person begins learning a dominant global language, like English, Mandarin, Spanish, Arabic, that can break open what they understand about the world. Your perception of what the world is like and how big it is, and how many other people are participating shifts. That's transformative, too. Giving [people] a new lens with which to see the world around them, that is the essence of language learning."