Being one of the first in the TEFL/TESOL industry to offer digital badges to course graduates, Bridge provides these valuable, 21st-century credentials in addition to your TEFL certification. Digital badges for TEFL/TESOL present employers with an easy way to get the full picture of your achievements with just one click. But you might be wondering how badges work and what specific information you can showcase to future employers with your badge. Let's take a look!
First, what exactly are digital badges?
Digital badges are credentials you'll receive, along with your certificate, when you complete Bridge online TEFL courses. While your certificate is what actually qualifies you to teach English as a foreign language or to work in a specialized field, your digital badge fills in the gaps in information that is shown on your certificate, offering far more detail than the course name and hours completed.
Backed by blockchain technology, digital badges, issued by Credly and hosted on Bridge's custom Acclaim platform, are dynamic and provide potential employers an in-depth look "under the hood" of the TEFL/TESOL program you completed. This includes the learning objectives you mastered, the grading criteria/grades you received, the intensity of the course, and the specific skills you acquired.

Digital badges for TEFL/TESOL also allow you to easily market yourself as a teacher, with options to showcase your skills and qualifications across the web on places like LinkedIn and Facebook.
You can even earn digital badges, like this one, for attending professional TEFL/TESOL summits: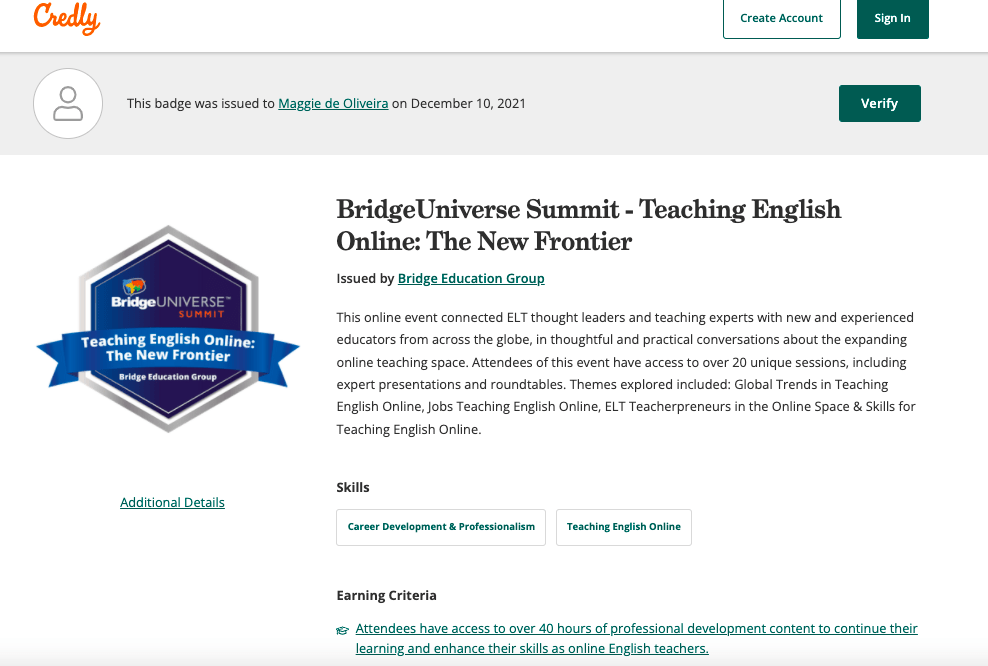 Watch a video on digital badges to learn more:
What can my digital badges showcase to potential employers?
Digital badges go beyond your TEFL/TESOL certificate by providing more detailed information about your achievements, acquired skills, and other aspects of your training, such as the following:
The criteria that were required to complete the digital badge
In order to complete most online courses and receive a digital badge, you have to fulfill certain requirements. These requirements can include written assignments (such as lesson plans and essays), quizzes, exams, and comments on interactive discussion forums, among other things. For each of these requirements, you have to meet the grading criteria to pass. Your digital badge details the criteria you met to earn your badge.
Evidence of specific tasks and projects you completed within the program
In professional training courses, such as Bridge TEFL/TESOL certification courses, you are asked to create a complete lesson plan or curriculum, provide the rationale behind it, and submit additional materials, videos, or documents. Or, you might be required to include a live video of you teaching in the classroom or in an online teaching practicum. These projects will reflect in your digital badge, and your employer will see your experience firsthand.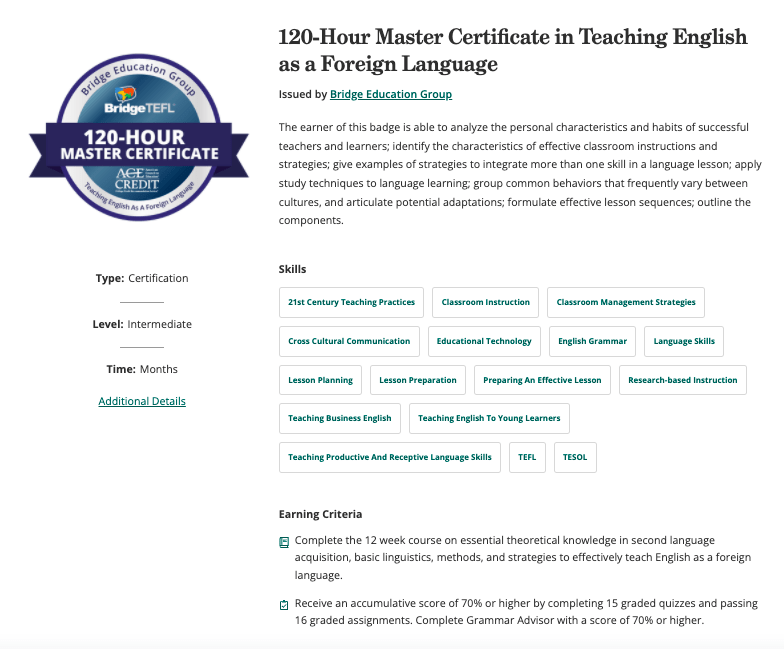 Skills and core competencies behind the achievement
With every course you take, you will be provided with the skills and core competencies that you will acquire by completing the program. These can include:
Language proficiency (such as a specialization in English grammar)
Content knowledge (such as teaching methods and approaches)
General teaching skills
Language teacher identity
Learner-focused teaching
Specialized cognitive skills
Theorizing from practice
Joining a community of practice
Professionalism
The learning objectives you met to earn the badge
Each professional training course provides you with a list of learning objectives that show what you are able to do after completing the program. Depending on the specific course, these include – among many others – creating online learning tasks that work with students with different learning styles, understanding and using appropriate error correction, or creating effective lesson plans, curricula and syllabi for different groups and levels of students. Showing what you learned through your digital badge saves you the time of having to summarize and look for the perfect wording on your resume!
Bridge's standards and accreditation
Bridge Education Group is accredited by ACCET (Accrediting Council for Continuing Education and Training), which is an agency recognized by the US Government Department of Education.
Bridge is also more recently accredited by AQUEDUTO (The Association for Quality Education and Training Online), a not-for-profit organization in the UK that is dedicated to evaluating blended and online training courses against a quality assurance framework.
Showcasing your digital badges is a modern and easy way to allow employers to access and review these details so that you stand out when applying for jobs.
You can visit the Bridge profile on the Acclaim platform to take a look inside the various digital TEFL/TESOL badges you can earn through Bridge: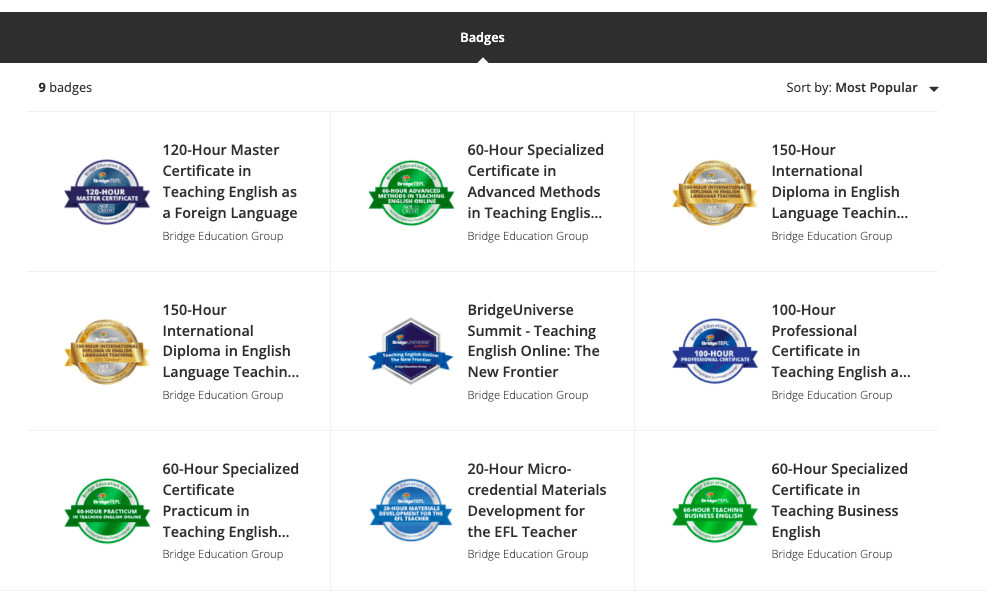 How do I claim my Bridge digital badge after I finish my TEFL/TESOL course?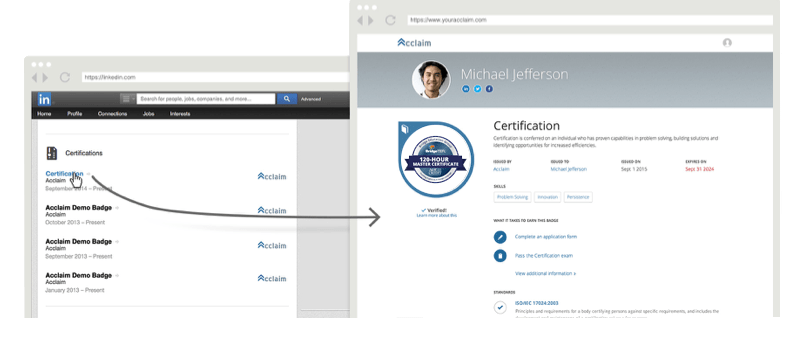 After you complete a course with Bridge, it takes one or two days until you receive an email informing you that you earned a digital badge. In order to claim your badge, you will need to set up an account with Acclaim, which will lead you directly to your badge.
How do I share my digital badge?
You have several options to share your badge on various platforms through Credly Acclaim, which is used to manage your badges. Within Acclaim, you can simply check the platforms where you want to share it. In some cases, such as for LinkedIn, you will be asked to log in to your LinkedIn account to confirm and complete the process.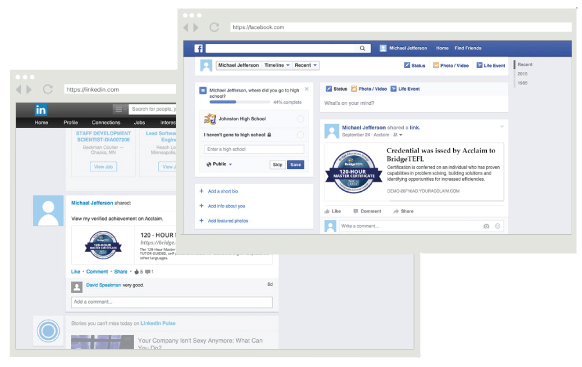 Bridge grad Mari, who is teaching as a digital nomad, describes how she used her digital badges:
"I did claim my Bridge digital badges when I completed my course, and I have added them to my Linkedin, my resume, and my email signature. I have found that these are extremely helpful when interviewing for a new job, providing evidence of my experience, or showing off how hard I've worked! The process was very simple, and there was very detailed help along the way if I ever did feel stuck or confused by how to add them to certain platforms."
As you can see, digital badges are so much more than just a shiny icon on your LinkedIn profile or your resume. Digital badges are an innovative, modern way to show potential employers, your boss, or your coworkers who you are and what you can do. If you want employers to fully understand your credentials, adding digital badges to your professional online portfolio is a great way to do so!