How to Use Digital Badges to Get a TEFL/TESOL Job
By Bridge
January 28, 2021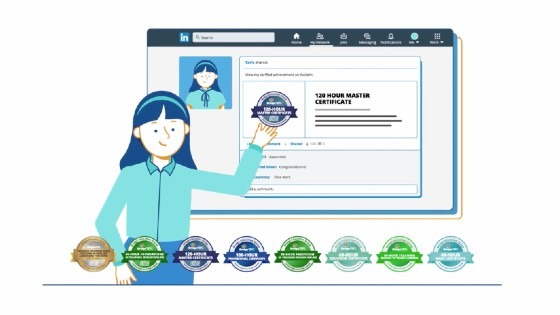 When you complete a Bridge online course, you'll not only be able to immediately download your TEFL/TESOL certificate, now you'll also receive a digital badge for TEFL/TESOL. Digital badges are dynamic icons that represent your achievements. Because they're digital, they can be shared anywhere online — a social network like LinkedIn, a personal blog, or via your online resume.
When employers click on your Bridge digital badges, they'll be taken to a unique landing page where they can easily see the full picture of your accomplishments, including verifiable skills and achievements. For this reason, digital badges are becoming the new standard in training and certification and the future of e-learning.
Watch a video about Bridge digital badges!
How to Claim and Share Your Bridge Digital Badge
It's easy! When you complete any Bridge course, you'll receive an email notification to claim your digital badge through the Acclaim platform, which is used to manage your badges.
If it's your first badge, you'll be instructed on how to create your Acclaim account via the link in the email.
Within your new Acclaim account, you'll see the option to accept your badge.
Once you accept your badge, you can share it on social media, embed it in your email signature, and more!
1. Add Your Digital Badges to Your LinkedIn Profile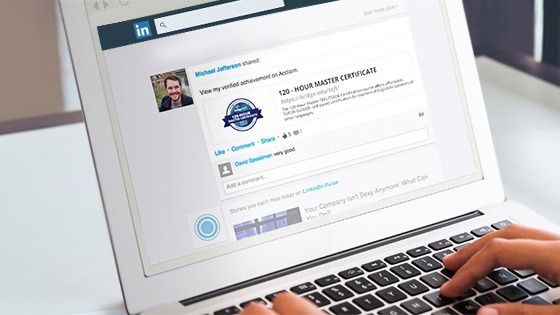 This is the ideal place to start when looking to showcase your digital badges since LinkedIn is specifically aimed at professional networking. (If you're not already taking advantage of this platform, you'll definitely want to check out this article on how to use LinkedIn to get a TEFL/TESOL job).
To add your badge to the "Certifications" section of your LinkedIn profile, simply go into your Acclaim account, open your digital badge credential, and select "add to profile." Then you can fill in the required info on the form that pops up (log into LinkedIn at the same time to easily copy and paste this).
2. Share Your Digital Badges on Facebook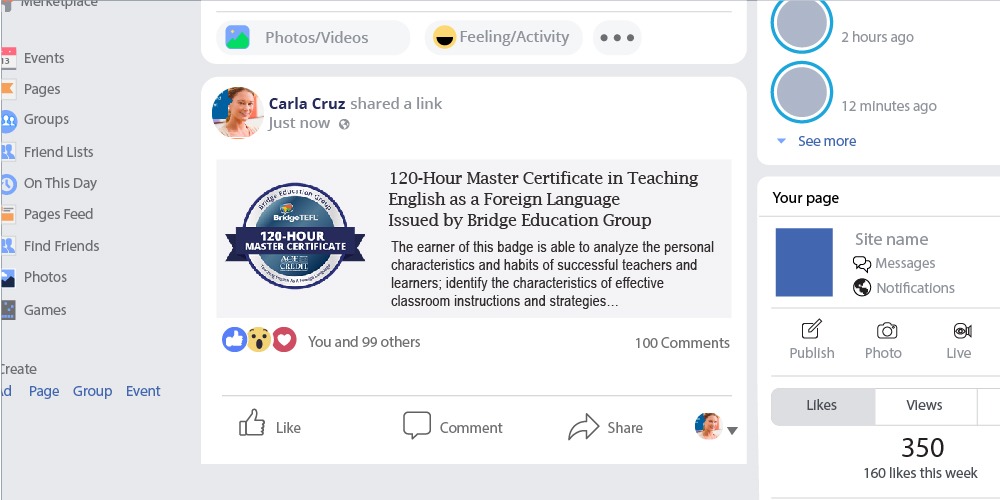 Sharing your Bridge digital badge as a post on Facebook is an easy way to let everyone in your social network know about your latest accomplishments. Share your badges to your timeline and your friends' newsfeed (depending on how your settings are enabled). Once posted, friends can click the badge image or the URL and they'll be taken to a page to learn more about the course and what you did to earn the badge.
Teaching English online? Find out 7 ways you can use social media to get online English students.
3. Share Your Digital Badges on Twitter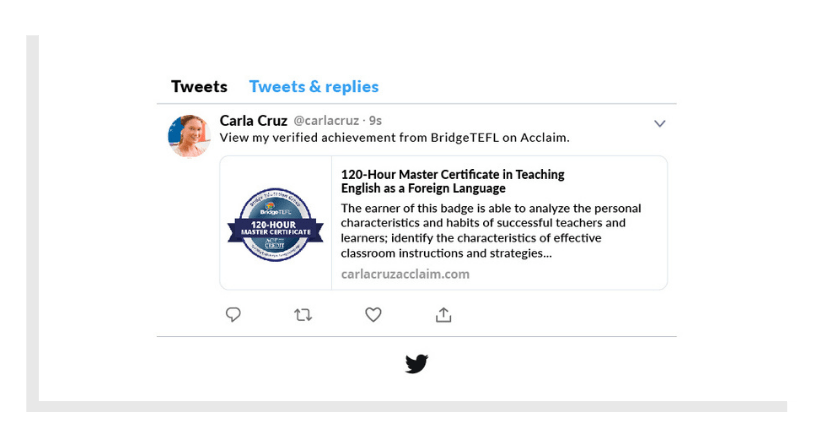 Like Facebook and LinkedIn, sharing your badges on Twitter offers yet another way to make your accomplishments known! When you share your badge on Twitter, feedback from your followers will be instant, and your digital badge can easily be re-tweeted, favorited, and commented on. When one of your followers clicks on the badge image or the URL, they'll go right back to Acclaim to learn more about what your badge represents.
Find out what achievements your digital badge can showcase.
4. Add Your Digital Badges to Your Resume
How can you make sure your online teacher resume catches the eye of a TEFL/TESOL hiring manager? Include your digital badges! These colorful icons are more than just images. With a simple click, they allow employers to look inside the online TEFL training you completed to see details such as:
The learning objectives you met to earn the badge
Evidence that you completed those objectives (such as key assignments)
Your core competencies
Bridge's standards and accreditation, including ACCET accreditation, recognized by the US Department of Education
Check out these free resources to enhance your TEFL/TESOL resume.
5. Embed Your Digital Badges on Your Personal Website
Do you have a personal or professional blog about teaching English? Easily embed your digital badge directly on your website to showcase your accomplishments.

6. Include Your Digital Badges in Your Email Signature
By adding your digital badges to your signature, every time you send an email, your digital credentials will be on display and can be easily clicked for more information about your accomplishments.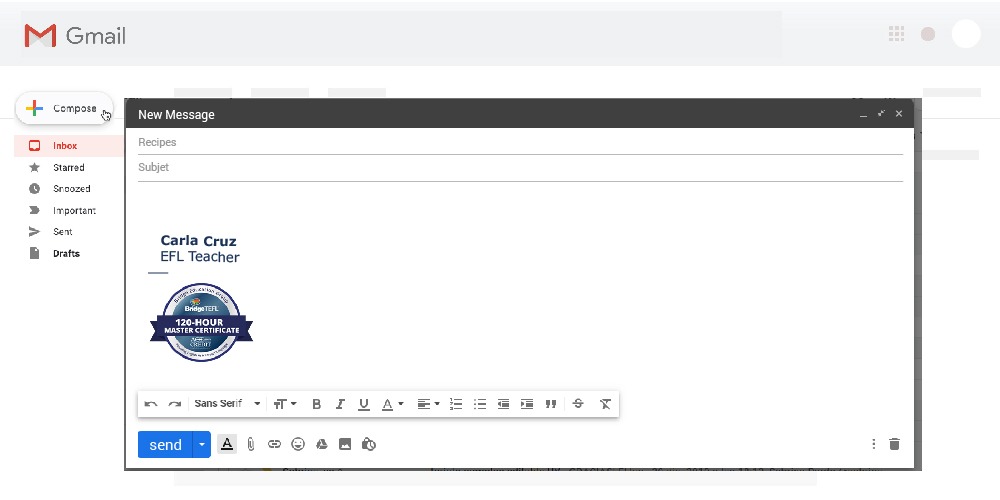 To add your digital badge to your Gmail, Outlook, or other email account signature, you'll first log into the Acclaim platform. Once there, choose the badge you want to use and click "share." From there, you adjust the size of the badge image and then download it. You'll also want to copy the badge URL. Then open your email, go to Settings and then Signature, and upload the badge as an image, which you can then hyperlink with the URL you copied.
7. You Can Even Print Your Digital Badge!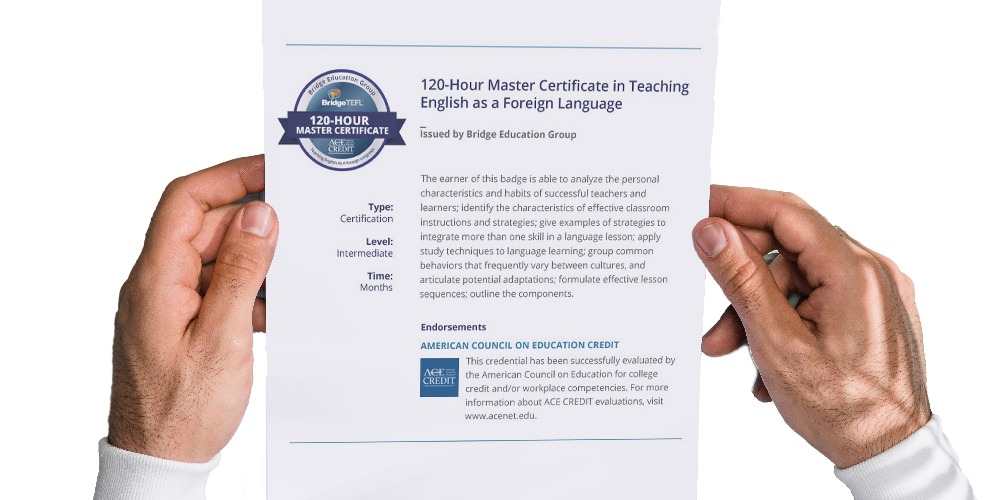 Just because they're digital doesn't mean you can't also print your digital badges, too! This can be especially effective for teachers who work with private students, particularly online teachers. Display your digital badge next to your TEFL/TESOL certificate as a backdrop when you're teaching English online. It's just one more way to showcase your hard-earned TEFL certification and accomplishments for all their worth.