Until recently, digital badging, a dynamic tool used to showcase and share credentials in a more robust way than certification alone, has been most commonly seen in the fields of higher education and IT. Universities award digital credentials for completed courses, for example, or a company like IBM offers badges to employees who complete trainings. Now, Bridge Education Group brings this 21st-century credential to TEFL/TESOL, with a portfolio of digital badges now available to graduates of teacher training programs.
Recognizing a Need for Digital Credentials in TEFL/TESOL
The need for
digital badging in TEFL/TESOL
arose from the awareness that the full scope of accomplishments behind the training and professional development courses Bridge offers could not be fully reflected in the certificate alone. Nor could certificates be easily shared online in places where teachers market themselves for jobs, such as social media.
Digital badges, however, reflect the richness of the student's learning experience and what he or she accomplished. With just a click, badges provide in-depth metadata about the program behind the credential, such as the specific tasks the learner completed, examples of course work, and the competencies obtained.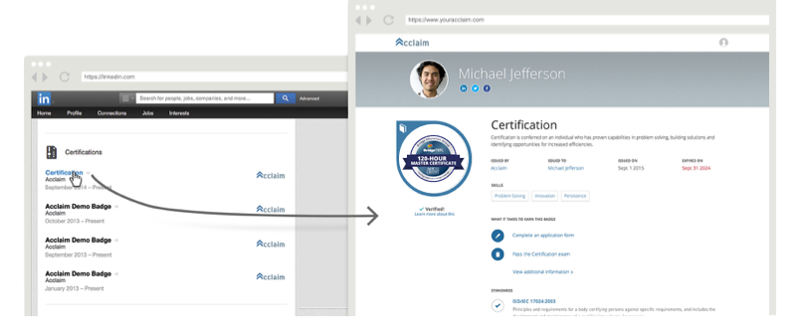 How BridgeTEFL Digital Badges Work
Bridge has partnered with
Credly
, a leader in digital badging, to offer badges on their Acclaim platform for
online TEFL/TESOL certification and professional development courses
. Digital badges are available in addition to the certificate, and integrate with BridgeTEFL's learning management system, making it easy for graduates to collect, showcase, and share them.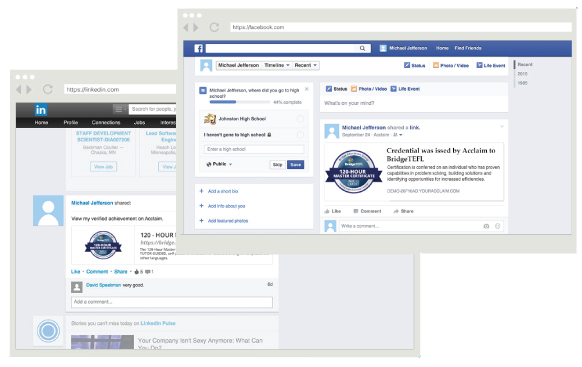 Once obtained, badges can be added to teachers' LinkedIn or Facebook profiles, to their email signature, their BridgeTEFL Teacher Portfolio on the
Job Board
, or anywhere else they care to highlight their credentials and market themselves as professional educators.
When an employer clicks on a teacher's digital badge on LinkedIn (or wherever the badge appears), it takes them to a specific landing page with detailed information about the program(s) the student completed:
• Criteria required to complete the credential
• Specific evidence to support the program's completion
• Skills and competencies behind the achievement
• Information about the program's accreditation and alignment to industry standards
Bridge TEFL/TESOL Programs That Offer Digital Badges
In addition to the certificate, digital badges are now issued for all BridgeTEFL online teacher training and professional development programs.

Foundational TEFL/TESOL Certificates
40-Hour Basic TEFL/TESOL Certificate

60-Hour Educator TEFL/TESOL Certificate
International TEFL/TESOL Certificates
100-Hour Professional TEFL/TESOL Certificate
120-Hour Master TEFL/TESOL Certificate
150-Hour IDELTOnline™ TEFL/TESOL Diploma
Specialized TEFL/TESOL Certificates

60-Hour Foundations in Teaching English Online
60-Hour Advanced Methods in Teaching English Online
60-Hour Teaching English to Young Learners

60-Hour Teaching English to Teenagers

40-Hour Teaching Business English

40-Hour Teaching English Grammar

40-Hour Designing Custom Courses

20-Hour Guided Teaching Practicum
Benefits of BridgeTEFL Digital Badges
For Students and Alumni

Digital badges offer a competitive advantage to graduates. In addition to providing
a way for them to announce their accomplishments to employers, contacts, and the greater TEFL/TESOL community,
badges have the broader advantage of demonstrating their commitment to continued professional development and lifelong learning.
For Schools and Recruiters

Because they're digital, these credentials are verifiable and trusted, making it easy for employers to vet candidates and choose the most qualified teacher for the job. With
digital badges
, the employer can learn about the caliber and accreditation of the program taken and view specific performance indicators for that candidate, leading to better hiring outcomes.
As one of the first to bring digital badges to TEFL/TESOL, Bridge now joins a network of professionals, organizations, and educational centers around the world who are communicating with a common, verified network of credentials to bridge gaps and build opportunities.
Learn more about BridgeTEFL digital badges.
---
Founded in 1986, Bridge is a world leader in language and education abroad. An international company with headquarters in Denver, Colorado, Bridge offers a wide spectrum of language-related products and services, including language training and immersion programs, teacher training and development courses, language testing, translation and interpretation services, and cross-cultural education abroad programs.
Bridge and BridgeTEFL are registered trademarks of Bridge Education Group, Inc. in the USA. All other company names may be trademarks of their respective owners. ©2019 Bridge Education Group, Inc. All rights reserved.