Bridge rolled out its first TEFL/TESOL Micro-credential courses in June as part of the organization's mission to empower global English language teachers through affordable, accessible, accredited professional development. Following the success of those initial courses, Bridge has now added six new Micro-credentials to the continually-growing Bridge portfolio, all of which are focused on topics related to teaching English online.
New Micro-Credentials in Teaching English Online
Micro-credential courses are designed for experienced teachers, offering targeted training on specific, relevant topics in English language teaching. The first series of courses covered a range of topics, mostly applicable to the in-person teaching setting, such as Teaching IELTS Exam Prep, Teaching English With Video, Teaching English as a Global Language, and others.
This newest series of Micro-credentials covers topics of relevance to online English teachers, such as games and activities for the virtual classroom, teaching large groups online, and staying healthy while teaching online.
How Bridge Micro-Credentials Work
Intended to provide experienced English educators worldwide with affordable and accessible professional development, teachers can get started with Bridge Micro-credential courses for free. Topics are designed to expand teachers' knowledge in specific ELT subfields and develop practical new teaching skills they can immediately apply in the virtual classroom.
Teachers also have the option to upgrade their Micro-credential enrollment for a nominal fee to receive additional benefits such as extended course access, tutor support and feedback, and a verifiable certificate and digital badge and upon course completion.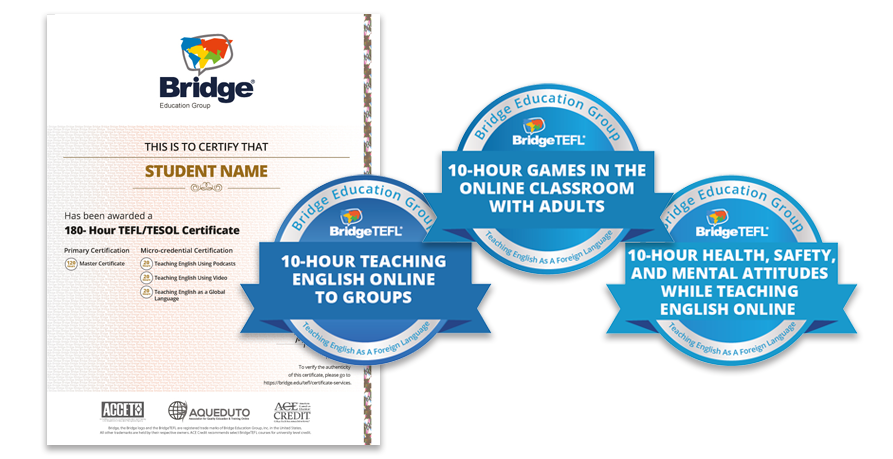 D
igital badges for Bridge
Micro-
credentials
:
•
Are stackable – teachers receive one for each course completed and may collect as many as they like.
•
Enhance teachers' resumes with
ELT professional development
and a d
emonstrate
d
commitment to lifelong learning
.
•
Can be
showcased on
teachers'
LinkedIn
profiles and teaching
resume
s
, providing
e
mployers
with
detailed, verifiable information about the course
s
completed.
A
G
rowing
P
ortfolio of Teaching English Online Certification
to
M
eet
G
lobal
T
eachers'
N
eeds
These six Micro-credential courses build on Bridge's already robust suite of training courses for online English teachers at all stages of their career, including courses for new online English teachers as well as those who are already teaching.
Training for new online teachers
Specialized TEFL/TESOL certificates, such as Foundations and Advanced Methods in Teaching English Online, provide the essentials new online teachers need, including knowledge of the terms, technology, and teaching methods to enter the virtual classroom with confidence.
Read about the Bridge initiative during the coronavirus crisis to offer this specialized training to hard-hit English language schools worldwide.
Bridge's first-of-its-kind Practicum in Teaching English Online can also be added for new online teachers who would like to gain hands-on experience with virtual students or create a portfolio of recorded teaching sessions to share with future employers.
Training for experienced online teachers
In addition to these newest six Micro-credential courses, more seasoned online teachers will find other professional development training in Bridge's growing Teaching English Online suite. The Specialized Certification in Teaching English Online as a Freelancer course provides teachers with the business and marketing skills needed to launch their own online tutoring enterprise and become a "teacherpreneur."
Supporting the Co
ntinued Expansion
of eLearning
The coronavirus pandemic hastened a shift that was already underway in education from traditional classroom learning to eLearning. Now, months into the crisis, brick-and-mortar English language schools, facing a changed educational landscape, are embracing the online setting as the future of instruction.
Bridge's Certification Courses in Teaching English Online, including these newest six Micro-credentials, empower teachers and schools not only to meet the challenges of adapting to the virtual classroom, but to continually improve, learn new skills, and excel as online English educators.
---
Founded in 1986, Bridge is a world leader in language and education abroad. An international company with headquarters in Denver, Colorado, Bridge offers a wide spectrum of language-related products and services, including language training and immersion programs, teacher training and development courses, language testing, translation and interpretation services, and cross-cultural education abroad programs.
Bridge and BridgeTEFL are registered trademarks of Bridge Education Group, Inc. in the USA. All other company names may be trademarks of their respective owners. ©2020 Bridge Education Group, Inc. All rights reserved