Ana Flávia From Brazil, Teaching Kids in Tianjin, China
By Bridge
November 15, 2019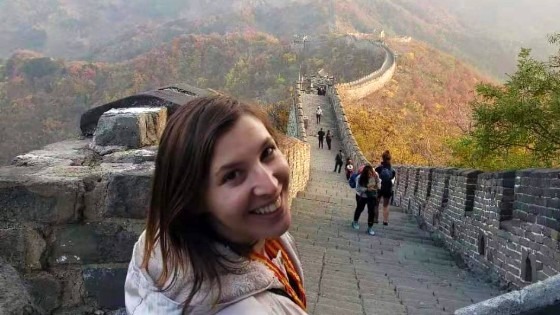 Teachers from around the world are joining the global TEFL community as teachers abroad. Meet experienced English teacher, Ana Flávia, from Brazil, who is currently teaching young learners in China. She shares the ups and downs of living in a new culture and her advice for others planning to teach English.  
Please tell us a little about yourself and your background. 
Hello, I'm 25 years old, I'm from Brazil and now I live in China. I studied to be an English Teacher in Brazil and I started teaching in 2014. I've always wanted to teach English in another country because I wanted to experience a different culture and to do so I needed to have an international certificate, and BridgeTEFL helped me with that. So this year in July I moved to China to be a teacher here.
You're currently teaching in China. How did you find your job and can you tell us about it?
I came to China because a friend of mine was living here and he told me about the job opportunity.
Now I work for Sesame Street English, a big company in China. I teach kids from 3 to 8 years old and it's a really nice job. In general, my responsibility is to prepare my class and prepare the games I'm going to play with the kids or how I will teach the topic.
If English is not your native language, how has this shaped the way you teach?
English is not my native language, so I think this helps me understand when students struggle with pronunciation or grammar and it could also be something to look up to, because if I was able to reach fluency, students will also be able to reach it.

Ana Flávia at Linggu Pagoda
It has helped me to think about how to teach for specific groups and how to prepare myself for the classes. During the course, I saw some types of games for kids and also learned how to use my body language to teach or even use simpler language when talking to kids. This was really helpful because kids understand more when we use body language and sometimes they even copy our body language, which is good for their learning process.
Browse all online TEFL certification options.
What has been difficult about teaching in China and what has been good about it?
I think moving to another country is really challenging, especially a country like China that has a totally different language and culture. We need to adapt ourselves to use a translator app for everything and get used to people staring at you just because you are a foreigner (and in China, it's obvious when you are one).
But there are also many good things, like getting to know people from all over the world or using your phone to pay for everything – which is really convenient. Even singers in the street have a QR code so you can send them money.
What's your favorite activity or technique to use in the TEFL classroom?
My favorite technique is definitely TPR (Total Physical Response) because we can use it for many topics. Students have a good time while practicing vocabulary with the TPR technique and depending on their age, they also have a good laugh.
Learn more about TPR and other teaching techniques in BridgeTEFL International TEFL certification courses.
Can you share with us the last place you traveled?
Since I moved to China I visited Nanjing and Beijing (the Great Wall and the Forbidden Palace). Awesome places I had the opportunity to travel to.
Where do you see yourself in 5 years? Do you plan on taking your TEFL career further?
In 5 years, I see myself in the classroom teaching, because that's what I love to do. I've been teaching for almost 6 years now and I've achieved my dream of being a teacher outside my home country, so now it's time to achieve new dreams, and they're all related to being a teacher.
What's your best piece of advice for someone that wants to teach English?
Prepare yourself as much as possible because usually you have someone's dream of learning another language in your hands.
Download the BridgeTEFL China Country Guide (or one of 9 other Country Guides) to learn more about teaching abroad in this high-demand TEFL destination.