Interview with Ben, Teaching Online in Nicaragua
By Bridge
March 9, 2020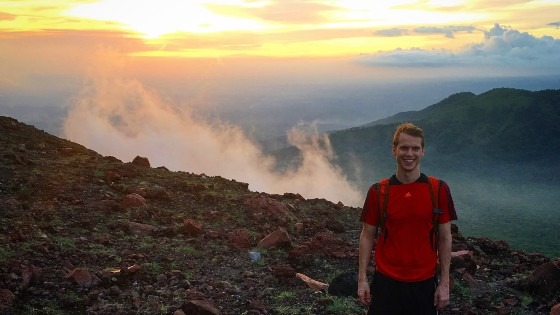 Ben Dailey has experience teaching English abroad in Nicaragua and teaching English online. In this follow-up to his interview about why he taught online while he was teaching abroad, Ben shares his insights on how to get an online teaching job.
Ben, you taught English abroad and online. Can you tell us about your experience?
Sure! A few years ago, I took a TEFL course in Leon, Nicaragua, planning to teach abroad there. However, I quickly found that jobs at language centers in Leon only paid around $4-5 an hour, which was a typical pay rate for this area. If I wanted to support myself on that salary, I'd have to work a lot of hours! So I decided to get a job teaching English online instead; I preferred to work fewer hours (12-15 hours per week) and have more time to experience Nicaragua and learn the language.

Ben in Ometepe, Nicaragua, where he taught English online 
What are your suggestions for people who are looking to teach English online?
There are tons of English teaching jobs online! I applied for jobs at multiple online teaching and tutoring companies via a TEFL/TESOL job board and set up three Skype interviews within the first two weeks of sending out applications. I ended up accepting a job at a company called E-Space Vietnam.
As long as you have an appropriate TEFL/TESOL certification and meet some other basic requirements, you should also be able to find a job easily. A few of my suggestions are:
Online job boards such as the BridgeTEFL Job Board are a great place to start. Just filter for "online" positions only!
Some online companies require a specific level of education, teaching experience, or other qualifications, but there are plenty of opportunities that only require a TEFL/TESOL certificate.
Consider earning specialized training in Teaching English Online in order to stand out from other applicants and get the best jobs.
If you're new to teaching, you might want to add the Bridge Practicum in Teaching English Online to gain familiarity with a virtual teaching platform and build your confidence. The Practicum includes the option to record your practice teaching sessions so that you can share your video demos with employers when you apply for jobs.
Make sure to take a little time to put together a presentable resume (notes on that are below) and from there, start applying for positions!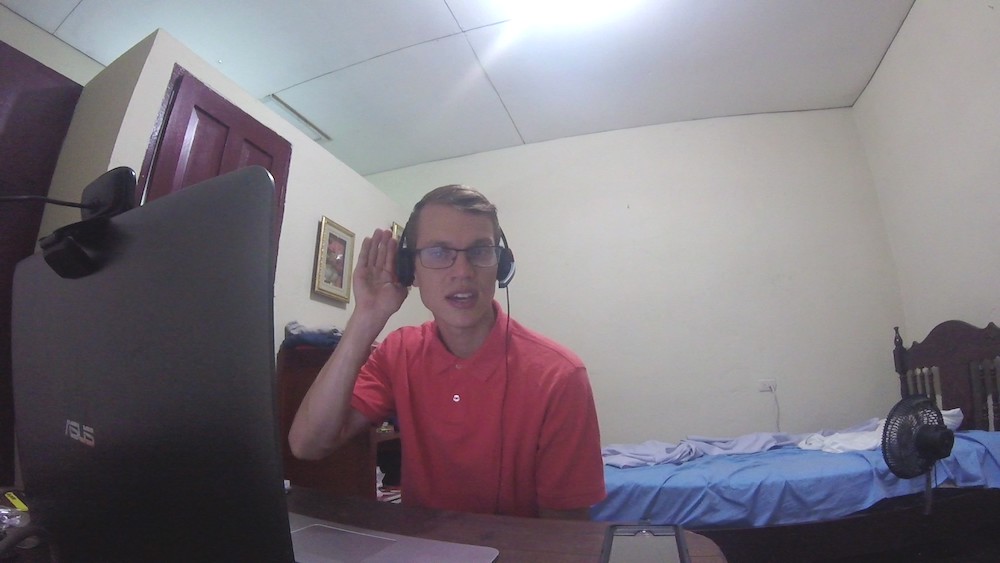 Ben, teaching English online while abroad in Nicaragua
What are your tips for Skype interview success?
Since all of my interviews were done this way, I can share a few pointers!
Look presentable – Wear a decent shirt, make sure the room and space behind you are clean, and use good lighting.
Your teaching environment is really important to employers, so it can be good to set up your background as if you were actually teaching a student. That could be just a plain wall or having some educational posters visible, a small whiteboard, or even teaching props.
Be prepared – Make sure that you have your microphone, audio (including headphones if you plan to use them), and video set up and functioning properly before starting the interview. Test them all! This is especially true for an online teaching job so you can show you are prepared and comfortable with the basic tools. It gives the employer confidence in your ability to teach online.
Smile! Having a positive attitude and creating a friendly environment is extremely important with any kind of teaching, but this is especially true for teaching online. Relax and have fun! I've had multiple interviewers for online jobs actually tell me that they want me to be silly and goofy.
How did you know the online companies where you applied were reputable? What are your recommendations to make sure of this?
I made sure to do plenty of research before accepting my teaching position. There are tons of different companies out there which can be a bit overwhelming, but make sure to do your due diligence before signing a contract or sending your personal information.
Let Bridge connect you with Preferred Employment Partners
If you want to be sure you apply only with trusted schools, you can connect with Bridge Preferred Employment Partners. Preferred Partners are fully-vetted online tutoring companies Bridge works closely with who are actively seeking qualified teachers.
Do your research
If you decide to search for jobs on your own, such as on the Bridge Job Board, be sure to click on the school's profile within the ad to get all the details about the school, such as location, pictures, and all open job opportunities. This can help to give you a better understanding of the school.
You can also find a lot of reviews and information through Google, Facebook, and word of mouth.  If you aren't able to find much info, don't hesitate to reach out to the company and ask specific questions. Here are some suggestions on what to ask:
How am I going to receive payment and how often?
Who is the contact if I have technical issues?
Do I have to work a minimum number of hours per week?
Do I choose my schedule?
Are tutors reviewed? If so, by whom?
Are there opportunities for bonuses or advancement?
If the company isn't legitimate, they probably won't spend much time answering your questions.
Can you share some advice creating an awesome TEFL resume?
Whether you're applying for an online or in-person teaching job, a TEFL resume is recommended. It's a little different from an ordinary resume.
Put your TEFL training front and center, especially if you've earned specialized certification in teaching English online.
Include a picture of yourself – Employers want to put a face to a name, so having a smiling, professional-looking headshot on your resume can make a good first impression.
Highlight teaching experience in a separate section from the rest of your work experience. If you don't have any, that's okay! You can always focus on non-teaching skills you used that prepared you to teach (such as multi-tasking or being in front of people). Also, make sure to include any experience you have tutoring, mentoring, or in childcare, even if it wasn't a traditional (or paid) job.
Include hobbies and interests – Sharing a few personal interests lets employers know more about you (for example, learning a language, sports, traveling, or photography).
Also, include a section for skills that relate specifically to working online. Even if you have never taught online, showcase your computer and technical skills (examples could include IT experience, familiarity with Skype, or video editing skills).