In addition to teaching Business English in Chile, and teaching private students online, Bridge graduate Vera Baranovskaya (a former BridgeUniverse Summit presenter) also uses social media to help people improve their English skills. She started her own Speaking Club, a weekly live English-focused event on Instagram. In this interview, Vera shares how this social initiative engages potential students and helps her thrive as an online ESL teacher.
Hi Vera! Can you tell us a bit about yourself?
Hi there! I'm an English teacher from Nalchik, Russia, which is located between the Black Sea and the Caspian Sea. I have six years of teaching experience and Bridge TEFL certification.
I started teaching back in Russia while working for Pullman Hotel in Sochi, which brought me to an amazing adventure of teaching kids in Bogotá along with the AIESEC Shape Colombia project. After the project was over, I went to Chile in 2016 and I was hired by Bridge as a Business English teacher, which gave me more teaching experience and an opportunity to teach in various international companies.
How has your teaching experience in Chile been?
It has been very interesting because I have had lots of opportunities. I still think that Chile is a country of opportunity. There are lots of things to do and many cheap flights to nearby countries. I really enjoy my stay here.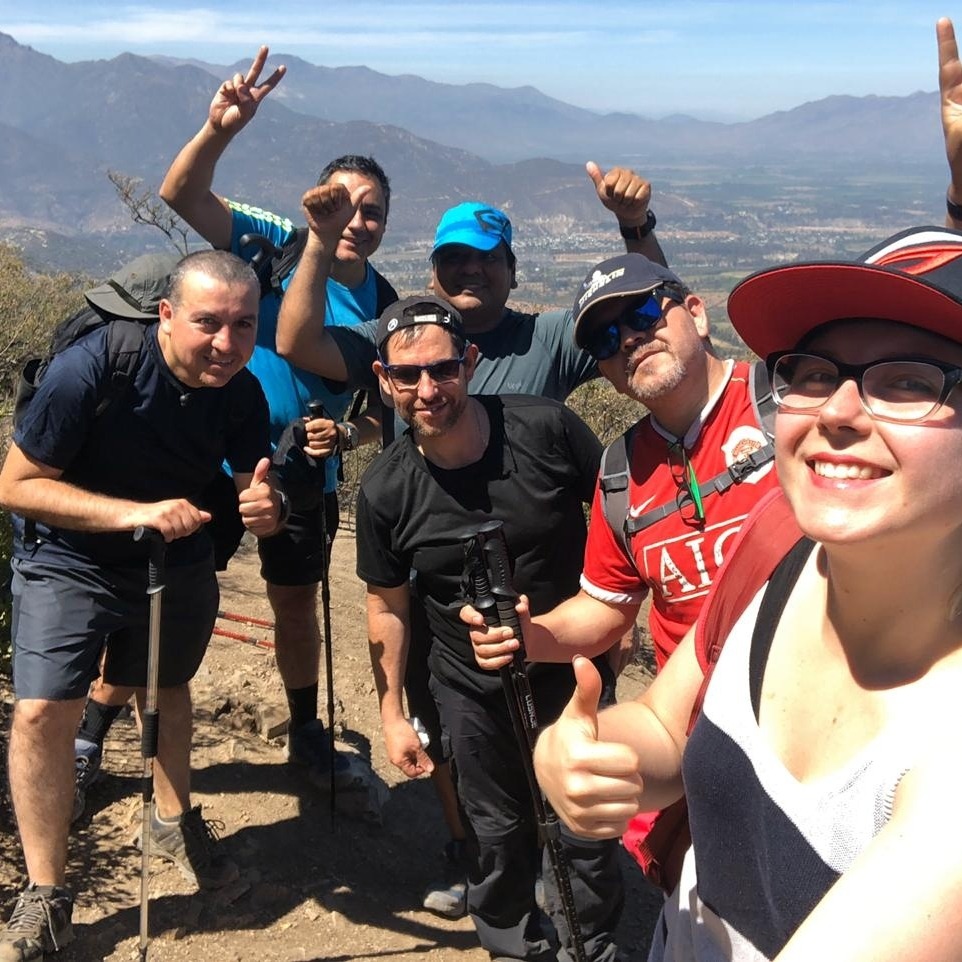 I taught a couple of courses in a different institute for a couple of months and then I started having private classes. As a result, I was hired by an insurance company as a full-time, in-company teacher. I had at least 20 students there. Actually, it's been my best job so far.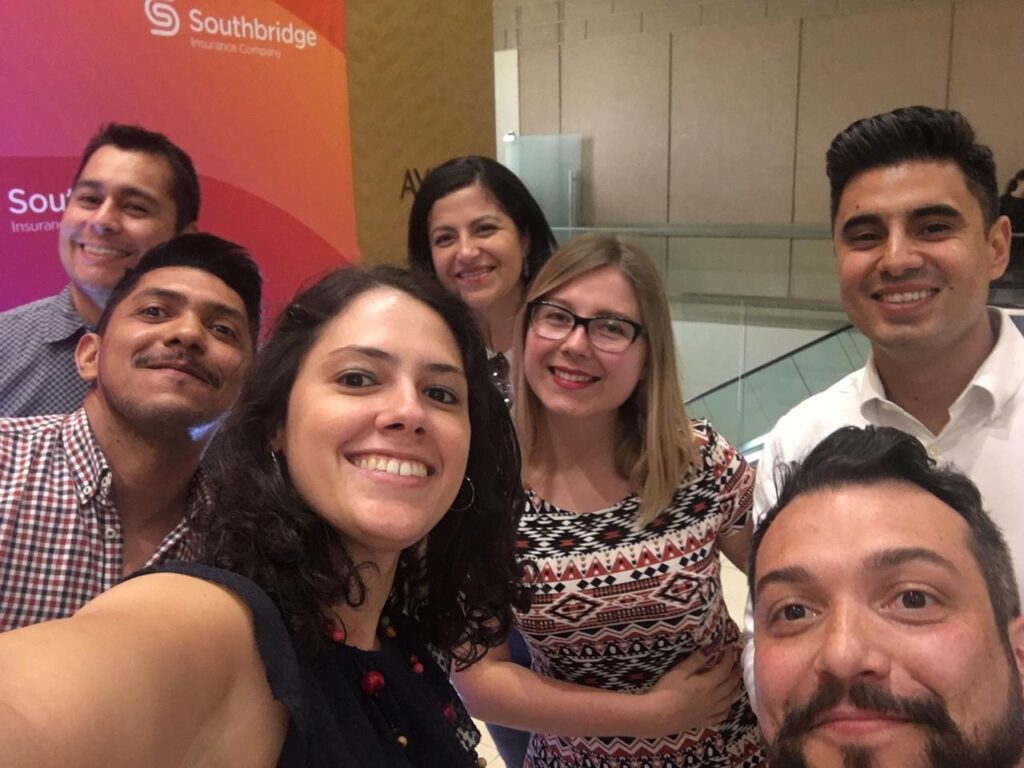 You returned to Russia temporarily when the pandemic hit, and taught English online. How did you adapt to the online classroom?
I was scared at first because I hadn't experienced teaching English online. I found out about Zoom and researched how it works. I started learning about the buttons on the platform, and I figured out they have the same functions as the tools I use for teaching in a real classroom. I can have a whiteboard and I can share my screen and sounds from my computer, which is pretty amazing.
I was very nervous about my first class but it was just fine. It was just like a normal class.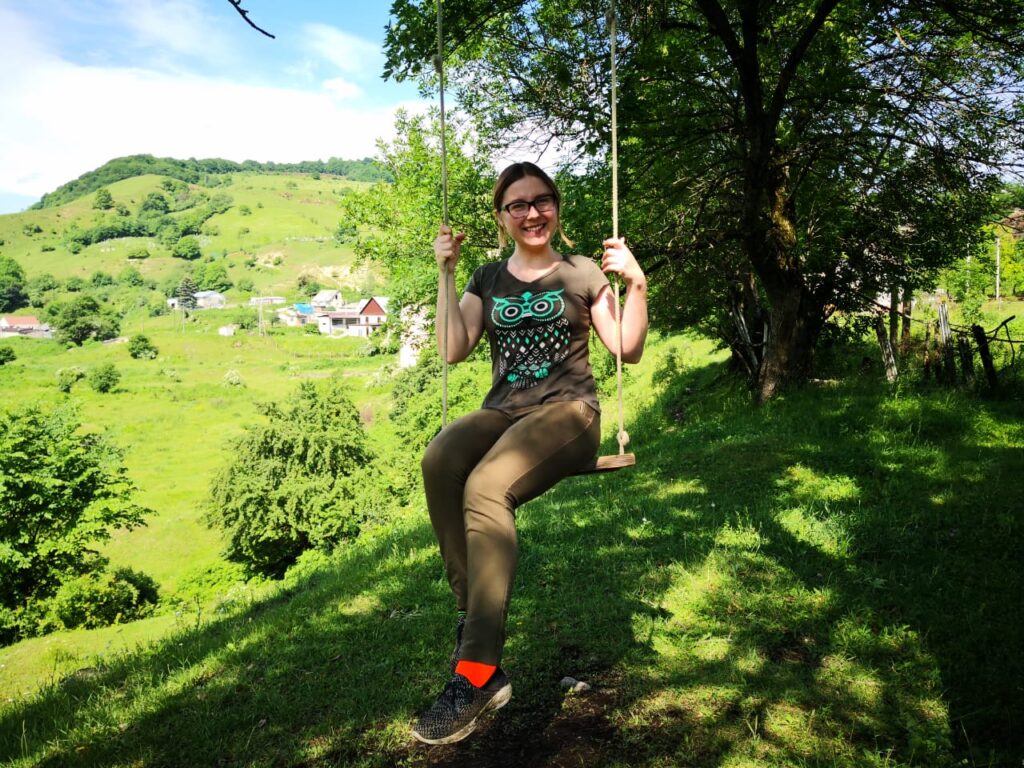 Your current job allows you time to travel and work remotely as a digital nomad part of the year. Where did you go in 2021?
From March to July I visited five countries!
I'm fascinated by Colombia so in March I got cheap tickets to Bogotá, booked a nice Airbnb and left Chile with an idea of visiting Central America and Mexico.
About one and a half months I spent in Colombia, working from home and meeting new people, that's how I met a girl from the Cambridge University who later joined me for my trip to Guatemala where my improvised desk had an incredible lake view and then Mexico where I tried diving for the first time.
In Costa Rica, I was lucky enough to be visited by my friend from the US so we rented a car and went across the country in 5 days! Girls are powerful 🙂
Were there challenges?
Yeah, plenty.
In the Panama airport, they took my passport and brought me to a hotel in the middle of nowhere to do a 3-days quarantine but it got better when I figured out that the WiFi signal was strong enough to teach.
Yes, you need to be careful all the time as female solo traveller.
Yes, it can be challenging to organize your life and move somewhere else every couple of weeks.
Yes, you get really nervous when WiFi goes down and you can do nothing while your students are waiting.
Would I do it again? Definitely.
For many people, including myself, it's a childhood dream – to work and travel at the same time. Being a digital nomad is possible today, why not take advantage of it?
Where are your current private online students from mostly?
Actually, all my online private students nowadays are from Chile. These people really appreciate me as a professional and they still write to me whenever they have to improve something or if they have a speech or a very important presentation.
I also organized the Speaking Club, through Zoom, for my students in the last company I worked in because we became like a family and I don't want them to lose their skills while they are at home and they don't have any opportunity to practice their English. So, this is for them to have at least one hour to speak with me – for free! I just want to help.
What sorts of activities or topics do you incorporate in the Speaking Club?
I try to prepare something new all the time. I usually start with some warm-up activities, as some people don't know me. Then they introduce themselves. I also try to make some jokes. After we start speaking with random people in the class, I ask some questions or bring up topics to discuss. Last time, it was about a healthy lifestyle and we laughed a lot!
Actually, I start with some random questions like, "If you had $10,000, would you spend it for traveling?" or, "Do you like traveling?" Then I prepare other questions and we talk about them. I try to make it personal all the time even if we talk about lifestyle or traveling. I try to understand what people like and get them talking about it passionately.
I usually end the class with a short video so they can practice listening, then we share their ideas about it.
You later opened the Speaking Club to a wider audience through live stories on Instagram. Why did you decide to take this activity to social media?
I decided to share it with people who already knew me as a teacher and most of them follow me on Instagram, so they were on my mind. When I realized that so many people are stuck in their homes with no chance of practicing what they'd learned, it made me feel frustrated! So, I started with a couple of trial Speaking Club sessions for free, considering the crisis.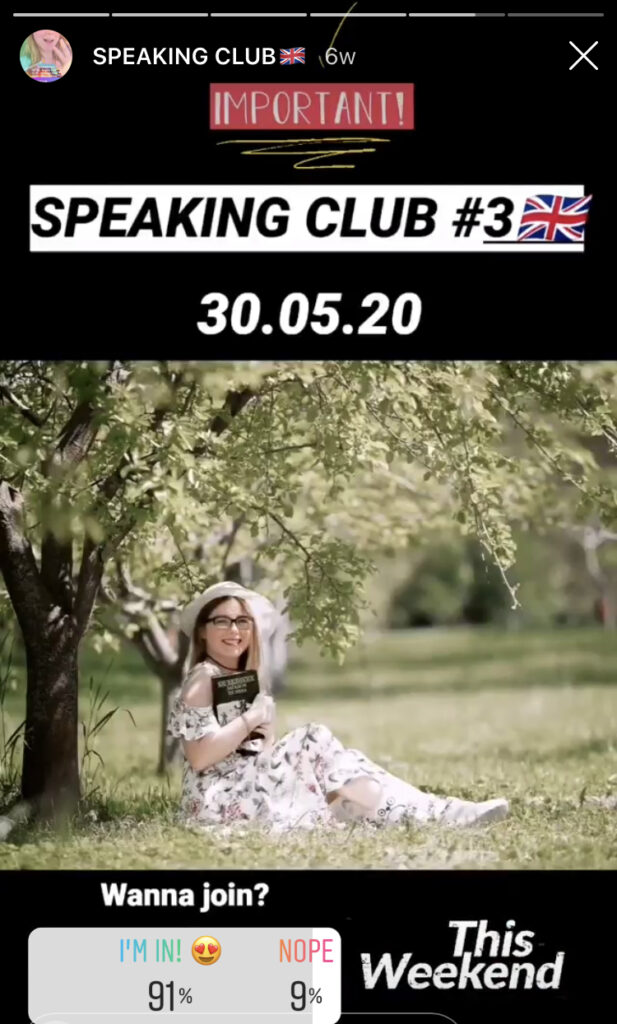 How has social media has helped you in terms of marketing classes and or getting students?
I have to confess I have no idea how social media works. But in my case, I had a person who came to the Speaking Club on Instagram because she wanted to improve her English. After the class, she told me, "It was so good! I enjoyed it so much and I want to have classes with you!"
I also know a couple of people, like an acquaintance of mine who has, I think, 700 followers on Instagram, then in a couple of weeks, it grew to around 2000. He got a lot of students and he works hard on his web page, Instagram, and Facebook ads, like always posting something about English. He's also got an amazing British accent, so people are really interested. It was a very good example of how you can use social media. If you pay a bit of attention to your social media, it could be very useful.
Before my Bridge TEFL course, my teaching was mostly intuitive reinforced by some training during my teaching experience in the AIESEC project in Bogotá, Colombia. After I received my certificate in Chile I actually felt that teaching was something I would love to do for the rest of my life as that's the way I personally impact the world – shaping it by means of communication.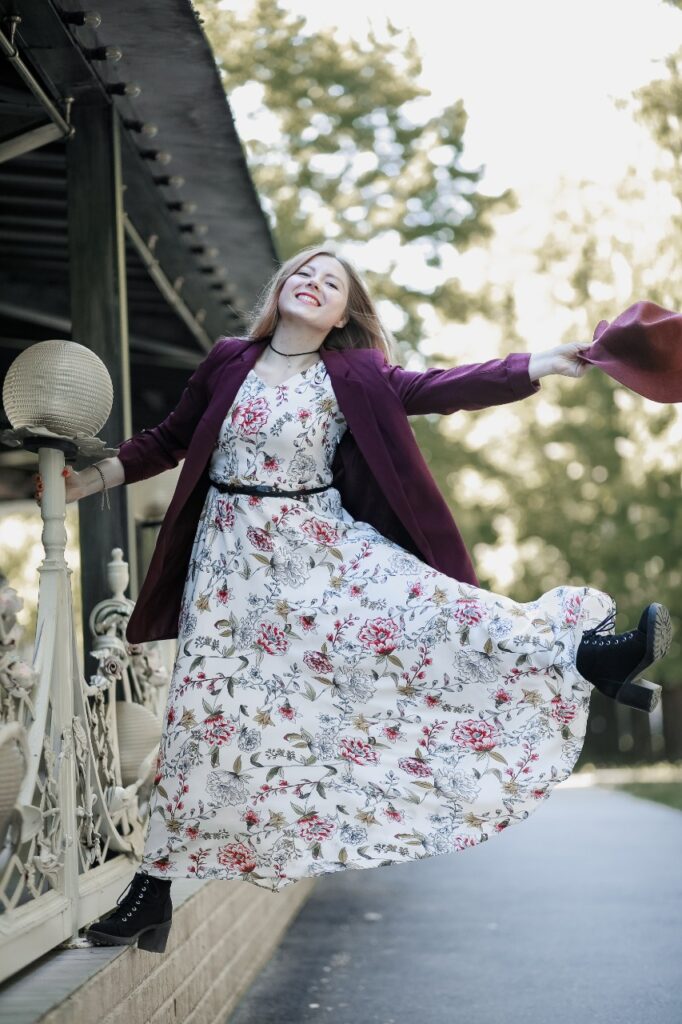 What are your future plans?
I want to go to China because I know that they need teachers and I know that this profession is very respected there. The place would depend on what they can offer because they have lots of schools there. I already had a couple of interviews with Chinese companies and most of them ask if you want to live in a big or small still city. I want to teach in a small town, and I would also love to learn Mandarin Chinese.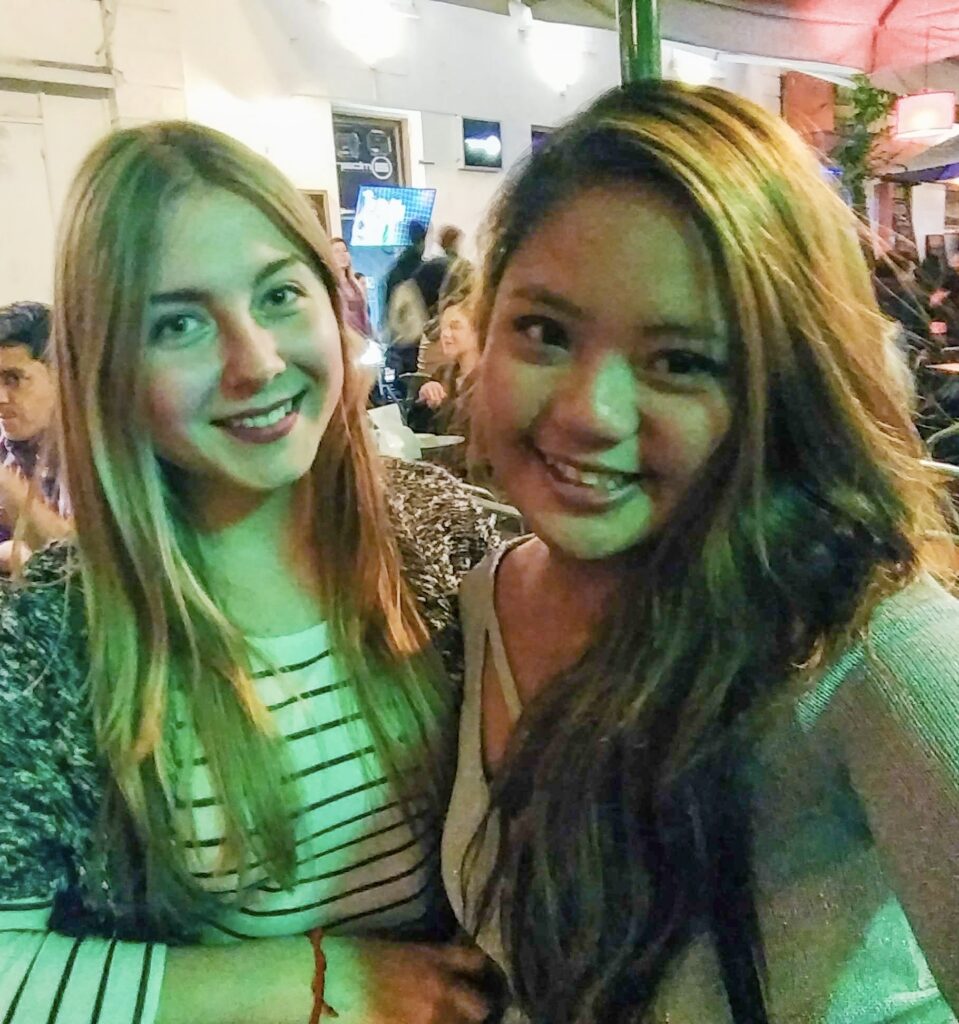 Want to teach English like Vera? Explore our online TEFL courses to get started!