Bridge Graduate, Lauren, Teaching English in Asia!
By Bridge
April 2, 2018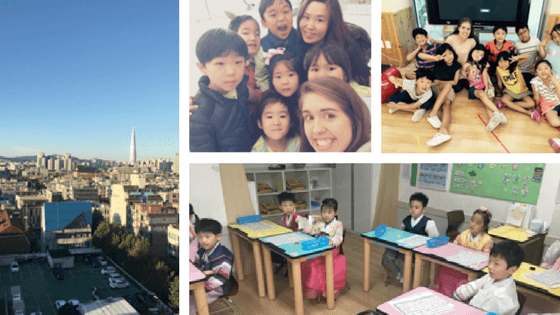 Lauren, 26, is a BridgeTEFL graduate from Atlanta, Georgia. After graduating college and becoming certified with us at Bridge through TEFLOnline.com, she moved to Taiwan and taught English there for two years. Now, she is teaching English in South Korea, where she recently completed another, more advanced BridgeTEFL course, the university-level IDELTOnline.  She walks us through her life, students, and adventures as an English teacher abroad in Seoul, South Korea. 
How did you pick your teaching destinations, and how did you find your jobs? 
I actually started teaching in Taiwan first and lived there for 2 years. I was hired by a school there through a direct application on their website back in 2013. My college roommate, Anna, had traveled with me to Taiwan but was really interested in Korean culture as well. I fell in love with the sound of spoken Korean and was looking for another adventure to try out.
Around this time, I also received an email from the school I had been working for because they were looking for teachers to move to their international branch in Korea. It looked like fate to me, so I went with it and let things play out as they did. After a year at their school in Korea, I went through an online recruiter (Reach to Teach) to find a position with a different company in Seoul.
Was the TEFL course you took good preparation for teaching abroad?
Yes! By itself, the course was thorough and taught me as much as an online course is able to teach. I had also added the extra endorsements of Teaching Young Learners, Business English, and Grammar Advisor. I think the endorsements are what really gave me a leg up because they covered aspects that a lot of TEFL courses didn't. I was especially grateful for the theories that were taught in the Teaching Young Learners course. I remember sitting through lectures in the training my first school provided and already knowing most of what they were talking about because it was something that had been covered in the TEFL course. It is actually because of my positive experience with the online TEFL course I originally took that I have decided to re-enroll in the IDELTOnline course.
Did you know the language when you arrived, and if not, was it hard to manage without speaking it? 
My move to South Korea was actually quite sudden. I first started considering it only a month before the move was actually made. So, I had little time to prepare. I had started studying some Korean online and through an app, but arrived really only knowing a few vocabulary words and being able to read Korean characters at a rather slow pace. I was fine. The Korean language actually has a lot of words that are really similar to English words, and you can always point at pictures and make gestures if needed. I've worked with others who have come to South Korea completely unable to read any characters or speak anything at all, and they functioned very well. In Seoul, as well as most of Gyeonggi (the province that surrounds Seoul) there are signs in English everywhere. Also, children here start learning limited English in Elementary school, so most South Koreans (especially the younger generations) know a little bit of English.
What are some of the things you like best about living in South Korea? 
I definitely have to put food at the top of the list. The food here is phenomenal. It's delicious and seems to leave you feeling healthier as a lot of it is less greasy and less salty than food in the U.S. I especially enjoy Korean Barbecue and Ddeokbokki (Spicy Rice Cake). Be careful though because the definition of "spicy" here is on a different level.
I also really like the style. It tends to be quite a sophisticated style and very modern and trendy. It is very easy to go shopping in Korea, whether for clothes or beauty products or anything else.
Transportation is also really easy to use. With about a million different bus routes and a huge subway system, it is very easy to get around Seoul and into Gyeonggi. You can take the train to other parts of Korea with no problem at all.
Finally, I would have to say I like the attitude here. It's generally a very friendly and kind attitude but can be aggressive and competitive. I think living in South Korea has inspired me to be more proactive in my life and to try things I would not have tried otherwise. The competitive nature of Seoul really makes you want to do your best and prove yourself. It's really a great challenge.
Can you walk us through a typical workday teaching in South Korea?
I arrive at the school before 9:50 a.m. We have 30 minutes of morning prep time before our first class starts. It's a good time to go through and get all of your books ready for the day.
My first kindergarten class starts at 10:20. I teach two different classes over a 5-block schedule, both classes being the same age. Each block is 40 minutes with a 5-minute break in between. So, I teach three classes in the morning, then I have a 45-minute lunch break at 12:30. At 1:15, I start my last two kindergarten classes of the day.
After Kindergarten, I have another planning period for about 25 minutes. At 3:05, we start our classes for the elementary school students. They also have the 40-minute classes with a 5-minute break in between. The classes go on until the end of the day. Sometimes, you won't have a class for one of the 40-minute blocks, and we get to plan for our other classes, make schedules, write comments for students, grade essays, and finish other administrative work during that time. Depending on the day of the week, we finish anywhere between 6 and 8:30 p.m.
The after-school academies in Korea tend to have much tighter schedules with a lot more teaching time. I like it more because you won't get bored.
What was hard to adjust to about living in South Korea?
After already living in an East Asian country, it was easier to adjust to some of the things a lot of other expats complain about.
For me, the most difficult parts to adjust to were the short vacation times and the food compost. At private academies in South Korea, you typically only get 10 days of vacation time in addition to national holidays. You don't get to choose when to take those vacation days either. It's still something I have a hard time dealing with. As for food compost, it's a change that was needed in my life but that I wasn't prepared for. South Korea is really sophisticated with their waste management. You have to separate your recycling as well as your food waste from your trash or you can face serious fines. Growing up in the U.S., I was not entirely prepared for that. It's definitely helped me become more aware of my waste habits though, and I am now grateful for the challenge.
The most difficult part of living overseas though is definitely being away from family. It takes 15 hours to fly directly home for me from Seoul, and a lot of money. Our time zones are 13 hours apart, so even communicating through video chats can be difficult. Moreover, your lives are completely separate with very different spheres of people and types of food and routines, so you have to put in a conscious effort to stay in touch with your family. It's important though because being so far away from home can become quite lonesome sometimes in a culture and country that is different from yours.
What do you plan to do next?
After I finish my IDELT Online course with Bridge, I am hoping to enroll in a graduate program and pursue a Masters in TESOL. I am not finished with my traveling yet so maybe in a year or so from now, I will head off to another country. Right now I've got Japan, Finland, and Bali on my mind. Of course, I never really had a plan for coming to Korea, so who knows where I will end up.