Donald's Journey From U.S. Public School Teacher to TEFL in Asia!
By Jennifer Collis
February 1, 2016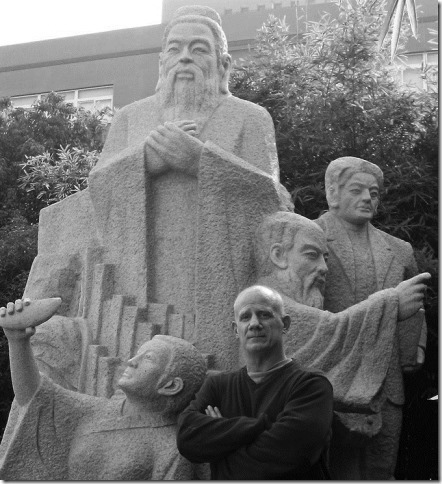 Donald is a BridgeTEFL graduate with an interesting story. Already an educator in the Arizona public school system, he earned both the TEFLOnline.com Diploma and the Cambridge CELTA certificate with Bridge.  He went on to teach in English at Bridge English School in southern Taiwan and then at Ningbo City College of Vocational Technology in the Sino-U.S. program classes and at Taizhou university in mainland China, where is today.  
During his time teaching abroad, he conducted a five-year educational research study and has written an article on teaching methodologies that was published by the University of West England, and has even been featured in the China Daily Newspaper for his innovative classroom methods.
Read on to learn more about Donald's experience as a teacher in Asia, in his own words.
You started your overseas adventure in Taiwan. What motivated you to teach abroad and how did you choose that country?
Teaching overseas has many benefits to better understand teaching and classroom methods and how "we" acquire language function. Taiwan was chosen as my starting point in part because of the ease of obtaining a teaching job and associate visa. This also allowed me to study the students and their language acquisition skills and ability in an Asian working environment. This prepared me for the transition to teach in Mainland China where the State policies regarding education shifted from skill acquisition to rote learning.
The secondary motivation in teaching overseas was the opportunity to assess what foundation skills and curriculum were critical in teaching language acquisition and core communications functions. Despite efforts in state-sponsored curriculum to teach students some English language skills and functions, it became apparent that the chosen curriculum left student deficient in basic communication skills.
The method I applied to better understand this was teaching in a country without any local language function and study what basic communication skills were needed to survive in the overseas environment.
What was the hardest adjustment you had to make, living in Asia?
The most striking difficulty in both working and teaching overseas is cultural differences and how they compare and contrast to the United States' working and social environment. After a few years overseas I better understood why many foreigners wanted to only associate with other foreigners or felt a need to go home for vacations and holidays, as they could not integrate into the local environments. This has a very limiting effect on the ability to teach efficiently, and ultimately results in inferior results for the students. (Caveat: I have remained in Asia during my tenure in teaching for the last six years.)
What general advice do you have for people planning to teach in China or Taiwan? 
General advice for those who aspire to teach overseas would be to invest some time in learning about where it is you think you want to go to teach. It has been my experience that many "foreign experts," and not teachers, have little to no teaching ability and simply perform to entertain the students. This "paid" vacation might seem like an ideal way to visit another country, however it dilutes the ability of those of us who want to actually teach and makes it difficult to effectively ply our craft and trade.
Do you have any particular advice for those who are already teachers in the public school, like you were?
General advice for my teaching peers would be to take time to teach overseas, even for a year. The exposure to other cultures and how their students learn and interact confers a substantive advantage in how we interact and teach in our home country.
What would you tell any person who contemplates working overseas?
When living and working overseas for the first time, prepare to feel lost, a little helpless, and uncomfortable. Everything from living accommodation to food will be very different.
Are you interested in teaching English in Asia? You don't have to be an experienced teacher like Donald. We offer Teach Abroad Programs in China, Thailand, and Vietnam through which you can be placed into a paid, supportive teaching job, often with housing included. Learn more by clicking here!