Meet Sid, Bridge Grad Teaching English in Chile and Online
By Krzl Light Nuñes
August 7, 2018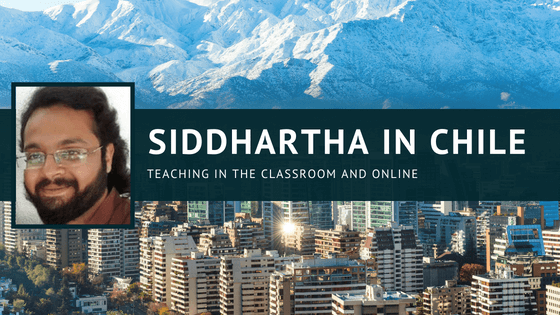 Hailing from India, ESL teacher, and Bridge IDELT – Chile graduate, Siddhartha Bhattacharya, has been teaching English in different parts of Chile for three years now, as well as teaching English online. Here, he shares his journey to becoming a traveling English teacher in Chile, working both in the traditional and virtual classroom. 
What is your background and how did you become an English teacher?
I'm from India and I've spent all my life in India. Five years prior to coming to Chile, I finished my post-graduate degree and then I started working in human resources. When I decided to move to Chile, I thought of continuing work in human resources because I loved it, but it wasn't that simple because of the language barrier; when I came to Chile I almost didn't know any Spanish so the only option left for me realistically, as well as something that I would love, was teaching English. But before that, I had to equip myself with the necessary skills to become a teacher so I took a one-month intensive classroom TEFL course in Santiago.
How did your TEFL certification help you get a teaching job in Chile?
I took the one-month IDELT course, which was carried out by Bridge. After that, Bridge absorbed me into the company as a freelance teacher.  Subsequently, a couple of months later, I started working with another institute simultaneously. That's how I got into this field slowly and steadily gained a foothold in this industry. Last year, I was also working on a specific project up in the north. Now I have returned to my old life in Santiago.
Why did you choose to get TEFL certified?
I chose to be certified because it's a requirement for most institutes. Also, as I was realistic, I realized that nobody would give me a lot of practice just like that, given that I was from India and not many people know about India or about Indian people's skills in speaking and teaching the language, so I knew I had to get a certification to validate my skills, which is why I did it.
Did the TEFL certification help enhance your skills as an English teacher in Chile?
Absolutely. I think most of the skills that I learned – the course was more about teaching than English itself – and most of the things that I use in class right now are thanks to all the things that I had been taught in that one month, so it was a very important learning curve for me.
Browse accredited TEFL certification online.
What ages and levels of English student do you teach these days?
The age group is between 27 and 47, though I had a few students that were younger and older than that bracket. I teach all levels, starting from absolute beginners to people who want to prepare for the IELTS or TOEIC (standardized English proficiency tests).
Do you teach online English classes?
Yes. The other institute I work for, E-Class, started to give me online English classes in April of last year, and then I became busy. I sporadically get online English classes from them these days.
What are the pros and cons of teaching English online?
I like doing online English classes mostly because it gives me the flexibility to be at home and not go anywhere, not travel while teaching or having to teach. The classes are super simple and very short, too. The obvious disadvantage is I don't have a whiteboard at my disposal so I cannot write the way I do in a normal classroom setting.
What lessons have you learned as a TEFL teacher?
The biggest thing that I've learned is to identify the learning type of students. Once you know your students, what ticks them off or motivates them, and what their aspirations are, it becomes a lot easier to plan your classes. And you cannot treat them like kids. Although some of them behave like kids, we cannot treat them like kids. So, you have to know what works for each and every one of them; you cannot have one tailor-made class for all of them.
Another thing I've learned as an English teacher in Chile is to be flexible as to what the students' objectives are, why they are taking the course, and what would be the best or the easiest way to get them to learn and speak the language.
What is your typical workday as an English teacher in Chile?
I work for an average of 35 hours a week as an English teacher in Chile. I like to keep myself as busy as possible because I know that there will come a time in the future when I will not be that busy so this is my time of the year, I prefer early morning classes because that gets me into the rhythm. That also means that if I'm starting that early I have the opportunity to teach more classes in the day. For the sake of getting myself up and running, as well as from the financial perspective, I like to start my days very early, such as 7:30 a.m. if possible. Some days I go until 10 p.m. but generally I finish by 7 p.m. or 8 p.m.
What languages do you speak?
I speak 3 languages fluently: English is my first language, Hindi is my second language, and Bengali is my mother tongue but that is my third language. I also speak a bit of Spanish as much as it is required to get around in a Spanish-speaking country.
What are the benefits of being multilingual when teaching English?
Your ability to think from different perspectives and your ability to get different points of view. I have heard bilingual people say that they get their words mixed up; for me that doesn't happen and I really can't understand how that happens because if I speak in one language, I'm thinking in that language and more often than not, that's English.
I also think the biggest advantage of it is thinking in different ways and also being able to express yourself. As a teacher, it helps me identify what problem areas a student might have in learning English. If I can think in Spanish, then it's a big advantage.
Learn about strategies Sid and other non-native English speakers use to teach English. 
What is your advice to aspiring TEFL teachers out there?
If you do believe in yourself, if you do believe in your qualities and you like teaching, this is definitely a very good field. Even though it might seem like a lot of hard work teaching, traveling, standing in classes, and then walking around to your other classes, it is extremely rewarding when your Chilean student manages to tell you a story about what he did the previous weekend completely in English, or when your advanced student gets an A when she was expecting a 7.5 in her IELTS. So, it's a great field to be in and also because when you're teaching a small group of people, the people get to know each other and the entire group is very tight-knit so you will have a lot of support from your fellow native speakers and non-native English speakers.