Camille Turner, Globetrotting TEFL Teacher in South America
By Bridge
February 15, 2019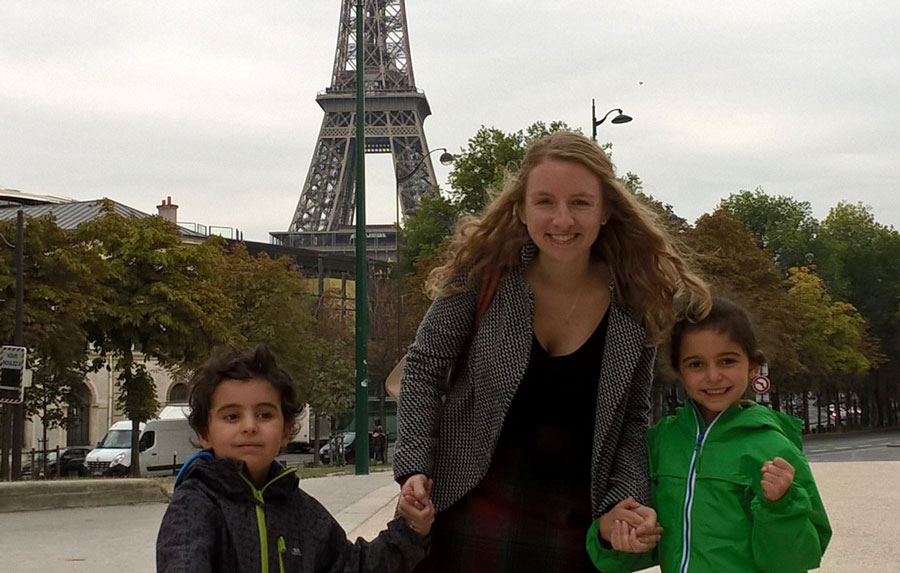 BridgeTEFL graduate, Camille Turner, has taught English abroad in France and Italy and is currently a TEFL teacher in South America. In addition to her teach-abroad experience, Camille has taught online English classes and worked with students of all ages. She discusses how she began her teaching journey and how her Bridge TEFL certification helped her prepare for her career abroad. 
Can you start by telling us a bit about yourself?  
I'm a 27-year-old American, and I graduated with a B.A. in English Language and Literature from the University of Mary Washington in 2013. I also minored in French Language and Literature, as I've always had a love affair with French culture. Since my college years, I've embraced the idea of being a Renaissance woman, having many interests including literature, writing, languages, historic preservation, archeological studies, traveling, politics, and teaching.
My philosophy has always been to have as many experiences as I can, and I suppose that's partly why I've already worked in a myriad of places.  I've had the opportunity to work at the stunning Palais Galliera (France's national fashion museum) in Paris, the bustling U.S. Senate (I was part of U.S. Senator Warner's staff), and the small but charming Greenbrier Historical Society and North House Museum in West Virginia, U.S.A. I've lived and taught in Italy, France, and Colombia and have been a freelance writer for many companies over the years. I currently write SEO content, book reviews, and French and English language learning articles for FluentU. 
How did you get into teaching English abroad?
I have wanted to travel internationally as long as I can remember. In 2016, I decided it was time to get started, and I began considering how I would fund myself while traveling. While freelance writing is wonderful, it doesn't exactly solve the question of visas. I volunteered to teach immigrants in Virginia back in college and recalled how much I loved teaching people from all over the world. At that point, it just made sense to try and find a way to teach English while abroad.
You've taught in France, Italy, and now Colombia. Can you give us a timeline of when you taught in each and share how you chose these locations?
I spent the entire summer of 2016 in Ravenna, Italy teaching several young boys from two different families who had decided to set up a sort of English summer program for their kids before school started. I found their advertisement online, and from the moment I spoke with them, we all knew we were a good fit for one another. I had dreamt of an Italian summer with beaches, gelato, and pasta, and so this opportunity just seemed like serendipity. It turned out to be everything you see in the movies and more, with afternoons spent on the beach and weekends spent wandering the streets of all the major cities—Milan, Rome, Florence, Venice, Pisa. It was a dream come true!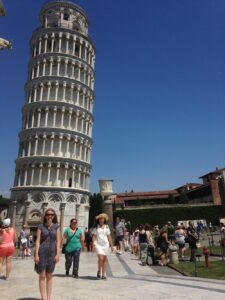 Camille posing in front of the Leaning Tower of Pisa in Italy
Before that opportunity had even ended, I found an advertisement for a home school teacher for the 2016-2017 school year to teach kindergartners in Paris. The father of the children is Italian, and so the family was vacationing in Italy that summer, and we got to meet one another. We all got along so well, and I decided to leave for Paris that fall. I spent the entire school year (September 2016 – June 2017) in Paris and ended up prolonging my stay beyond that earlier because I had met my husband that January. I spent the summer working at the fashion museum and teaching private English lessons, and my husband and I were married in Paris that October.
While my husband was born in Paris and is a French chef, he is actually of Colombian nationality and grew up there. I had done extensive traveling in Europe during my stay there, and so after we got married, we decided it was time for another adventure, this time in South America. We moved to Colombia in November 2017 and have been here ever since, though we are now awaiting my husband's visa so we can move yet again, this time to New York City. Since moving to Colombia, we have lived in the small town of Villa de Leyva and the larger city of Tunja and have visited much of the Boyacá region and the Amazon Rainforest where we were fortunate enough to see some of Peru and Brazil as well. During my time here, I've taught online, taught small groups of adults in my makeshift classroom at home, and taught high schoolers in a private school.
You've taught in countries with three different languages. Do you speak French, Italian, or Spanish? If not, how did you handle that?
I am fluent in French, but I only know a little Italian and Spanish. I'm currently studying Spanish whenever I can. I have actually become so accustomed to not understanding everything around me that now I find it very strange when I go back to the U.S. for a visit and can comprehend what everyone is saying!
I'll never forget my first experience abroad in Italy when I was out on my own at a restaurant trying to order food and wine using my Rick Steve's travel guide which was full of useful phrases. It was a tiny place with the tables all crammed very close to one another, and when I had finished my broken Italian phrases, all of the waiters and clients eating there started clapping for me! They were all listening and applauding the fact that I had tried to speak their language. It was quite the warm welcome, and I immediately learned that as long as you try to use their language (and use lots of TPR!), people will generally meet you halfway no matter where in the world you are. As for my ESL students, not speaking the language benefits them as they are forced to try to communicate with me in English.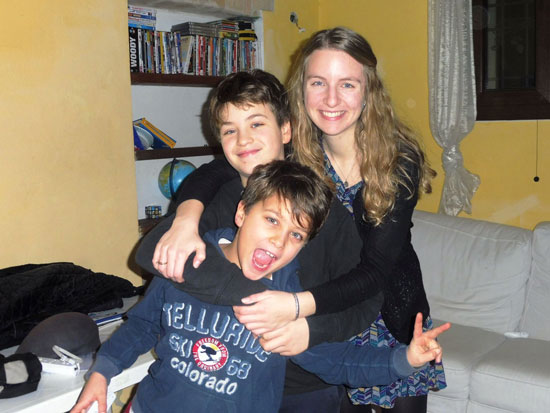 Camille with two of her adorable English students who she now considers like family.
You're now teaching in Colombia, but not in a major city. What's it like where you live?
I am in Tunja now which is in the Andes Mountains. It's very different from any of the North American or European places I've been to. There are plenty of vendors selling fruits on the sides of the busy streets, and the seasons never change which is something I'm still not used to! When I lived in the smaller Colombian town initially, it was very difficult to find teaching materials (and even now, to some extent), so I had to craft most of my own or get really creative. For example, I had to ride the bus one hour away to find a whiteboard, so before I could do so, I had taped poster paper to large cardboard boxes as a makeshift board, if you can believe that.
Tell us about your current teaching job.
I currently spend many hours teaching online, but I also have a Colombian student who takes private TOEFL preparation lessons with me (sometimes in person and sometimes over Skype), and I teach high school students at a bilingual private school in Tunja. I teach both English speaking and English composition in the afternoon, so a typical day would include four 45-minute speaking and composition classes for 7th to 11th graders.
You took the BridgeTEFL 120-Hour Master Certificate + Guided Teaching Practicum course. Describe the GTP part of your training. How did you complete your observation/teaching hours? Do you feel these two courses prepared you for your own classroom?
Yes, that's correct. I cannot recommend the Guided Teaching Practicum enough! I had read so many articles about how it is essential to have a GTP as part of your TEFL training, but I knew that living in a remote town in Colombia, there weren't any schools that offered it. So I completed my observation in a private school an hour away, where I sat in on classes for students of all ages and which covered all of the English teaching skills. I was able to do this because my husband knew the principal of the school.
For the teaching hours, I created my own classroom out of my house and invited people from the town to attend. I would then videotape the classes and send them to the principal of the private school so she could provide feedback. It was quite the setup! Honestly, teaching and observing for the GTP were essential to help me feel confident when I started teaching larger groups of students later on.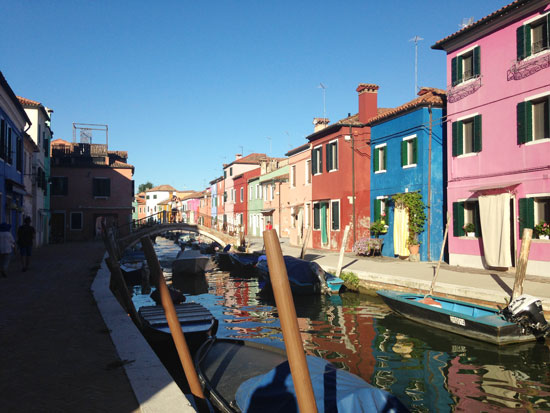 The famous canals of Venice, Italy.
You mentioned that you have taught English online. Can you tell us more?  
Yes, I teach online for two different companies. I teach for Speaken, which is a French company where I give conversation lessons to adults (usually in France). I can teach as many hours as I want for them, and I usually do around five each week. I've been with them since living in Paris; I found their ad when they were just starting up two years ago.
The other online company for whom I teach is Magic Ears. They are a wonderful Chinese company, and I teach classes with up to four students at a time. The ages that I've taught have ranged from 2-14. They recruited me when they found my resume on Indeed, but the only reason I was qualified to teach for them was because I had already received my online TEFL certification from Bridge, as they require all teachers to be certified. I have to wake up very early to teach for them because there's a 13-hour time difference, but I absolutely love my job as the kids are adorable and the platform and curriculum are really interactive. I try to teach a minimum of 60 classes a month for them.
These courses gave me so many ideas to implement in my own classroom! Even though I was already an experienced teacher, I greatly benefited from reading about new teaching techniques, lesson planning methods, and games and activities to use in the classroom. I particularly loved watching the videos of real classes and seeing these ideas put into action.
Get more tips on how to teach kids English, with games, activities, classroom management techniques and much more.
Can you tell us about a particular experience in your teaching career so far when you felt like you made a difference in a student's life?
There have been so many rewarding moments throughout teaching, whether it's knowing that an adult could get a job because of their new English skills or simply hearing an "I love you teacher" from a young student. The kids from the homeschool in Paris and their parents and I have all become so close that we consider one another family. Just the other day, their mom texted me that she asked her son, who had received a Spiderman comic book in English for Christmas, why he hadn't started reading it. He replied, "I'm waiting for Camille to come back and read it with me." I haven't been there in over a year, so that was one of the sweetest things to hear. That small comment tells me I've made a difference in this student's life, but he and all of the other students I've taught have certainly made a difference in mine as well!
For more information about teaching English abroad, download one of our free country guides!