Carla is a freelance online English teacher, translator, and Bridge IDELTOnline graduate who teaches in her home country of Brazil. She pursued a teaching path that would grant her more freedom on many levels. Having taught for 20 years, she used to work for language institutes until she decided to teach private classes. She has also ventured into online teaching, which has greatly benefited her in the wake of the global coronavirus crisis.
Can you tell us how you decided to become an English teacher?
I was born and raised in Brazil and I've lived here all my life. I started studying English at the age of four at a bilingual school. As a teenager, I realized how much I loved English and never stopped studying it, even when my family couldn't afford classes anymore. I've been teaching since I was 19 and I've also worked as a translator of documents, books, websites, and subtitles for TV and cinema.
You worked in language institutes then shifted to doing private classes. Why did you decide to become a freelancer?
In 2014, I started considering working for myself in order to have a more flexible schedule and be able to explore online teaching in different ways, including designing my own material and methodology. So, leaving the language institute I worked for and dedicating my time to my private students full-time seemed like the best decision. It has helped me learn a lot about life from senior citizens and zoom-in on what each student's wants and needs.
How did you build your client base?
At first, through referrals of my students. But once I started producing content in English and posting it on social media, mainly on Instagram and YouTube, the amount of potential students getting in touch has been astounding. This has proven to be one of the most effective ways of always being fully booked.
If you're interested in learning how to start your own freelance tutoring business and build a client base, check out Bridge's newest Specialized Certification Course: Teaching English Online as a Freelancer.
You ventured into online teaching four years ago. How was it for you when you were first starting?
At first, the biggest challenges were learning how to use new tools, trusting the Internet connection, planning different material and homework, and mainly, proving to students that online classes can be just as great as face-to-face ones. But the more comfortable teachers make themselves, the more students trust them, and the better classes unfold.
What's your schedule as an online teacher like now?
I make my own hours. My schedule changes depending on the weekday, but it can go from 7 am to 9:30 pm with a 30-minute break between classes. I allow myself a three-hour lunch break so I can work out as well. Working from home, it took me a few years until I found out a schedule that wouldn't wear me out.
What are some of your favorite activities or strategies for online teaching?
For me, a student-teacher relationship has always been and always will be about rapport. We might have countless apps, tools, games, and websites at our disposal, but students might feel overwhelmed at times. So, letting them experiment with new technology without rushing them, collecting feedback on how classes are going, and including fun activities such as videos, riddles, and competitions online are some of the strategies that have produced the best results.
You got IDELTOnline certified last year. Had you taught before you took the course?
I'd been doing face-to-face classes for almost 19 years before I took the IDELTOnline course, but I had never studied theory and practice in such depth.
Browse online TEFL courses to get certified.
Why did you decide to get certified to teach online?
Since I decided to become an independent English teacher in 2014, I had studied a lot about working online, digital marketing, and other subjects. But not having peers and so many opportunities to take part in training courses so often takes a toll on a teacher's overall motivation and career. I was feeling rather incomplete and outdated without a TEFL certification, so when I read about Bridge's IDELTOnline last year it sounded perfect.
How did the IDELTOnline course help you professionally?
The IDELTOnline course has helped me in countless ways. Since I have taught exclusively privately for years now, it has given me great insight on what to observe regarding each of my students' abilities. It taught me how to reflect upon my journey as a learner, how to consider different ways of learning, new ideas for activities, lesson planning, assessment, among others. It also taught me to go beyond of what I thought was right and to question my habits and beliefs as a teacher, to revisit the classroom environment after so many years and to step out of my comfort zone by planning classes for all demographics, to always have a backup plan and to redefine who I am and who I want to be as a teacher.
You've also claimed your Bridge digital badge for the course you took. How have you used it?
I've posted my badge on my LinkedIn page, but I will also certainly include it to my resume since I intend to work and study abroad in the future.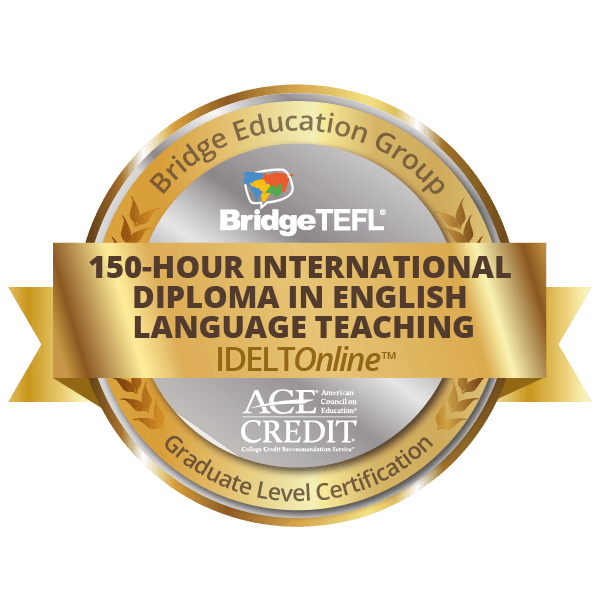 How has the COVID-19 virus crisis impacted your job?
Thankfully, it hasn't affected my work much. Until this March, the vast majority of my classes were done in person. Then, most of these face-to-face students accepted having online classes. Although it did take some patience and dedication from them to learn how to use certain tools, I'm thankful for their trust and willingness to continue learning.
Considering the situation we're facing these days, what's the biggest challenge about teaching online?
Some of the biggest challenges include showing students that online classes can be as effective and as much fun as face-to-face classes. Also, for some who had never used this sort of technology before, getting acquainted with new technology can be a little overwhelming and time-consuming.
On the other hand, what's the best thing about it?
The best and most rewarding thing is when students say they're surprised for learning something new and that they'll be able to use the new technology for other things during and after the pandemic. Many have noticed things they didn't do because they were afraid.
What are your plans for the next weeks or months as the world deals with the global pandemic?
I hope to be able to continue helping and guiding my students to the best of my ability. For a teacher, especially during these trying times, it is essential to connect to students as people who are going through challenges and have our hearts and eyes open to their needs and hopes. I plan on following through with my class plans, but also preparing myself for any other discussions my students want to have.
What is your advice for new or aspiring online English teachers?
From the technical point of view: be prepared for the worst but be flexible enough to change the course of your class when needed. Test your technology beforehand, and keep in mind that it might not work. Try to balance learning and fun as often as possible. Rely on your fellow teachers for assistance and help them as often as possible.
From the human point of view: remember your students are people who have hopes, needs, fears, and expectations. Be open to learning as much as you teach. Never underestimate the power of kind feedback. At the end of the day, it is the most rewarding job.
Teachers around the globe have been greatly impacted by the coronavirus crisis. Read their stories on how the pandemic has affected their TEFL careers.