Have you ever wondered what it's like to teach kids in countries around the world or online? Early mornings, lesson planning, extra-curricular activities, playing games, afternoon breaks, night classes – these are just some of the things you might encounter as an ESL teacher of young learners.
Meet 6 ESL teachers in regions like Asia, Europe, and Latin America who shared what "a day in the life" teaching kids or teens is like for them, in their own words.
If you're new to teaching, you'll want to get initial training and qualification with a TEFL certificate. You can explore our online TEFL courses to get started!
Carolina, from Colombia, Teaching Kindergarten in the Zhejiang Province of China
I have been teaching for over sixteen years. In Colombia, I taught English and several other subjects to young children, then I taught kindergarten and 1st grade in the USA. Now, I am teaching English in China to kindergarten children.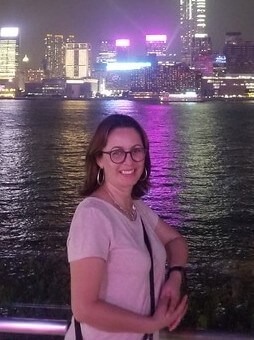 A Day in the Life of Carolina
A typical workday is busy. I arrive at the school at 7:30 am, prepare the materials for the day and get the computers running; then I go to the main door and greet the children. My first class is at 9 am. I teach a block of three hours. By 11:20 am, I have finished classes for the morning. I then have my lunch which is provided by the school and a break of one hour. During this time, I go home, have a tea, and maybe read a little.
In the afternoon, I come back to school at 1:30, usually read my email, check messages, etc. After my afternoon break, I have just two more classes to go! My last class finishes at 3:50 pm. Then I sit, plan, make copies, create materials, etc. for the next lesson plan or topic. My day finishes at 5 pm in winter and 5:30 pm in the summer.
Learn more about Carolina and her experience teaching ESL in China.
Lindsay, from the U.S., Volunteer Teaching Young Learners in Tanzania, Africa
I fell in love with volunteering and teaching English specifically during my university trip to Cambodia. A year after I returned home, I decided to apply for a volunteer teaching and childcare project.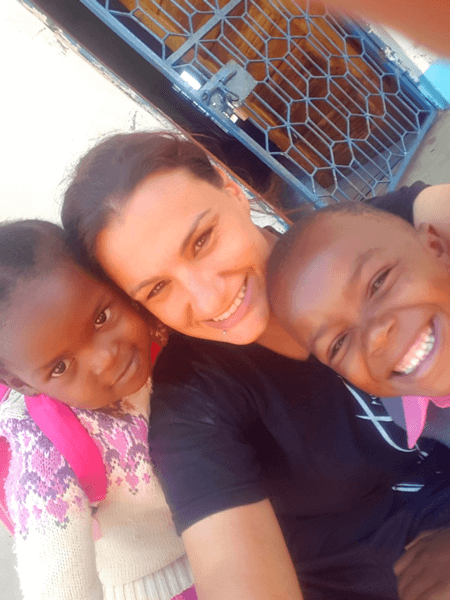 A Day in the Life of Lindsay
I taught at a local preschool run through the Ilula Orphan Program. The school was comprised of 2 classrooms, each with about 40 children and 5 staff members. My students were between the ages of 2 ½ – 6 years old, with beginner-level English proficiencies. The preschool sessions were held 5 days a week with 3 ½ hour morning classes for all students.
The day often began with both classes together for their morning movement activity, and then they were delegated to their respective classrooms for instruction. During this time, I would assist the teachers and students in all areas of classroom instruction. I'd also help prepare lessons and assist in administrative tasks. In the middle of the morning, I would prepare and implement an English specific lesson for each class. In the afternoon, I would supplement their language learning with extended English lessons and extra-curricular activities, such as soccer or art.
I spent time off with my host family, playing soccer, teaching English to my host siblings, or running soccer programs and other activities for the children living at the Ilula Orphan Program center.
Read more about Lindsay's teaching experiences.
Stefano, from Jamaica, Teaching Kindergarten in China
I wanted to experience and explore for myself the wonderful opportunities that people I've heard from had told me about or had spoken about in testimonials online. I wanted to earn a good salary to support myself, my family, and start my life.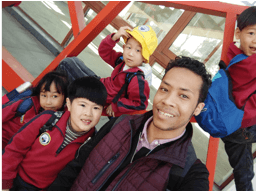 A Day in the Life of Stefano
I teach kindergarten. My students are from 2-6 years old. I report to work at 8:00 am where I have a half-hour time slot to prepare any last-minute items, activities, etc. before my first class session, which lasts from 8:30 am to 9:00 am. This session includes me sitting with the kids and just talking and playing with them. Then from 9:00 am to 10:55 am, I have back to back classes; a grade-four class, a grade-three class, and two grade-two classes.
Between 11:00 am and 1:00 pm, I go on lunch break. At first, I tried the food at the school kitchen, but I didn't like it very much. So now I only accept chicken (as preferred meat); otherwise, I'd walk home and order lunch and have a rest. I return to school at about 2:00 pm and prepare for my afternoon classes. From 3:00 pm to 4:00 pm, I have two classes: a grade-four class, a grade-three class, and a sit-in class session with a given class which is between 4:00 pm and 4: 30 pm. After a full day like this, I'd go home.
Read more about Stefano's experience teaching ESL abroad in China.
Rachel, a Digital Nomad from the U.S., Teaching English to Kids Online
You could even bounce around different countries until you find one you like, earning money along the way. Aside from traveling, [teaching online] provides the opportunity to simply work from home.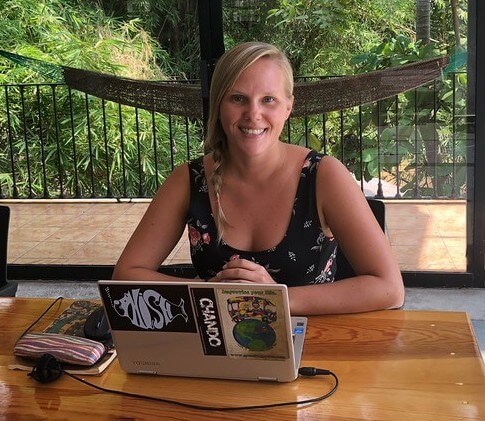 A Day in the Life of Rachel
Working as an online English teacher for VIPKID is fun. You get to bring in toys and other props, make silly voices, sing songs, and play games.
Unlike other online jobs, you have to teach your classes at a specific time and place. Parents book the classes and expect teachers to be there. This isn't a job you can just do when you feel like it. You have to set your schedule in advance and then stick to it. As the kids you'll tutor are school-age, VIPKID happens after school. The peak times for classes are from 6pm-10pm Beijing time every day as well as 9am-10pm (all day) Saturday and Sunday. The 25-minute classes are scheduled in 30-minute time slots because you have to put in feedback for the parents when the class is finished. The extra 5 minutes gives you time to do this while the class is still fresh in your mind.
An awesome thing about this job is being able to take time off to travel or do whatever else you want very easily. It's very easy to schedule travel time around classes. For example, you could bust your butt one week, then take 4-5 days off to go on a short trip, then jump back into it.
Read more about Rachel's experience teaching for VIPKID.
Jacob, from the U.S., Teaching All Grades as a Peace Corps Volunteer in Georgia (Saqartvelo)
Up until my current job, I had worked a couple of years as a banker. I decided that my next endeavor would be a Peace Corps Volunteer. I applied and was accepted to teach English in the country of Georgia (also known as Saqartvelo).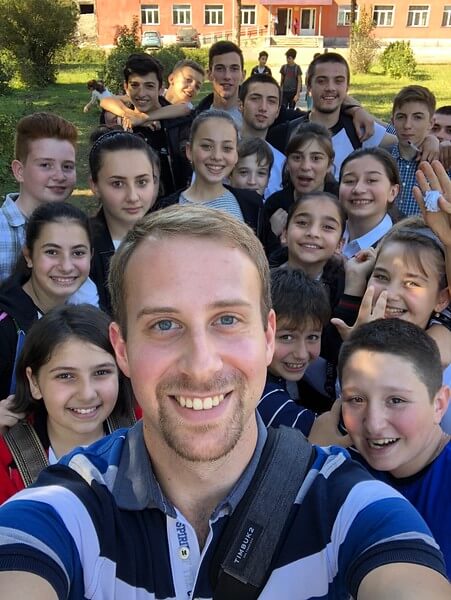 A Day in the Life of Jacob
For me, a typical workday is to get up and have breakfast with my host family. I work at a school where classes begin at 9 am. I teach anywhere between 3 to 6 classes a day, for a total of 18 hours a week. After school ends around 2 pm, I meet with my co-teachers and lesson plan for the next workday.
By about 3:30 pm I go back home and eat, then work on any additional Georgian language study/homework I may have, any side projects, American Culture Club lesson plans, or even a soon-to-be project that involves USAID Grant Writing. Apart from that, there is downtime where I continually integrate with my community and host family.
Read more about Jacob's experience teaching ESL in Georgia.
Camille, from the U.S., Teaching Kids Online and at a Private High School in Colombia
I'm a 27-year-old American with a B.A. in English Language and Literature. I've lived and taught in Italy, France, and now Colombia and have been a freelance writer for many years. I teach online and I also teach high school students at a bilingual private school in Tunja.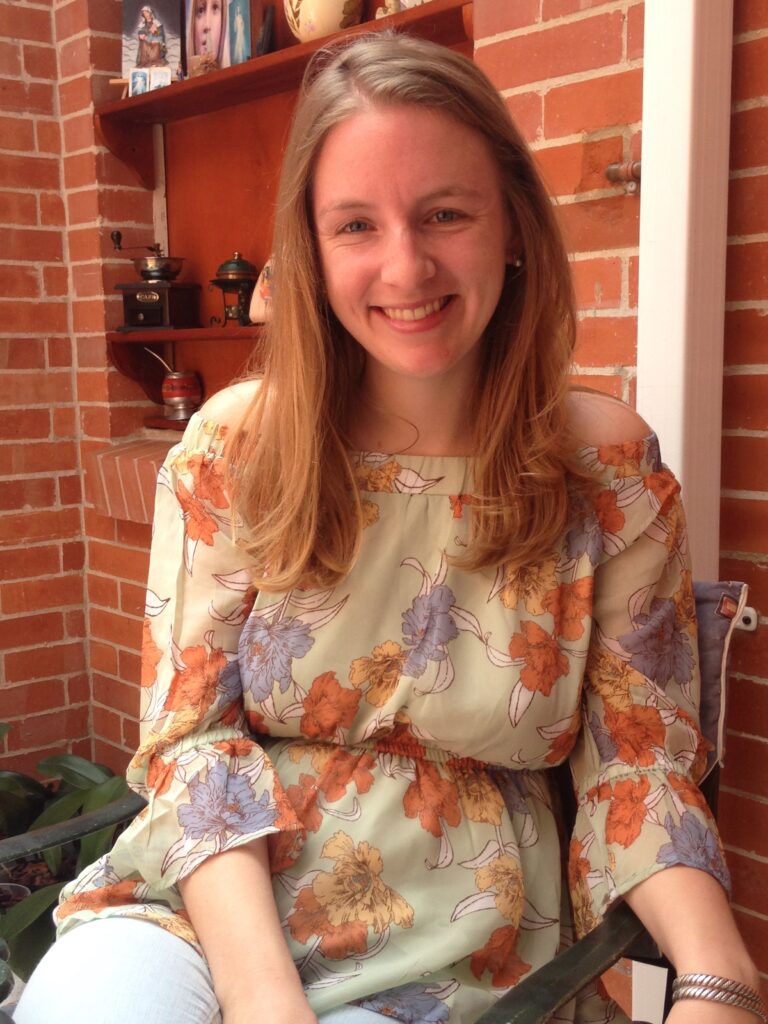 A Day in the Life of Camille
I teach both English speaking and English composition in the afternoon, so a typical day would include four 45-minute speaking and composition classes for 7th to 11th graders.
I also teach online for two different companies. I teach for Speaken, which is a French company where I give conversation lessons (usually in France). I can teach as many hours as I want for them, and I usually do around five each week. The other online company for whom I teach is Magic Ears. They are a wonderful Chinese company, and I teach classes with up to four students at a time. The ages that I've taught have ranged from 2-14. I have to wake up very early to teach for them because there's a 13-hour time difference. I try to teach a minimum of 60 classes a month for them.
Read more about Camille's teaching experiences.