Bridge Graduate, Lindsay: ESL Volunteer in Tanzania
By Bridge
August 12, 2019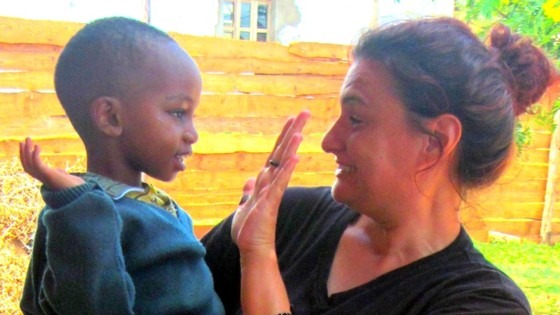 Graduate of the Bridge IDELTOnline and Specialized Certificate in Teaching English to Young Learners course (and Bridge Photo Contest grand prize winner!), Lindsay Mattone, from Hawaii, has a passion for child education and giving back on a global scale. We spoke with her about one of her many volunteer experiences– teaching English in Tanzania. 
Can you start by telling us a bit about yourself?  
I'm originally from Long Island, New York, but I moved to Hawai'i 10 years ago. I attended Hawai'i Pacific University as a psychology major while working in youth development throughout the island of Oahu. I'm currently completing my online Child Development Associates certification from Ashworth College, and I just started a job as a preschool teacher.
You've taught English in Tanzania. What city did you teach in?
I taught in Ilula, part of the Iringa region of Tanzania.
Was this your first teaching experience? Why and how did you get into teaching English?
All of my experiences teaching English so far have been volunteering positions. The first one was in 2011 in Cambodia as part of a university study abroad term. However, the first teaching experience where I felt I had the most control over the language lessons and the classroom was in Tanzania.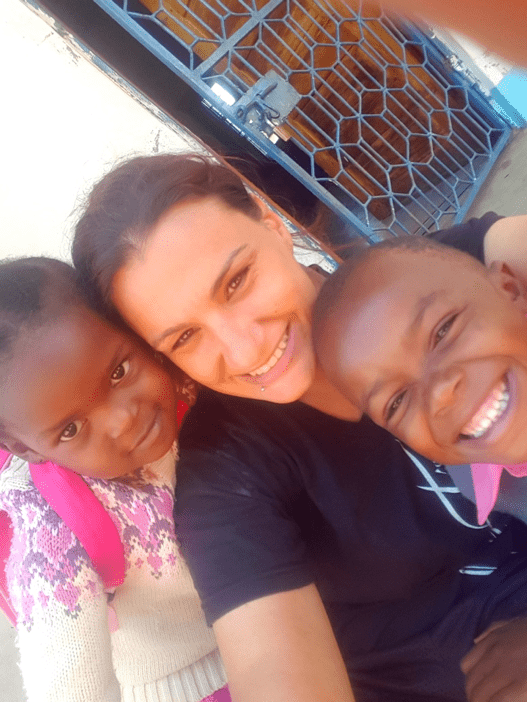 Taking a selfie with her students after class
What made you decide to teach abroad in Tanzania?
I fell in love with volunteering and teaching English specifically during my university trip to Cambodia. A year after I returned home, I decided to apply for a volunteer teaching and childcare project through an organization called United Planet. United Planet builds affiliations with certain youth development programs around the world. Then, it places volunteers based on their skills and interests into a global program within the country of their choice. I had a strong desire to volunteer in Tanzania after meeting a Tanzanian woman in Cambodia who moved with her family for her husband's career.
You took the IDELTOnline and the Specialized Certificate in Teaching English to Young Learners. Why did you choose these courses? Do you feel the courses have helped to prepare you for the classroom?
I felt that having the IDELT credential, as it was the most intensive course that Bridge offered, would benefit me both in skill and future opportunities as a teacher. As a 3-month program, the IDELT not only afforded me the understanding of language theories and development through all stages of life but also applicable skills for the classroom.
The Teaching English to Young Learners certification was a no brainer for me as my passion has ALWAYS been child education and development. This course aided me in the understanding of early language development; the ways in which children learn and progress through language; and, most importantly, how to develop age-appropriate lesson plans. It also made me more aware of language barriers and the best ways for facilitating adequate techniques to overcome them.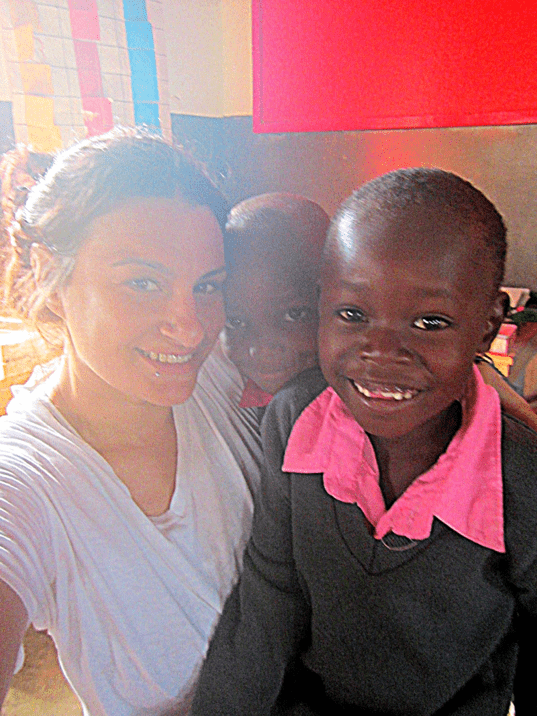 Lindsay and her students pose for a photo at school
Can you tell us about your teaching position in Tanzania?
I have been to Tanzania 4 times (at first in 2014, and then in 2016, 2017, and 2018), staying for 3 – 5 weeks each time. I taught at a local preschool run through the Ilula Orphan Program, which serviced some of the neediest children in the region. The school was comprised of 2 classrooms, each with about 40 children and 5 staff members. My students were between the ages of 2 ½ – 6 years old, with beginner-level English proficiencies.
The preschool sessions were held 5 days a week with 3 ½ hour morning classes for all students. Those who were graduating from preschool that school year stayed later into the afternoon to prepare for their graduation and transition process to primary school. The day often began with both classes together for their morning movement activity, and then they were delegated to their respective classrooms for instruction. During this time, I would assist the teachers and students in all areas of classroom instruction. I'd also help prepare lessons and assist in administrative tasks. In the middle of the morning, I would prepare and implement an English specific lesson for each class. In the afternoon, I would supplement their language learning with extended English lessons and extra-curricular activities, such as soccer or art.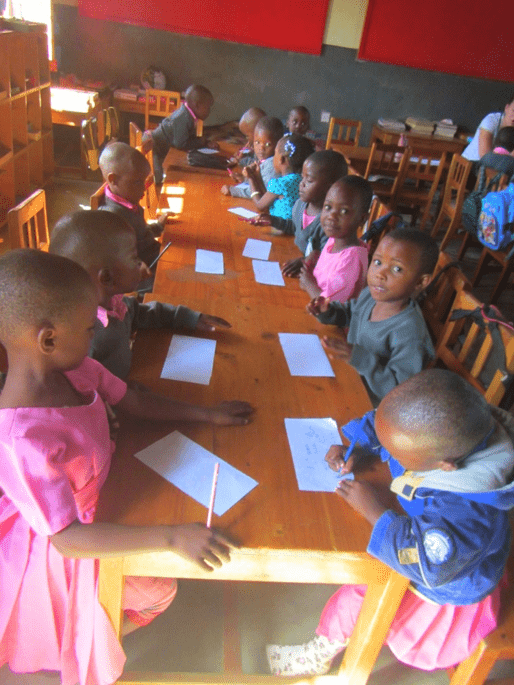 A class at the Ilula Orphan Program in Ilula, Tanzania
Was a work visa required to teach in Tanzania? If so, was the process difficult? 
I did not require a work visa because I was teaching as a volunteer and I was not being paid. The organization supplied me with a letter to obtain the proper visa requirements once I was in-country.
What were your housing accommodations like in Tanzania? How did you find set that up?
Each time I traveled to Ilula, I lived with the same wonderful host family, which was assigned to me by United Planet. I had a private room and lived within walking distance to both the preschool and the orphanage center.
What did you do in your free time as a teacher? Was it easy to make friends?
I spent time off with my host family, playing soccer, teaching English to my host siblings, or running soccer programs and other activities for the children living at the Ilula Orphan Program center. I would also travel to other areas of the country visiting friends, beaches, and local restaurants around town.
Traveling alone made it easier to make friends because it forces you to communicate and become involved with the local community without the distraction of traveling partners or others' agendas. With that being said, there were definitely moments of discomfort when I felt less connected because of ethnicity and language barriers, but the more effort I made to engage, the more others were interested in me as well. Kindness gets you far, no matter what country you are in.
What's something interesting or fun about ­­­­­­­­­Tanzanian culture, or something about teaching in Tanzania that surprised you? 
The teachers at Kids Corner preschool are incredibly bright, well trained, and adaptive to the needs of their students. I was really amazed by how committed they are, how open they are to new ideas, and how supportive they are of their volunteers. I feel unbelievably grateful to have been a part of their community.
I was also very impressed by how quickly Tanzanian children learn. They are able to understand and apply language concepts in a short amount of time and are very eager to learn.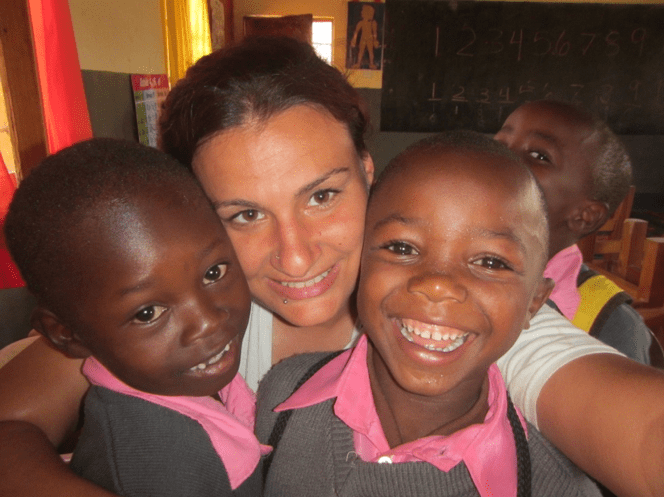 Lindsay spending time with her students in the classroom
Can you tell us about an experience in your teaching career when you felt like you made a difference in a student's life?
I remember seeing the progression of a particular student who, when I first met him, was a little delayed, not just in English, but also in his native language of Swahili. I spent time encouraging him to use the language, repeating sounds and words that were useful and relevant to him, and building connections between language and their meanings at a level he needed. When I returned 7 months later, he was speaking more regularly and fluently. He could also understand more and take direction in English. I was so proud!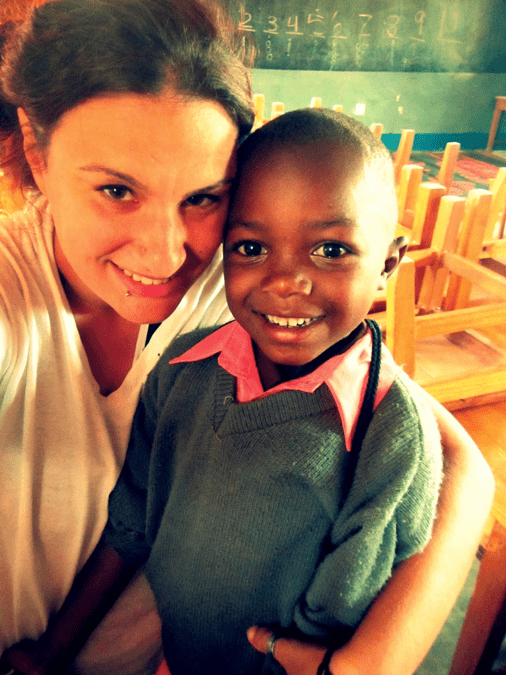 Lindsay with one of her students in Tanzania
What recommendations do you have for someone who wants to teach English in Tanzania?
Be adaptive and use the support around you; teachers learn best from each other and their students. Don't be so hesitant to ask questions. If you don't know something, say you don't know, and use your resources to help bridge the gaps or get the information you need. Cultural sensitivity is important.
Try to focus on language progression and skill development rather than defining what level you believe each child should be at.
Find exciting and engaging ways to teach the language, and allow children to make mistakes while guiding them through the process of learning from those mistakes.
Learn more helpful tips on how to teach kids English.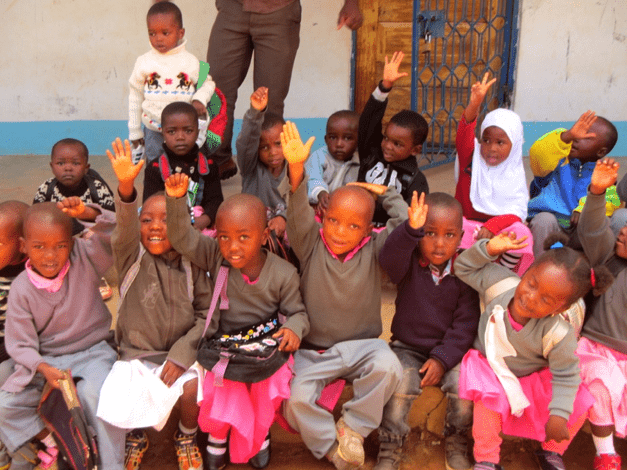 A group of students at the Kids Corner preschool
Do you plan to teach in other countries? If so, where would you like to teach next?
Since Tanzania, I have taught as a volunteer in Nepal and Bali, Indonesia. I loved each and every one of those experiences for different reasons. I'm a huge lover of Asia, and I find that many of those countries fit the lifestyle I desire. I'm really interested in returning to Bali and Cambodia and exploring Laos as an English teacher. I find that my heart pulls me to places and children that need me the most, so in a year I may very well learn of a different place in need of my skills and passion.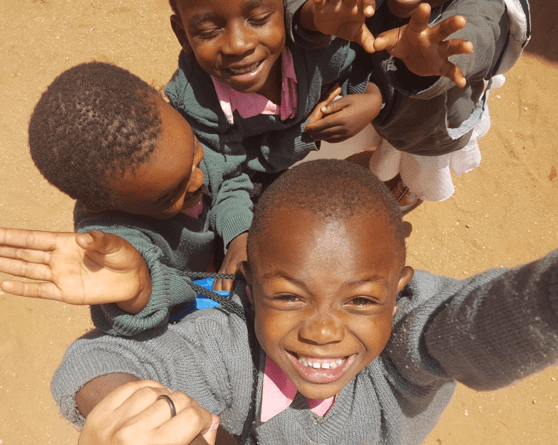 Excited students in Ilula, Tanzania